Today I had to confront the logistical challenge that I'd been putting off addressing ever since I signed up for the Unplugged Wilderness Trek. We were going to spend the next 2 nights at the Tasiilaq Mountain Hut and would need to take whatever personal items we needed for 2 nights, plus our sleeping bags and our share of communal food for 2 days.
Now as much as I LOVE my Lowepro Fastpack 250 camera bag (I'm currently on my 3rd one in 10 years – they get a lot of use!), it is designed for day hikes, not overnights. And while I can fit my Fujifilm XT-1 (seriously awesome camera for travel photography) + 4 lenses + flash + food for a day + warm clothing + rainjacket (which tends to hang off the side), it most certainly cannot fit my -12 degree rated sleeping bag!
So Day 9 started with me figuring out how to attach everything to the outside of the bag. In the end, and thanks to a loan of the rope that usually tied our cooking pots up, I managed to cobble something together that worked – my sleeping bag and warm clothes jammed into a dry-bag which was strapped to the top of the bag.
The conversation at breakfast started off with a discussion of what each person would choose as their superpower. The only rule was it had to be a self-contained superpower – ie it could not involve influencing another person's decisions. This was a no-brainer for me and I (and Mathilde) immediately came up with teleportation. Soaking wet and freezing cold after Day 4's hike? No worries at all! Teleport home to mum and dad, say a quick g'day, have a hot shower, change clothes, and teleport back to camp nice and warm and dry, and ready for hot chocolate (actually, we'd run out of hot chocolate by Day 6, I would have bought some more back with me) and more great conversation. Done!
Given this discussion, I have absolutely no idea at all how we ended up forgetting to brew the Iceland Moss (Cetraria Islandica) that Maxime collected yesterday into the tea that would actually grant us these superpowers … but somehow we did! Perhaps it was due to the evolution of the discussion into the joys of Australian music and the the dulcet tones of 1990s Kylie Minogue (I hate "The Locomotion"!) emanating from Stephane's extremely eclectic mix of music on his phone!
After breakfast, we packed everything into the cook/dining tent, took on board our share of the food for the next 2 days (laptop compartments in camera bags have multiple uses. Thank goodness dry trekking food is flat!), and started hiking up Tasilap Kua Valley towards the "The Triplets".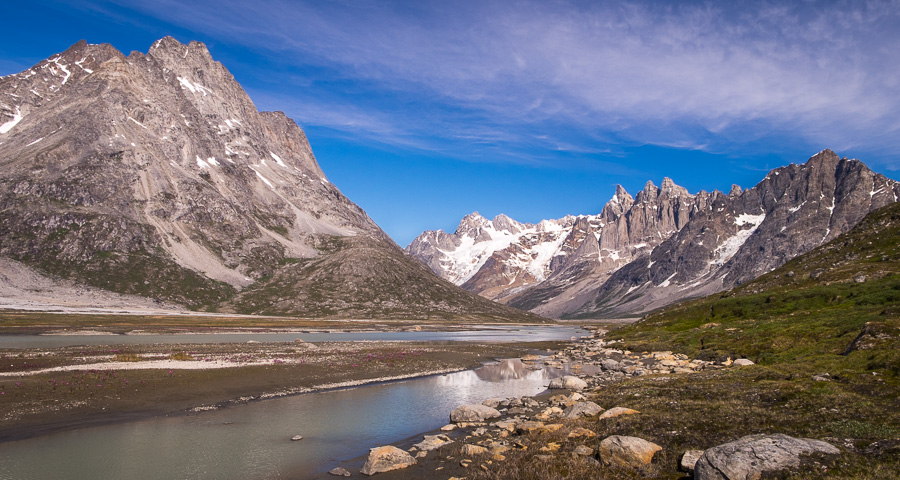 We stopped for lunch in an area that was gorgeous and surprisingly green and had spectacular views to the other side of the valley
as well as boulders for Maxime and Filip to play with (both are boulderers). Actually, come to think of it, maybe that's precisely why we stopped here … 😉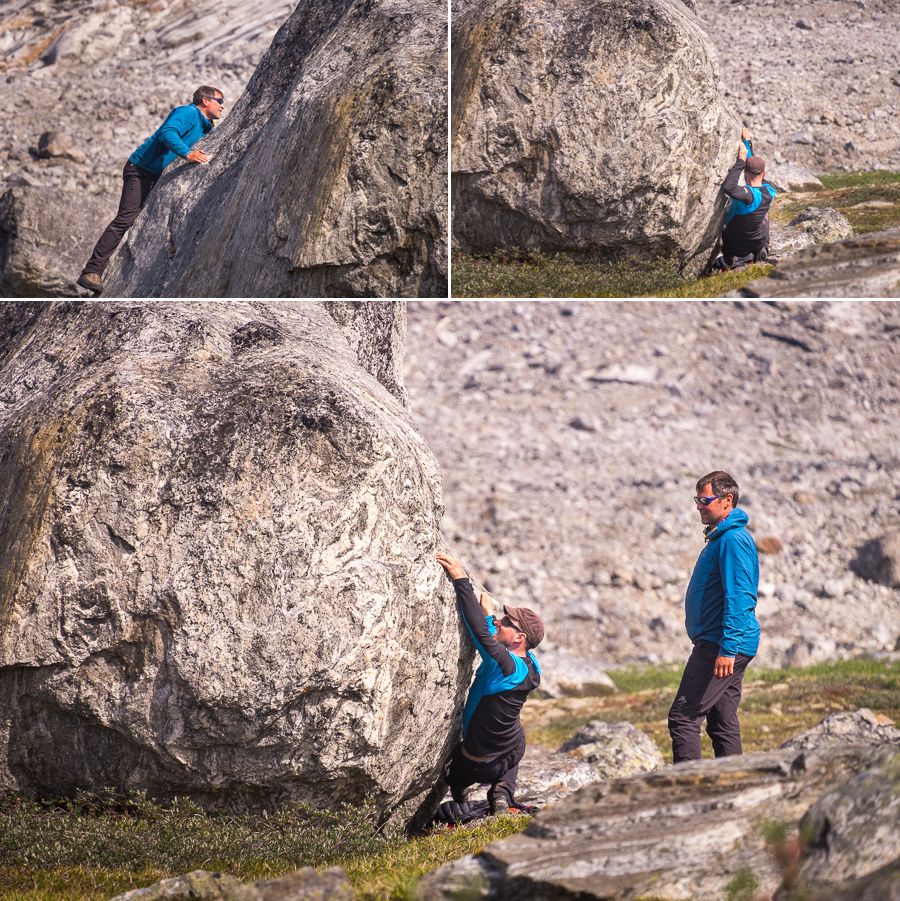 It also had a great view of where we were heading. The Tasiilaq Mountain Hut is located up the ridge that borders the glacier on the left hand side (viewed in the image below) and around the back of the "small" hills.
After lunch, we started climbing, picking our way amongst the rocks and boulders of the moraine.
It is a spectacular hike beside the glacier
With amazing views back down into the valley.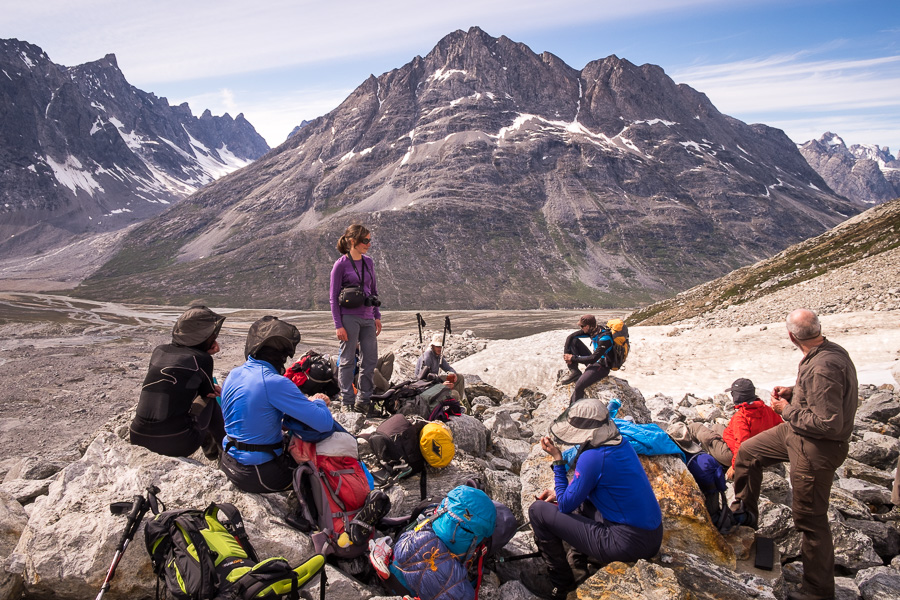 At the top of this, we were met by an even bigger challenge. Maxime had described it along the lines of the following: "We walk up the moraine until we hit what looks like a vertical wall, then we climb that, and the hut is at the top". Riiiiiiiiiight!
And while it wasn't quite a vertical wall to begin with, it wasn't far off!
And in the end, his description turned out to be pretty accurate, but at least there were ropes attached to help in the endeavour!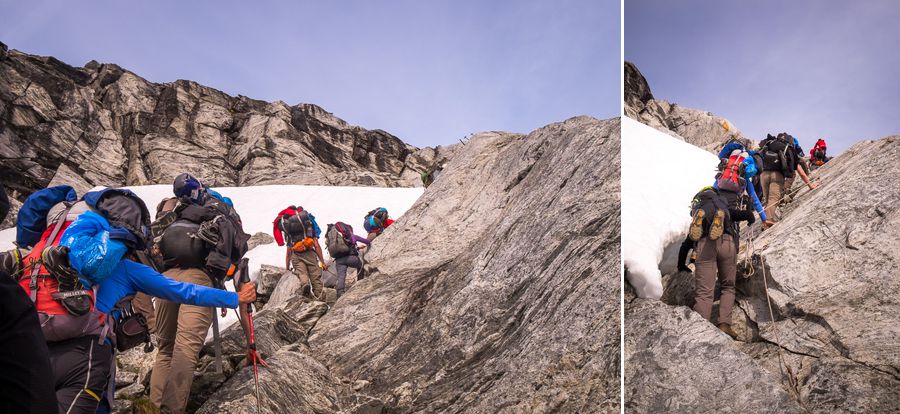 It was all totally worth it in the end! The Tasiilaq Mountain Hut is in an absolutely spectacular location
with incredible views further into the mountains
and also back down onto the glacier and the valley below.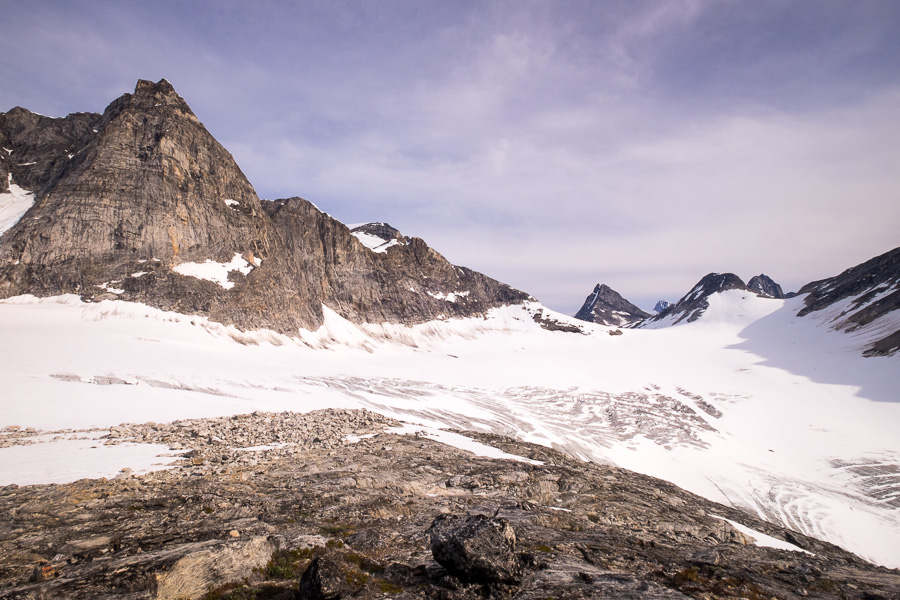 The guys went to collect water for the next couple of days (always one of the first chores when arriving at a campsite)
and we settled in around the dining table drinking tea (oh the variety that was at the hut – even English Breakfast tea!), chatting, and finishing off the day with our surprisingly good Travellunch re-hydrated dried trekking food for dinner. We ate a lot of this stuff in the final days 🙂
Trekking Time: approximately 8 hours
Read more about the Unplugged Wilderness Trek
If this post has piqued your curiosity about hiking and trekking in East Greenland, read about the rest of my adventure on the the 12-day Unplugged Wilderness Tour with Greenland Adventures:
Day 1 – Tasiilaq to Kulusuk and along the Sermiligaaq Fjord
Day 2 – Hike to the Karale Glacier
Day 3 – Hike to the lookout over Sermiligaaq Fjord and Karale Fjord
Day 4 – Karale Fjord camp to Beach camp
Day 5 – Beach camp to Bluie East Two
Day 6 – Bluie East Two along the Ikateq strait to the Tunu Fjord
Day 7 – Tunup Kua Valley to Tasiilaq Fjord
Day 8 – Along the Tasiilaq Fjord
Day 9 – Tasiilaq Fjord to Tasiilaq Mountain Hut
Day 10 – Tasiilaq Mountain Hut
Day 11 – Tasiilaq Mountain Hut to Tasiilaq Fjord to Kulusuk
Day 12 – Kulusuk to Reykjavik
Video Slideshow – of some of my favourite images
If it has sparked an interest in Greenland more generally, learn more about this amazing country at Visit Greenland, and check out the wide range of tours of all kinds (not just hiking and trekking) at Guide to Greenland.
This post contains some affiliate links. If you make a purchase through one of these links, I will earn a small commission at no extra cost to you. Your support is appreciated!