I'm often surprised at how small the world is. And, for all of its enormous size, how incredibly small Greenland is.
The other day I received a Facebook message with 2 images (blurred by FB) from a person I didn't know saying:
Hi lisa! I don't know if anyone has sent this to you yet. It was in the Innajuattoq 2 hut
Given this person could clearly associate me with the Arctic Circle Trail, I clicked on each of the images to reveal them and discovered …
A message to me, written on the inside page of a book!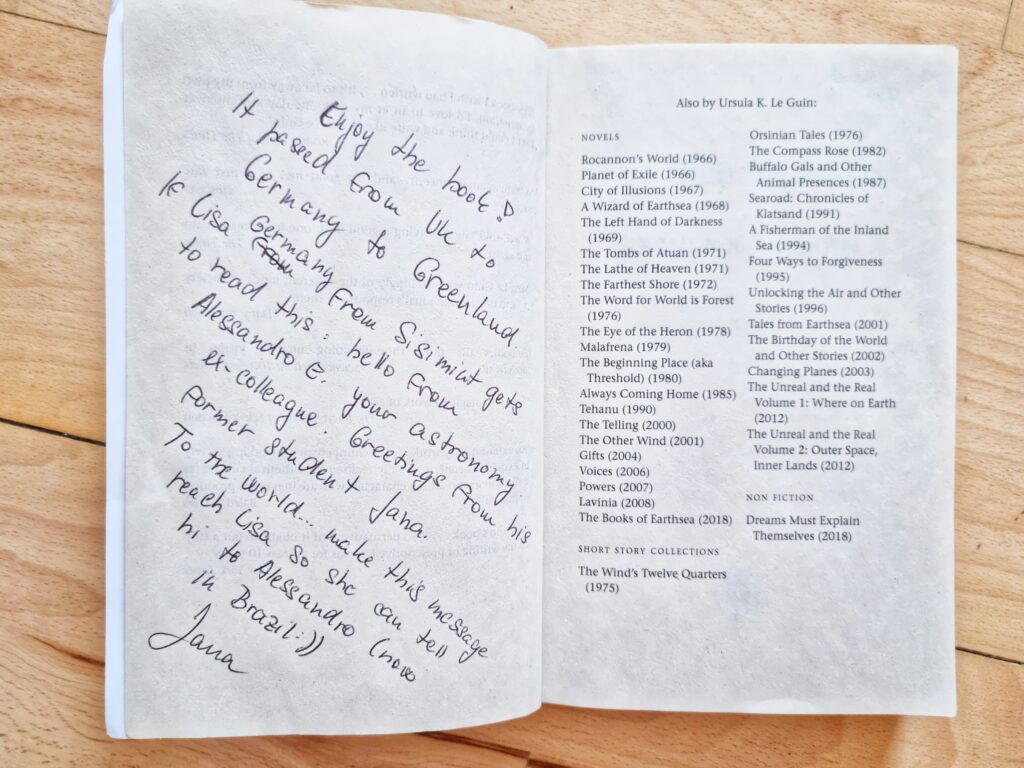 I can't tell you how many times I have dreamed of sealing a message in a bottle and throwing into in the ocean, only for someone years later to contact me saying they'd picked it up on some far-flung beach. So to actually receive such a message (kind of) – well, I have to admit it was one of the most amazing things to have happened this year!
Especially since I had no idea at all that the message had been left!
Think of all the things that had to fall into place for me to receive this message:
my colleague, Alessandro (who I haven't seen for 15? years) mentioning me living in Sisimiut to his former student
her choosing to write the message in the book and leave it in one of the ACT huts
the lovely hiker who found the message in the book deciding to track me down (admittedly not that difficult), even though I may have already received the message
I was so tickled and so incredibly grateful to the hiker that I invited her round for dinner when she arrived in Sisimiut and she presented me with the book 😀
And what was the book?
Greenland really is a tiny, tiny place despite being the world's largest island!
Read more about hiking the Arctic Circle Trail
If this post has piqued your curiosity about the Arctic Circle Trail in Greenland, read about my adventure trekking it over 8 days at:
Also check out the Official Arctic Circle Trail website that I created for Destination Arctic Circle, and the Arctic Circle Trail Go-to Guide at Visit Greenland for which I was the primary creator. You may also be interested in the dedicated hiking trails site for the Arctic Circle region.
If it has sparked an interest in Greenland more generally, learn more about this amazing country at Visit Greenland and Guide to Greenland.