Day 11 of the Unplugged Wilderness Trek started early and we were happily greeted with brilliant blue skies again.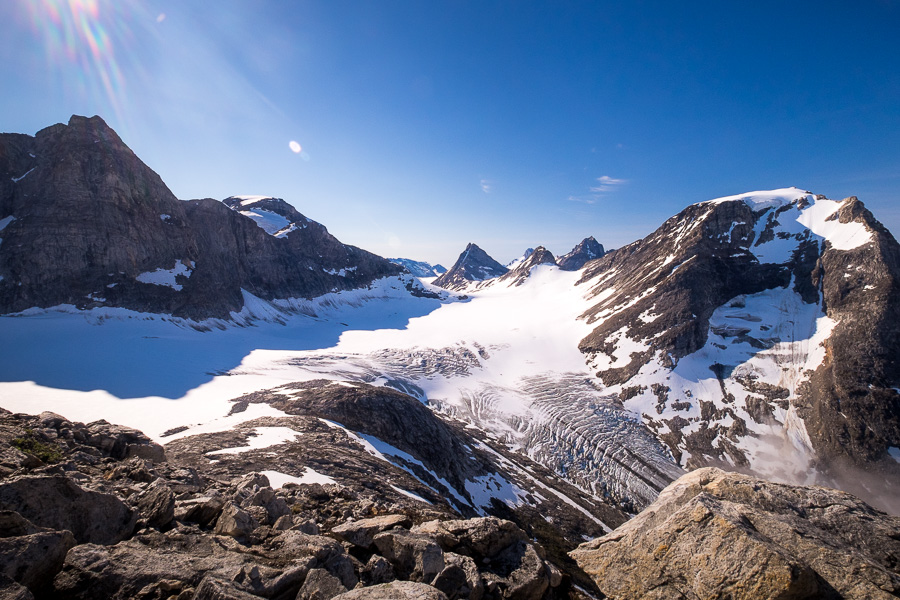 The early start was because we had asked Maxime the evening before if we could add in the climb to the summit behind the Tasiilaq Mountain Hut (which we were meant to hike yesterday) before heading back to the campsite. He'd agreed, but it meant getting up early so we could have breakfast, clean and arrange the hut and get everything sorted to leave, get up and down the mountain and then all the way back to the campsite, while still making it in time to catch the boats that were coming to collect us and take us back to Kulusuk. Done!
Although the sky was perfectly clear, the Tasilap Kua Valley below us was blanketed in cloud – very reminiscent of what I saw so many times while observing at Cerro Tololo Interamerican Observatory in Chile.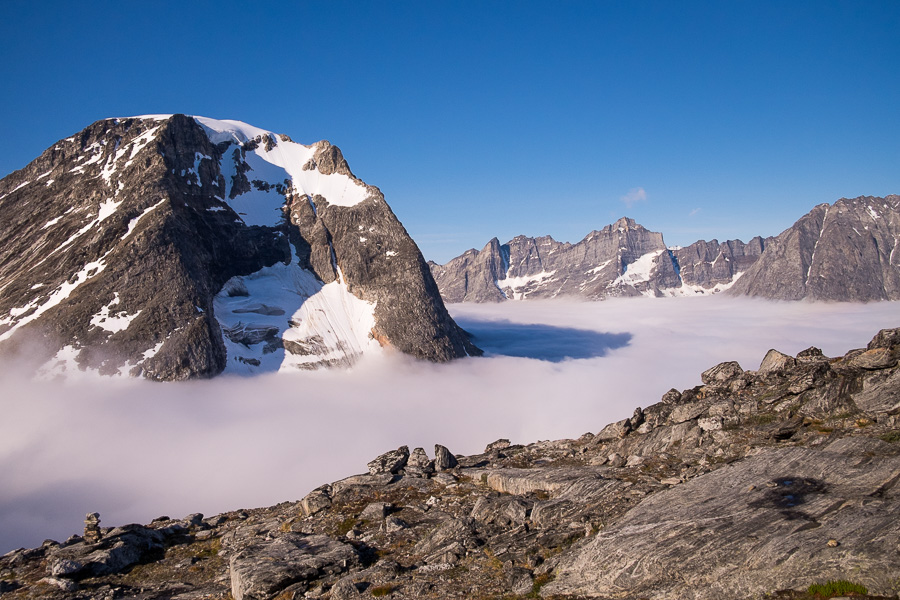 This scenario – where I'm up on a mountain looking down into a sea of clouds always reminds me of my time at the Observatories in Chile, and I wrote a rare personal post about this last year.
The climb up to the summit starts off pretty steep but is not too difficult. And, if you turn around, there are amazing views back down over the Tasiilaq Mountain Hut and its surroundings. It really is in the most incredible location!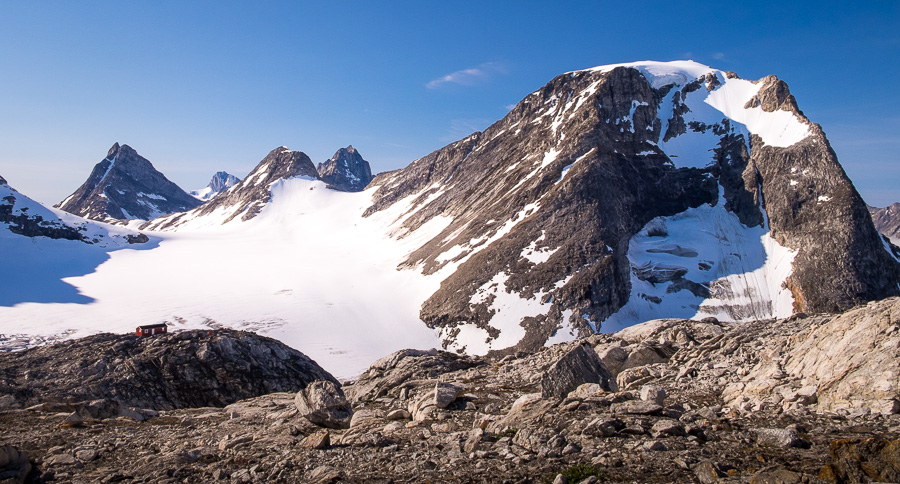 We climbed as a group up until a certain point, but then Maxime split us into 2 smaller parties to make the final hike to the top. I waited in the second group soaking up the sunshine until he returned to collect us.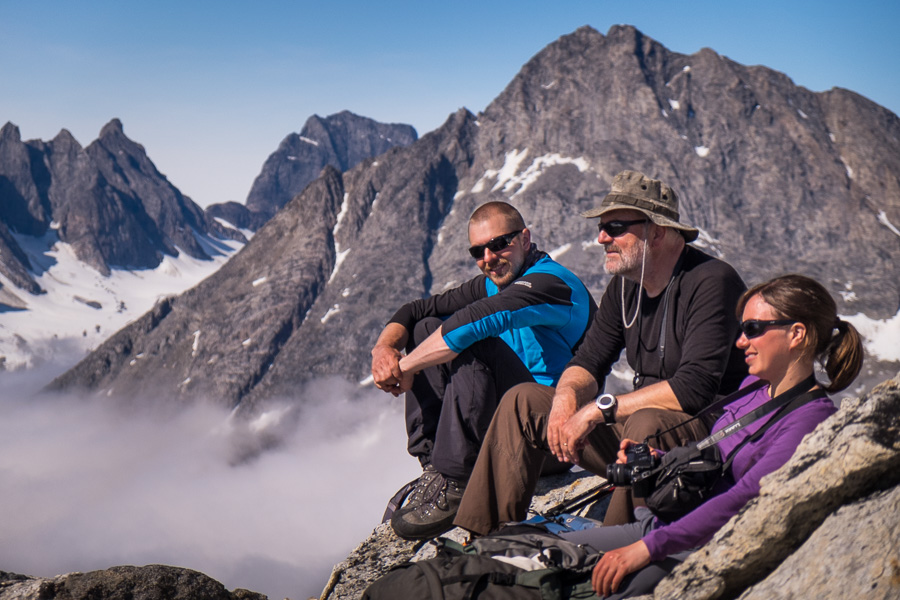 As we began to climb, we understood his caution – both in splitting us into two groups now, and also in recommending we didn't climb yesterday in the rain. It became an almost vertical scramble, where it was very easy to dislodge rocks and stones onto others coming up from below. Fewer people in the group, less likelihood this would happen, or that someone would get injured if it did.
So glad we got up early to do this though, because the views from the top were absolutely spectacular! And thanks to the cloud for clearing off! 😉

We spent quite a bit of time at the summit with Maxime pointing out some of the different features in the landscape, as well as the route we'd taken over the past 11 days.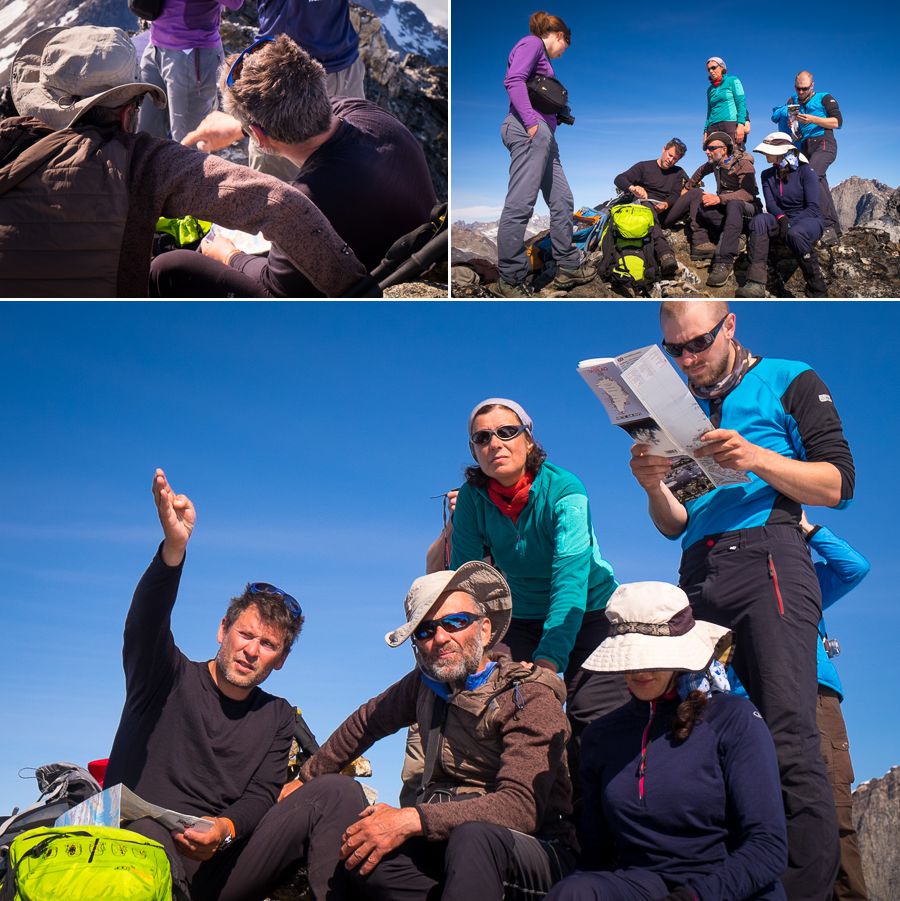 Oh, and we finally took the group photo!
Unfortunately, we had to eventually leave and start picking our way back down the mountain. Well, except for the last part where Filip started a snowball fight with Mathilde, Maxime and I, and we ended up running down the majority of the final snowfield.
The view of the glacier from above was amazing
and I love realising how small I am in front of such grandeur.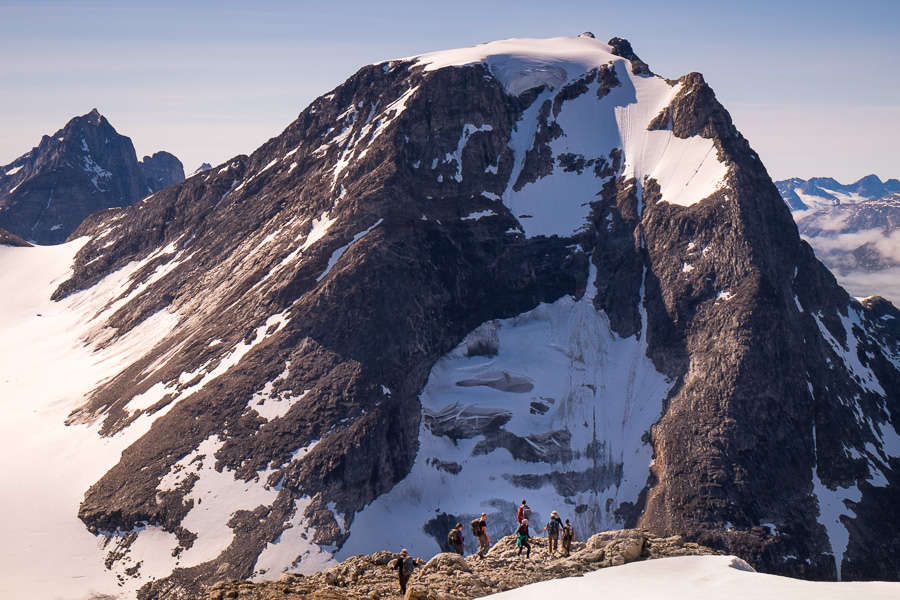 Those who have read through my other posts about this Unplugged Wilderness Trek, or have read about my trek in Huayhuash, Peru last year (or any of my hiking or trekking posts really, where I am part of a group), will have noticed that many of the photos include my fellow hikers. I didn't always do this. In fact, I used to wait for people to get out of the way before I would take a photo. One of the reasons I changed in the past few years is for precisely this reason – people give a sense of scale to where I am – and in the mountains, scale is fundamental to the awe-inspiring experience.
We had a quick lunch at the Tasiilaq Mountain Hut, then headed back down the vertical cliff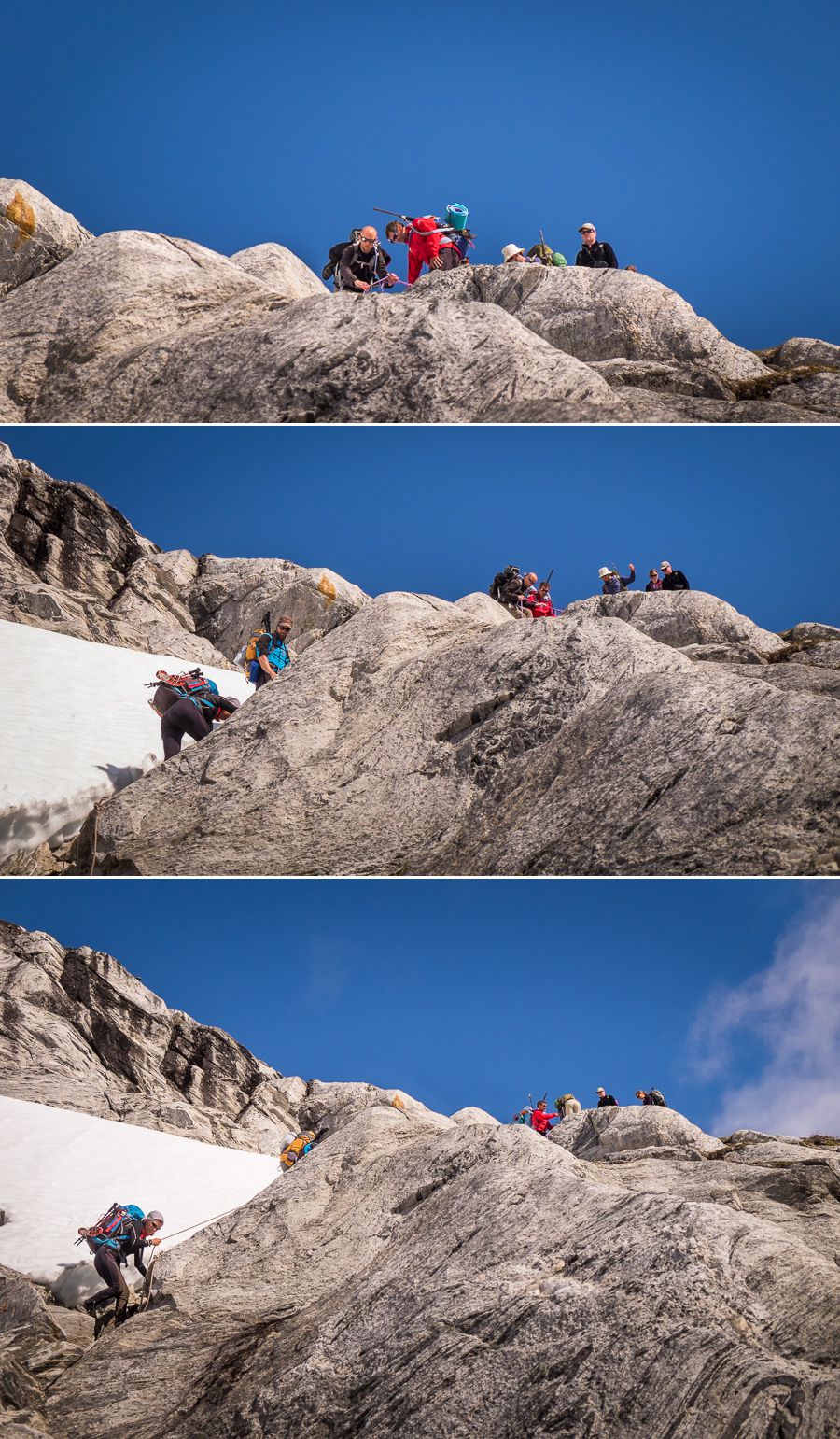 back down the moraine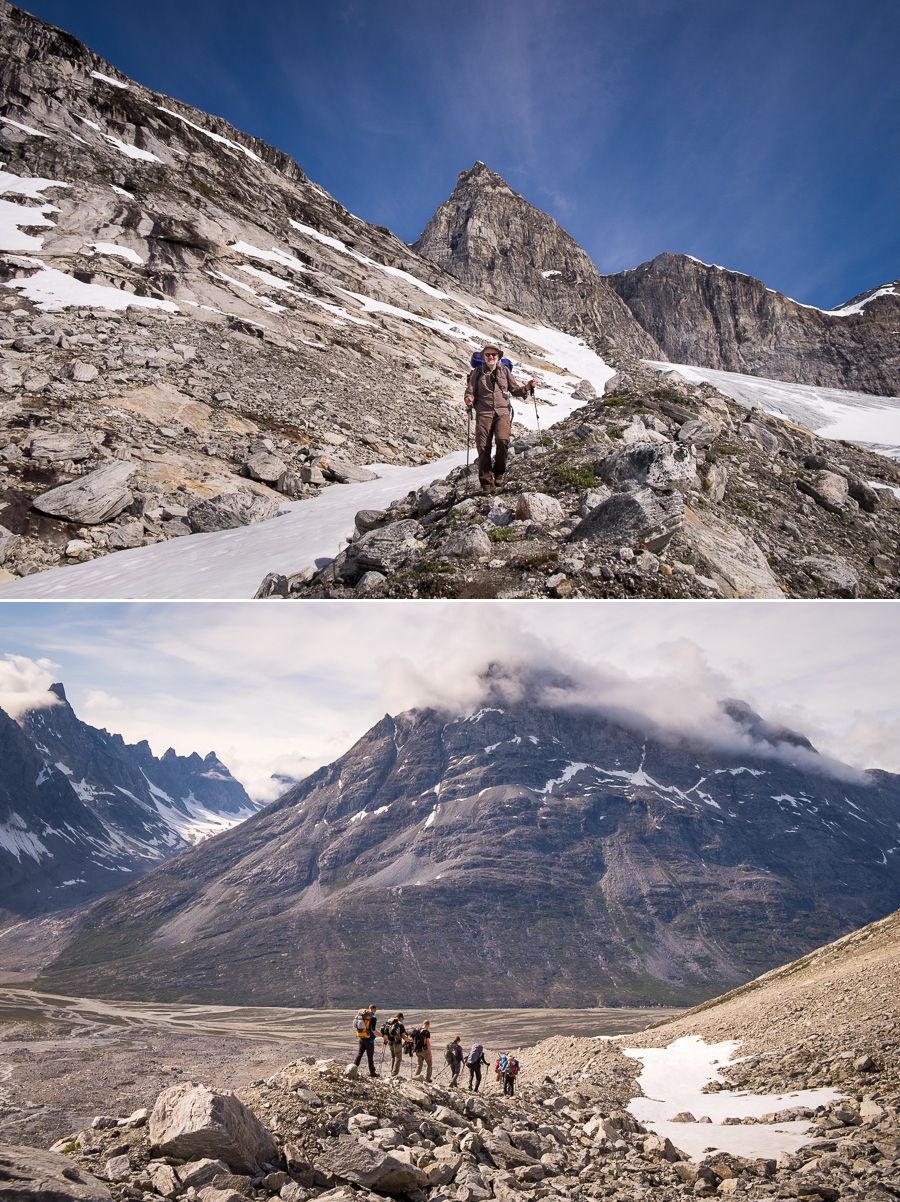 and back along the river to where we had left our gear at the campsite.
This last part seemed to take forever, and Filip and I (who were out in front of Maxime and the rest of the group) were really starting to wonder whether we had somehow missed spotting the tent! But no – it was just a lot further than we expected.
As we were approaching camp, we saw 2 speedboats leave the campsite and head back up the fjord … we were running a little late … oops! Fortunately they did come back for us, and we made the journey back to Kulusuk and the Kulusuk Hostel.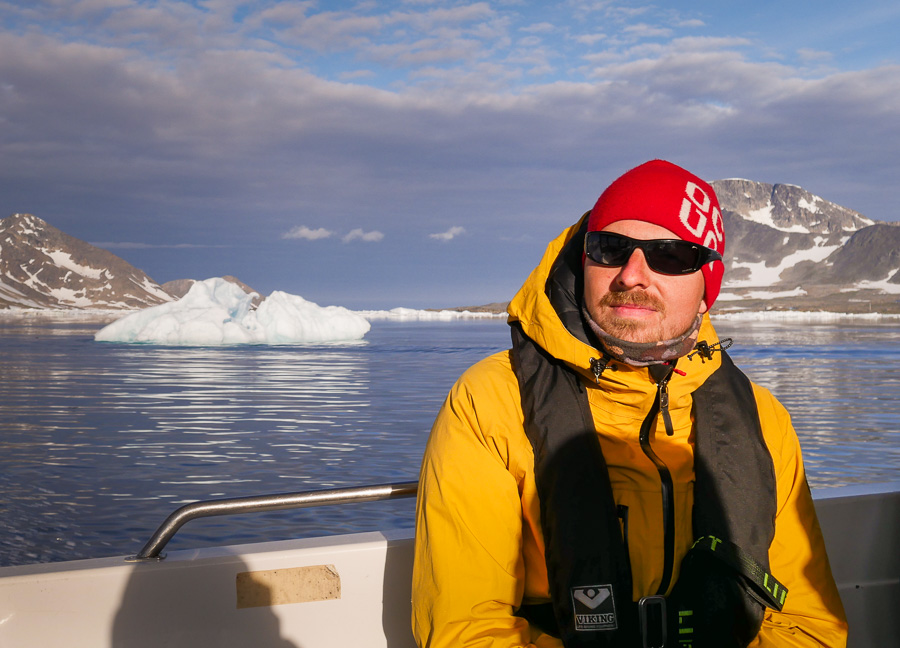 There, we each took turns at our first hot shower for 11 days. I had just finished lathering up my hair with the most shampoo I think I've ever used in my life, when suddenly – the water cut out! Completely! Fortunately I had already washed the rest of myself, so I got dressed in clean clothes (heaven – you really appreciate the basic luxuries after 11 days), tied my towel around my incredibly soapy head, and went to find out what was going on. Jóhanna ended up coming and rescuing me about half-hour later and I finally washed the soap out of my hair.
Massive meal of fish for our last dinner together – really not wanting the whole thing to end 🙁
Trekking Time: approximately 10 hours
Read more about the Unplugged Wilderness Trek
If this post has piqued your curiosity about hiking and trekking in East Greenland, read about the rest of my adventure on the the 12-day Unplugged Wilderness Tour with Greenland Adventures:
Day 1 – Tasiilaq to Kulusuk and along the Sermiligaaq Fjord
Day 2 – Hike to the Karale Glacier
Day 3 – Hike to the lookout over Sermiligaaq Fjord and Karale Fjord
Day 4 – Karale Fjord camp to Beach camp
Day 5 – Beach camp to Bluie East Two
Day 6 – Bluie East Two along the Ikateq strait to the Tunu Fjord
Day 7 – Tunup Kua Valley to Tasiilaq Fjord
Day 8 – Along the Tasiilaq Fjord
Day 9 – Tasiilaq Fjord to Tasiilaq Mountain Hut
Day 10 – Tasiilaq Mountain Hut
Day 11 – Tasiilaq Mountain Hut to Tasiilaq Fjord to Kulusuk
Day 12 – Kulusuk to Reykjavik
Video Slideshow – of some of my favourite images
If it has sparked an interest in Greenland more generally, learn more about this amazing country at Visit Greenland, and check out the wide range of tours of all kinds (not just hiking and trekking) at Guide to Greenland.
This post contains some affiliate links. If you make a purchase through one of these links, I will earn a small commission at no extra cost to you. Your support is appreciated!