Day 12 of the Unplugged Wilderness Trek was very relaxed. Well, at least it was for me given I'd already spent a few days in Kulusuk before the trek. A long breakfast followed by hanging out chatting, followed by a guided tour of the Kulusuk Museum.
This is a really cool museum that shows a variety of aspects relating to the Tunumiit Inuit way of life on the remote east coast of Greenland.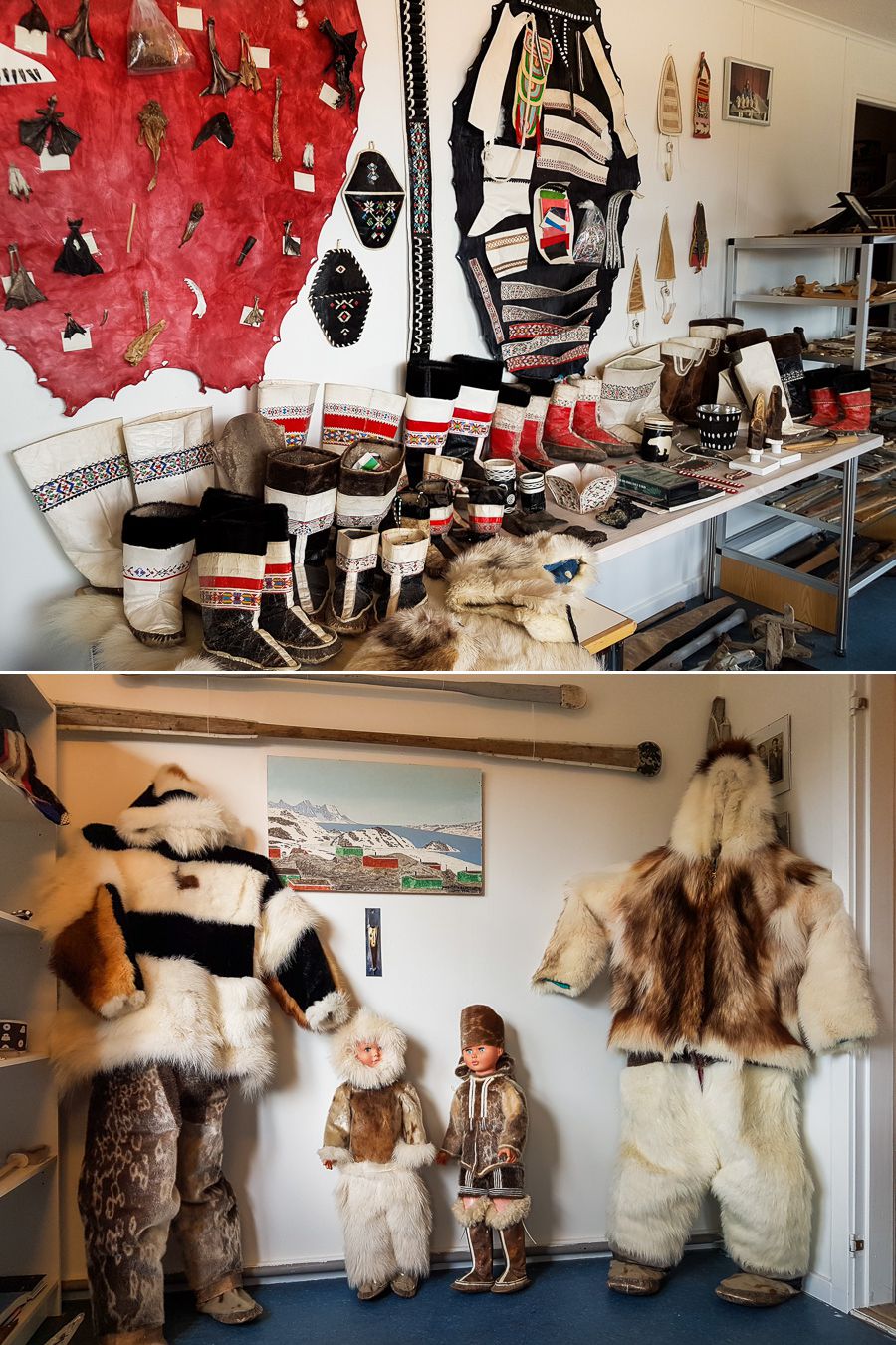 Most of the items belong to previous generations of the family who established and currently run the museum – Justine and Frederick Boassen. Frederick (who showed us around) was great at explaining not only what each of the items were and how they were used, but the family stories behind them as well.
For example, this display of feet and other animal parts showcases several of the "kills" their son had made growing up. His grandmother was so proud of him, she saved everything and put this together.
There is also a re-creation of the interior of a winter house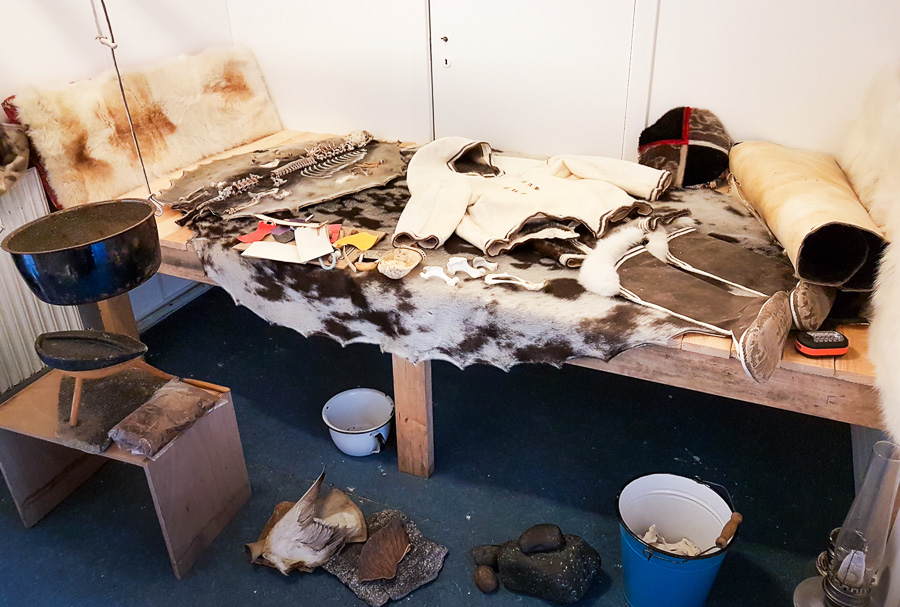 and skulls of Polar Bears!
They also had Tupilaks and other locally handmade items for sale, but I still had my heart set on the Tupilak I'd seen in Kulusuk airport.
Maxime ferried our luggage out to the airport while we made the ~2km hike against a biting wind.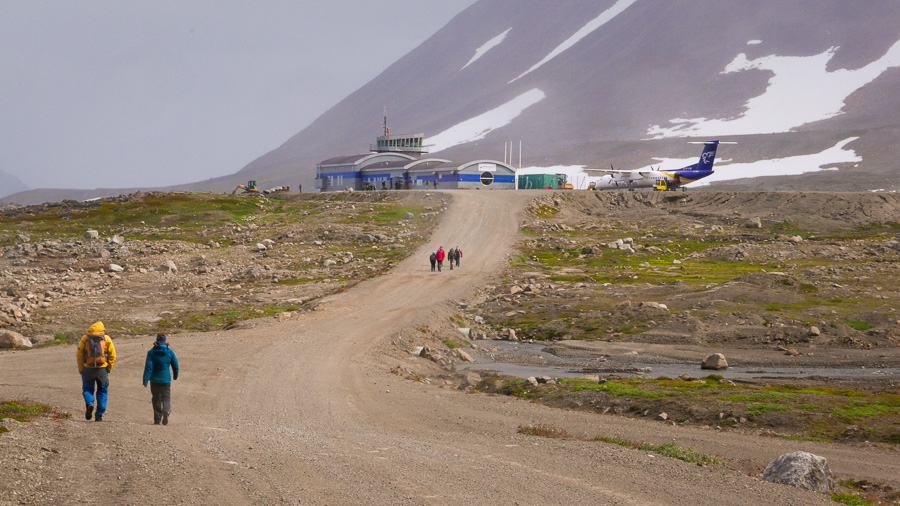 I checked in for the flight and then got chatting with Jóhanna, so by the time I went through customs to the departure gate – they were already boarding the plane! But my Tupilak??!! My passport stamp from Greenland??!!
Clearly, I'm just going to have to return…
Seriously cool idea by Air Iceland Connect on the flight back to Reykjavik! They'd only just started this program of a communal diary so I was the first to put an entry in the one that was in the seat pocket in front of me. Yet another reason to return … to see what stories others have added. Love, love, love this idea!
We arrived in Reykjavik and it was time to say goodbye to my awesome trekking companions, who I really enjoyed spending the last 12 days with. Always a sad moment, given how much you share with each other over the course of the trek.
Summary
In short, if you love long-distance treks in remote places, the Unplugged Wilderness Trek is absolutely brilliant. It's not a difficult hike if you are relatively fit and used to trekking (at least not with the conditions we had), and you pass through some truly spectacular scenery.
The equipment and support provided by Greenland Adventures is fantastic, the camping arrangements are really comfortable, the food ranges from fantastic through to OK (sorry Maxime, I really don't like porridge 🙁 , even Nutella can't save it), and the chance to see this seldom-visited part of Greenland is incredible. Yes it is expensive. But absolutely worth it!
Special thanks to our guide, Maxime Poncet, who turned the trip into something much more than I could ever have expected. Your ability to get everyone talking, interesting stories, and never-ending patience and good cheer (even in the face of freezing rivers) set us up to have a really wonderful time together as a group – something appreciated by us all.
Read more about the Unplugged Wilderness Trek
If this post has piqued your curiosity about hiking and trekking in East Greenland, read about the rest of my adventure on the the 12-day Unplugged Wilderness Tour with Greenland Adventures:
Day 1 – Tasiilaq to Kulusuk and along the Sermiligaaq Fjord
Day 2 – Hike to the Karale Glacier
Day 3 – Hike to the lookout over Sermiligaaq Fjord and Karale Fjord
Day 4 – Karale Fjord camp to Beach camp
Day 5 – Beach camp to Bluie East Two
Day 6 – Bluie East Two along the Ikateq strait to the Tunu Fjord
Day 7 – Tunup Kua Valley to Tasiilaq Fjord
Day 8 – Along the Tasiilaq Fjord
Day 9 – Tasiilaq Fjord to Tasiilaq Mountain Hut
Day 10 – Tasiilaq Mountain Hut
Day 11 – Tasiilaq Mountain Hut to Tasiilaq Fjord to Kulusuk
Day 12 – Kulusuk to Reykjavik
Video Slideshow – of some of my favourite images
If it has sparked an interest in Greenland more generally, learn more about this amazing country at Visit Greenland, and check out the wide range of tours of all kinds (not just hiking and trekking) at Guide to Greenland.
This post contains some affiliate links. If you make a purchase through one of these links, I will earn a small commission at no extra cost to you. Your support is appreciated!