Greenland is a land of artists.
I've written several times about how Greenlandic music is some of the best music you've never heard of, but the country also has a plethora of amazing artists.
In Nuuk, I would often visit the Nuuk Art Museum, Nuuk Local Museum, Katuaq Cultural Centre, and Groenlandsbanken (yes, really) to check out the latest exhibitions, and was rarely disappointed. Fortunately, Sisimiut has its own cultural centre – Taseralik – that also features several temporary exhibitions each year. The latest one being Tupilak by Mike Sanimuinaq Kristiansen.
What is a Tupilak?
Mike is a local artist who has been drawing his whole life but only started his Tupilak series in 2010. The word 'tupilak' in the Greenlandic language means an "ancestors spirit or soul", and traditionally, they were figures made from parts of different dead animals tied together. Shamen would create these figures to cast spells on another person. However, this was not without peril! If the target of the spell had stronger witchcraft, they could send the tupilak spirit back to kill its creator in the world's worst backfire.
When Europeans first came to Greenland, they were fascinated by Tupilaks. In order to "show" the spirit hidden inside the figure, the Greenlandic people started to carve driftwood and bone in an attempt to illustrate. These days, these fantastical carvings are one of the most sought after souvenirs in Greenland. I have several from different parts of the country.
The Tupilak Exhibition by Mike Sanimuinaq Kristiansen
In this exhibition, Mike exhibited a wide range of drawings, watercolours and paintings that spanned the full 11 years of his working with the Tupilak theme. The centrepiece was this 3-panel masterpiece that I could literally look at for hours.

Even just the central panel is full of Greenlandic iconography. You can clearly see the fantastical Tupilaks – sometimes with other creatures coming out of eye sockets or mouths, but there are also polar bears, different types of seals and whales (including narwhals), musk-ox, walrus, fish, birds, icebergs, snow, ulos (a Greenlandic women's knife), a topknot (favoured hairstyle amongst Greenlandic women with long hair), a hunter in a kayak (the kayak was invented in Greenland), a hunter on a dogsled, the cross of Christianity, the Greenlandic flag, colourful Greenlandic houses, and even the concrete monstrosity of one of Greenland's ubiquitous 1960s apartment blocks. Every time I look at it, I find something new. It is incredible!
I do love this bright, cartoony style he has adopted for some of his pieces, but I also really love his drawings (especially his older work). The image below is a more recent example – unfortunately I couldn't get a good photo of my favourite one, which equally unfortunately was not for sale.
I also really love this very different style of painting that has explored … with references to the dot paintings of the Australian Aboriginal people (at least to my Aussie eyes).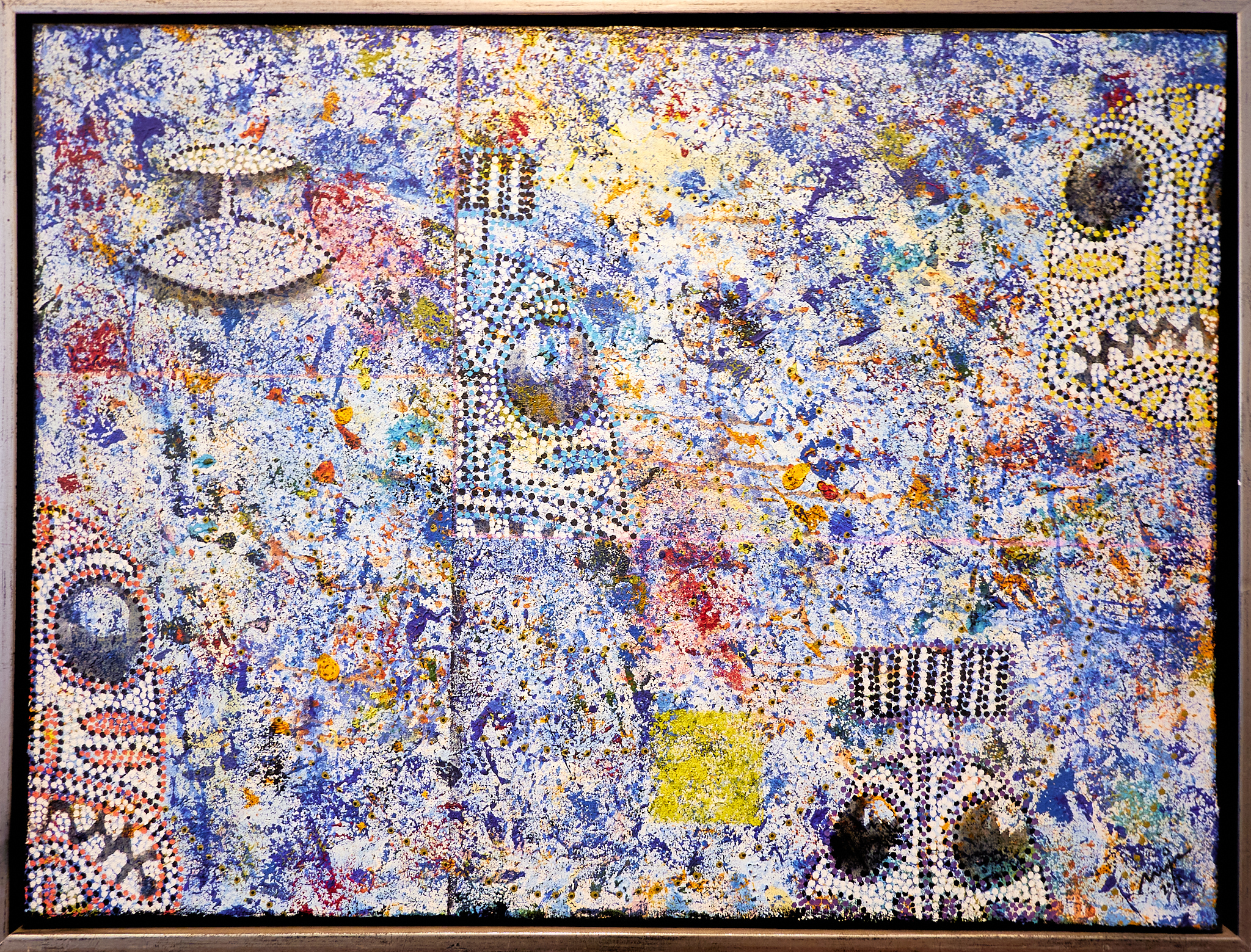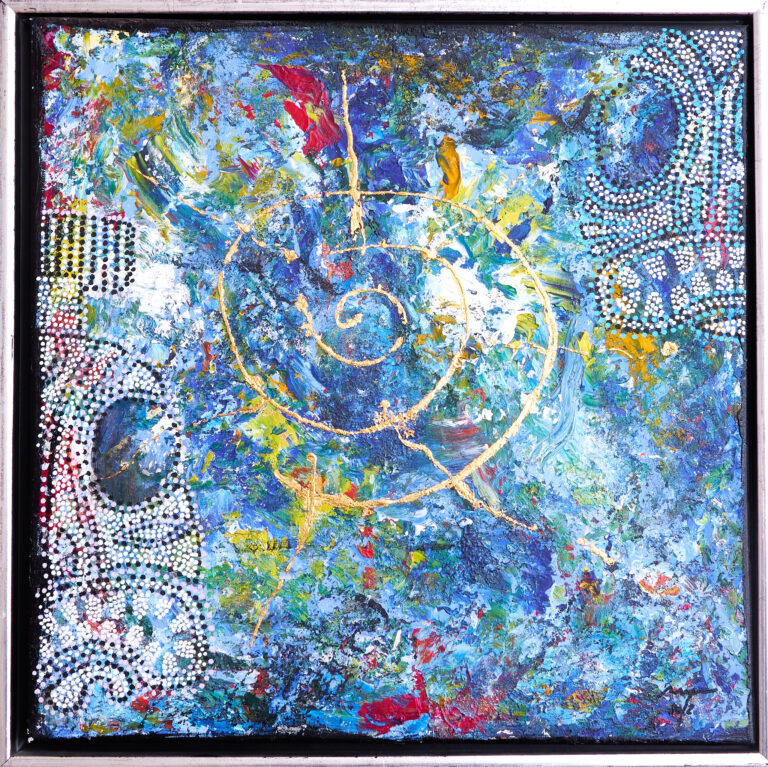 Explore Greenlandic art for yourself
I highly recommend you seek out opportunities to explore Greenlandic art for yourself while you visit the country. There are dedicated art spaces in Nuuk, Sisimiut, and Ilulissat but you can also often find art exhibitions in smaller centres as well.
---
The best place to start planning your trip is with the Ultimate Guides series on Guide to Greenland.
---