The Complete Volcanic Trails Trek by Icelandic Mountain Guides is a 9 day journey through the volcanic highlands of Iceland. Unfortunately, I was not able to do the first few days of this trip, but rather would join the group at the end of their 3rd day of hiking at Hólaskjól.
I met the Icelandic Mountain Guides representatives at the BSI bus station in Reykjavik for our 8:00am public bus transfer to Landmannalaugar (hiking central for Iceland!), and then sat back and slept for most of the ~4 hour journey (there is a 45 minute stop about half-way).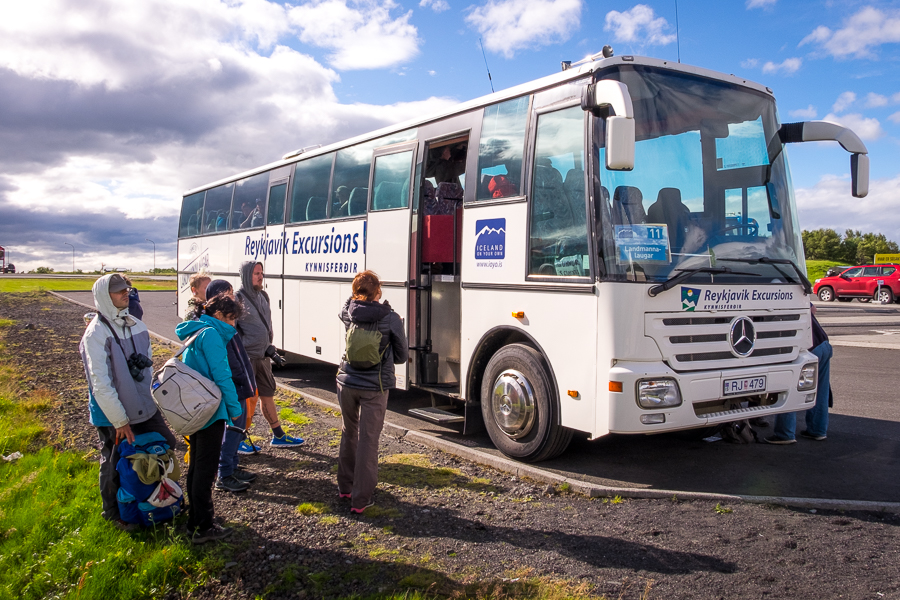 We arrived at Landmannalaugar to heavy grey skies and cold rain, which meant that the communal tent at the campsite was absolutely packed with people. Hmmm… how to fit 17 more people in here (I was travelling with a group of 16 others who were hiking the Laugavegur Trail with Icelandic Mountain Guides)??
I'm still not quite sure how, but we did manage it, and set about making lunch for ourselves. I then looked on with pity as, an hour later, everyone else headed out into the rain (they didn't look too enthusiastic) and I tried to stay warm for another 2.5 hours in the very drafty tent.
My instructions were to get myself on the 10A public bus to Skaftafell at 4pm. It quickly became clear why the vehicle looked to be a cross between a bus and a truck as we made our way along a single-lane volcanic dirt road with steep hills and tight corners. There was one bridge, which barely accommodated the width of our transport, but the remaining river crossings (and there were quite a few) were all fords – one of them, quite deep!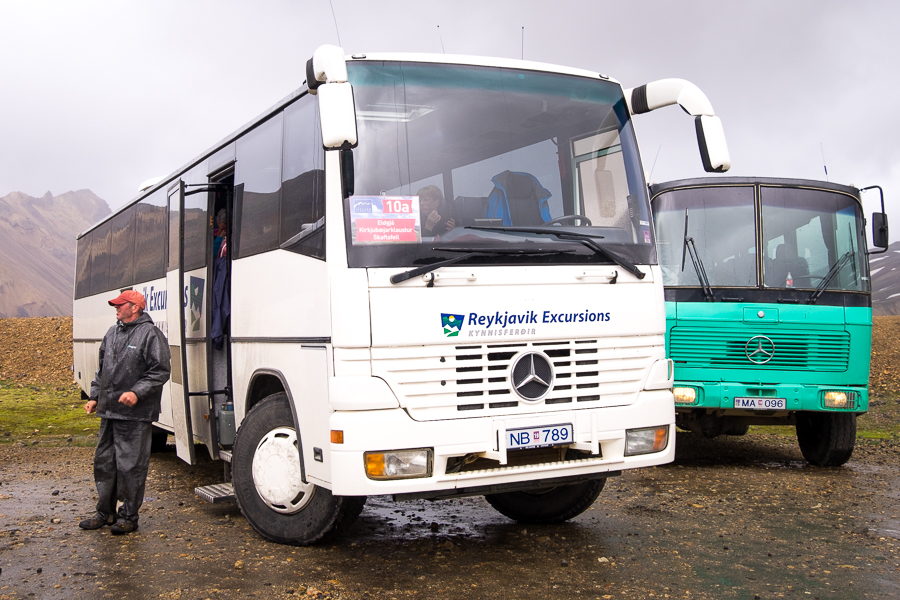 The scenery, with its black volcanic rock and bright green moss, was spectacular and matched what I thought Iceland would look like based on all the photos I'd seen. It turns out that I hadn't "missed something" during my treks in Hornstrandir and East Iceland. It's just that this type of scenery is characteristic of Iceland's highlands, not the rest of the island. The reason there are so many photographs featuring these landscapes is because this is where the majority of visitors come to trek!
Unfortunately, our views were hampered somewhat by the worsening rain and low cloud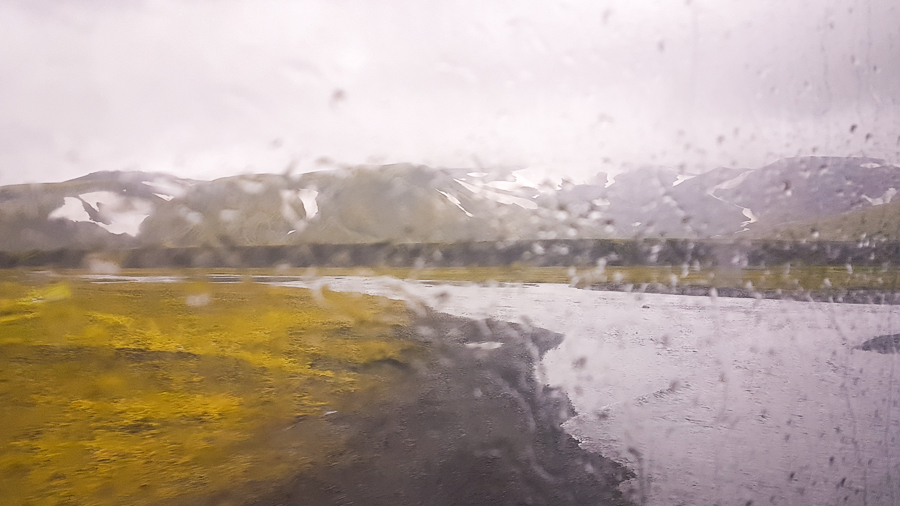 and about 30km and 1.5 hours later (!) we arrived at Eldgjá – a 75km long eruptive fissure that formed around AD934 as part of the largest eruption on Earth during the last millennium.
The bus stopped here for an hour (not quite sure why – perhaps the driver needed to recover after the road he'd just driven?) and we had just enough time for a short hike in the world's largest volcanic canyon.
Fortunately, the rain had largely stopped by this time and our destination – the Ófærufoss waterfall – was definitely worth the effort.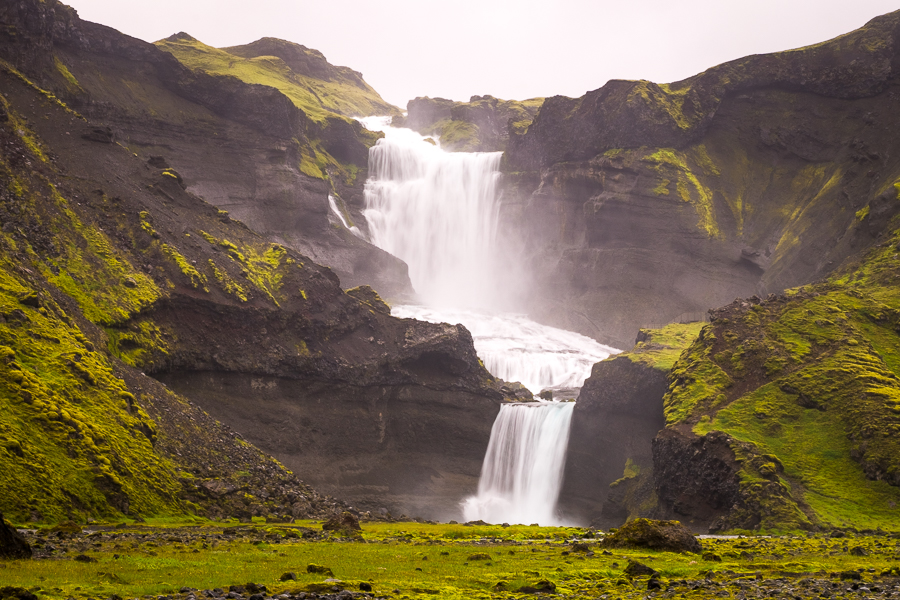 Back on the bus, it was only about another 15 minutes before I was dropped off at the large hut at Hólaskjól. There I met our guide, Kjartan, and the rest of the group, who all welcomed me enthusiastically, plied me with too many snacks, shared a wonderful meal of Icelandic Lamb soup, and broke out the cards afterwards 😊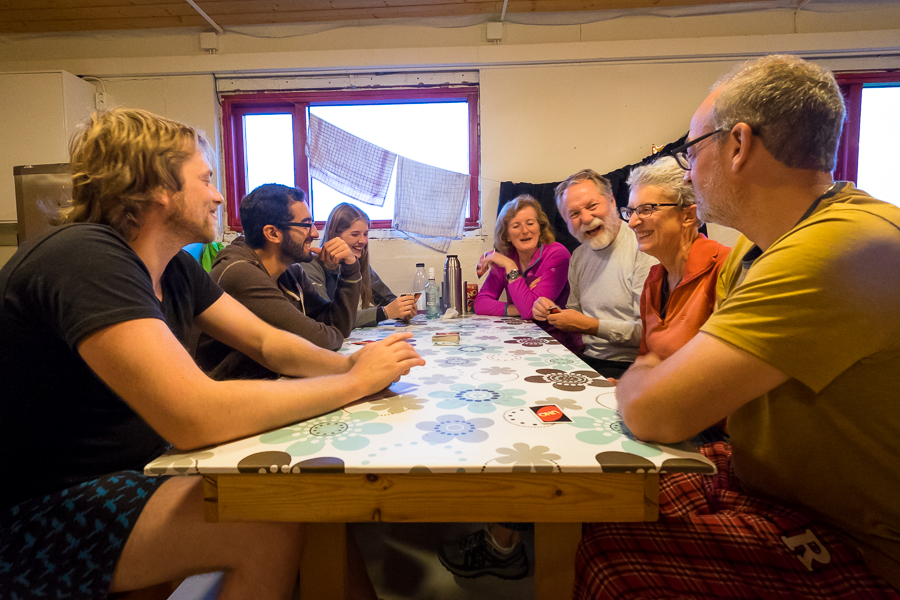 I'm looking forward to sharing the experience with these guys!
Read more about hiking the Volcanic Trails
If this post has piqued your curiosity, read about the rest of the 7-day trek with Icelandic Mountain Guides
Day 1 – Reykjavik to Hólaskjól via Eldgjá
Alternatively, check out my other posts about hiking and trekking in Iceland and around the world.