I think Kjartan needs to sack whoever made the weather prediction we received last night!
It was cold, windy and raining as we set off for our last day of hiking along the Volcanic Trails. Kjartan had told us that we would start the day with a river crossing and, not 500m later at the base of the steep hill leading down from the Dalakofinn hut, it was time to change shoes.
I decided to be lazy and just put on my neoprene socks for warmth, but leave my sneakers (which protect my tender feet from sharp things and uneven rocks) tied to my pack. Ohhhh what a mistake! What I hadn't realized was that the channel of water before us was just the beginning … we were essentially going to hike along the river itself, crisscrossing back and forth across rocky channels for over a kilometre!
It was murder on my soft feet. And my neoprene socks and our cold-water training from yesterday was nowhere near sufficient to allow us to cope with the extent of frigid water we endured here.
There was one saving grace. About half-way along and just as we thought we couldn't bare it any longer, Kjartan gathered us all in one particular spot. A small hot pool! In the middle of the river!
We huddled together warming our feet for about 10 minutes before forcing ourselves back out into the freezing water to continue our journey.
It was such a relief to finally exit the river and climb the hill immediately before us, which helped a little in our efforts to warm up.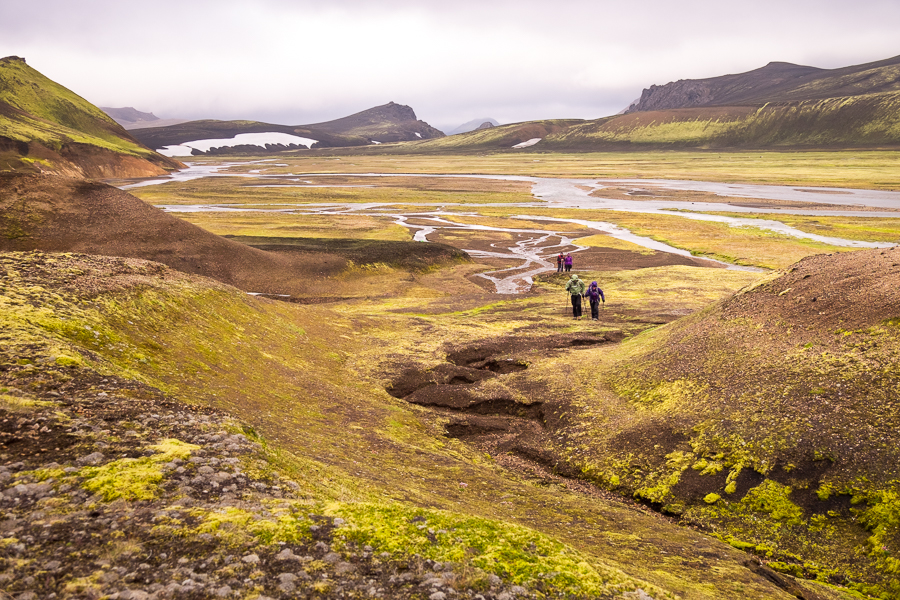 That being said, I was hiking in full wet-weather gear with my waterproof/windproof gloves on, my beanie pulled down low, and my buff pulled up over my mouth and nose (in other words, all you could see were my eyes), and my fingers and toes were still cold half an hour later at the top of the climb! Part of the problem was we were walking directly into the teeth of ~50km/hr wind, and the rain and fog weren't helping much either.
The normal route from this area to Landmannalaugar is actually to follow the river valleys. However, there was a lot more water than usual in the rivers for this time of year, which made finding a route that did not involve changing into river shoes every 5 minutes difficult.
Kjartan did find a very cool ice-cave, which distracted us from our misery for several moments,
and studying the boiling mud pools as we hiked past kept us occupied,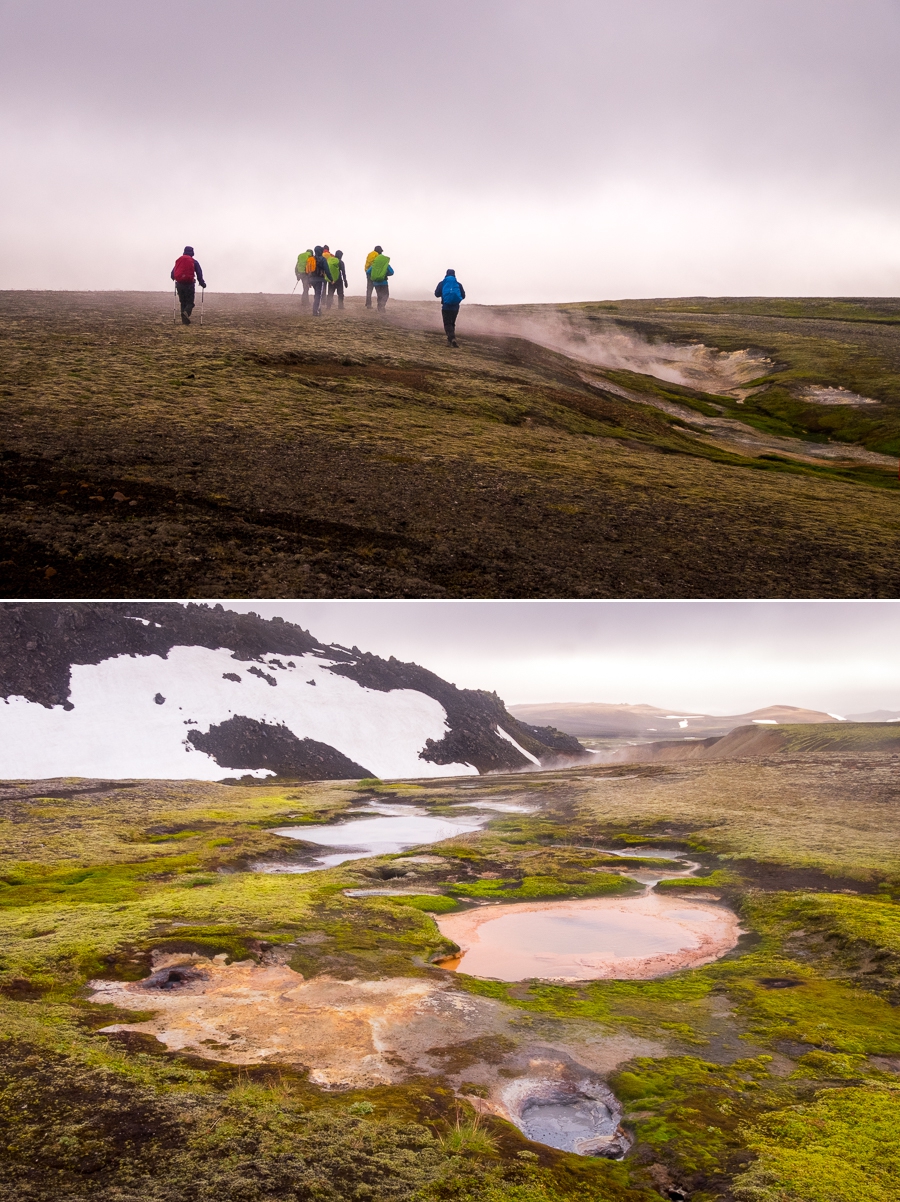 but when we reached yet another river with no way across apart from wading, he decided to abandon the normal route and follow a higher option across the hills to join the main Laugavegur Trail at an earlier point.
This kept us out of the water but was not without its own drama. There were some very steep uphills, there was no protection from the relentless, biting wind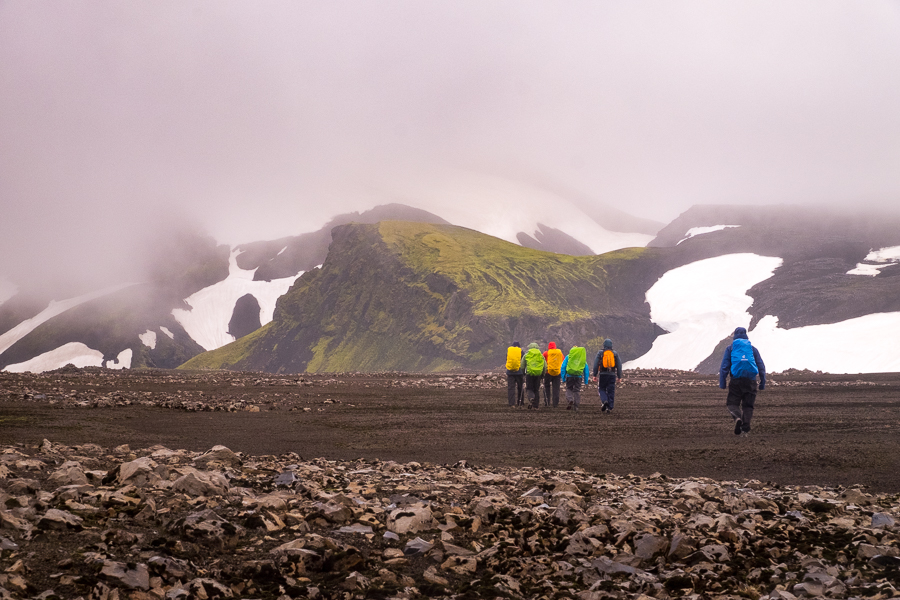 and there was a dodgy cliff-edge snow-slope to negotiate that got the adrenaline pumping in several of my fellow hikers.
The abysmal weather meant that I didn't really get to fully appreciate the landscape through which we were walking, which included the largest obsidian lava field in Iceland – Hrafntinnuhraun. In this location, the obsidian (which forms when magma cools rapidly) is completely free of crystals and gas bubbles and appears as an almost pure black "glass".
On and on we forced our way against the interminable wind and spitting rain and, after what seemed an eternity, an enormous stone cairn marking the Laugavegur Trail appeared out of the fog before us. Still 8km from Landmannalaugar, we turned left and joined the "superhighway" of Iceland's most popular trek.
This in itself was quite a shock to the system! Having been completely alone while trekking for the past 7 days (though there were other people at most of the huts), the steady stream of hikers making their way in the opposite direction to us was a bizarre sight. Of all the opportunities for trekking in Iceland – why do most people choose to do the same trail? I've never understood this, and it made me appreciate even more the solitude and off-the-beaten-track nature of our Volcanic Trails trek.
That being said, and despite the lousy weather and the fact that I was not in the right mind-frame to enjoy it at all, it is undeniable that the start of the Laugavegur Trail is spectacularly beautiful!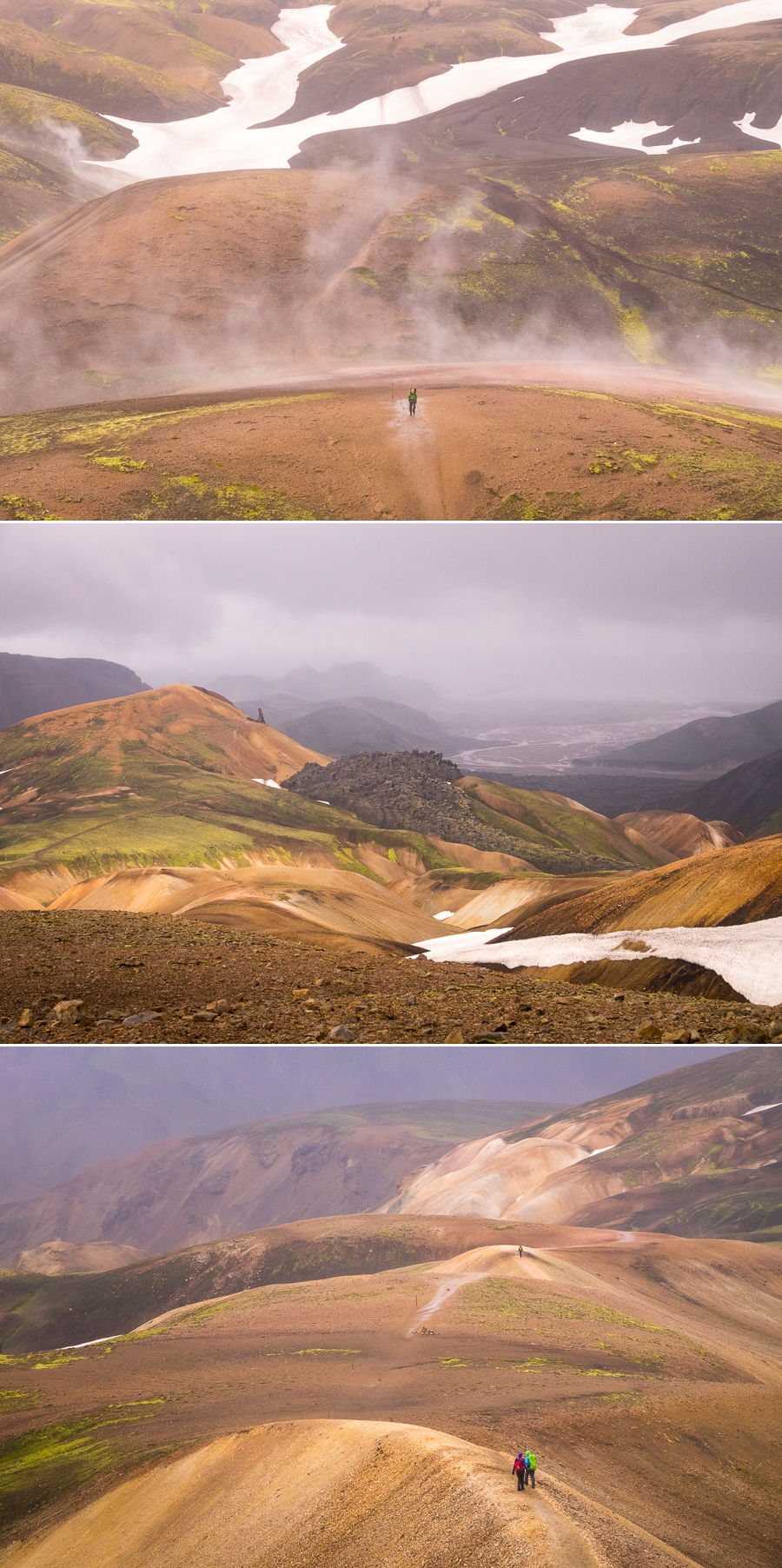 It was a welcome relief, however, to arrive at Landmannalaugar, peel off the wet weather gear, and change into dry clothes while waiting for our 7pm public bus back to Reykjavik. We stocked up on licorice and other goodies at the "store" and, once on board, asked the bus driver to crank up the heating. Then sat back and slept as the warmth finally seeped into our bodies, dried our clothes and we were delivered back to civilization.
Summary
The Volcanic Trails trek offered by Icelandic Mountain Guides is a fantastic way to explore Iceland's highlands region whilst avoiding the crowds. It is a brilliant alternative to the world-renowned Laugavegur Trail and, while the last few days offer similar scenery to Laugavegur, the first few days take you through landscape very different to anything you'll see on Iceland's most famous route.
The hiking is relatively easy for the most part, though there are couple of long days and there may be some tricky parts if the route needs to be varied for some reason. Also, if you suffer very badly from vertigo, this may not be a good hike for you. I didn't think it would be a problem at all, but several others in the group who do have a little vertigo commented on it.
The accommodation is very comfortable and often heated, with communal living/eating spaces and dormitories that consist of mattresses laid down upon a long low platform (ie there are no individual beds). Although most of the huts were shared by other hikers in the area (only the hut at Álftavötn was a private booking for us), our group always had its own dormitory.
The food provided by Icelandic Mountain Guides is fantastic and very, very plentiful! You definitely won't go hungry if you join them for a trip! I can highly recommend making a snacks of Nutella+Icelandic flatbread for during the day, and my go-to lunch is a "cheese bomb" – red pepper cheese spread and thick slices of brie/camembert sandwiched between the large crackers that are ubiquitous in the food boxes. By lunchtime, the spread has soaked into the crackers and turned them into a more bread-like consistency. Much better than starting with bread that is several days old 😊
Many thanks to all my trekking companions for sharing this amazing 7-day hike through Iceland's highlands. I really appreciated that you welcomed me into the group with open arms, and thoroughly enjoyed the varied and interesting conversations I had with you all. Million thanks also to Kjartan for all the detailed explanations of what we were seeing, for getting us through the last day safely, and for the intellectual conversations we shared which may lead me back to academia and research part-time!
Trekking Information
Distance = 21.6km
Time taken = 9hrs 10mins
Map
Altitude Profile
Read more about hiking the Volcanic Trails
If this post has piqued your curiosity, read about the rest of the 7-day trek with Icelandic Mountain Guides
Day 7 – from Dalakofinn to Reykjavík via Landmannalaugar
Alternatively, check out my other posts about hiking and trekking in Iceland and around the world.