Our petition to the Universe for better weather was granted overnight and we awoke this morning to bright blue skies and no wind. It was glorious to sit on the verandah of the Álftavatn hut and soak in the Sun's rays while admiring the mirror-perfect reflections in the "Swan Lake".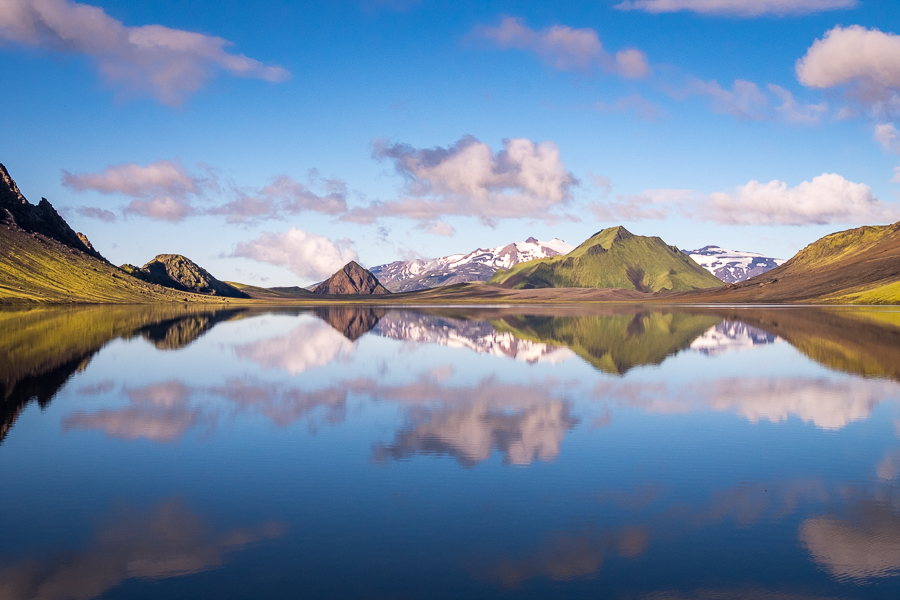 These conditions rarely last long, however, especially in Iceland! And by the time we donned our day-packs and gathered our trekking poles, the lake was once again simply a body of water rather than an echo of the sky above.
After 5 days of black volcanic sand and bright green moss, we were excited to be heading into a more geothermally active region as we made our way along the "back-road" to Landmannalaugar. Most visitors experience this area by hiking Iceland's famous Laugavegur Trail (Álftavatn is actually the second hut along this trail), but I was very happy to be taking a less-traveled route through the highlands. In fact, we didn't see any other hikers at all until we arrived at Dalakofinn at the end of the day.
The rhyolite hills of Ljósártungur were almost a sensory overload of colour under the bright Sun

[move mouse over image to see the full panorama]
and we spent quite a while perched on a ridge taking in their deep yellows and oranges.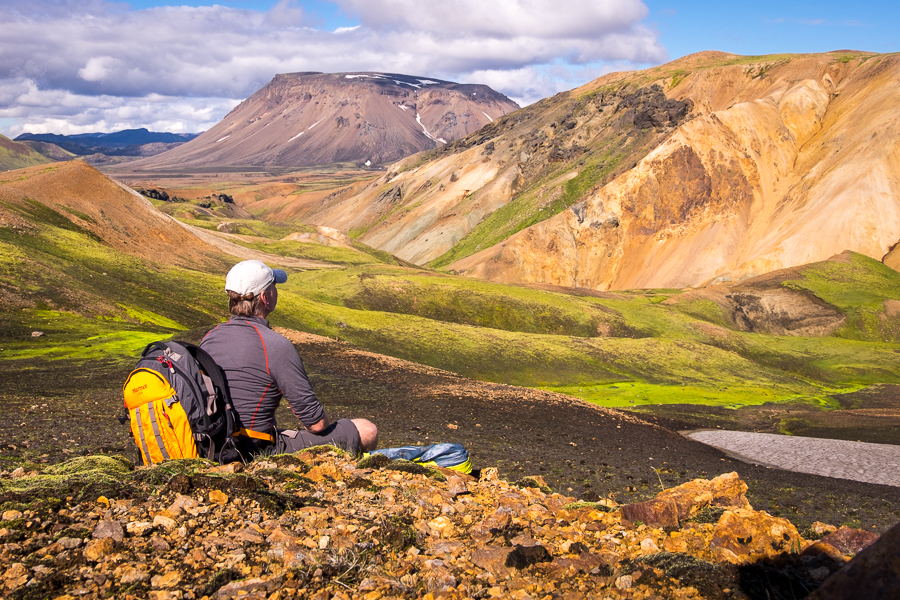 Then it was down into the valley for our first river crossing for the day.
Kjartan had warned us that today would involve a lot of river crossings (there were actually 4 of them), which gave us even more opportunities to improve on the cold-water tolerance of our feet 😊
We also collected quite an array of footwear (and other rubbish) as we negotiated the waterways – reinforcing the recommendation that good trekking companies make about using closed sandals for this kind of activity.
The last of the river crossings was actually quite extensive with multiple channels to ford. Given it was not clear how deep the later channels would be, Gunnar and I ditched our long hiking pants again and spent the next half hour walking through the Icelandic highlands in our underwear. No, we have no shame. And we agreed that it was much better than having wet pants!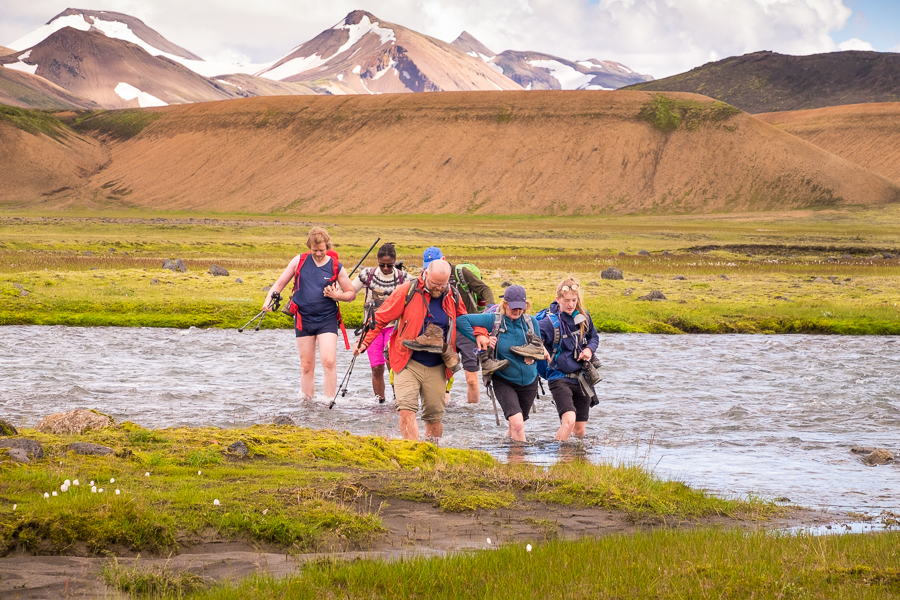 After changing back into our hiking boots (and putting our pants back on), we watched several 4WD vehicles ford the river as it cut across the road. This is not a straightforward maneuver (note the sign), and given how expensive it is if you get stuck out here, they were, very, very cautious indeed!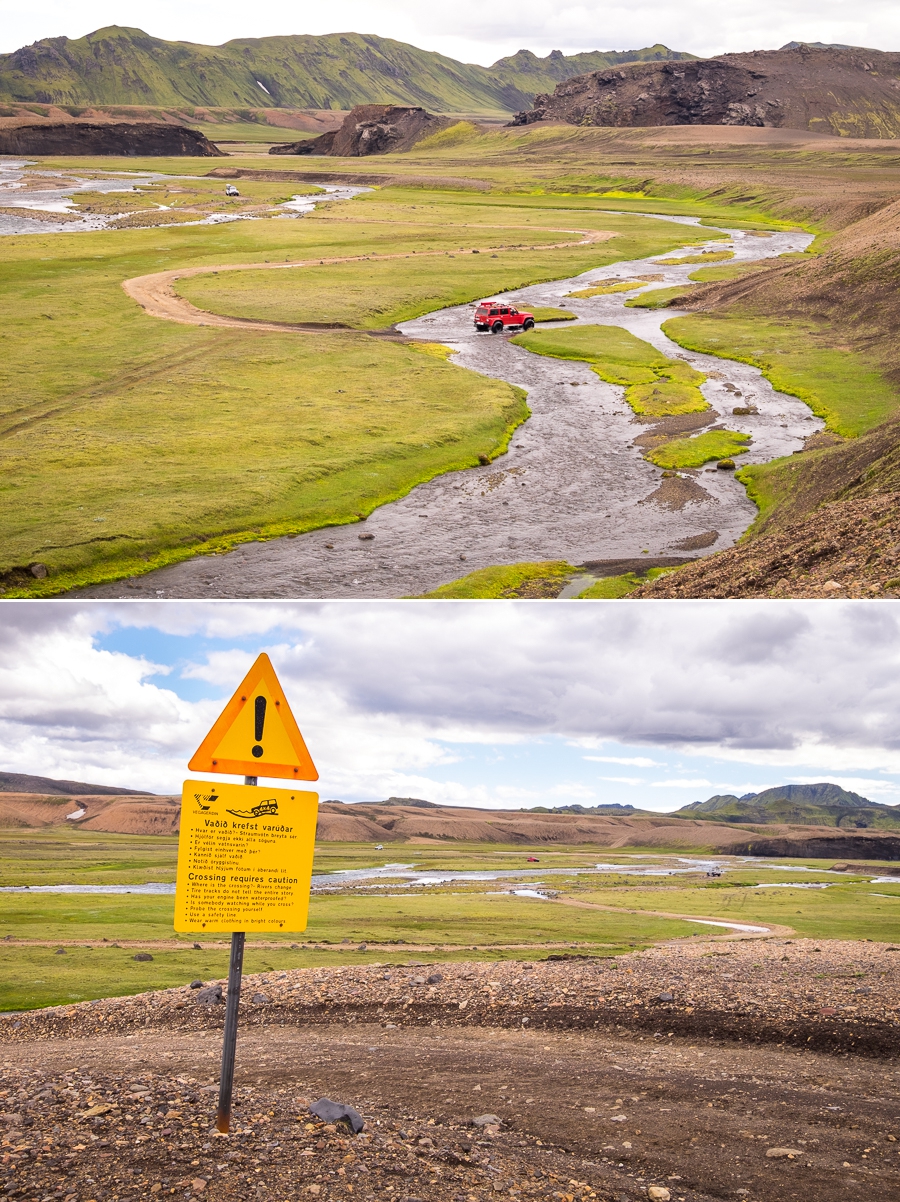 Although the Sun had disappeared behind a significant cloud layer by this point, the scenery continued to be a kaleidoscope of colour and interesting shapes as we followed yet another river, but from on high.
This led us to an absolutely stunning waterfall, surprisingly named "the Waterfall With No Name", where we spent a great deal of time exploring
before hiking the final few kilometres to the hut at Dalakofinn. Here I tried pickled herring for the first time and discovered it was absolutely delicious! Not too fishy in either taste or smell, and surprisingly sweet in fact! I'll be eating a lot more of this in future!
It occurred to us over our dinner of baked salmon and salad that today was the first day of the trek that we didn't have to stop to put rain pants on. The forecast for tomorrow promises more of the same … fingers crossed!
Trekking Information
Distance = 20.3km
Time taken = 9 hours
Map
Altitude Profile

Read more about hiking In the Shadow of Vatnajökull
If this post has piqued your curiosity, read about the rest of the 7-day trek with Icelandic Mountain Guides
Day 6 – from Álftavatn to Dalakofinn
Alternatively, check out my other posts about hiking and trekking in Iceland and around the world.