I was back on the #11 public bus to Landmannalauger at 8am, less than 12 hours after returning to Reykjavík. Yes, it was a slightly crazy idea to do the Volcanic Trails trek and then the Laugavegur & Fimmvörðuháls trek (both with Icelandic Mountain Guides) back-to-back, but hey! I'm making the most of my time in Iceland 🙂
Unlike yesterday and the day I arrived at Landmannalauger for the first time, the weather was actually pretty good! Well, at least it wasn't raining … which left plenty of room for our group of 16 and the other group of 16 that was doing the 5-day Laugavegur Trek with Icelandic Mountain Guides to eat our lunch in the communal tent.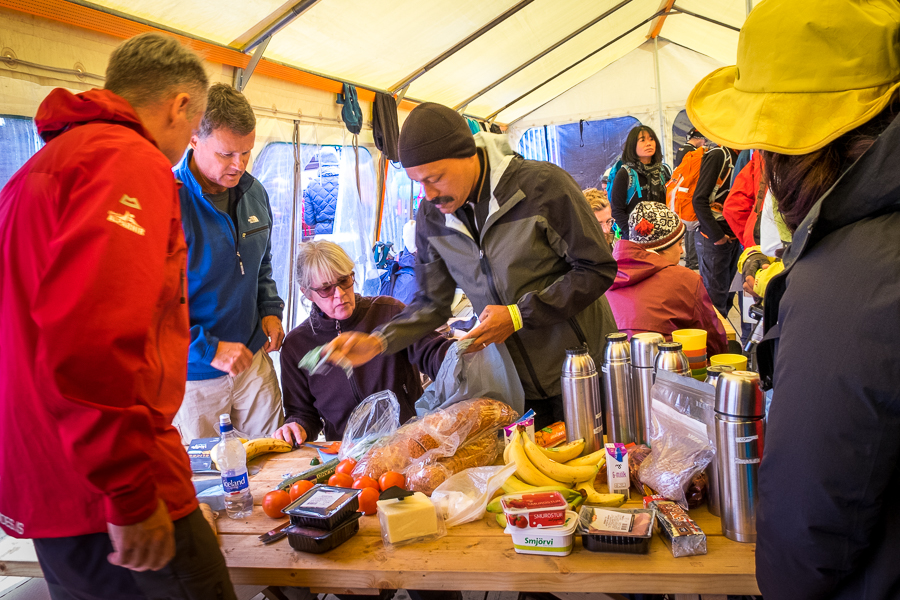 We even had time for a dip in the hot springs, though only a few (not me!) decided to go in.
Then, at 2pm, it was time to shoulder our day-packs (the rest of our luggage would be transferred for us from hut to hut) and head up the hill at the start of the Laugavegur Trail – Iceland's most famous multi-day hike.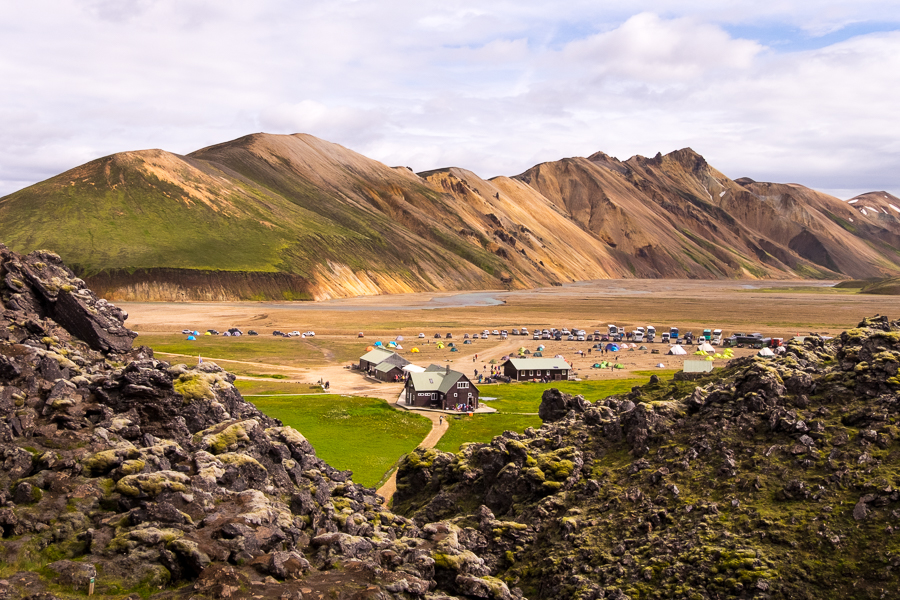 The views were immediately stunning as our guide, Sigþór (pronounced more-or-less as sig-thor), led us through the Laugahraun lava field
and past the first of many colourful rhyolite hills.
At the top of the first rise, Sigþór stopped and started drawing what seemed to be a very abstract shape in the dirt. It turned out, it was a map of Iceland with its 3 main glaciers (ahhhhh!) and he used it to explain a little about the geological formation of Iceland and where we would be trekking over the next 7 days.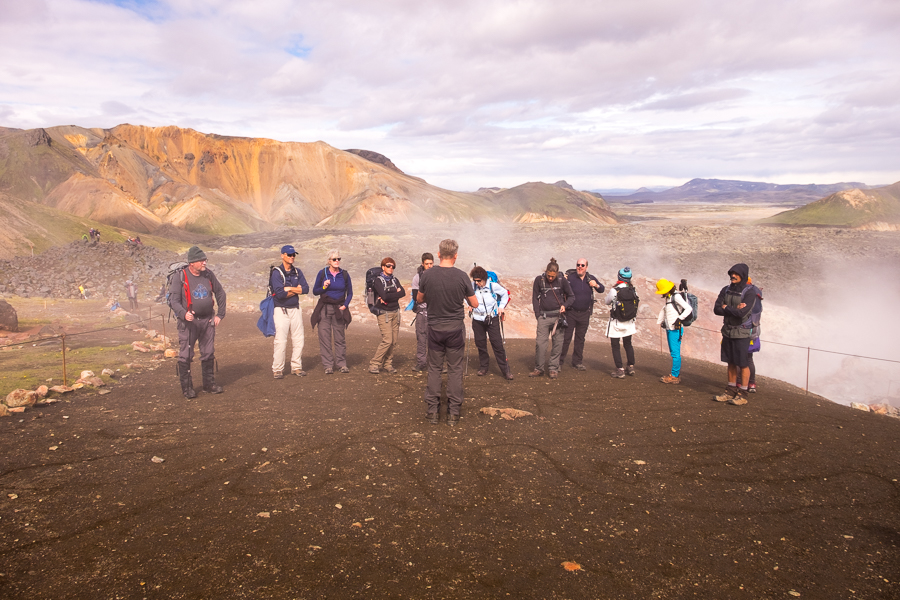 With that information under our belts, we continued our journey though this impossibly coloured and beautiful landscape
before arriving at Stórihver with its violently steaming vents
and hot springs.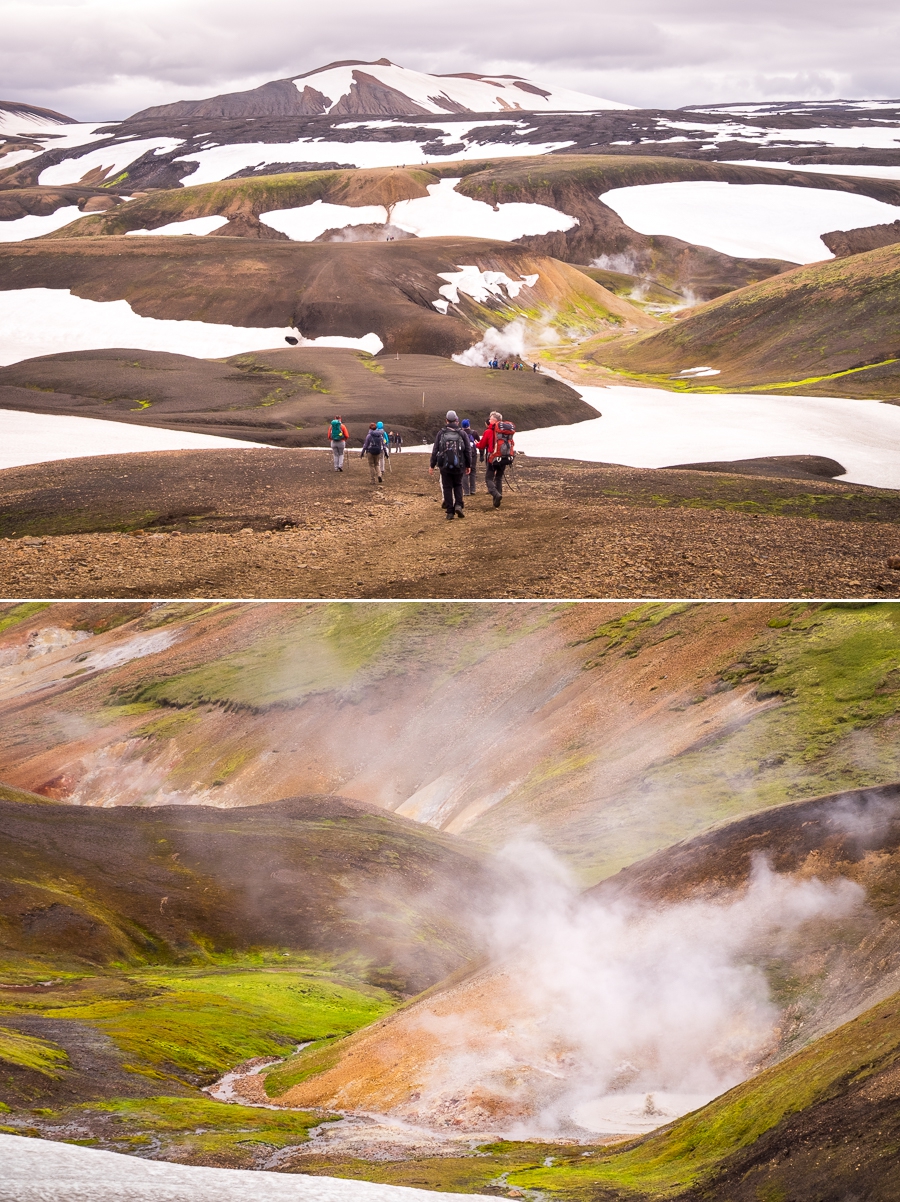 From there, the trail climbed again to a stark plateau with amazing views of a glacier and the coolest patterns ever in the snow
before delivering us to our hut for the night at Hrafntinnusker.
Here, we continued to get to know one another by tucking into chocolate, biscuits, tea and coffee while Sigþór and Þorbjörg (my guide from the "In the Shadow of Vatnajökull" trek in East Iceland, and who was leading the group doing the 5-day trek) cooked us a fabulous meal of fish, rice, salad and blue cheese sauce 🤤 The meals on any Icelandic Mountain Guides trek are awesome, and it looks like we have a great fun group for this trek!
It was such a relief that the weather today was an infinite improvement over that of yesterday, and that I could actually enjoy this gorgeous start to the Laugavegur Trail rather than ploughing forward into a strong and biting wind with my head down. What a difference 12 hours makes!
Trekking Information
Distance = 9.77km
Time taken = 3hr 57min
Map
Altitude Profile
Read more about hiking the Laugavegur Trail
If this post has piqued your curiosity, read about the rest of the 7-day Laugavegur & Fimmvörðuháls Combo Tour with Icelandic Mountain Guides
Day 1 – Reykjavík to Hrafntinnusker via Landmannalaugar
Alternatively, check out my other posts about hiking and trekking in Iceland and around the world.