Day 6 of the Laugavegur & Fimmvörðuháls trek was the one that everyone was worried about. It involved a 900m climb, and we would have to carry a little extra weight (our sleeping bag liner, essentials for a night, and extra food) as it was not possible for the vehicle to transfer our gear to the hut at Fimmvörðuháls.
The hike started out easy enough as we left Þórsmörk via a mobile bridge over the Krossá river. I imagine they wheel it out of the way when the river floods to avoid it being damaged.
From there, we continued to hike along flat terrain through the birch forest before finally starting our ascent to Goðalönd – the abode of the Gods.
What an apt name!
[move mouse over image to see full panorama]
The climb is truly spectacular, with narrow ridges to distract you and keep you on your toes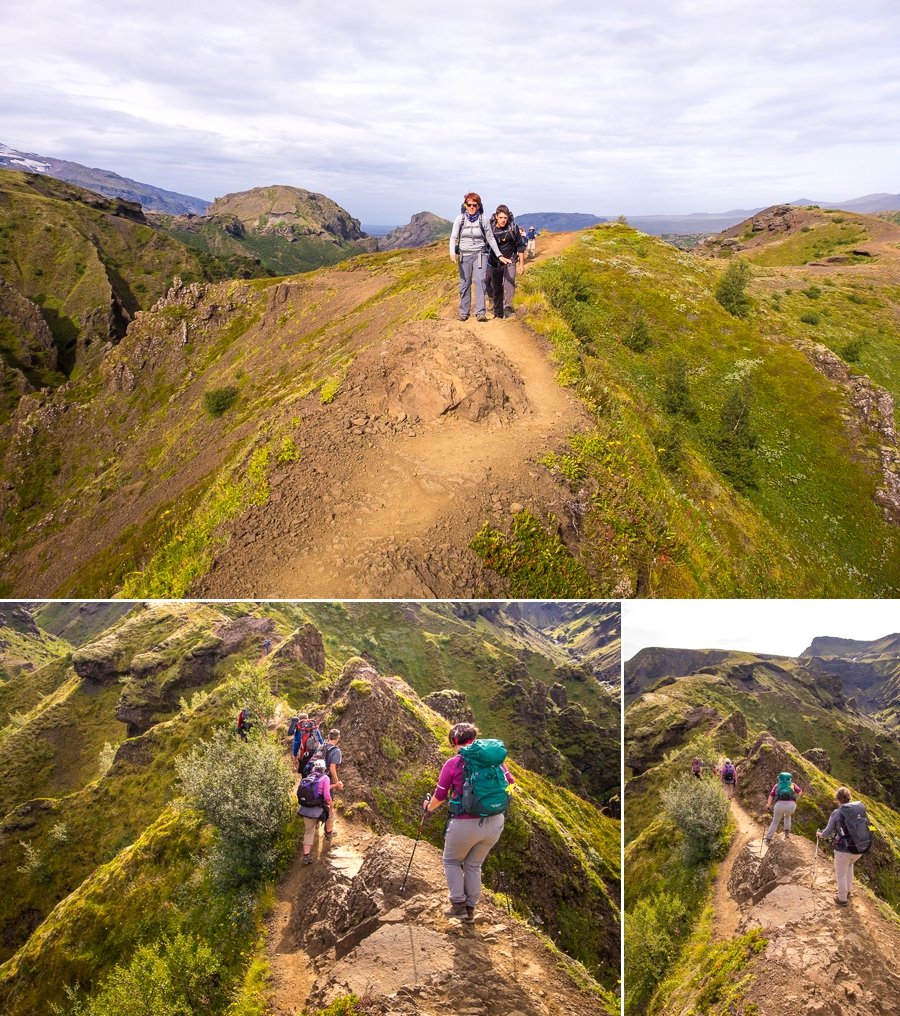 and views that make you forget all about how hard your heart and lungs are working!

The Morinsheiði plateau is a surreal sight, oddly out of place within this jagged landscape
and the mighty Mýrdalsjökull glacier is almost close enough to touch.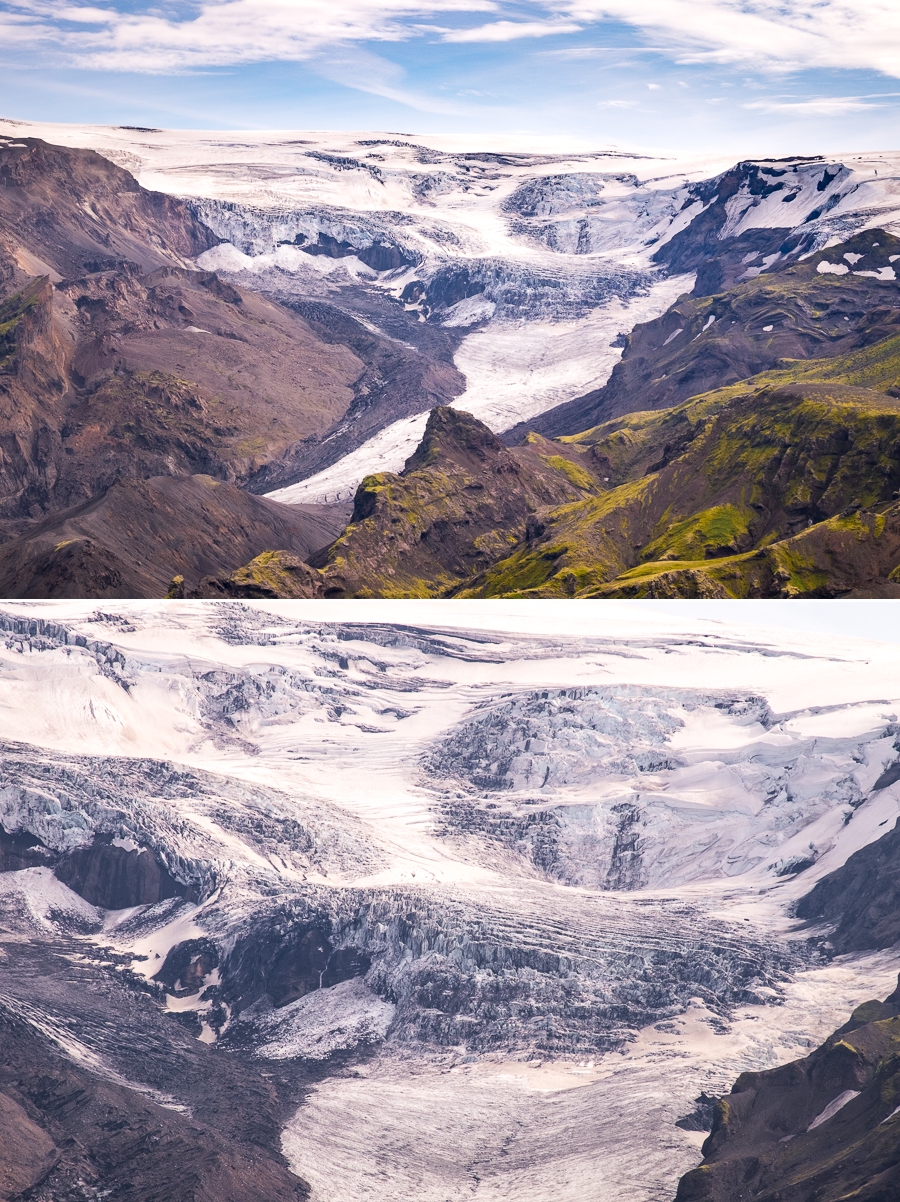 Towards the top of our ascent, there was one last obstacle between us and a relatively easy run to the Fimmvörðuháls high pass – "The Devil's Crest". This is a relatively narrow ridge with steep drops on either side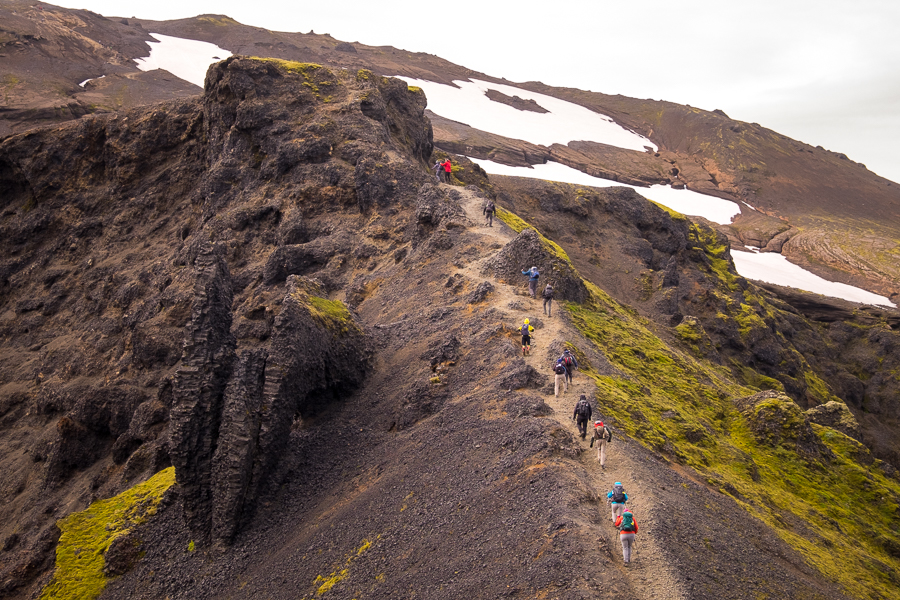 followed by a steep but short climb assisted by chains.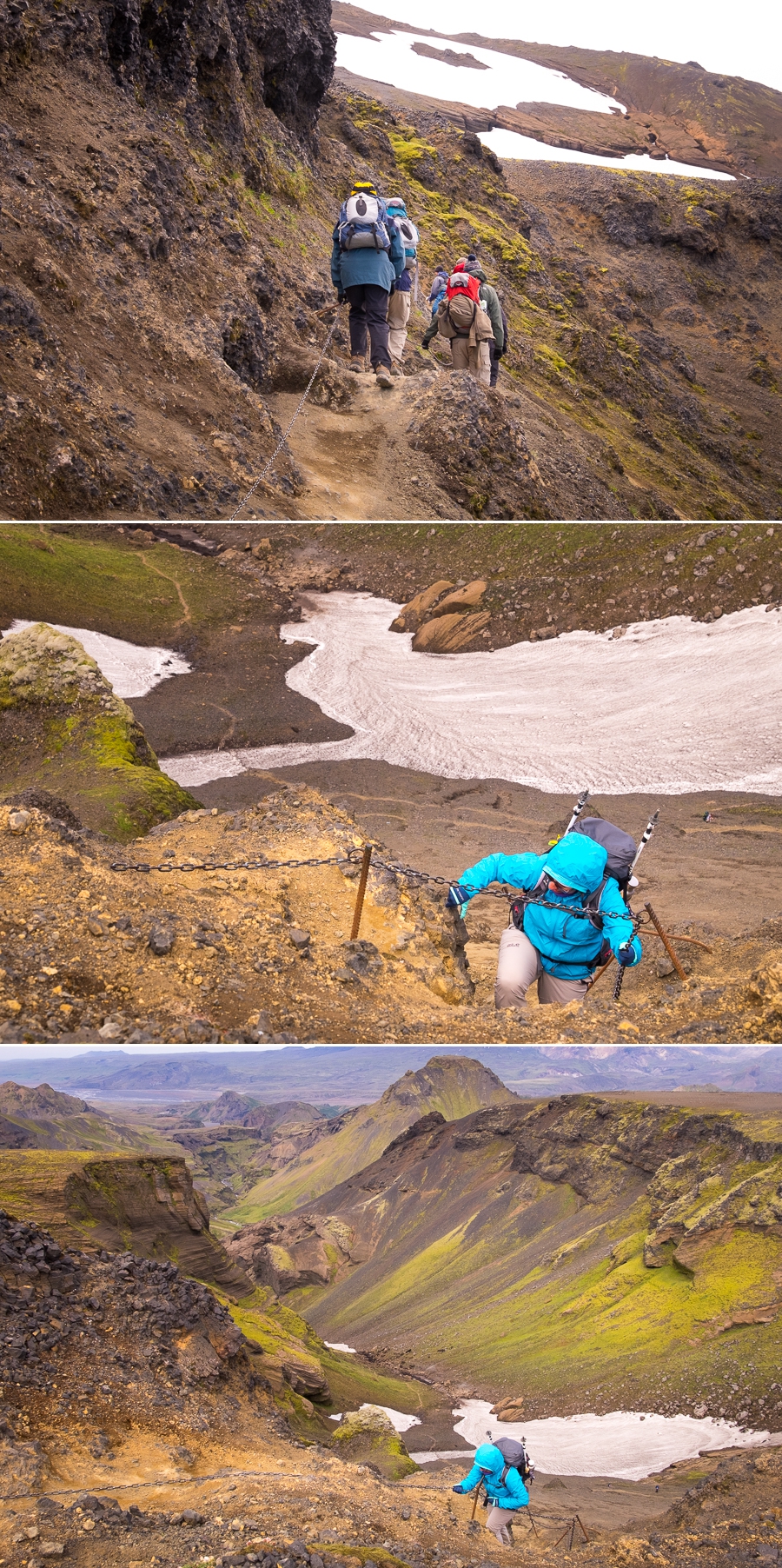 Fortunately, such scenarios don't bother me much (and I've certainly done a lot worse than this – for example on the Los Miradores hike in Podocarpus National Park in Ecuador), but it was a bit of a nail-biter for some of my companions.
It was a long climb to the highest point on our trek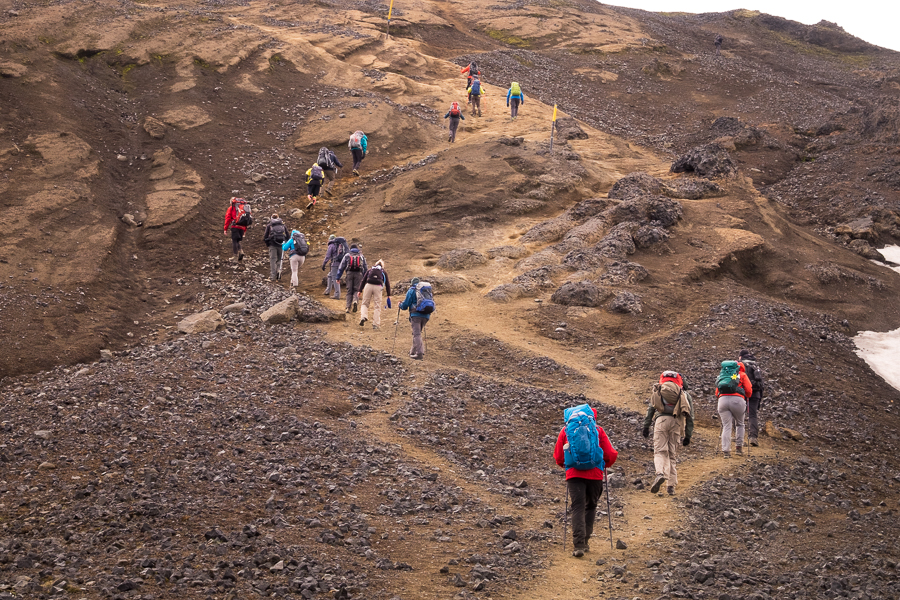 and, once over the pass, we were hit by the full force of the strong wind that had kicked up during our climb. Unfortunately, its direction was such that blew dust straight into our faces as we made our way through the very new Goðahraun lava field, which was created by a flow from the Fimmvörðuháls volcano in March/April 2010.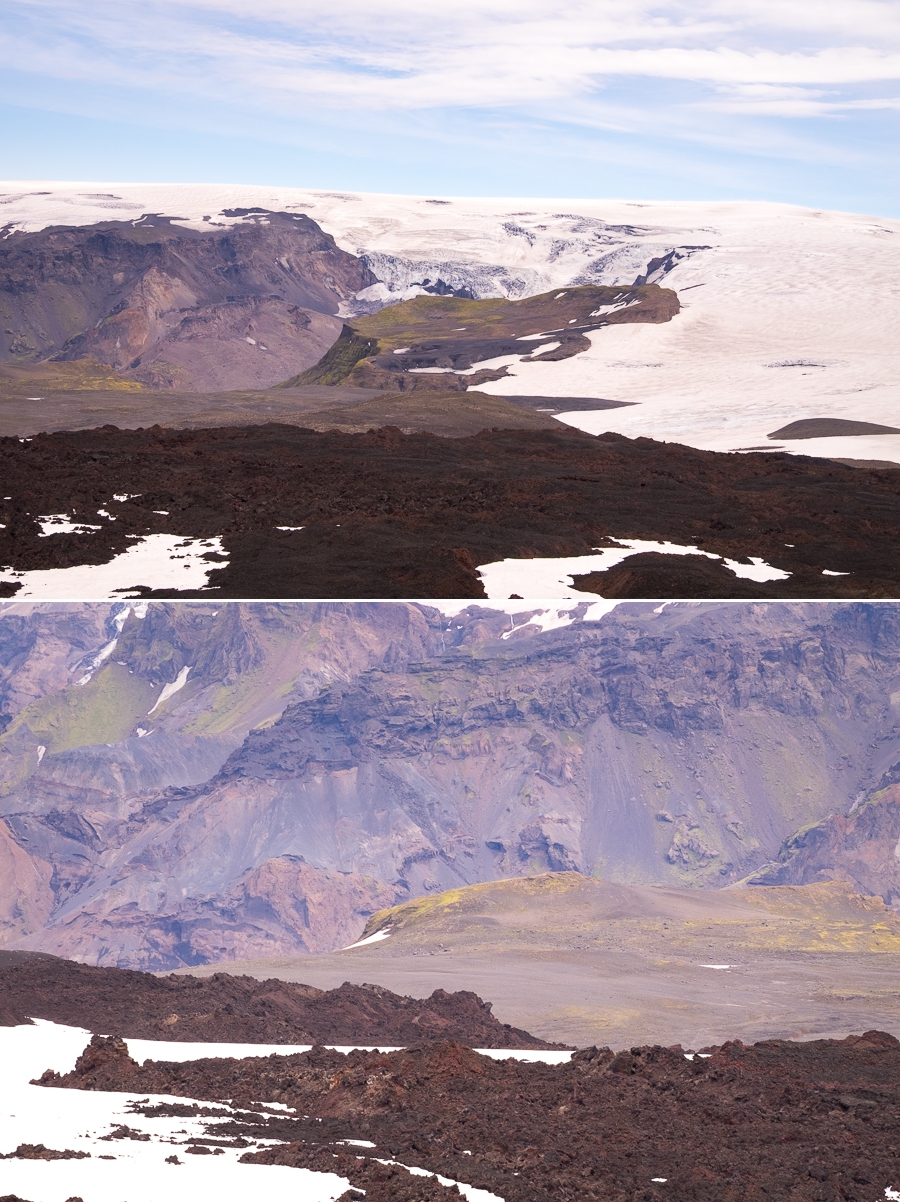 Its not often you get to see recently formed rocks, as most of what we walk around on is quite old. So almost all of us took the opportunity to ditch our packs and brave the gale-force winds for a quick side-trip up the red-coloured, and only 8-years old, Móði crater.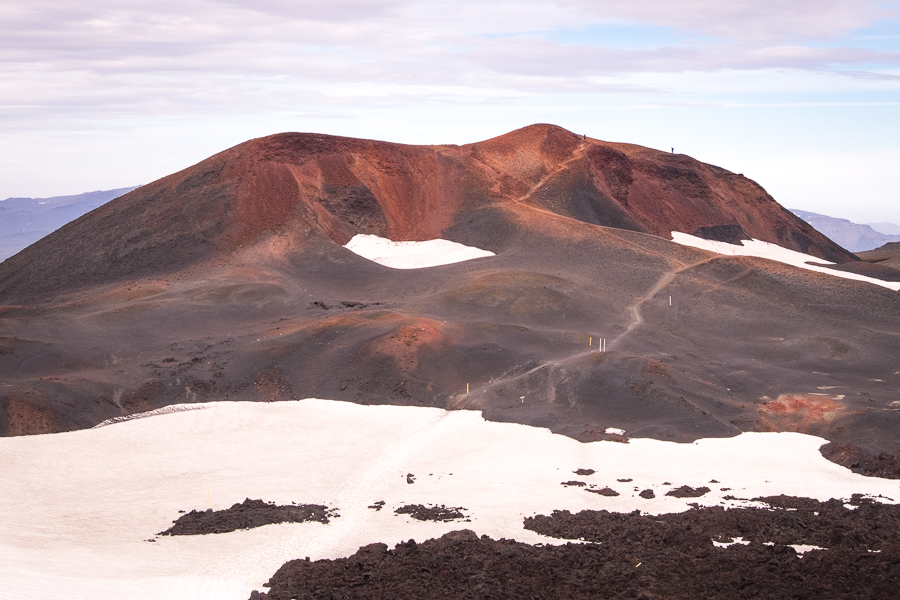 The last 40 minutes of the hike was a trudge against the wind and across snowfields (at least there was no dust!) leading to the small Fimmvörðuskáli Hut.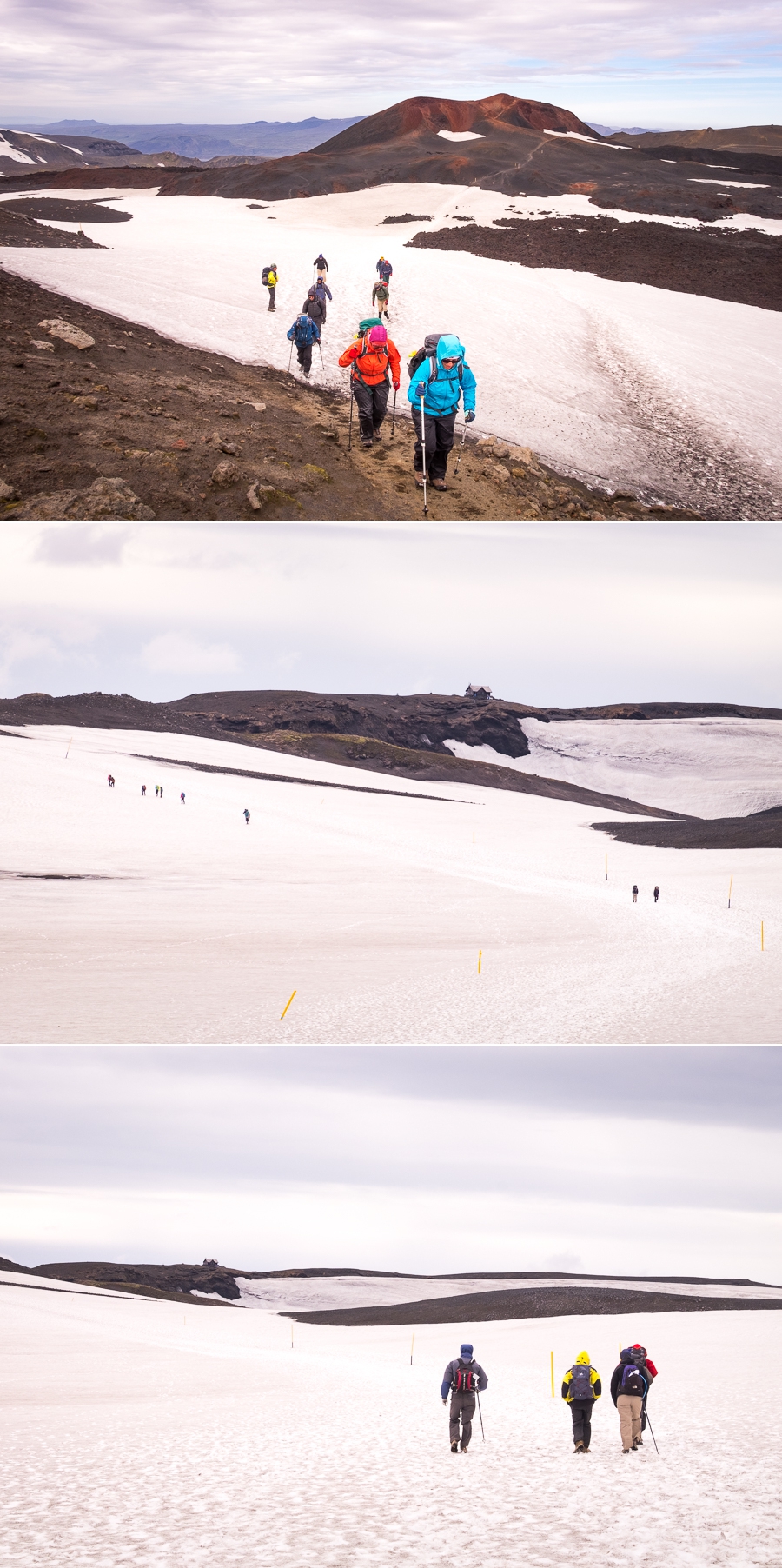 Located at the top of a hill and nestled between the Mýrdalsjökull and Eyjafjallajökull Glaciers, I can only imagine the view from here if the weather had been better!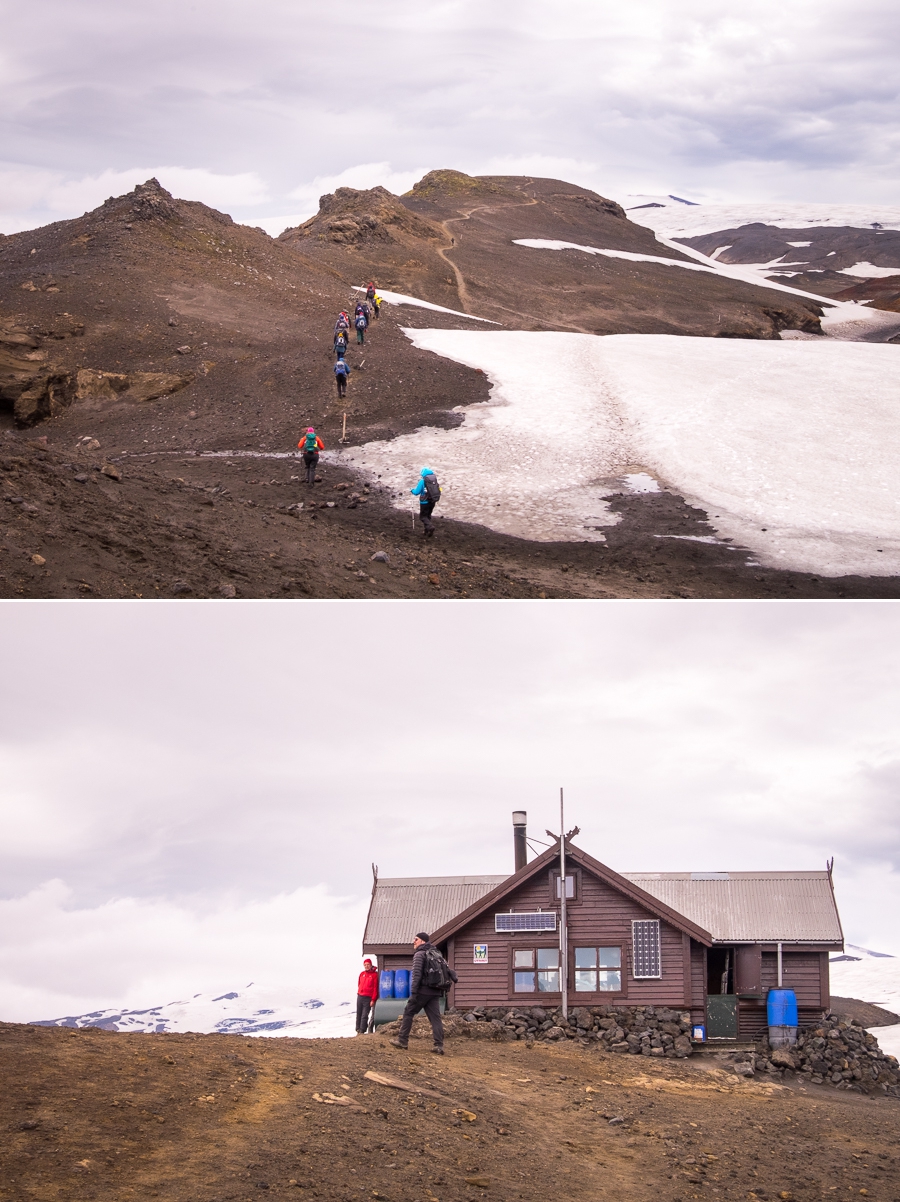 Nevertheless, the hut provided us with some unique experiences!
For a start – there was no running water either at the hut or in the vicinity of the hut. Therefore, Alexi and Etienne (the youngest members of the group) headed outside with our slightly eccentric warden to collect fresh snow to melt for drinking and cooking.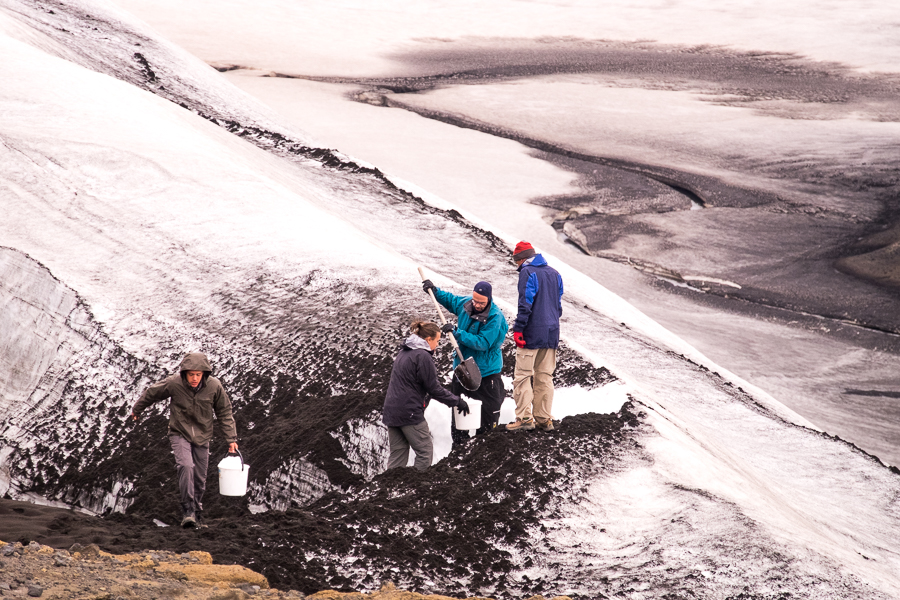 The other interesting conundrum was the toilet! While there was a dry toilet inside the hut with a heavy-duty plastic bag to catch the waste, because there was no vehicular access to the hut and the bags had to be carried out, it was specified that this could only be used for solid waste.
In order to pee, the men were encouraged to simply go outside. However, there was a urinal-type contraption in the bathroom that could be used by women (theoretically), and men if the weather was really bad.
I say "theoretically" because there is no way in the world that a woman actually designed or tested this thing! Yes, I had to have a go (come on, how could you not?) and quickly decided that the outside option was a better one, no matter how bad the weather.
Once again we spent the later part of the afternoon and evening chatting while eating and drinking far too much (Icelandic Mountain Guides had a cache of dry food – ie biscuits and cake – under one of the beds in the hut 🙂 ), and persevering with the time-consuming process of melting and boiling snow.
Trekking Information
Distance = 12.1km
Time taken = 5hr 56mins
Strava Link = https://www.strava.com/activities/1768355481
Map
Altitude Profile

Read more about hiking the Fimmvörðuháls Trail
If this post has piqued your curiosity, read about the rest of the 7-day Laugavegur & Fimmvörðuháls Combo Tour with Icelandic Mountain Guides
Day 6 – from Þórsmörk to Fimmvörðuháls
Alternatively, check out my other posts about hiking and trekking in Iceland and around the world.