Unfortunately, the weather had deteriorated even further overnight and our last day on the Laugavegur & Fimmvörðuháls trek was very, very wet 🙁
We could just see the bottoms of a few of the Eyjafjallajökull Glacier tongues peeking out from below the fog and clouds as we donned all our wet weather gear and said goodbye to our eccentric warden.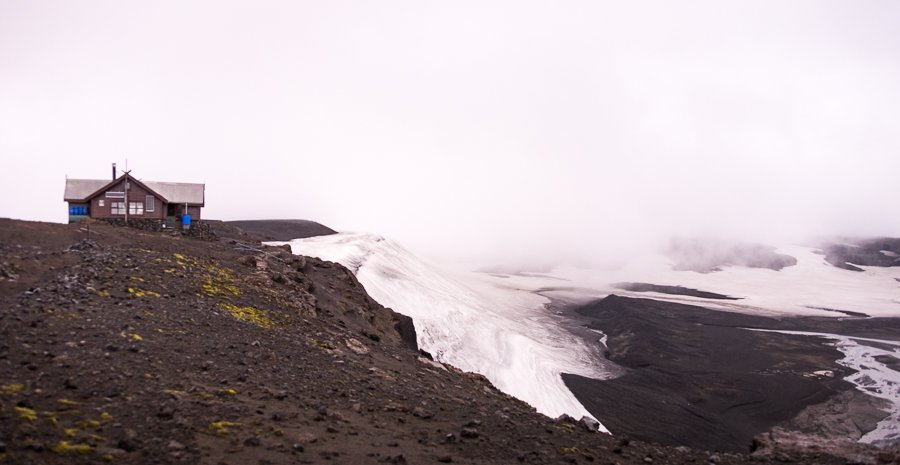 The ocean (close to our ultimate destination of Skógar) was also visible from our perch between the Mýrdalsjökull and Eyjafjallajökull Glaciers, but it was at least a 6-7 hour hike to get there according to the schedule provided by Icelandic Mountain Guides.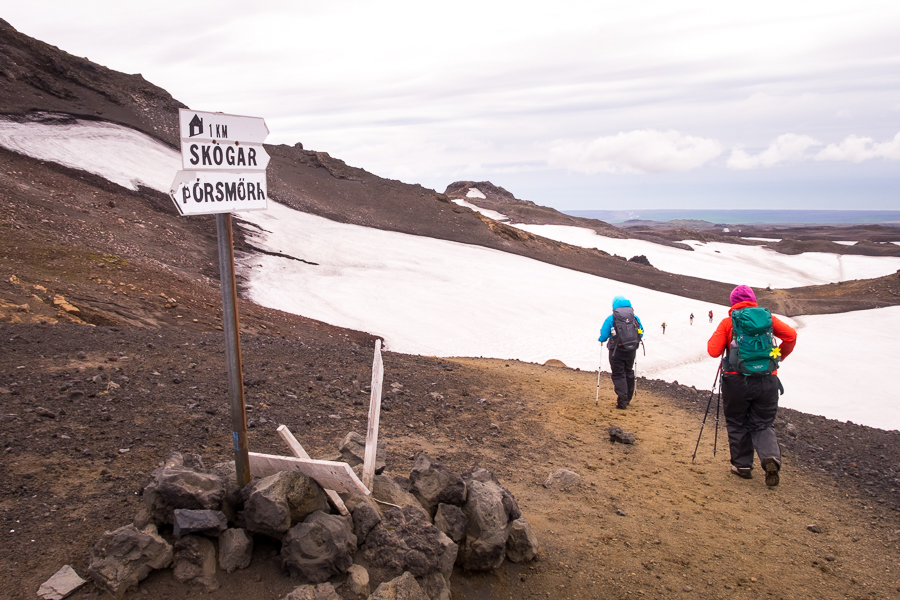 We hiked across more snow fields and desolate volcanic landscape during the first part of our descent off Fimmvörðuháls.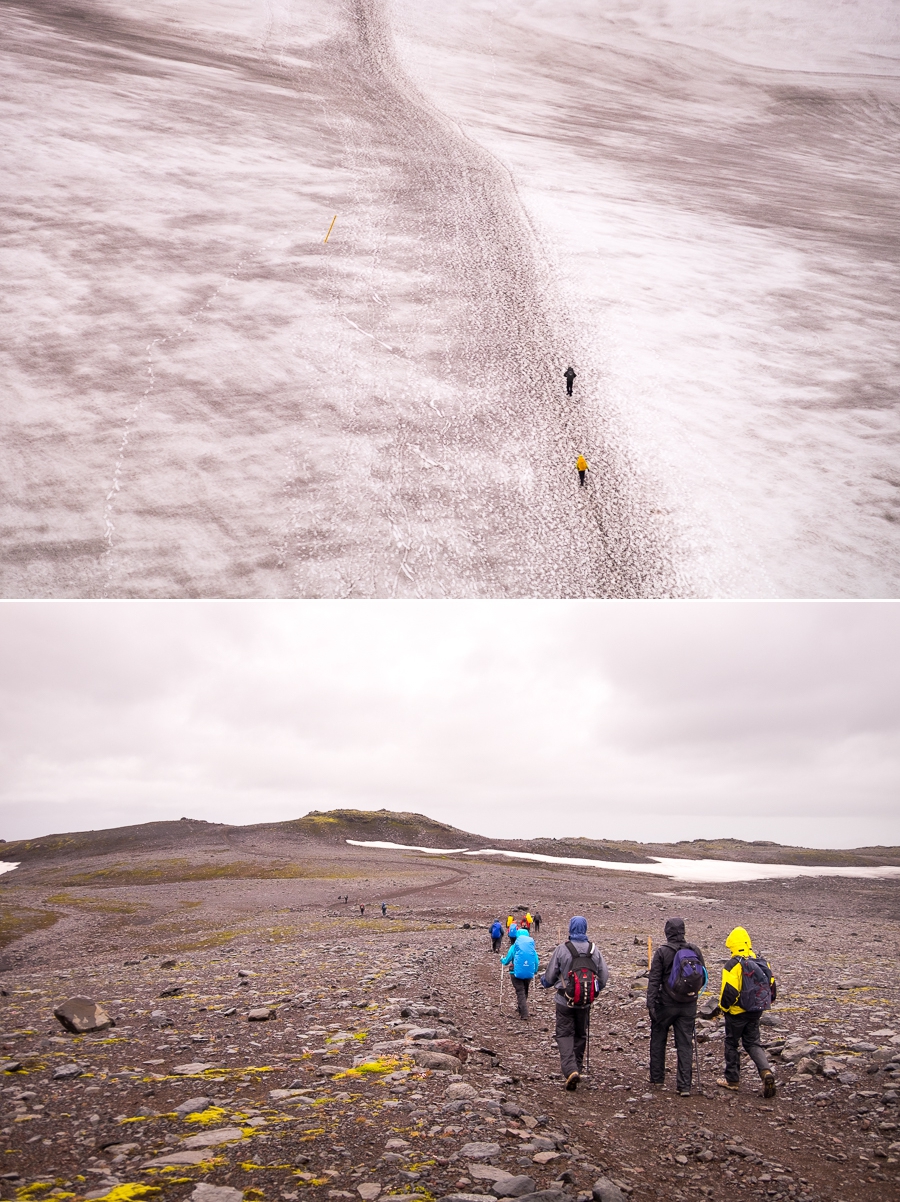 However, we'd been told that this hike was also known as "The Waterfall Way" and so were very keen to get to our first waterfall. It turns out, this one didn't even count!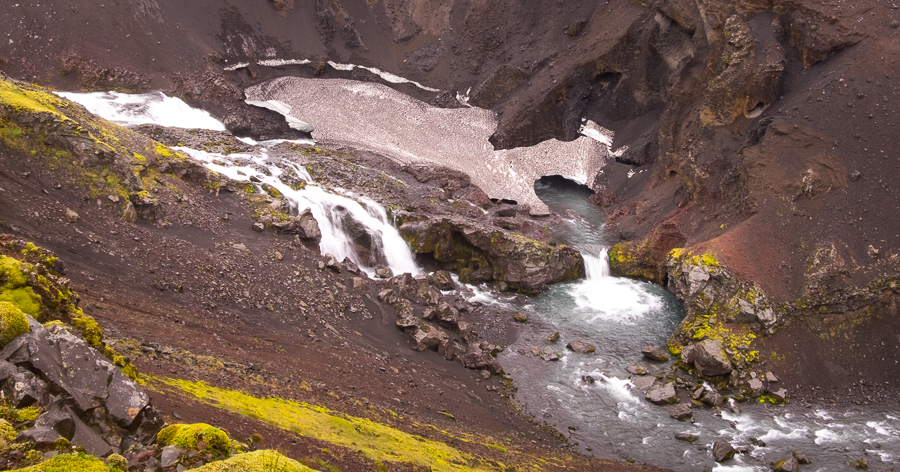 There are 23 waterfalls between the bridge over the Skógaá River and Skógar, all of them beautiful, some of them very impressive!

Unfortunately, my trekking companions seemed hell-bent on getting to Skógar and out of the rain as quickly as possible, so I found myself falling a long way behind as I fought the raindrops off my camera lens trying to capture the majesty of this area. It would be awesome to have an overcast day with no rain to hike this slowly!
The trail essentially followed the river all the way down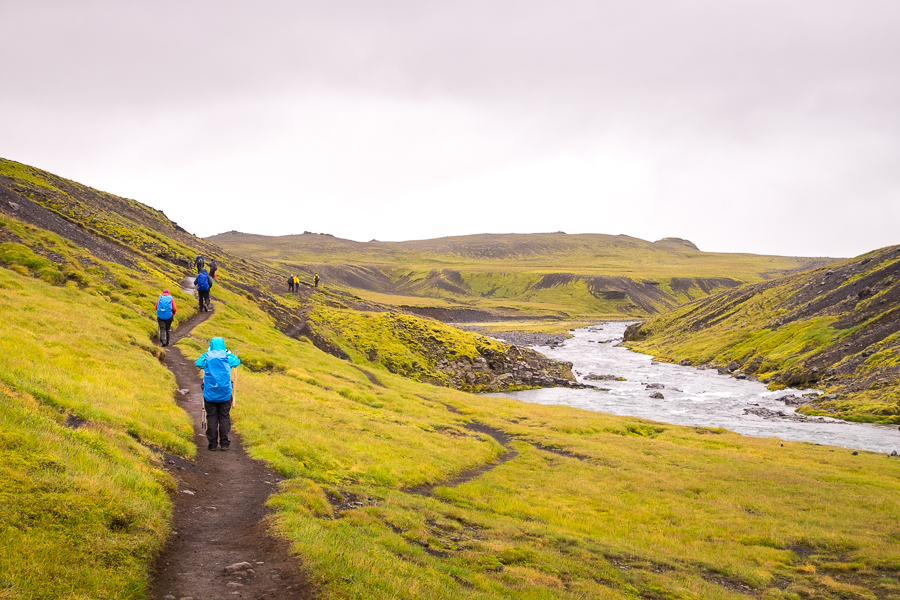 and had carved out quite a deep canyon closer to the coast.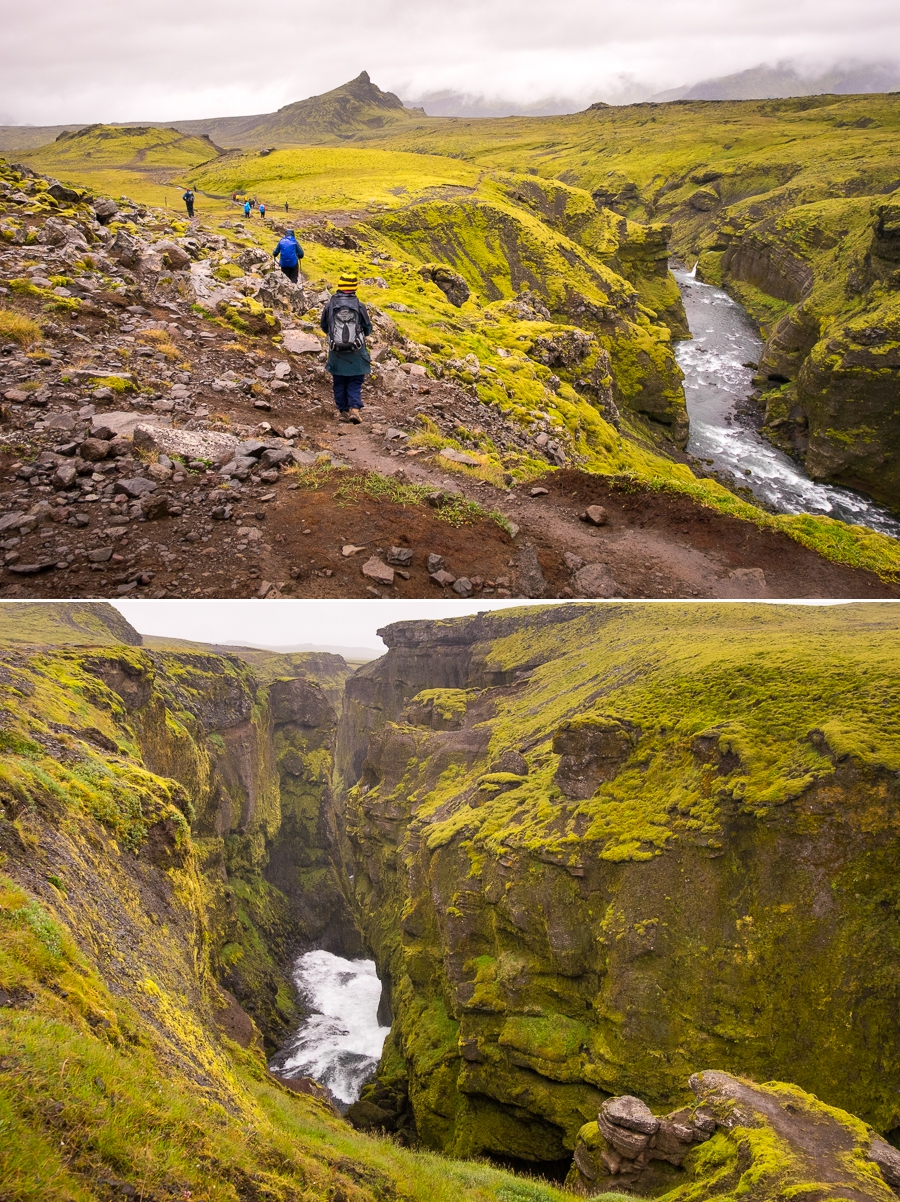 The famous Skógafoss waterfall (a key attraction near Iceland's Golden Circle) was final highlight of our 7-day hike. Although there were about a billion people there, our band of intrepid trekkers braved the spray for our final adventure together. After all – how much wetter could we possibly get?!
In the end, we completed the 6-7 hour hike in only 4.5 hours! It was such a relief to change out of our saturated gear and spend a few hours relaxing in one of the cafes at Skógar while waiting for the bus back to Reykjavík. We all had such a great time together, we didn't want to say goodbye!
Summary
If you want to hike Iceland's famous Laugavegur Trail but want to do it in comfort, the Laugavegur & Fimmvörðuháls Combo Tour offered by Icelandic Mountain Guides is a fantastic option.
The hiking is relatively easy along a well-established trail for the most part, though if the weather is particularly bad (it is Iceland remember) it may add a little challenge.
The accommodation is typically shared with other hikers, is heated, and is very comfortable. The communal living/eating spaces vary in size from spacious to cozy, and the dormitories consist of mattresses laid down upon a long low platform (ie there are no individual beds). Only the hut at Fimmvörðuháls is a little rustic 😉
The food provided by Icelandic Mountain Guides is fantastic and very, very plentiful! You definitely won't go hungry if you join them for a trip! I can highly recommend making a snacks of Nutella+Icelandic flatbread for during the day, and my go-to lunch is a "cheese bomb" – red pepper cheese spread and thick slices of Brie or Camembert sandwiched between the large crackers that are ubiquitous in the food boxes. By lunchtime, the spread has soaked into the crackers and turned them into a more bread-like consistency. Much better than starting with bread that is several days old 😊
Many thanks to all my trekking companions for sharing this amazing 7-day hike through Iceland's highlands. I had a ton of fun with you guys, loved all the joking around and paying out, and hopefully will have the chance to meet up with you all again as I continue my travels around the world. 500 Kroner also to Sigþór (sorry, in-joke) for an awesome trek and all the Icelandic stories – I really loved this element that you brought to our adventure.
Trekking Information
Distance = 14.45km
Time taken = 4hr 36mins
Strava Link = https://www.strava.com/activities/1768355291
Map
Altitude Profile

Read more about hiking the Fimmvörðuháls Trail
If this post has piqued your curiosity, read about the rest of the 7-day Laugavegur & Fimmvörðuháls Combo Tour with Icelandic Mountain Guides
Day 7 – from Fimmvörðuháls to Reykjavík via Skógar
Alternatively, check out my other posts about hiking and trekking in Iceland and around the world.