Today we woke up to blue skies and bright sunshine over the huts at Emstrur.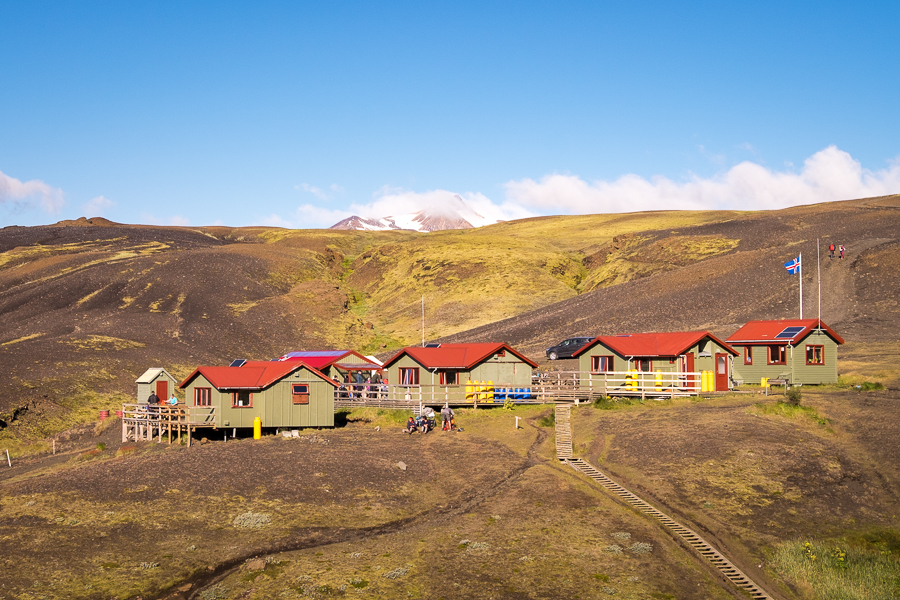 The trail led us towards the Mýrdalsjökull glacier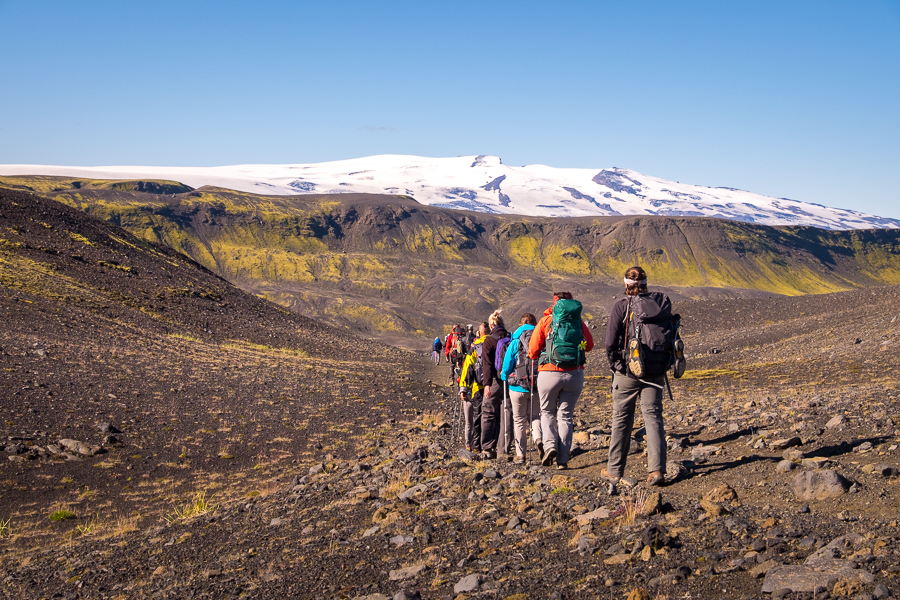 and, after crossing the Emstrur River
we turned south to follow at a distance the north-western edge of this enormous glacier.
It was such a joy to be hiking in fantastic weather
and Sigþór took a very relaxed approach to the day, stopping several times for long "rests", including at the Markarfljót Canyon.
In contrast to previous days, it was positively hot (especially when one is wearing thermally insulated, high-altitude mountaineering boots!) and the arms came out as we came across a relatively rare sight in Iceland … trees!
This area was also quite grassy, with Icelandic sheep silently cropping the vegetation below the glacier.

[move mouse over image to see full panorama]
After the last river crossing of the trek
we found ourselves hiking through the thick arctic birch forest of Þórsmörk ("Þór's forest") – quite a shock after the previous 4 days of barren landscape!
Tea, coffee, bikkies and cake on the patio of the enormous and gorgeous hut at Þórsmörk was followed by a delicious dinner of roast Icelandic lamb, peaches+cream+chocolate sauce, and "Glacier Chably" (ie water 🤣).
Life really doesn't get much better than days like today 🙂
Trekking Information
Distance = 16.32
Time taken = 7hr 27mins
Strava Link = https://www.strava.com/activities/1768355348
Map
Altitude Profile
Read more about hiking the Laugavegur Trail
If this post has piqued your curiosity, read about the rest of the 7-day Laugavegur & Fimmvörðuháls Combo Tour with Icelandic Mountain Guides
Day 4 – from Emstrur to Þórsmörk
Alternatively, check out my other posts about hiking and trekking in Iceland and around the world.