Although the wind was still blowing as we set out to hike from Álftavatn to Emstrur, it was much less fierce than yesterday and continued to abate throughout the day.

[move mouse over image to see full panorama]
We had 3 river crossings today, the first of which everyone (including Sigþór) was relieved to discover had a makeshift bridge across it. The second was not too deep and therefore easy to cross, but the third was a little more of a challenge and a good excuse to whip off the long hiking pants again and cross in my underwear. As I said to my hiking companions – "you haven't really hiked in Iceland unless you've forded a river in your undies".
The scenery we were hiking through changed completely today – from green grass
to the black volcanic desert of Mælifellssandur, which seemed to never end.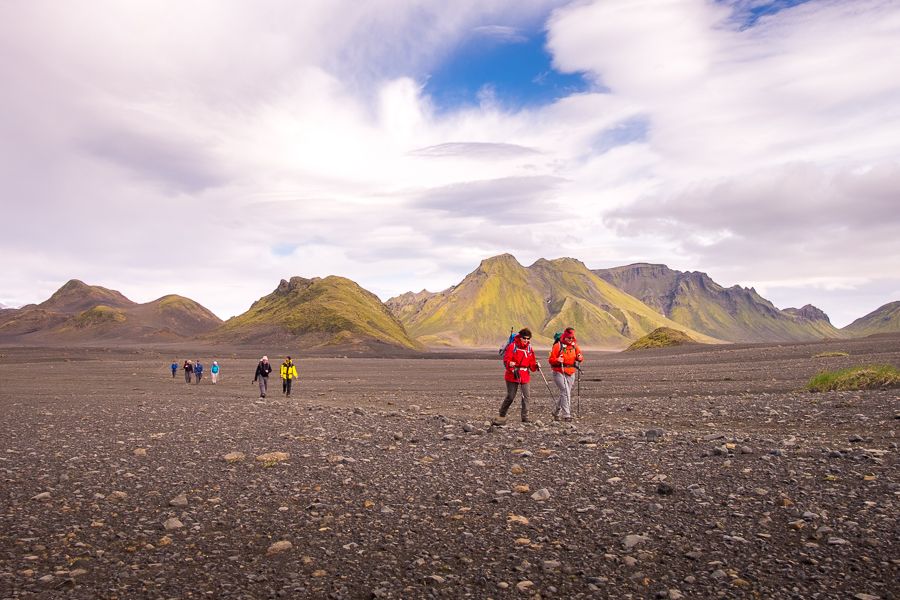 We stopped for lunch beside an impressive waterfall about half-way across the plain
and enjoyed another of Sigþór's stories from Icelandic Folklore
as we slowly made our way across this barren landscape.
I actually thought this was one of the most beautiful views on the trek, but then again, I do have a love for deserts and wide, open spaces.
[move mouse over image to see full panorama]
Just before we reached Emstrur, we took a detour to see the amazing, 200m-deep Markarfljót canyon, located just off the Laugavegur Trail itself.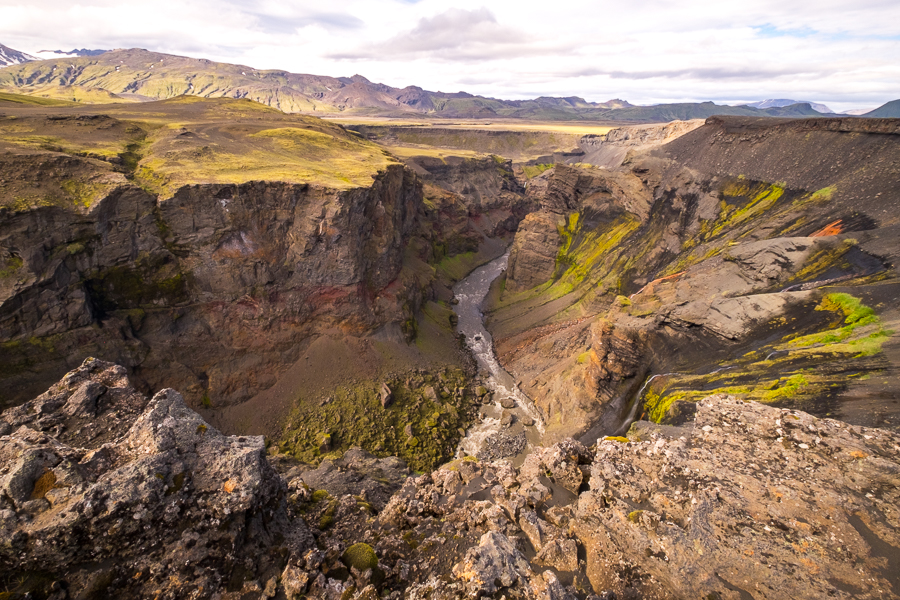 Unfortunately, the light was not great for photos, but it was an awesome place to sit and contemplate the view for a while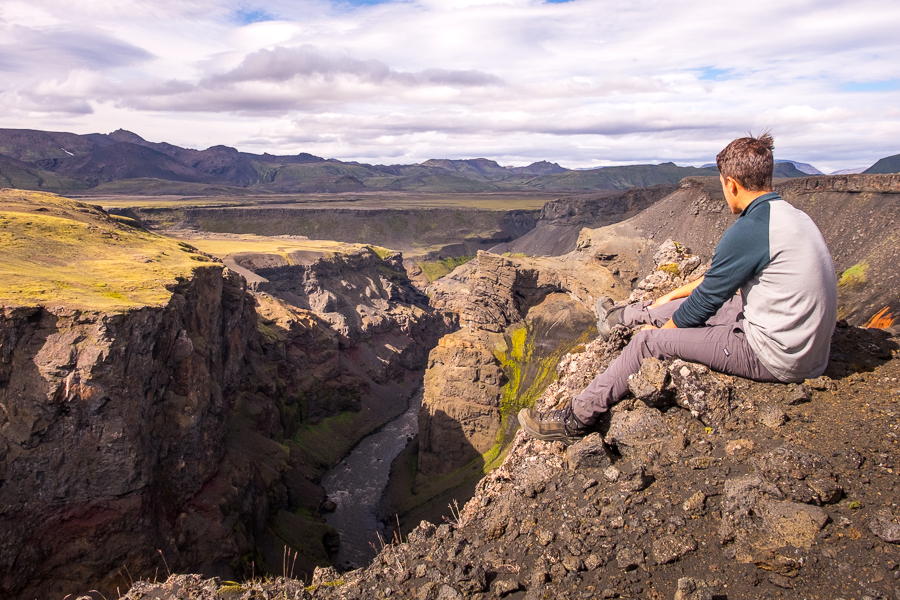 before making our way to our accommodation for the night at Botnar hut.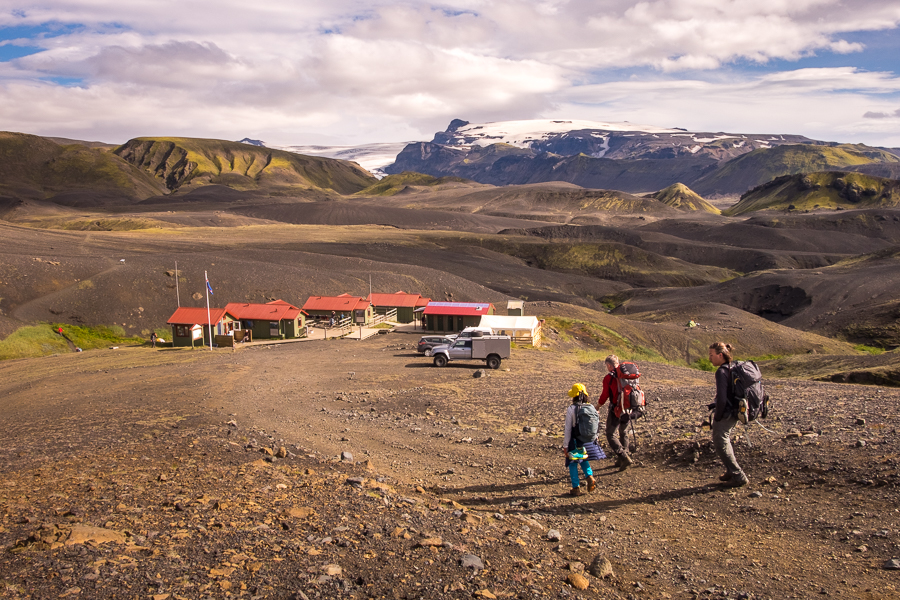 As you can probably guess if you've read my other blog posts about this trek (see links below), we all sat around enjoying tea, coffee, biscuits, cake and great conversation outside in the last of the Sun, while Sigþór set about BBQing salmon for our dinner. I love guided treks 🙂
Then finished off the day watching the golden sunset illuminate the hills in front of the Mýrdalsjökull glacier, which we could just see from our front verandah.
Trekking Information
Distance = 17.56km
Time taken = 6hr 48 mins
Strava Link = https://www.strava.com/activities/1768355448
Map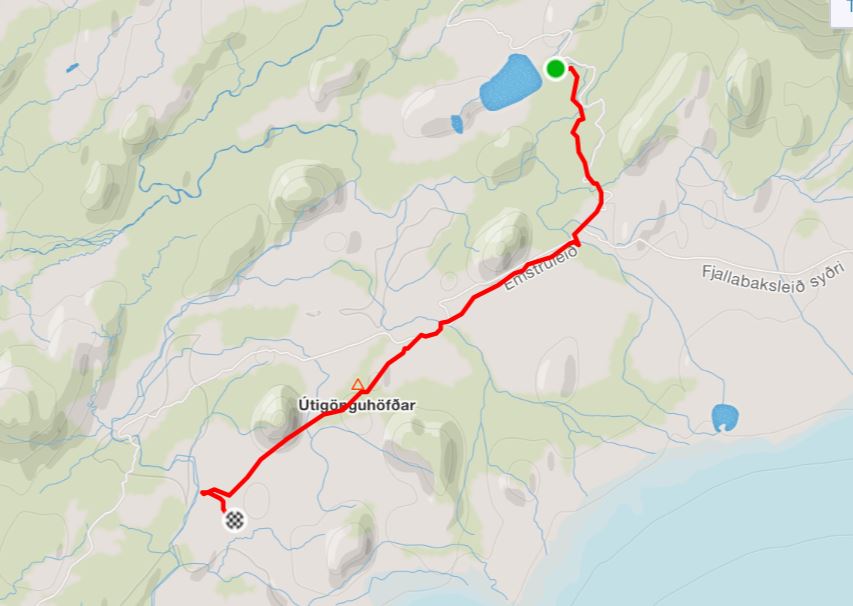 Altitude Profile
Read more about hiking the Laugavegur Trail
If this post has piqued your curiosity, read about the rest of the 7-day Laugavegur & Fimmvörðuháls Combo Tour with Icelandic Mountain Guides
Day 3 – from Álftavatn to Emstrur
Alternatively, check out my other posts about hiking and trekking in Iceland and around the world.