If you've done a few long-distance treks and are looking for a new challenge, the Southern Patagonian Icefield Expedition with Serac Expeditions will certainly deliver! Only about 100 people a year take on this remote trek, but it is an incredible experience in one of the most beautiful places on Earth.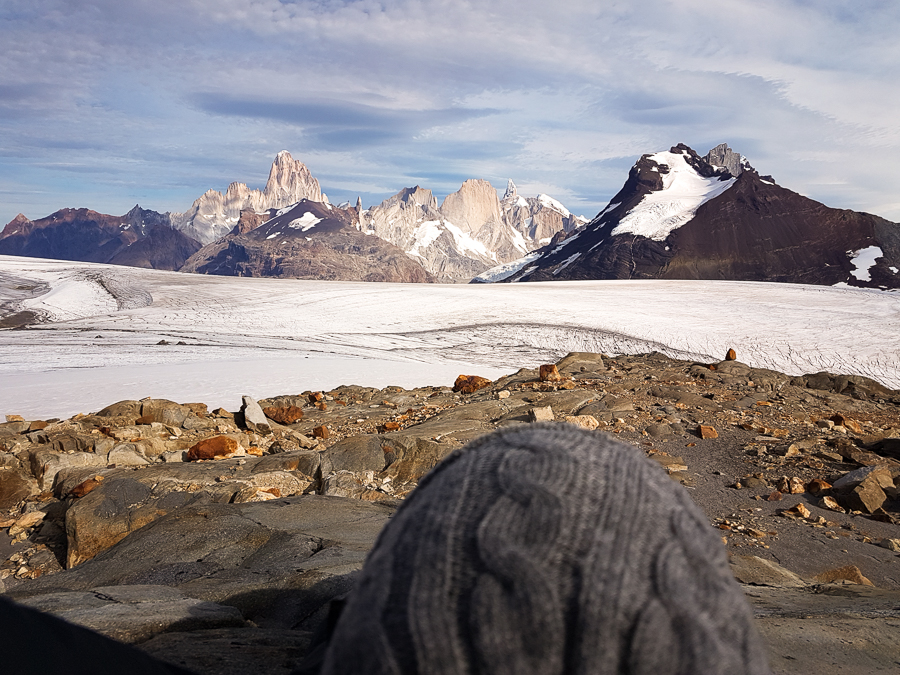 Was it difficult?
It's the most difficult trek I've ever done!
Would I do it again?
In a heartbeat!
In fact, I already have my eye on the Marconi Pass – Estancia Cristina Expedition also offered by Serac Expeditions. But this time I want to do it at the start of the season so I can experience different conditions on the Icefield and snow-shoes 🙂
Here are a few final thoughts about my adventure on the ice this year.
Training
I'm still relatively new to long-distance trekking, so my previous relevant experience was only:
plus a lot of day-hikes (many at altitude) in various places around the world.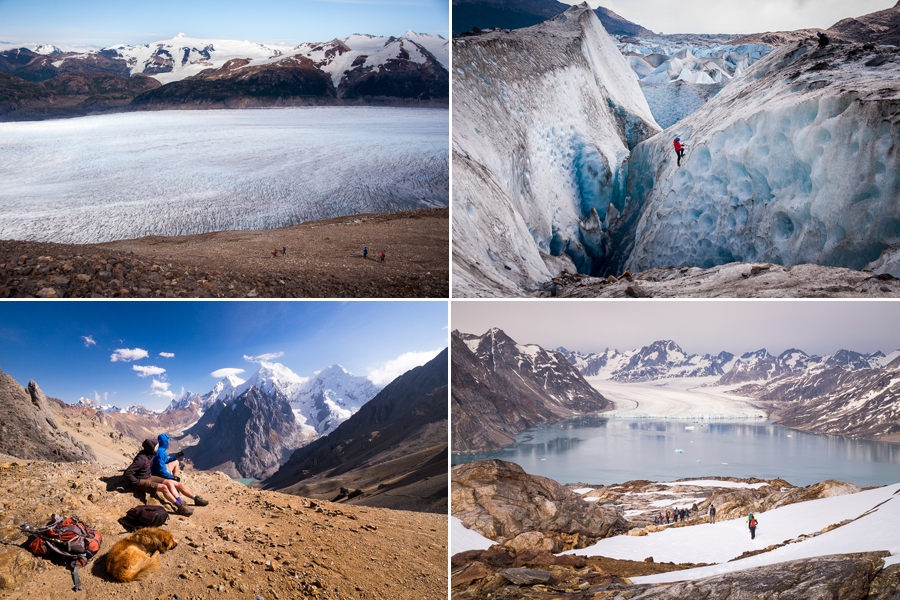 My "training" specifically for the expedition was 5 separate day-hikes around Ushuaia, and the Lago Torre hike from El Chaltén in the previous week. Yes, I agree. It could have been more extensive 🙂 And although my day-pack tends to be heavier than most (thanks to my camera gear), it would have been good to get some full backpacking in there as well. Nevertheless, it was entirely doable for a fairly small person, even if a little tough!
To be honest, the most important thing for this trip is your mental attitude. The expedition is not overly technical (though there are a few moments) – but depending on the weather and your fitness, you must be willing to push yourself at times.
Gear
I've discovered that having the right gear makes the world of difference! Although this expedition was much colder and wetter than the Unplugged Wilderness Trek in East Greenland, I was more comfortable here.
The equipment provided by Serac Expeditions (in my case, tent, sleeping bag and pack) were all excellent and high quality, and as for my own gear – I can highly recommend:
Hunger Hiker Carbon Fiber Trekking Poles. This is the first trek I've ever done with hiking poles, and I have to admit they made a huge difference! They help get you up the hills (by taking some of the weight off your legs), save your knees on the downhills (though I've still yet to master this – sorry Rafa), provide 3rd and 4th points of balance (really critical at times) and are amazingly strong and unbreakable.
LOWA Mountain Expert GTX Evo Boot. Yes, they are heavy. Yes, they take some getting used to. Yes, they rubbed holes in my feet. But boy are they amazing! After 6 days walking on ice and slush (and 5 days of hiking through the peat bogs near Ushuaia) my feet were still dry. They also have insulation built in, so my feet were rarely cold on the expedition – very unusual for me.
Outdoor Research Verglas Gaiters. This is the first time I've ever worn gaiters and these ones were comfortable and seemed to do the job they are designed for.
Black Diamond Pursuit Cold Weather Gloves. These were magic! Along with perpetually cold feet I have constantly cold hands. These did a wonderful job of keeping them warm and dry (despite quite a bit of rain on Day 7).
Mountain Hardware Ghost Whisperer Down Jacket. Surprisingly warm given how small and light it is – and I really feel the cold! Would have been better to buy the one with the hood, but oh well.
North Face Women's Resolve Waterproof Pants. Kept the bottom half of me nice and dry.
Buff. I was always a little uncertain about these things, but I bought a merino wool one for the expedition and it was magic!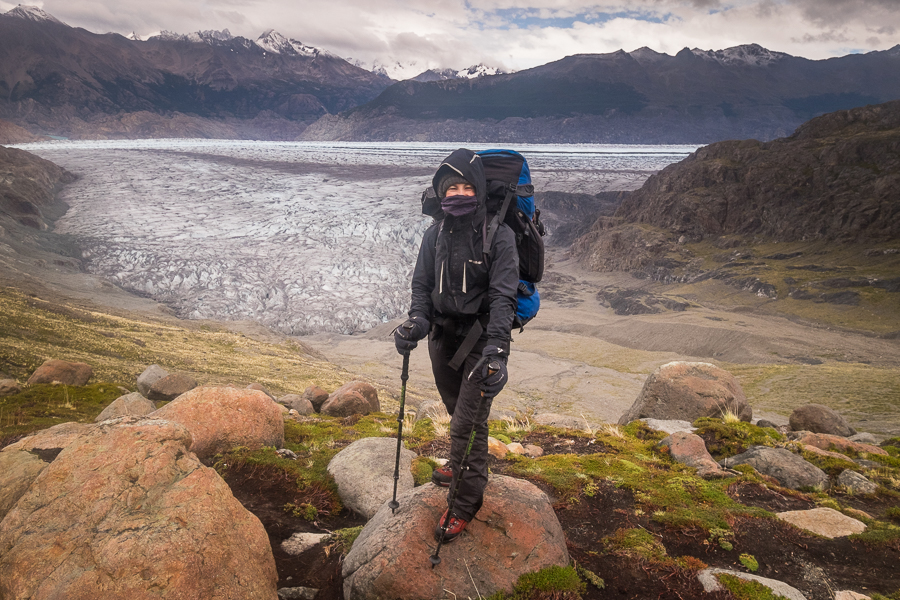 Logistics
Given that my previous long-distance treks had all been supported (ie we only had to carry a day-pack, the rest of the gear was transported for us), the day-to-day logistics of this expedition were a little different. There were two main things that struck me, mostly because I'm a sociable person and enjoy talking to others:
Because the terrain was so difficult and we had to be roped together for a fair portion of the expedition, it was not possible to chat much during the day while trekking.
For these reasons, I found it a much more solitary experience that my previous treks. Not necessarily good or bad, just different. Though I must admit that meeting and forming friendships with the others is one of the things I really love about long-distance trekking.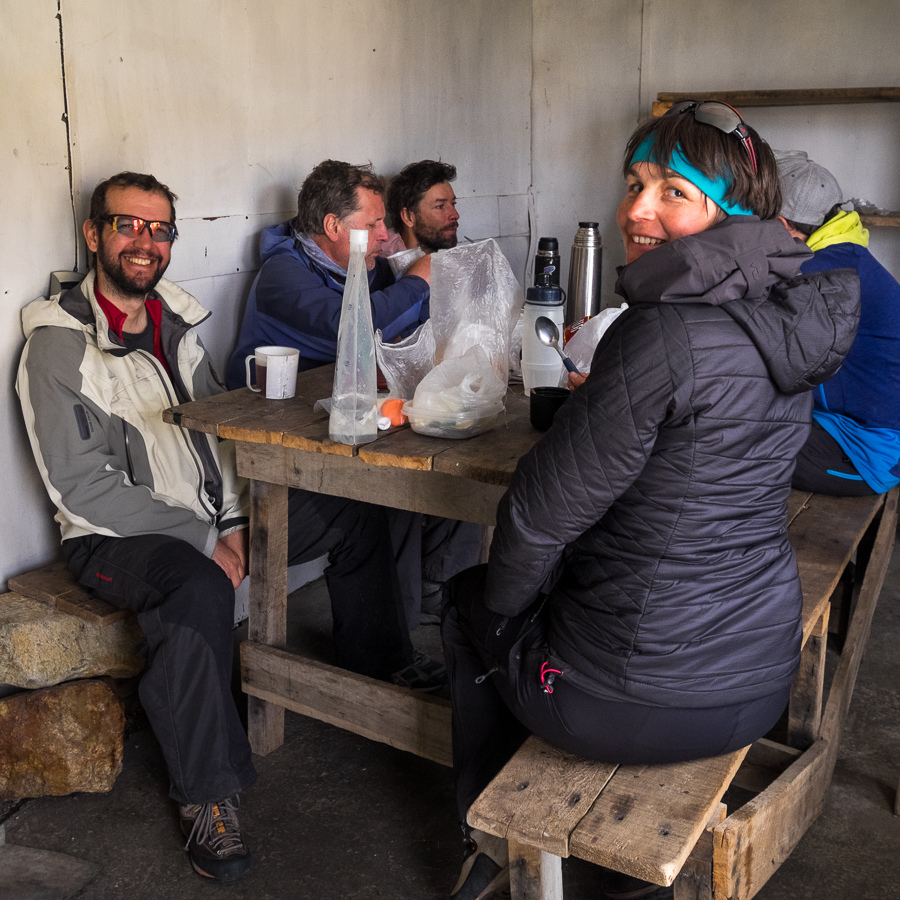 Food
The food provided by Serac Expeditions is largely what you would expect/hope for on a trek like this:
Breakfast: a choice of cornflakes or porridge
Lunch: Argentinean empanadas and "brick" sandwiches
Dinner: instant soup, a very tasty main meal, and something sweet for dessert
Each tent-pair shared a bag of tea/coffee/powdered milk/sugar and several different packets of biscuits, and we each had our own "snack bag" filled with chocolates, alfajores, energy bars, muesli bars and lollies.
However, there were also some very welcome surprises!
The evening meals on Day 1 and Day 6 were as gourmet as you can get for something that comes in a packet and is cooked by boiling the whole thing in water. And the cheese/processed meat/peanut/olives/crackers platters that magically appeared on Day 2 and Day 6 were a real treat! Thank you Serac Expeditions!
The Guides
What can I say – I love Juan and Rafa!
They were great fun, very safety conscious, and very patient with the photographer 😉 Big shout-out to Rafa who was usually the one that would drop behind to help me catch up to the others after taking photos!
These guys have a tough job! While we just retreated to our tents and stayed nice and warm and dry, they ferried hot water, food and anything else that was required between the tents – regardless of what the weather was throwing at them. Nothing was too much trouble and they were always ready with a smile and encouragement.
Seriously guys – you are awesome! And I'm so happy to have met you 🙂 I hope we can trek together again in the near future!
In Conclusion
I've managed to see the world's 3 largest Icefields in the past 14 months – Antarctica, Greenland and now South Patagonia. All of them have been incredible, and immersing yourself in the environment and experiencing it on foot makes it even more special.
So far, this has been the most challenging trek I've done, and it was made even more so by the fact that I was taking photos. This is not a trek where you have plenty of time to stop for photos, but rather an expedition where you have to keep moving. That being said, the photography opportunities are incredible – but you have to be prepared to shoot quickly!
Despite the challenge, it has only increased my desire to do other, even tougher expeditions in the future. My not-achievable-unless-I-win-the-lotto goal is to do the Greenland Crossing with Greenland Adventures, but in the meantime I have my sights set on the Marconi Pass – Estancia Cristina Expedition with Serac Expeditions and the Liverpool Land North-South Traverse with Tangent Expeditions for sometime in the near future.
Who's in with me?
Read more about the Southern Patagonian Icefield Expedition
If this post has piqued your curiosity, read about the rest of my adventure on the the 8-day Southern Patagonian Icefield Trek with Serac Expeditions and Swoop Patagonia:
Prelude – leading up to departure
Day 1 – El Chaltén to Laguna de los 14
Day 2 – Marconi Pass to Refugio Garcia Soto
Day 3 – Gorra Blanca summit
Day 4 – Refugio Garcia Soto to Circo de los Altares
Day 5 – Circo de los Altares to Laguna Ferrari
Day 6 – Laguna Ferrari to Refugio Paso de Viento
Day 7 – Refugio Paso de Viento to Paso Huemul to Bahía Témpanos
Day 8 – Bahía Tempanos to El Chaltén
Summary
Alternatively, check out my other posts about hiking and trekking in Argentina and around the world.