The Mirador de los Cóndores and the Mirador de las Águilas (the Condor and Eagle viewpoints) are two of the three relatively short hikes around El Chaltén in Argentina (the 3rd one is out to the Chorillo del Salto). Most travelers to the region only stay a couple of days and so tend to do these hikes plus one or two of the longer ones. However, even though I stayed 8 days on my first visit to El Chaltén in 2015, I didn't get around to hiking up to these viewpoints.
On this trip, I arrived in El Chaltén 3 days before the departure of the Southern Patagonian Icefield Expedition with Serac Adventures and Swoop Patagonia. Having just hiked for 5 out of 7 days around Ushuaia, and given the fact that I had a massive blister on the back of one foot, I was keen to take it a little easy in the lead-up to the expedition. However, on my 2nd day in El Chaltén, the weather was so unbelievably amazing, I just had to head out.
As I followed the well-worn path from the National Parks office towards the Mirador de los Cóndores, I couldn't get over the fact that there was no wind, the sun was shining brightly and there were only a few clouds in the sky – a true miracle in these parts!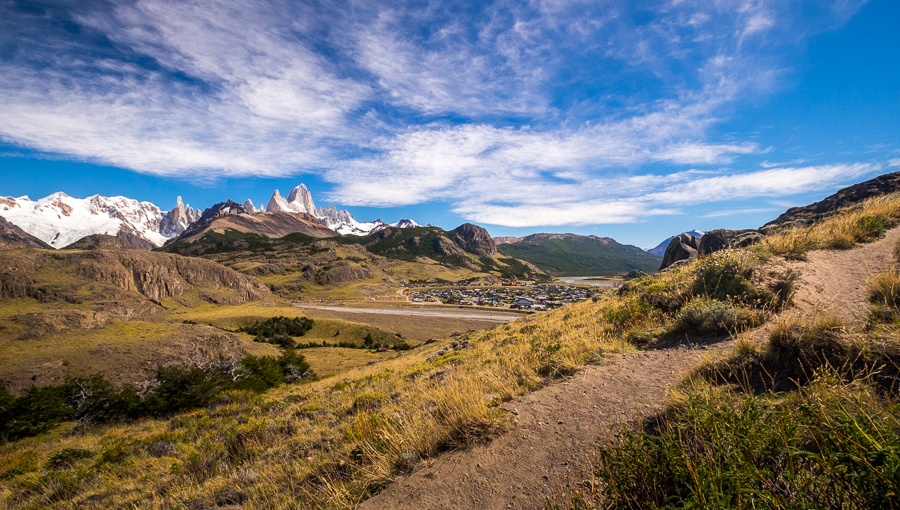 The trail up to the viewpoint is short but quite steep, and I imagine quite an effort for the majority of people who hike it. But the views over El Chaltén and the mountains are incredible!
On my last visit, I had 8 days of cloud and rain. I never saw the top of Fitz Roy and barely managed to see the top of Cerro Torre, so it was a real treat to be able to relax on the rocks and take my time admiring these spectacular mountain ranges. Yes, it looks like a single range – but the Cerro Torre range actually sits behind the Fitz Roy range.
After spending about 2 hours stretched out on the rocks listening to Nanook (my favourite band at the minute – from Greenland of course), I decided to hike out to the Mirador de las Águilas so that I could enjoy more of the afternoon. It takes less than half an hour to walk between the two and given that there's not a big altitude gain, it is quite a nice stroll.
From this viewpoint, you have a similar view of the mountains – but this time without El Chaltén in the foreground.
There is also a view over Lago Viedma (unfortunately the Viedma Glacier is hidden) and the Patagonian steppe.
Another couple of hours soaking in the sun here before heading back to town made for a perfect "active rest" afternoon before the big adventure!