Despite low cloud hiding the tops of the mountains, dawn over the Bahía de los Témpanos was a celebration of this beautiful area.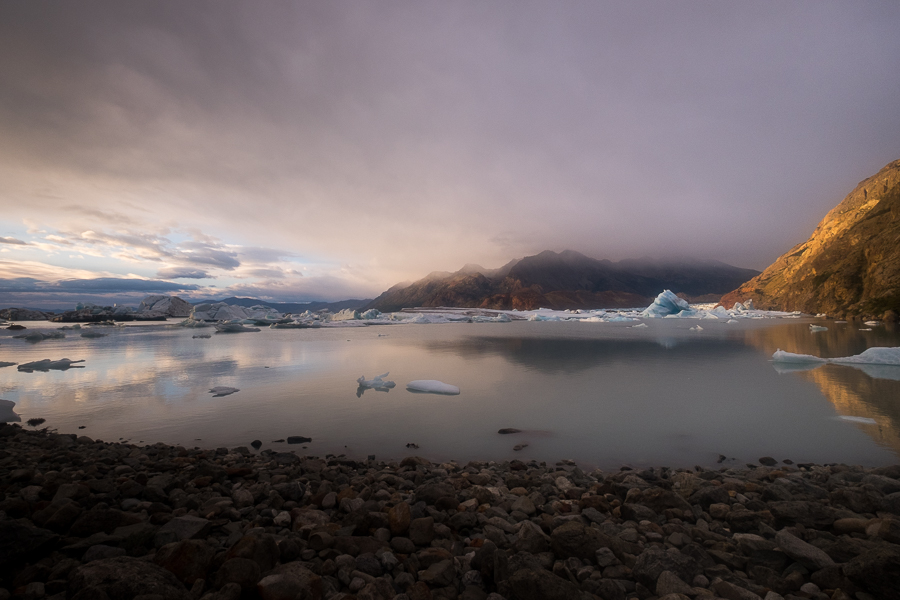 Unfortunately, we couldn't linger to watch it fully unfold, as we had to be at our pick-up point by 2:30pm, and we still had a 15km trail in front of us. So off we set across the steppe that characterizes such a lot of Argentinean Patagonia.
We were farewelled by one last rainbow over the Viedma Glacier
And enjoyed moody vistas of the southern end of the Fitz Roy mountain chain.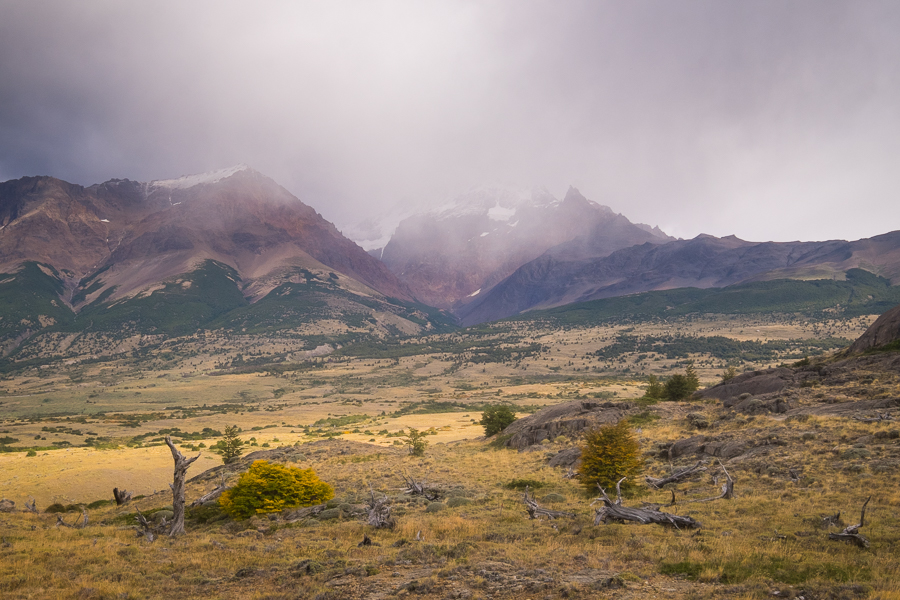 It was a fairly easy and uneventful hike through the typical vegetation of the region: Lenga, Coiron, Nenao, Paramela, Calafate, Siete Camisas and Mata Guanaco – most of which are low, dry, and quite spiky plants. It helps to pay attention before you sit down!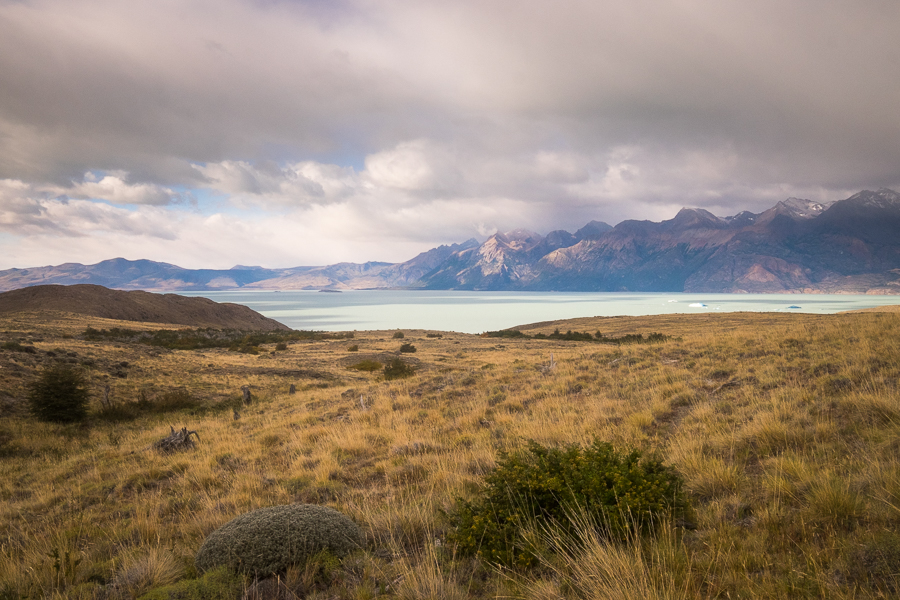 The most difficult hiking was through the boggy patches, and Reto commented that at times it felt as if we were walking through the Everglades. "I hope we don't come across any alligators!" I responded, reveling in the fact that my feet were still blissfully dry. I LOVE my boots!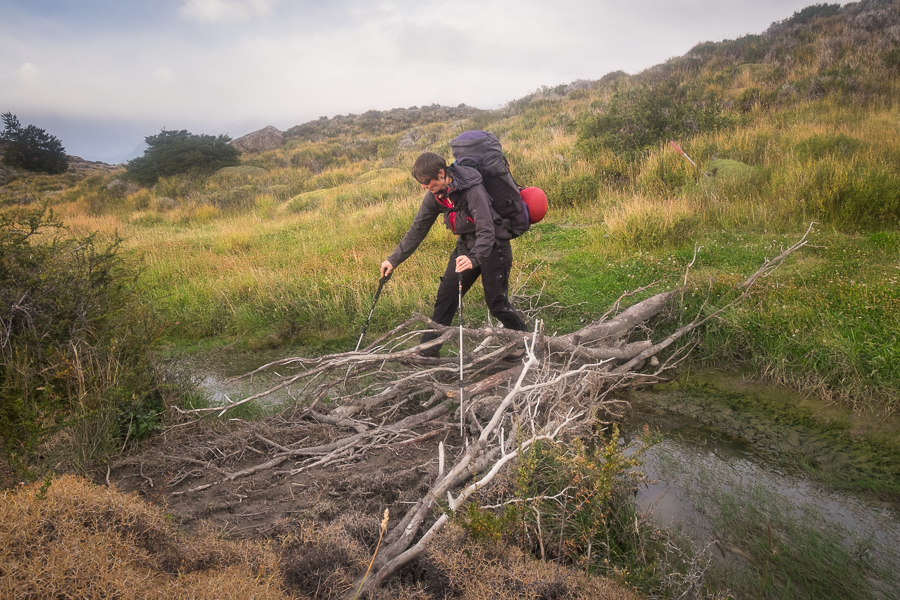 To be honest, the scenery was not as interesting as it had been for the rest of our trek, and it felt like a bit of a sprint to the finish-line in the end. We had one more obstacle to overcome first, however. Another zipline. Though fortunately this one was angled downwards and it was easy sliding from one side to the other.
We arrived at the dock at the same time as our transport and were rewarded with ice-cold beers and a Fanta for me. It was a relief to ditch the pack for the last time, but the end of every long-distance trek is bitter-sweet, and I was disappointed that it was all over.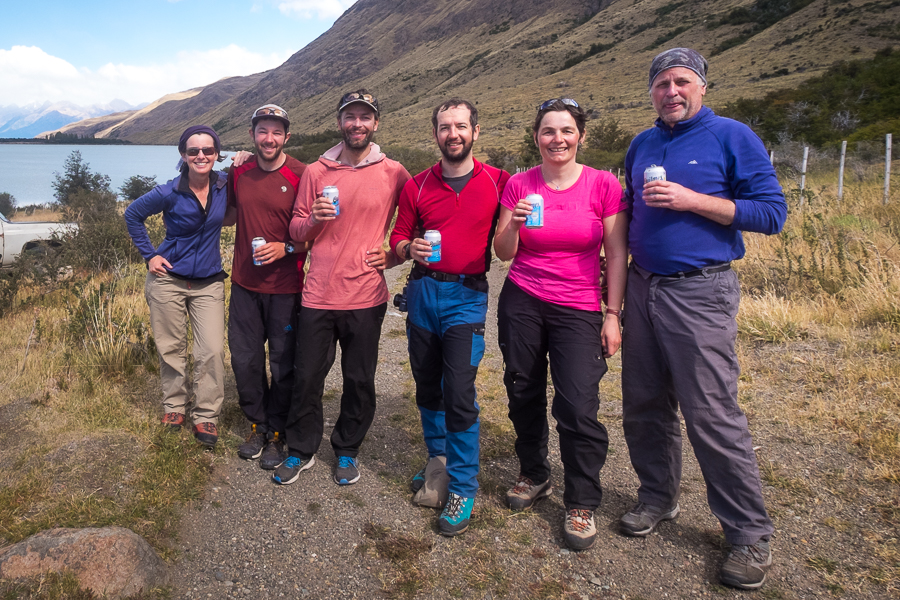 The 40 minute drive back to El Chaltén was uneventful and, after a visit to the police station to get stamped back into Argentina, we had to say our farewells to Juan and Rafa. Truly awesome guides and fantastic fun. Love these guys!
Right. Now where's that shower…
Hiking Details
Hiking time: 5.5 hours
Distance Covered: 15.5km
Altitude: +381m, -357m
Read more about the Southern Patagonian Icefield Expedition
If this post has piqued your curiosity, read about the rest of my adventure on the the 8-day Southern Patagonian Icefield Trek with Serac Expeditions and Swoop Patagonia:
Prelude – leading up to departure
Day 1 – El Chaltén to Laguna de los 14
Day 2 – Marconi Pass to Refugio Garcia Soto
Day 3 – Gorra Blanca summit
Day 4 – Refugio Garcia Soto to Circo de los Altares
Day 5 – Circo de los Altares to Laguna Ferrari
Day 6 – Laguna Ferrari to Refugio Paso de Viento
Day 7 – Refugio Paso de Viento to Paso Huemul to Bahía Témpanos
Day 8 – Bahía Tempanos to El Chaltén
Alternatively, check out my other posts about hiking and trekking in Argentina and around the world.