If you are after relaxation, the Papallacta Hot Springs (Termas de Papallacta) are a very easy day-excursion from Quito, and a really lovely experience.
Investigating how to get there on public transport, I decided it would be simpler to head to the Quitumbe terminal to catch the bus, rather than trying to pick it up at La Scala in Cumbayá, even though I'm very familiar with buses going past the Scala shopping mall.
What a mistake!
After catching the Ecovía and taking 45 minutes to get to Quitumbe, we caught the bus no worries. But then I almost chewed my arm off in frustration as the driver went no faster than about 30km/hr and took 1.5 hours to get from there to La Scala! Had I known exactly where the bus was going to go (and that it was going to go past La Scala, there wasn't a different route it would take), I most definitely would have just caught it from La Scala!
I have absolutely no idea why we were going so slowly (suspect a problem with the bus, but we never did find out), but when we eventually left the outskirts of Cumbayá we finally picked up speed. Of course, from there it was only 20 kilometers more…
The bus dropped us at the entrance to the town of Papallacta and we caught one of the taxis waiting there up to the thermal pools. There are actually two parts to the complex, and we chose the Balneario over more expensive Spa. Really, I don't understand how the Spa could be better than the Balneario – it was amazing!
There are a large number of impeccably clean pools that range in temperature from glacial (straight out of the river) to scalding. There's even one that has spa jets!
What we didn't realise was that there are actually 3 main parts to the Balneario. Two of them (those that we visited) are very obvious once you walk in, but there is a third section to your left as you enter. It pays to explore the whole site first!
There are undercover picnic tables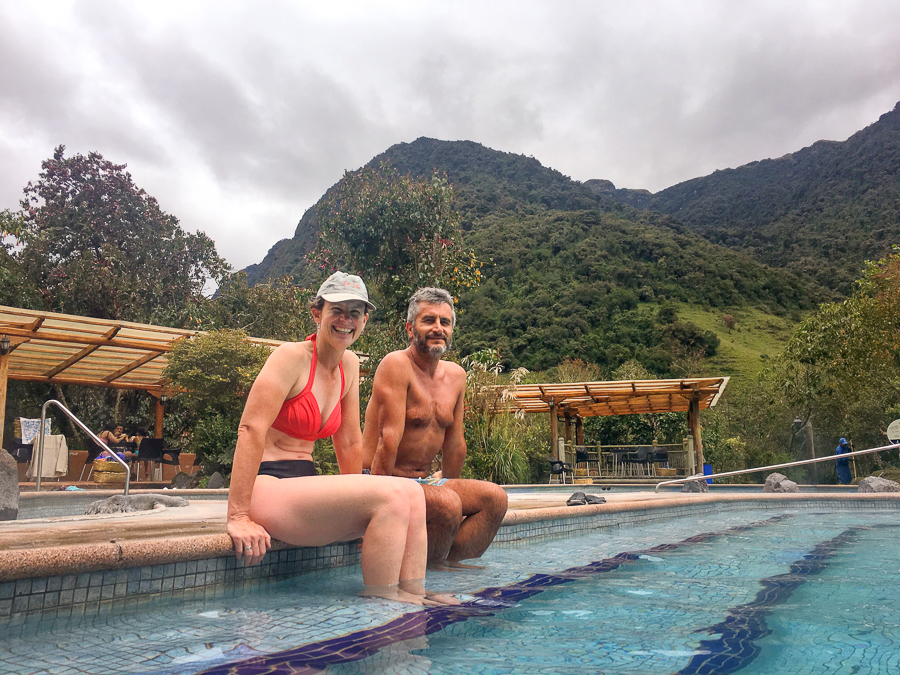 Plenty of change-rooms
and amazing views of the surrounding mountains.
We lounged around soaking in the various pools for several hours before heading out and back down the road a little to have some lunch (about 1/2 the price of eating at the cafe/restaurant at the pools).
Then we decided to hike up to the border of the Cayambe-Coca Ecological Reserve where there were some lakes that Pedro has seen on the internet and thought would be really beautiful.
Although we never quite made it to the lakes (we were running out of daylight), the hike up the road was absolutely stunning.
There were amazing views to the mountains further into the Reserve
and behind us – what would be an incredible view of Volcán Antisana, if it weren't for the cloud.
I am soooooo going to come back and do this again when next there is a clear day in Quito!
Recommendation
This was a surprisingly lovely day-trip that I highly recommend! If you wanted to hike to see the lakes, I would suggest getting the taxi to take you all the way there first thing, then walk back down the road and enjoy the pools afterwards.
Cost: The bus to Papallacta was around $3 each way. The taxi to reach the pools was $1 each way. Entrance to the Balneario was $8.50. Though there is a cafe/restaurant on site, I recommend heading down the road a little to one of the several restaurants there, as they are about 1/2 the price. Your ticket will allow you to re-enter.
Time: Up to you really. From La Scala it was about a 45 minute bus ride to get to Papallacta. You could easily spend the whole day here relaxing and moving from pool to pool. To hike to the lakes just before the entrance to Cayambe-Coca Ecological Reserve, I estimate it would take about 2-2.5 hours at a reasonable pace.