After finally leaving El Salvador, I decided to hang out in Antigua, Guatemala for about a week – partially because it is such a nice place and partially because I found a bunch of foodie things to do 🙂    First on the list was the Street Food walking tour with Arianna at Taste Antigua.
As has happened to me so often on this trip, I ended up being the only one on the tour, and I'm infinitely grateful to Arianna for running it with just me.   Turns out we had a lot in common anyway, talked non-stop about our love of Latin America and interest in food, and I think I've managed to convince her to go to El Salvador for a visit 😉
The street food tour itself is wonderful.  Plenty of food (my trick, given I'd already eaten a lot in Central America and was familiar with staple foods, was to avoid the rice, potatoes and tortillas that typically come with the dishes), with the added bonus of Arianna talking about the history of certain key sites in Antigua while walking between each of the places where we ate.   For example, I had noticed long lines of people outside the San Pedro church at 6am every morning on my way to the gym.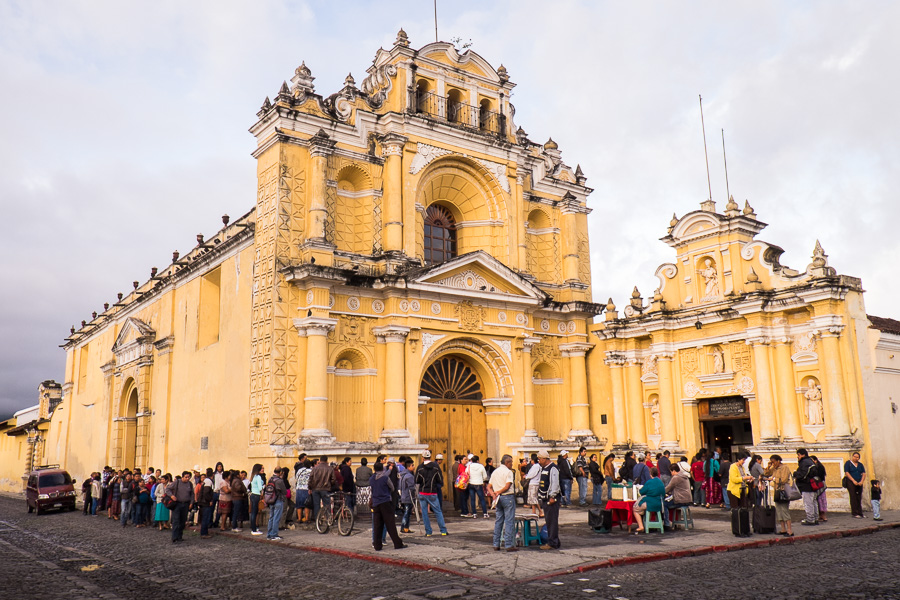 Arianna explained that the queue is actually to enter the "Social works of Saint Brother Pedro" (Pedro is Guatemala's only Saint), which is attached to the church.  This is Antigua's only free public hospital and a place where disabled people, elderly people, poor people, people with mental illness, etc can seek help/support.  It also has several operating theatres that are staffed almost all year round by mostly foreign volunteer surgeons who perform even quite complex surgeries for free.  Really remarkable work!
Our first stop on the food tour was El Porton, where I tried Hilachas – a traditional beef stew from the Guatemalan highlands.   The beef is shredded into fine strands and the sauce is based around tomatoes, onions and capsicums.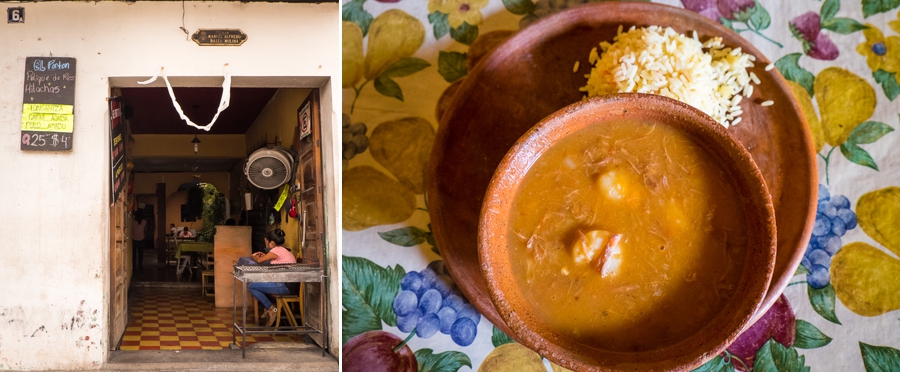 It was very tasty and Arianna explained that a lot of Guatemalan traditional dishes are stews given the relatively cool climate of the Guatemalan highlands.   I'd actually tried a different traditional stew dish – Subanik – my first night in Antigua.
From El Porton, we headed down the road to Jorge's food cart in the Tanque de la Union Park next to Iglesia San Pedro.   There I tried Chuchitos, savory tamales wrapped in corn husks and served with cabbage salad and tomato sauce.  I asked for mine to be spicy, so Jorge also put some chile sauce over the top.
Have to admit, these were my least favourite of all the food I tried – though that tends to be my general consensus for savory tamales in all Central American countries (love the sweet ones through!)  Quite bland, though Arianna tells me that Jorge's Chuchitos are more flavourful than most, and even the chili sauce didn't have much of a kick to it to help out in the flavour department.  There was a very small amount of chicken and tomato sauce in the middle, but overwhelmingly it was just plain corn masa — hence the blandness.
This prompted a discussion between Arianna and I about under-nutrition in Central American countries.  The population is not malnourished (they get enough calories through things like meals that consist mostly of corn masa and rice, processed foods and sugary soft drinks – hence the burgeoning obesity problem here), but they are desperately lacking in nutrients. There urgently needs to be a massive push here in Central America about educating the population about proper nutrition.  The irony is that if you visit the market, there are piles and piles and piles and piles of inexpensive fresh fruit and vegetables that the people could be eating…
Our next stop was for my sweet tooth where we visited the most famous candy shop in Guatemala.  Doña María Gordillo has been operating for over 140 years and offers up 64 different types of traditional sweets.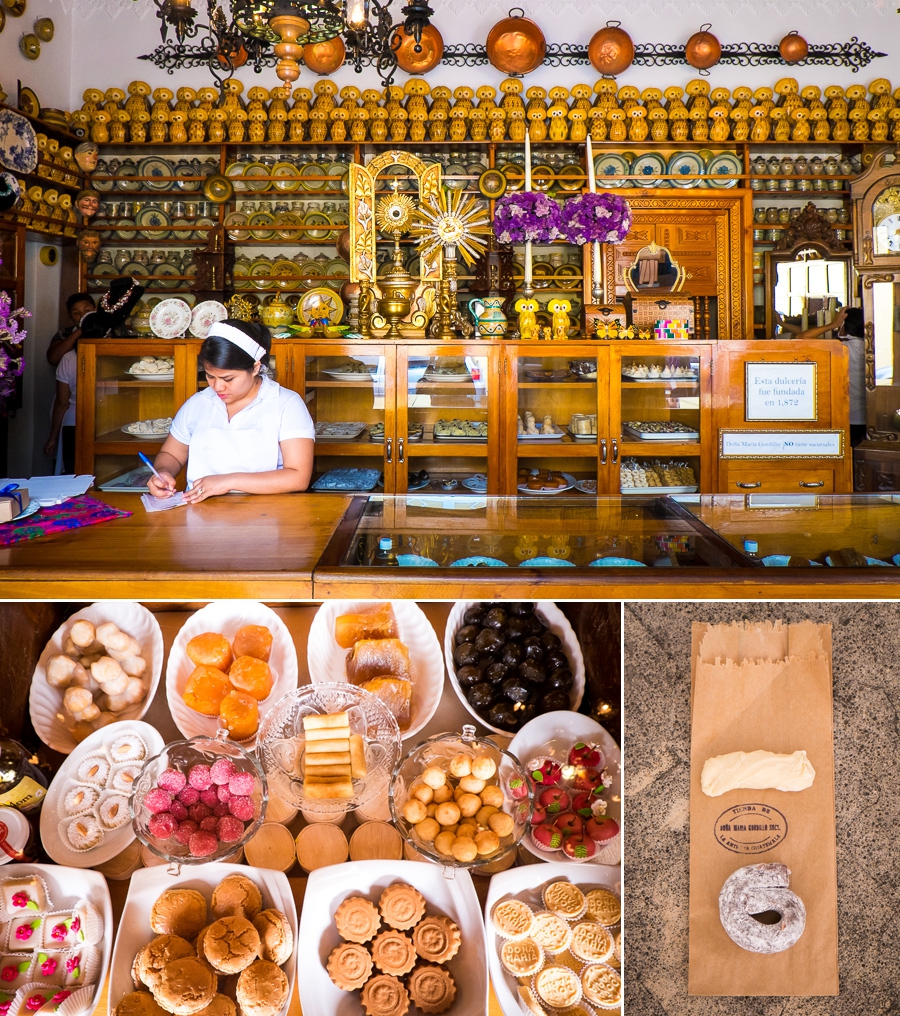 There I tried Canillitas de Leche – a milk fudge candy that was super-smooth, super-sweet, and melted in the mouth, kind of like a really high quality white chocolate but with more of a condensed milk flavour.  I also tried the Colochos de Guayaba (guava curls) that were jelly-like and coated in powdered sugar.  These were slightly tart but still more than sweet enough to appeal to my sweet tooth 🙂  The owls in the background signify wealth and prosperity and are the Guatemalan version of piggy-banks.
Then it was back to the savory dishes with Pupusas de Queso and a Longaniza sausage.   After eating waaaaaaaaay too many amazing pupusas in El Salvador that are positively bursting with cheese and other things, this one was quite disappointing.  The cheese was about 1/3 of that you would find in an El Salvadorean pupusa (Arianna tells me that these guys actually put more filling than most) and the cabbage salad on top was quite bland (in El Salvador this is quite spicy).   So my personal recommendation – go to El Salvador and eat as many pupusas as you can!    The longaniza sausage had a bit of flavour though and was quite nice, and here the food is being cooked in clay pots, which some people believe makes the food taste better.
Our final stop on the tour was La Canche – a hidden comedor that you have to enter by walking through a small shop to some back rooms.   Although they have the menu on the front door, its really not clear where they serve the food, and without someone taking you there for the first time it would be very confusing to find it.   There I had the most famous of Guatemalan dishes – Pepián. This is another stew and definitely the most flavourful one I've had with some really complex flavours going on.  It was incredible!  The chicken just fell off the bone due to the slow cooking process, and the stew was a little spicy with several layers of flavour to it. Amazing!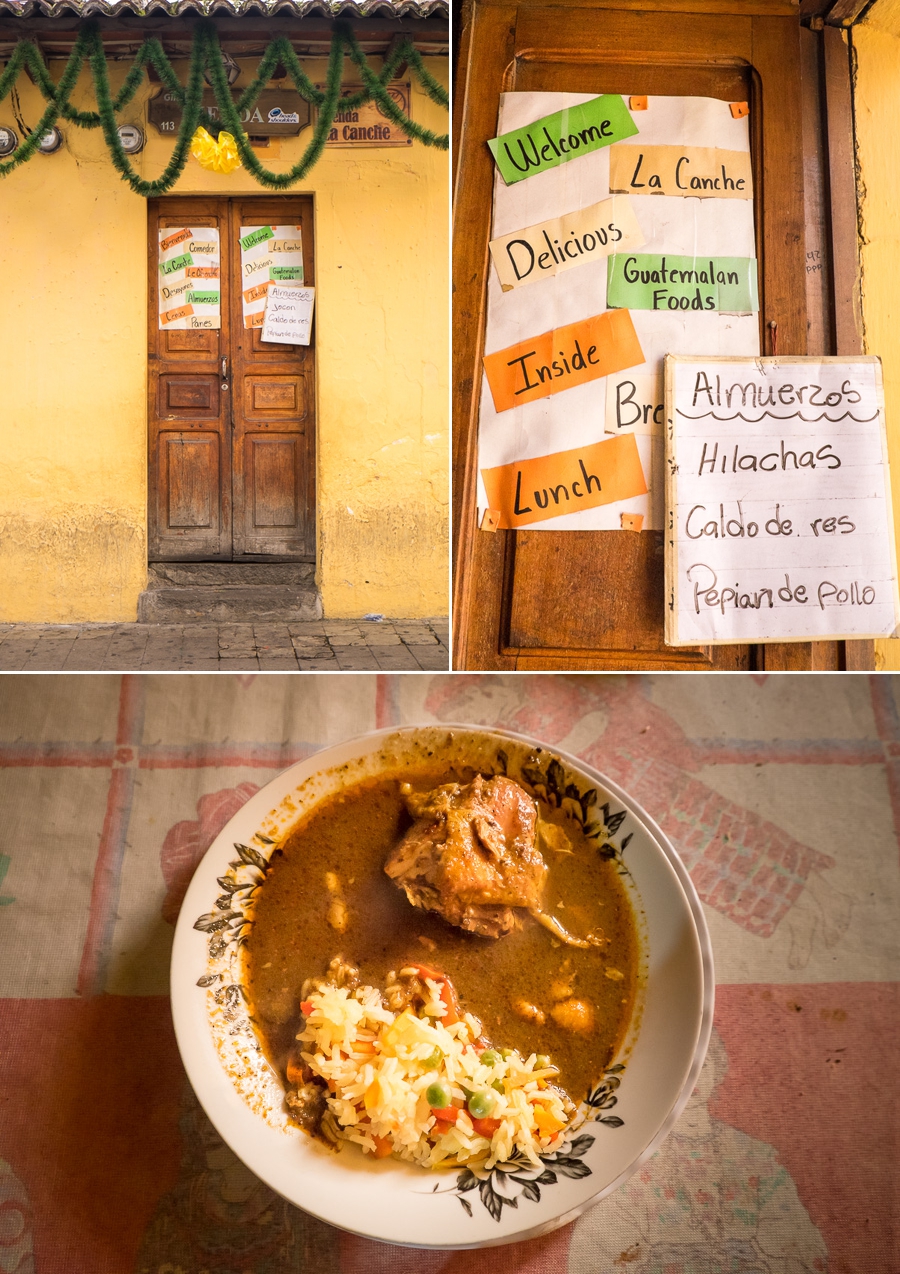 Then to top it all off, I had a Rellenito de Platano at the same place for dessert.   This is essentially mashed plantains that are filled with sweetened refried black beans and chocolate, fried and dusted with sugar.  Sweet and savory at the same time … loved this dessert!
Really enjoyed exploring more of the traditional flavours of Guatemala and now have some nice cheap places to go for meals in Antigua – I'll definitely be going back to La Canche!
My pacing worked well and I wasn't feeling too full, until I stopped by a Bubble Tea place I happened to come across on my way back to the hostel.  Haven't had bubble tea for over 4 months and really had a craving for it – but it did end up pushing me over the edge into the food coma :-/   Totally worth it though 🙂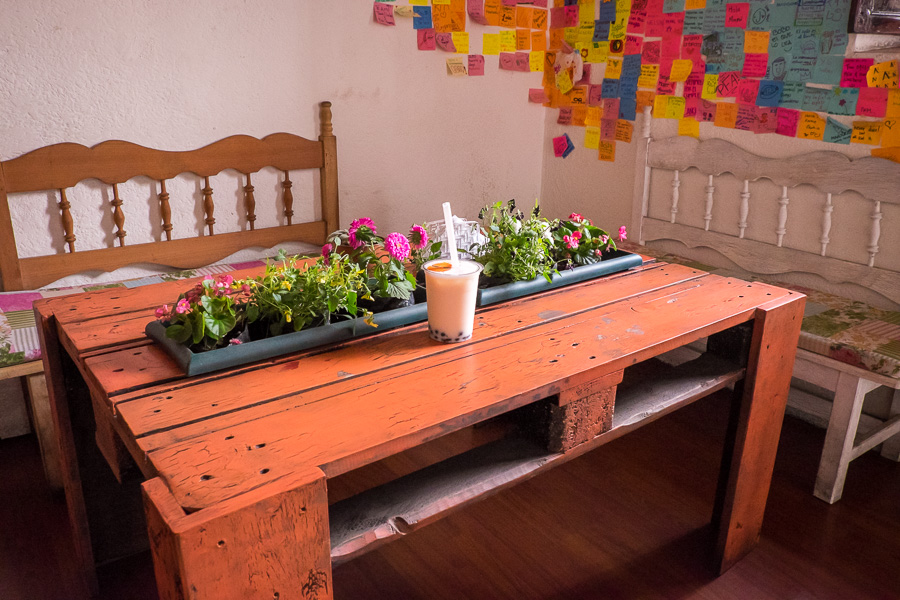 Recommendation:  In my experience, you should not be too worried about eating street food in Central America.  But if you are a little nervous, doing a tour like this where Arianna uses the same vendors each time is a good option.   This street food tour is a wonderful way to try some of the traditional dishes of Guatemala, find some cheap places to eat in Antigua (which in general is quite pricey) and learn a little about the city while you are at it.
Booking:  Book the street food tour through the website of Taste Antigua at least the day before.   The tour has a maximum of 6 people to ensure that everyone gets a good taste of the dishes and the walking group is not too large (the places you eat are fairly small).  Arianna also offers a tour of the Antigua Market and a Sunset dinner tour.
Time Required:  About 2 hours.  You end up walking about 2km all up – and there are plenty of eating stops along the way.
Cost:  US$30 which includes all the food as well as the tour.