Mindo is a small chilled-out town in the middle of a high-biodiversity cloud forest about an hour and a half north-west of Quito. There are lots of things to do there, but because I was feeling like some down-time, I only managed to do two things in 3 days. I could easily have stayed a few more!
One of the things that made the list was the Santuario de Cascadas, which I visited with Jenny, Maic, Nadav and Thalles. After bouncing along in the back of a pickup "taxi" for 10 minutes or so, to access the waterfalls we had to take a 530m long Tarabita ride (cable-car ride) across the valley to the trail head.
If you suffer from vertigo – probably best to close your eyes and not think about the fact that you are more than 150m above the ground!
We decided to hike the 6-waterfall path (there is a separate path that goes up to a single large waterfall), which takes about an hour each way. First up – Cascada Nambillo – which is only 15 minutes from the Tarabata but down quite a steep path.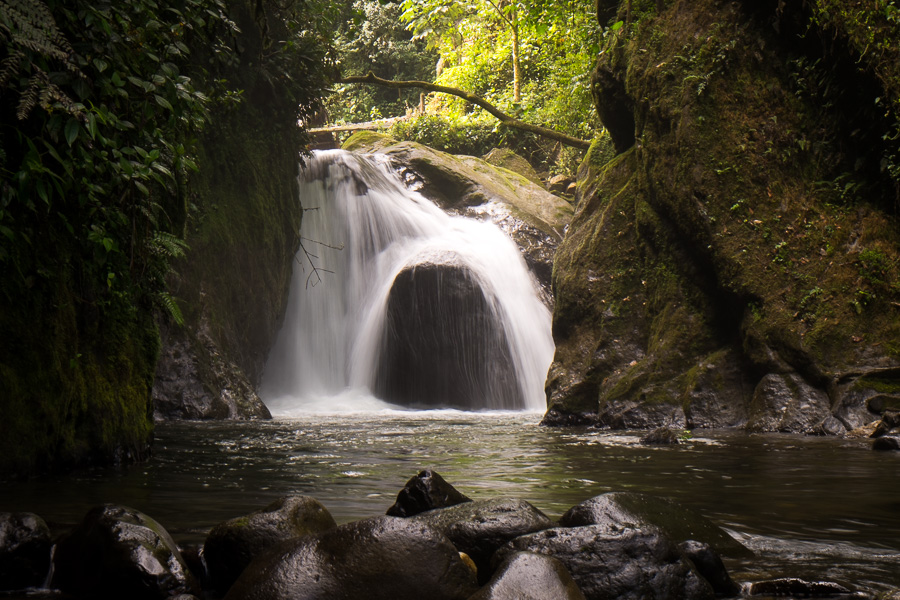 Once we had retraced our steps to the main path, it was a really lovely walk to the other 5 waterfalls.
In order of access, the waterfalls were: Cascada Ondinas, Cascada Guarumos (which has the deepest swimming pool), Cascada Colibries, Cascada Madre, and Cascada de los Maderos.
The walk is not terribly difficult or strenuous, and although the waterfalls are not particularly big (you have most likely seen more impressive elsewhere), it makes for a really nice excursion of a few hours.
And its even better when shared with some awesome new friends!
Cost:
Taxi = $6 shared between passengers
Tarabita/entrace = $5 each
Time: Depends on how fast you walk and how long you stay at each waterfall. We took about 4.5 hours all up including taxi ride + tarabita + hike + swim.