Huacachina is a small oasis surrounded by sand dunes and looks pretty amazing, until you realise it is only 5km outside the large city of Ica in southern Peru.
If you've never seen reasonably large sand dunes and are travelling through Peru – this would definitely be worth a visit (though unfortunately the water in the oasis is rather polluted), but if you are a keen desert visitor like me, you could probably skip. However, since I ended up there for a couple of days I figured I'd go for the sunset dunes excursion at least.

Every agency offers this tour and everybody does it. Essentially you and your companions strap yourself (race-car style) into a sand buggy, and your insane driver roars around the desert, getting (vertically) sideways and dropping over the crests of steep sand dunes – making sure that your stomach is well and truly left behind.
Well, unless he happens to get bogged…
In between times, there are plenty of opportunities for sand boarding – starting with "baby" slopes and working up to higher and higher dunes. I'm sure that I sandboarded a much higher dune in Yemen standing up (see one of my all time favourite images, image 10 of my Yemen gallery – the two black dots down the bottom of the dune are people), but here they almost insisted that you go down on your stomach to avoid any injuries.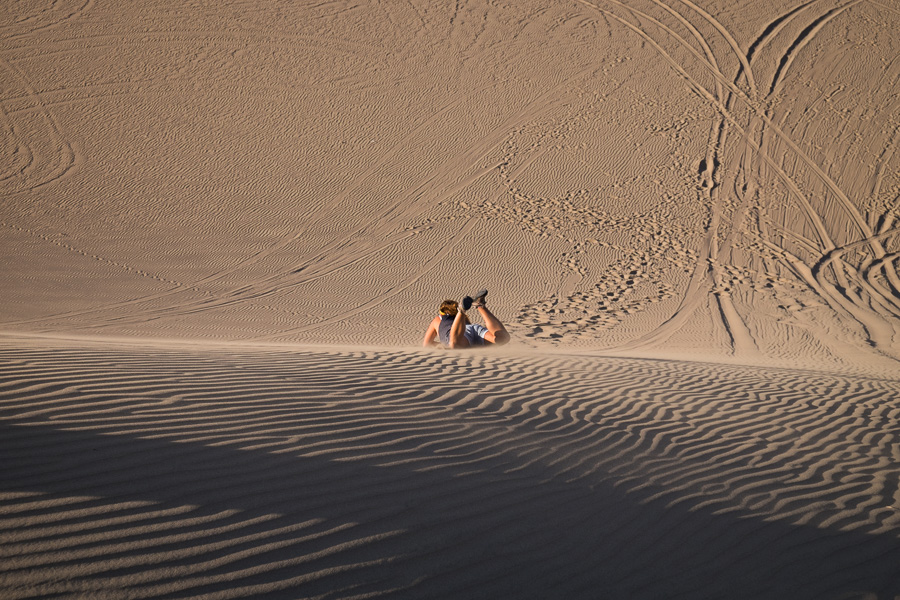 You definitely go faster this way (if my memory serves me correctly) and you can be assured to get sand absolutely everywhere throughout your clothing and body, and because you have to hold your legs up, you end up with pelvic bruises – but hey – no pain no fun 🙂
Then, if you do the sunset tour, obviously you get to watch the sunset – well, kind of. It wasn't really a sunset because the sun simply disappeared behind dunes rather than setting, but some beautiful light nonetheless.
Recommendation: You can't really be in Huacachina and not do this excursion. It's a bit of a thrill but prepared to get very, very sandy!
Cost: 40 Nuevo Soles (~$12)
Time: ~2.5 hours