This is my 4th time in Cusco, Peru. The previous 3 times I concentrated on Machu Picchu (yes, I've been there 3 times but have never hiked the trail), other Incan sites (Sacsahuaman, Pisac, Moray), and (my personal favourite) the Salinas de Maras.
This time around, I didn't plan to stay very long in the area – but I wanted to catch up with two German girls I'd met previously in my travels: Jenny (from my Mindo adventures in Ecuador) and Rebekka (who I'd met in Cuba) – and was intrigued by the day hike to the Rainbow Mountain (Vinicunca Mountain) – something that I'd never heard of before. Apparently it wasn't a thing 11 years ago when I was last here because it was covered in ice and snow. However, thanks to global warming, it is now one of the most popular day trips from Cusco.
Be warned though – it starts very, very early! Unfortunately Rebekka wasn't feeling well, so Jenny and I bundled into the minivan with several other travellers at 3am for the start of the adventure.
After about 2 hours of driving, we stopped for breakfast at a small village just as the sun was rising. Nothing fancy – bread, jam, cheese, eggs, coca tea – but very welcome. Then it was back in the minivan for another 40 minutes (and an impressive flat tyre) to the start of the trail head at ~4200m above sea level.
There's no mucking around in starting to gain altitude – the first 15 minutes of the walk is up quite a steep incline (hmmm…. where did all that acclimatization from the Huayhuash trek go?!). At the top, you are greeted by about a million locals with their horses! They cleverly give you the chance to experience walking up hills at altitude before offering up their horses – and there are quite a few people who realise how difficult the hike is going to be and take advantage of the 4-legged form of transport.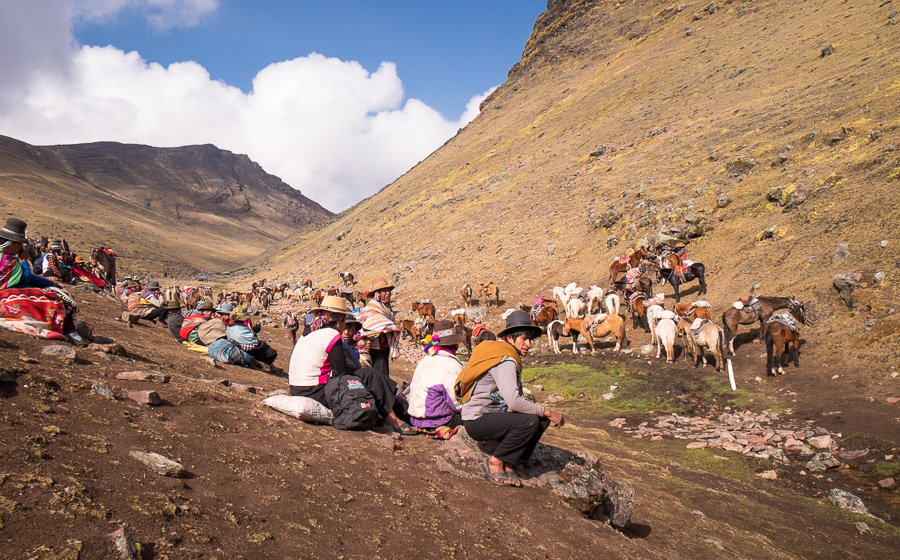 The next 30 – 45 minutes is actually very easy walking along flat ground. They don't want you to miss the trail though – it is marked by large piles of rocks.
And there are some really nice views of the valley with alpacas and llamas roaming the landscape.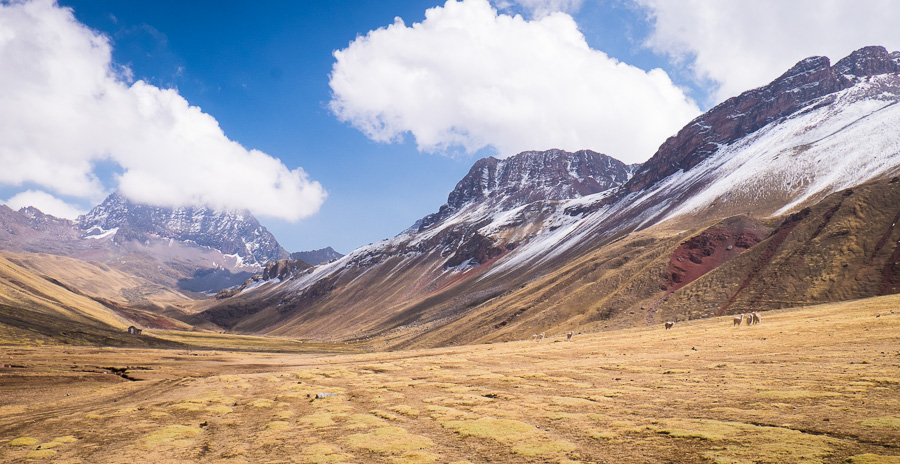 The trail then starts to ascend again and it just keeps going up. It takes about 2-2.5 more hours to climb to the the viewpoint for the Rainbow Mountain at ~5200m. I remembered my tricks from Huayhuash though: walk slowly, keep breathing – and was still one of the first up there. Though there would have had to have been at least 100 more in my wake!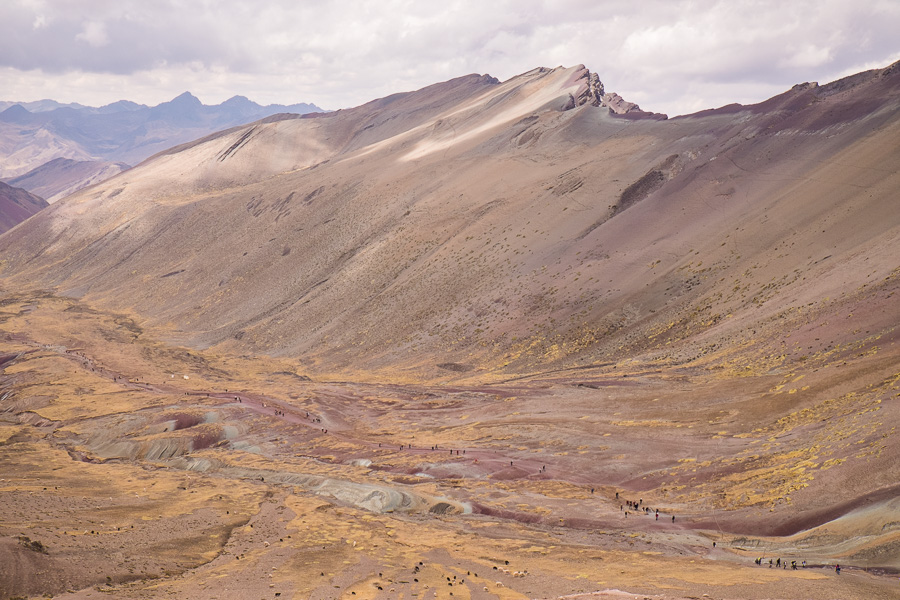 And despite the fact that it scores 4.5 stars out of 5 on TripAdvisor, and other bloggers rave about it, Jenny and I were more than a little underwhelmed 🙁 It quite literally is one mountain…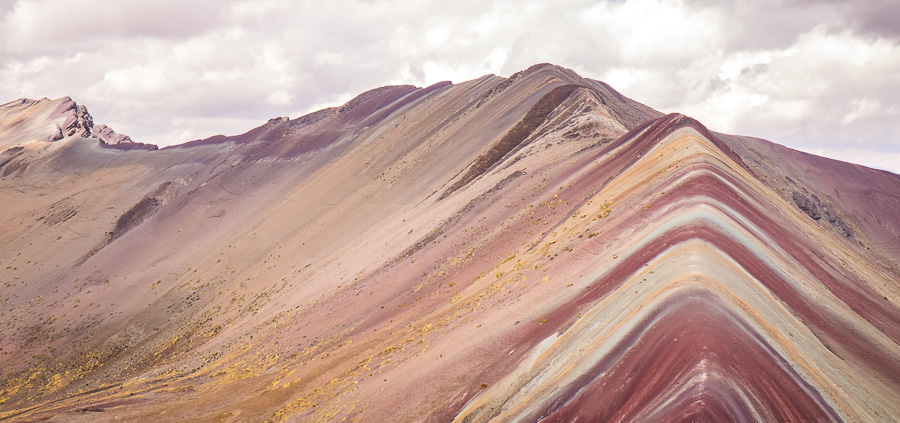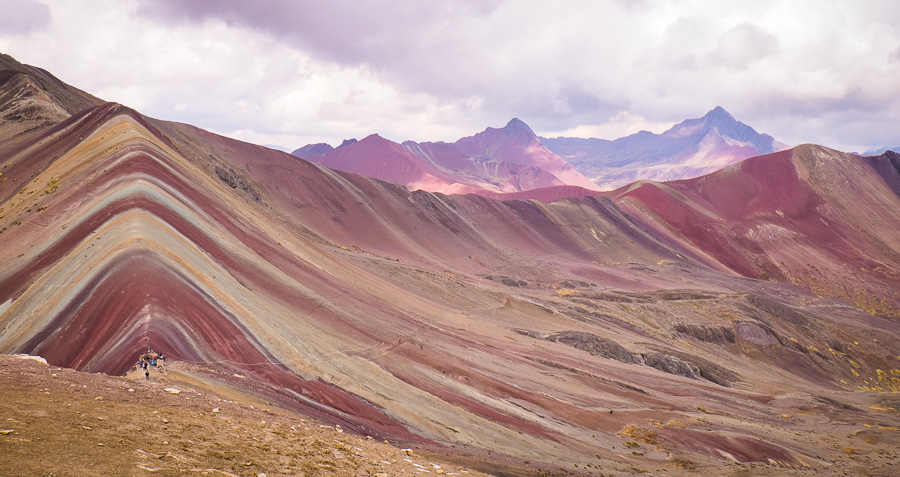 Fortunately there were some other nice views as well, not just the main one.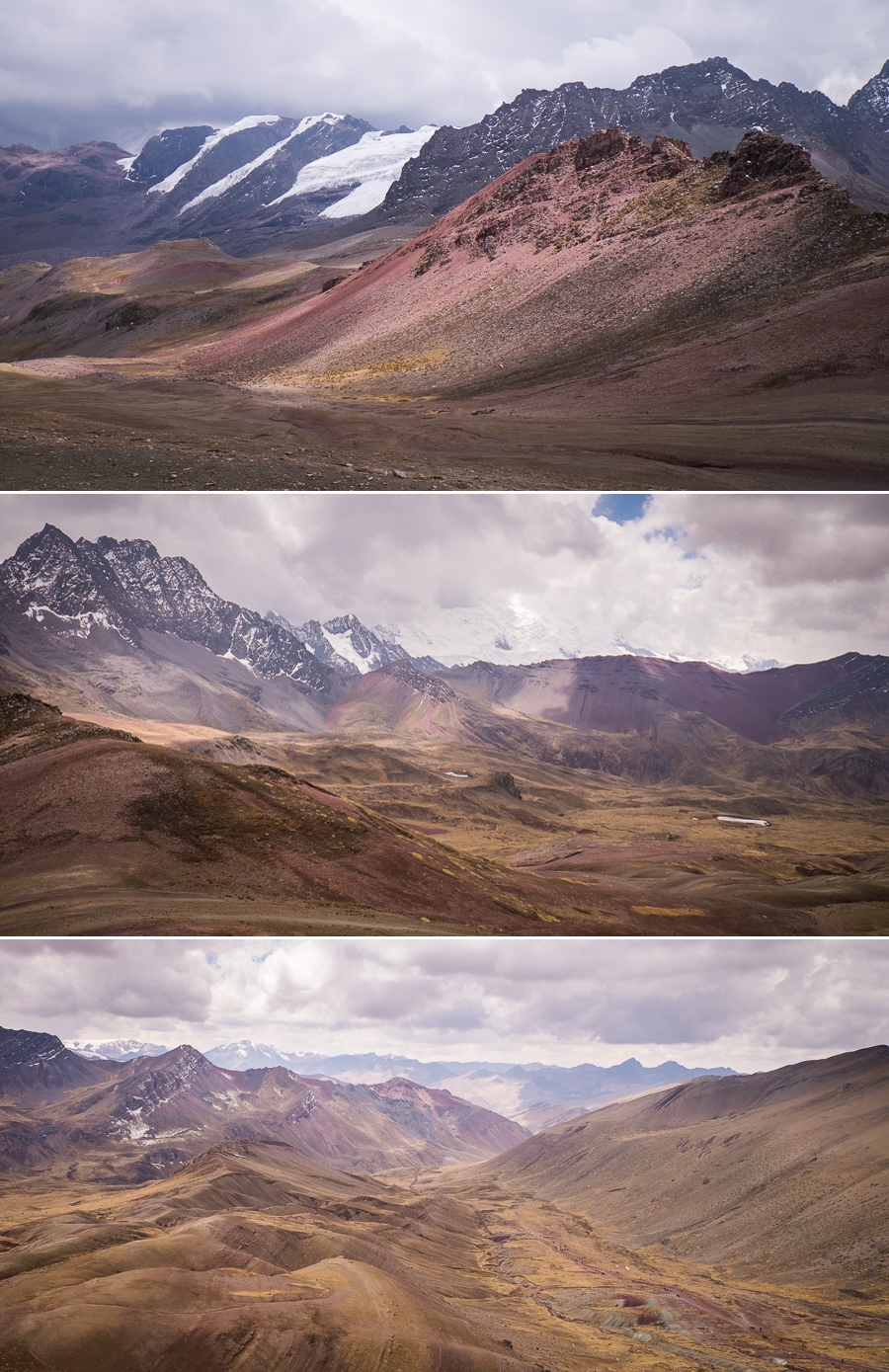 Didn't stay at the top for too long – like all high points, it was very windy and freezing cold and the weather was getting progressively worse – but couldn't resist some more llama and alpaca photos on the way back 🙂
It started to hail (only small) about 1/2 hour from the minivan, and then started to rain when I was only 5 minutes away … it could have held off for 5 more minutes :-/
From there it was back to the place where we had breakfast – this time for lunch – then back to Cusco.
Recommendation: Hmmm…. it was great to get out and do some exercise and some more hiking. But it really was quite underwhelming and there were waaaaay too many people for my taste in hiking.
Cost: 120 Nuevo Soles (~$40) is the going rate if you book when you arrive in Cusco. You won't miss out so don't pay more than this by booking in advance.
Time: 3am – 6pm – it is a long day.