My transfer from Qassiarsuk to Narsarsuaq didn't leave until 2pm, which meant that I didn't really have time to do much of a hike at either place, despite the glorious weather! Fortunately, the Ridge Hike (yellow in the map below) from Narsarsuaq is a relatively short route up to a view of the Narsarsuaq Glacier (Kiattuut Sermiat), so I decided I would head out and do that one when I arrived.
Unlike some of the routes I've done in previous days, it is a very easy trail to follow (no red dots, no need to follow contours while you hike), and the walking is not strenuous. There was also tons of relatively tall vegetation lining the way – something very different to what I've become accustomed to over the past week or so.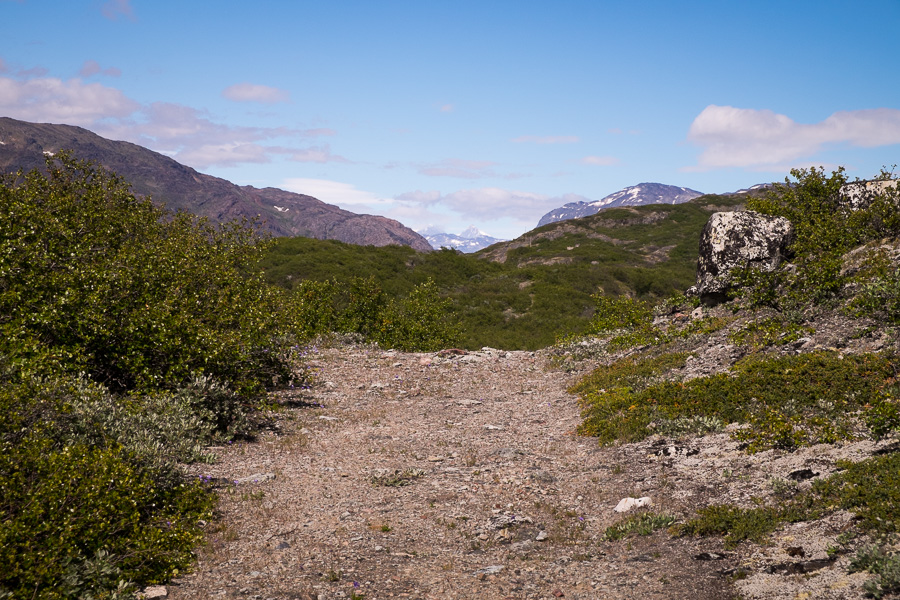 The added bonus – many of the wildflowers were out (Greenland has a lot them in the right season), so I took my time stopping and photographing them along the way. "To stop and smell the roses, no matter what" is a philosophy I adopted about 2 years ago, and although these weren't roses and didn't have a smell, they were very pretty 😊
At the end of the Ridge Hike, a viewpoint overlooks the river leading from the glacier, with a distant view of the glacier itself. Unfortunately the glacier face is hidden behind rocky outcrops but perhaps I'll see that tomorrow when I do the Narsarsuaq Glacier Hike.
Still, it is a nice view of the sheet of ice with some spectacular-looking mountains in the background.
So some nice, gentle hiking today – ready for the full hike to the Narsarsuaq Glacier tomorrow 😊
Distance: ~7km
Time: ~2.5 hours
Notes: This is probably the easiest hike I did in Greenland. If you are there in summer, make sure you stop and admire the Greenlandic wildflowers that are only out for a short period of time each year 😊
Discover more about Greenland
If this post has piqued your curiosity about Greenland, learn more about this amazing country at Visit Greenland, and check out the wide range of tours of all kinds (not just hiking and trekking) at Guide to Greenland.
This post contains some affiliate links. If you make a purchase through one of these links, I will earn a small commission at no extra cost to you. Your support is appreciated!