I wasn't greeted with the best weather I've had in South Greenland today, but decided to head out to do the Qassiarsuk – Qorlortup Itinnera – Tasiusaq – Qassiarsuk loop hike (yellow, followed by upper red in the below).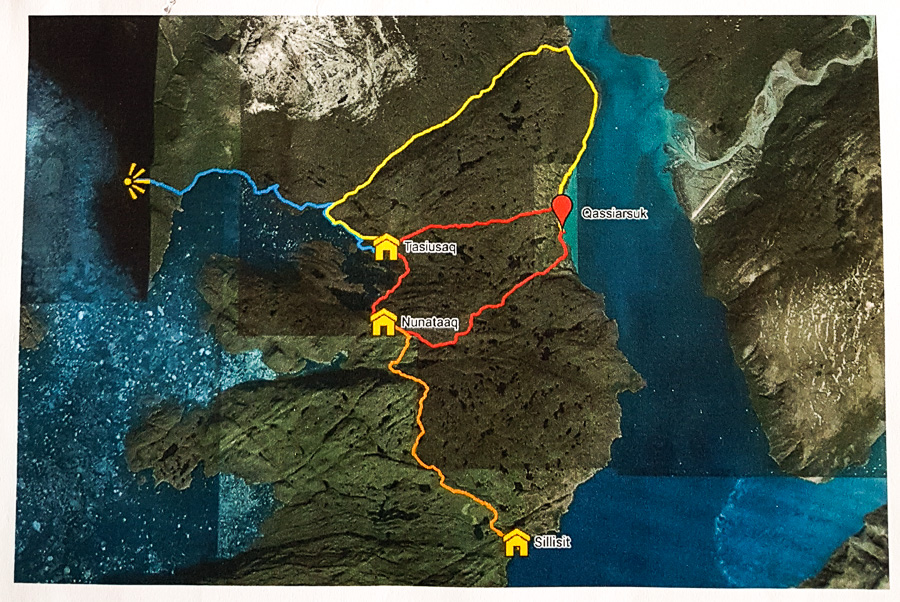 I had to pass all the way through Qassiarsuk to reach the start of the hike, and that included a short visit to Brattahlid, where Eric the Red built his farm when he settled in South Greenland in 982AD (having been cast out from Iceland).
There are still the remains of several buildings (church, stables, hall) from this era
as well as replicas of a typical Norse turf house
a Norse long-house
and a Norse church (Tjodhilde's Church) – the first Christian church to be constructed on the North American continent.
After passing through Brattahlid, I found myself on yet another pebbly gravel road. Have I mentioned how much I hate hiking on these things? ☹
On one side, I had the Tunulliarfik Fjord and the other, the most spectacularly "cracked" mountain I'd ever seen. If I were to describe the look of the rocks – I would say "shattered". Again, I really wish I had a geologist hiking with me!
The road continued for about 7kms before I finally reached the valley of Qorlortup Itinnera ("Waterfall Valley") and turned inland to the farm of the same name. This is one of the interesting things about many of these hikes in South Greenland – they take you right through the middle of someone's farm! Nobody seems terribly worried about it – they just wave you on through – though at the minute they are all at a big sheep farmers' meeting in Qaqortoq, so the farm was deserted.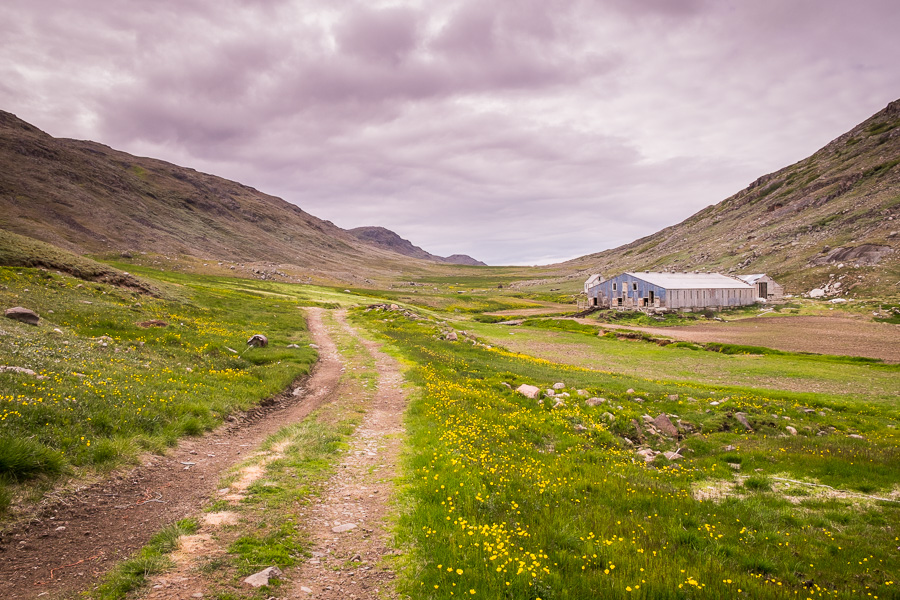 The unusual thing for me was that although every farm had the usual variety of tractors, utes and quad-runners, they also all had ski-doos! Which makes perfect sense, but something strange for a country girl from Australia.
Once through the farm, the hiking route is not marked (actually, it isn't marked up until that point either, but you just hike along the road). Not a single red dot to be seen anywhere, though it is pretty obvious where you are meant to be heading. Just follow the valley. I did the "sheep-track-shuffle" all the way up the valley – following a sheep track until it either stopped dead (damn aliens!) or veered off in a direction I didn't want to go, at which point I would walk in a perpendicular direction to find another that was more or less going the right way.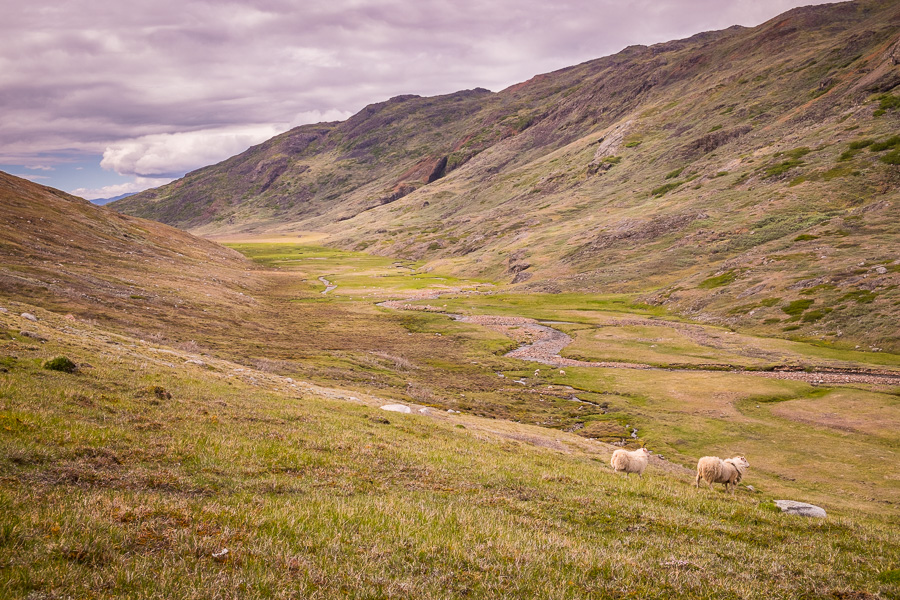 Although I was fighting a biting wind, the valley was very pretty, and very, very green down by the river where the sensible sheep were munching away quite happily.
And there were a couple of nice waterfalls along the way, though I didn't manage to figure out which of the boulders I was passing were remnant Norse ruins (apparently the area is full of them) and which were just boulders.
I continued along the route that followed the river down to the Southern Sermilik Fjord (as opposed to the route that headed straight for Tasiusaq), as I figured that if the weather was even worse tomorrow, I wanted to at least see part of the fjord up close before leaving the area.
It is super-impressive with all the broken icebergs crowding the fjord, and really, you can never see too many icebergs 😊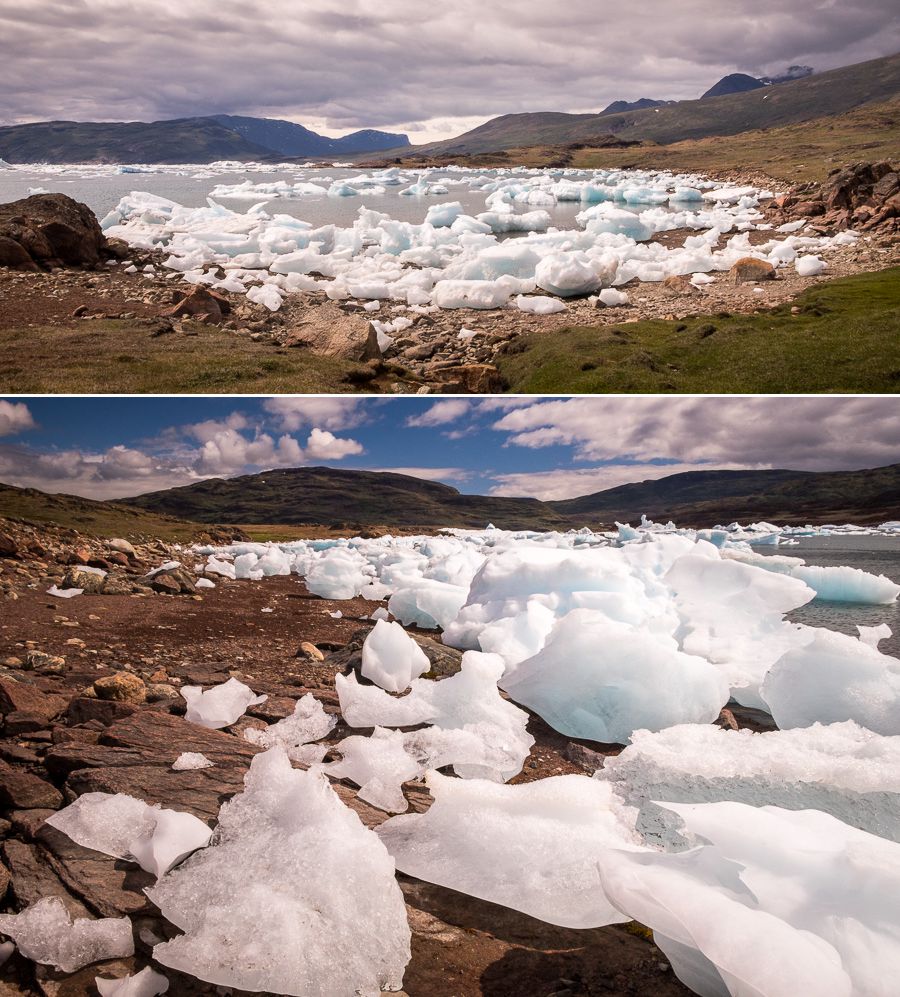 Unfortunately, from this vantage point, I did not have a view of the massive wall of ice that I glimpsed yesterday walking over from Sillisit. Obviously that was further around, and so it doesn't seem like I'm going to get a better view of it given its distance from where I'm staying in Qassiarsuk 🙁 I guess that is what you see from the viewpoint marked at the end of the blue trail on the map. Damn!
I did, however, see an Ukaleq (Arctic Hare)!
No, I agree. Not quite the same thing…
Arriving in Tasiusaq (I should have stayed one night here so I could have hiked out to the view of my ice wall – if only I'd known!) I officially finished the yellow hiking trail at 18km. However, I still had to get back to Qassiarsuk, so I returned along the upper red route (I hiked the lower red route on my way over from Sillisit).
Going up and over a pass was the last thing I felt like at the time, but there didn't seem to be anyone heading my way, so off I set.
In the end, I had just reached the top of the pass when a tourism minivan caught up with me … and drove right past me without stopping to ask me if I wanted a lift ☹
Oh well – better for me in the end I'm sure 😊 Though my feet were killing me!
Distance: ~27km to leave from and return to Illunnguujuk Farm where I was staying (about 1km out of Qassiarsuk)
Time: ~8.5 hours
Notes: When hiking up Qorlortup Itinnera, stay on the southern side of the river, and stay relatively high. There is actually a fence I encountered about ½ way along and then followed (there was a sheep track beside it), which made for slightly easier walking. Otherwise you are going to have to skirt bogs and other pockets of water if you are down by the river – making the hike even longer, and soggier.
Discover more about Greenland
If this post has piqued your curiosity about Greenland, learn more about this amazing country at Visit Greenland, and check out the wide range of tours of all kinds (not just hiking and trekking) at Guide to Greenland.
This post contains some affiliate links. If you make a purchase through one of these links, I will earn a small commission at no extra cost to you. Your support is appreciated!