As you have probably figured out by now if you have been reading this blog for a while, one of the first things I do before heading to a new place is search for cooking classes on offer there. Fortunately Cusco had many choose from, and in the end, I decided upon the dinner menu from Cusco Culinary.
Christian, the chef, came and met me at my hostel and off we headed to the San Pedro Market as our first stop.  Yes – once again – I was the only person doing the cooking class (definitely developing a complex) :-/   The nice thing about that this time was that it turned out Christian had worked in Australia for a few years, so our non-cooking related conversations were largely about Australia and 80s music 🙂
The San Pedro market is quite clean and orderly (markets in South America are much less crazy than Central American ones), with the ubiquous fruit and veg stands and plenty of dried products – including meat and potatoes!
It is also full of really cool stuff that costs an absolute fortune in Australia – especially dried fruit and nuts, and all the "superfood" type stuff – quinoa, kiwicha, maca powder, chia seeds, etc.  All this is very, very cheap in Peru.
The fresh cheeses looked amazing – too bad they were not pasturised (no, not willing to knowingly chance that).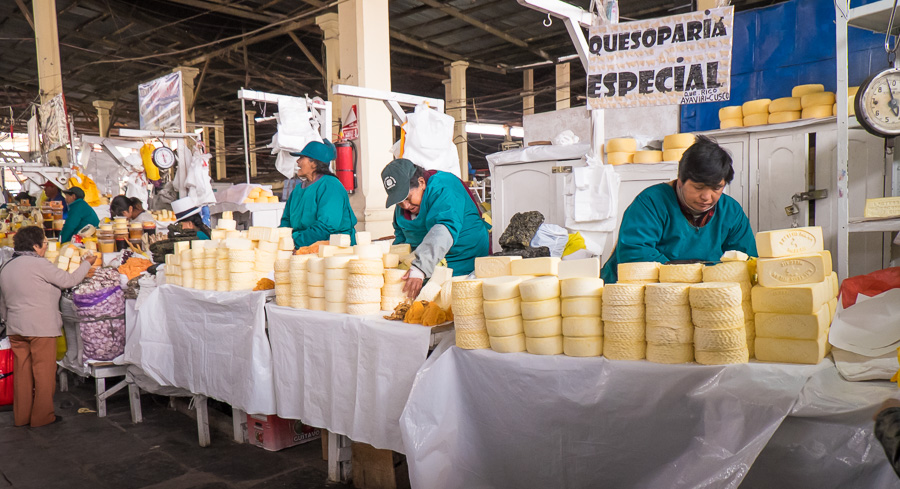 And for the first time ever I saw a bread section in a market!

There are essentially 2 breads in Cusco – the large round one is sweet (and only comes in that size), and a small savory one that is largely hollow and that gets served everywhere with jam.   Neither are loaf-like – apparently the altitude of Cusco (3400m) means that the bread struggles to rise!  There was also only one type of sweet treat – the empanada on the right with sprinkles on it.  It was actually quite yum and a little like shortbread!
After walking through the market, we headed to where the class would be held and I have to say – it was absolutely beautiful inside!   One of the most beautiful and best equipped cooking workshop venues I've been in (and I've been in quite a few).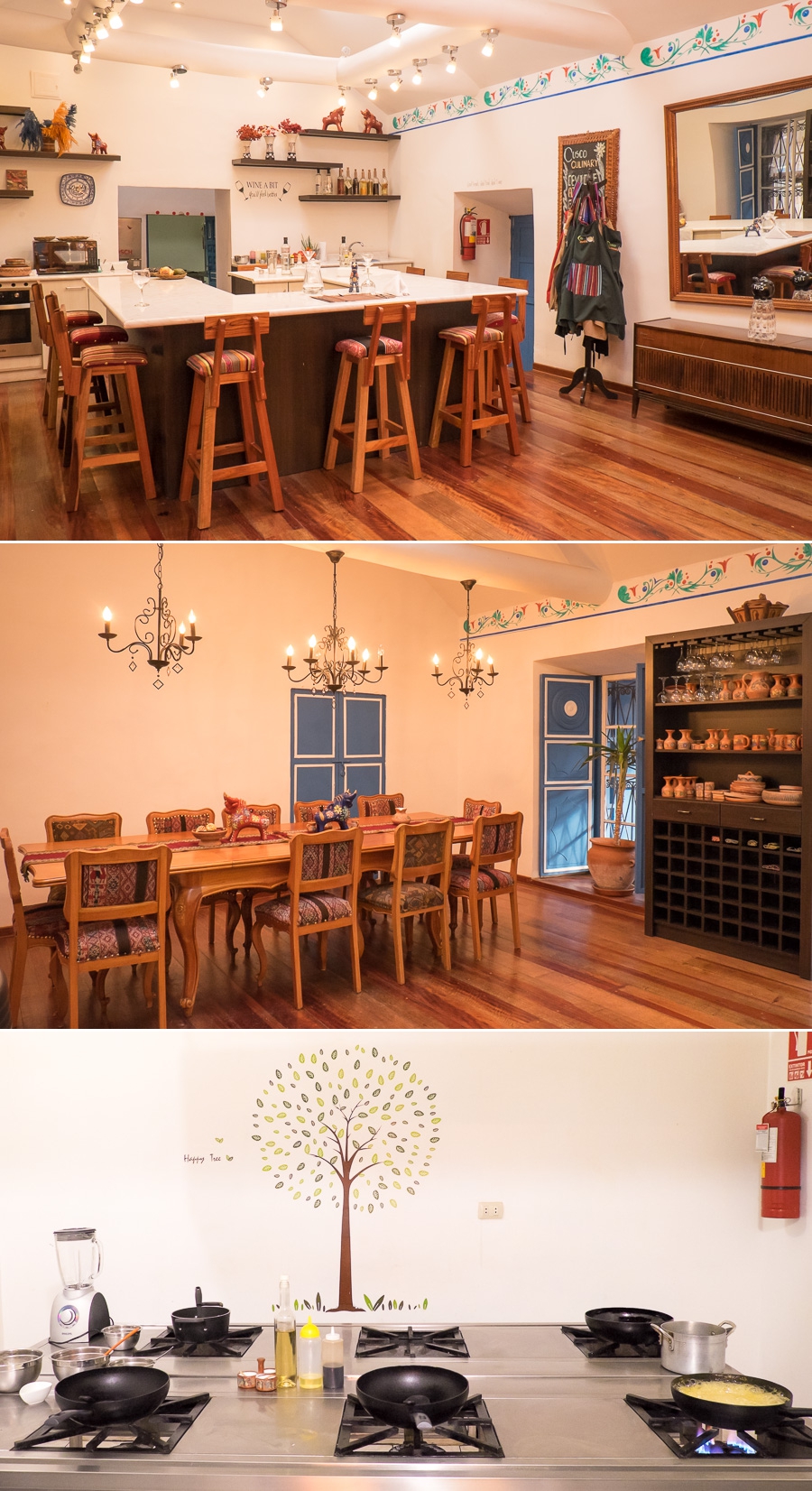 First up, a tasting plate of Peruvian fruits that most people have probably not tried before.
Because I'm a cooking school and a Latin American market aficionado, I'd actually had them all – but it was a wonderful way to start the evening.   Clockwise from right:
Granadilla – one of my all-time favourite fruits – like a very, very sweet passionfruit
Tuna (fruit of the prickly pear) – admittedly I hadn't eaten the red one before, the green one is what you get in Chile.  It's full of seeds (as you can see) and not terribly sweet
Lucuma – unusual to try it as a fruit rather than as icecream, which is usually the way it is eaten.  It's texture is that of a boiled sweet potato – and it kind of tastes a little like one as well
Aguaymanto (someone told me it is a gooseberry) – slightly tart and, I have to admit, not my favourite
Chirimoya (custard apple) – anyone who has been out to dinner with me in Chile knows this is my juice of choice
Pepino Dulce – I'd seen these in Australia on occasion but they were always too expensive to buy.  I'd tasted one the week before – it actually tastes a little like a honeydew melon
We also started with a very typical Peruvian drink – Chicha Morada.  Unlike other chichas, this one is not fermented.  Rather, it is made by boiling black corn with other fruits and spices.  Very mild flavour.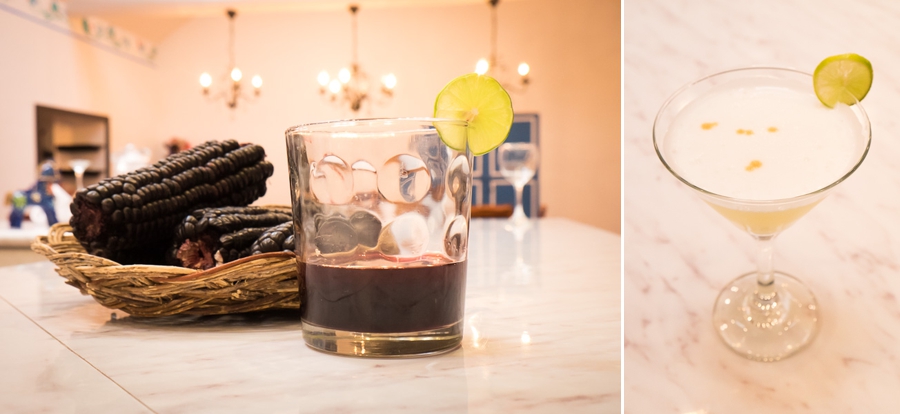 And the very first thing we made in the class was a classic Peruvian Pisco Sour (right).  I only put in 1/2 the Pisco – which was a good move for someone who doesn't drink alcohol.   I'm definitely getting the hang of 1/2-strength Pisco Sours now 🙂
Fruit and drinks out of the way, it was time to start on the entree – Quinoa Crusted Causita.   A causita is basically a cold potato dish where the potato is flavoured with the ubiquitous yellow chili of Peru (not spicy).  In this case, we made a sushi roll out of it – with cooked chicken and avocado inside).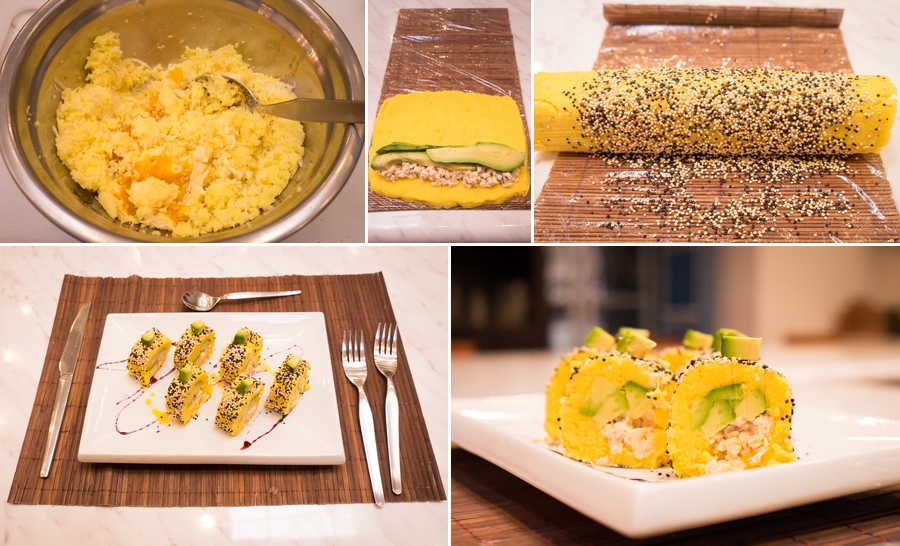 Have to admit, it wasn't the best dish in the world – not enough flavour for me – but it did look impressive and you have to love my plating abilities: including my plate swirls!
Next up was one of the most common dishes in Peru – Lomo Saltado.  I'd had it a few times before and always thought it was a bit "meh", but this one showed me how good it could be – it was very, very tasty!  Note that  Christian wore his Qantas chef gear especially for me 🙂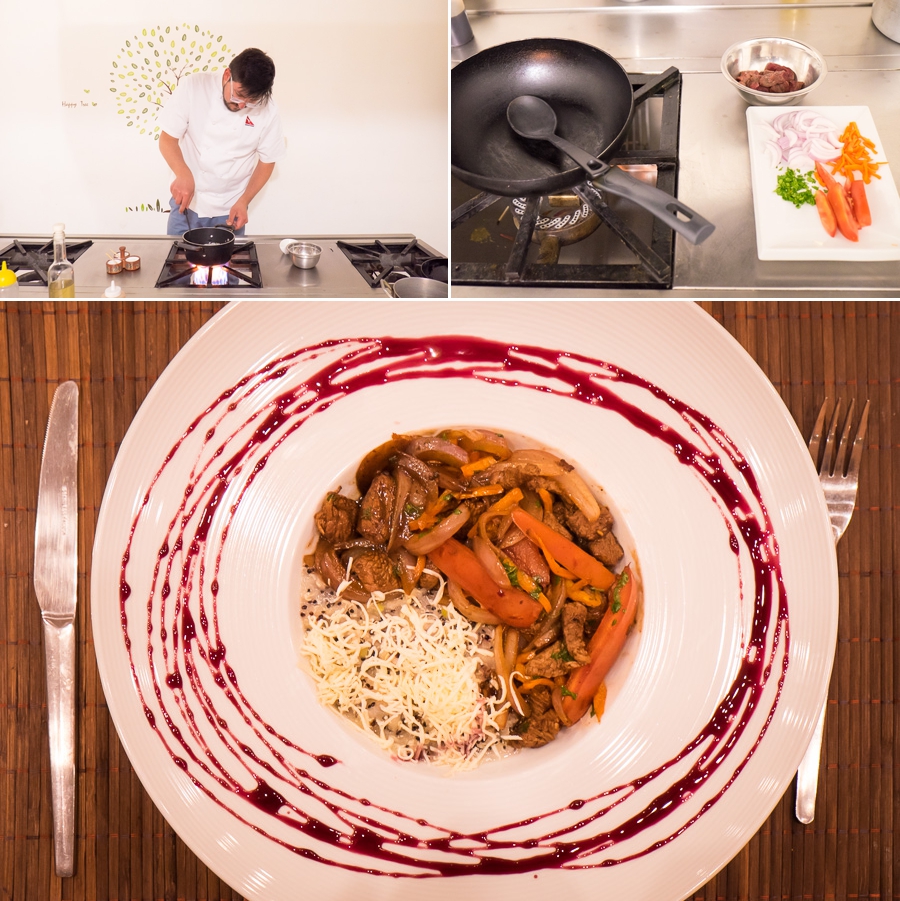 Finally – dessert.  I didn't actually get to make this, as it is prepared by the chef.  Chocolate Lava pudding.  I cannot begin describe how delicious this was!   The best dessert-with-molten-insides I've ever had!  So glad they gave me the recipe!
Recommendation: I highly recommend the dinner cooking class by  Cusco Culinary, and I'm sure their lunchtime class is just as good.  Food is delicious and it is a lot of fun.
Cost:  $65
Time: ~4 hours