My conversation teacher for the third week at La Mariposa Escuela de Español (we change conversation teachers each week) was Layda.  In our first class, we started talking about interests and I found out she'd recently done a community course on beaded jewelry making.
Given my love of jewelry I asked her more about it and she suggested that in our second class she could show me how to make a pulsera (bracelet) while we were chatting.   More than happily agreed!
We headed to La Mariposa Reserva (a new project of the school) passing by her home to pick up  a few bits and pieces for us to work with.    Found a shady spot with tables and chairs in La Reserva and sat down to work.
The bracelet pattern she had me work on was a fairly simple one and formed kind of a flower pattern.  This is Layda starting me off.  The majority of the beads we were using were tiny little things, no more than a couple of millimetres across, and Layda made it all look very easy as she started me off.
Of course when it came to my turn, it turned out to be not quite so easy…  I wouldn't get the nylon thread through the hole and the bead would disappear forever, or I would get it threaded but then I would bump the nylon and it would go flying off, never to be seen again.   Felt very clumsy indeed!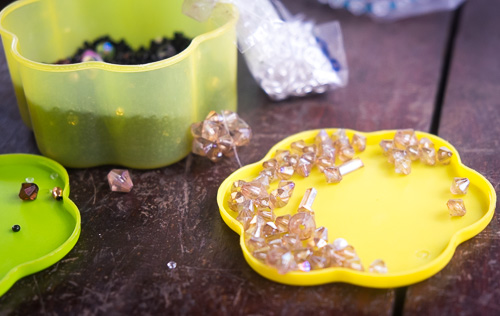 The beads in the yellow lid above were easy, but the microscopic little ones (like the small one between the yellow lid and the green lid in the picture above) were impossible!  Here's Layda with my almost finished bracelet — all that was left was to put the clasp on.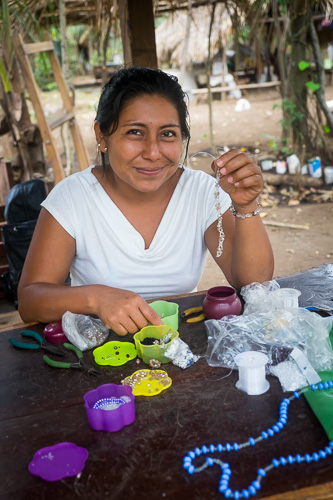 And the finished product!  The clasp was a fish 🙂