Today was to be the most challenging day of hiking for the whole of the Icefjords and Remote Villages trip.  The 1050m ascent to the summit of Mt Kuummiut, which towers over the town.  Although it was a cloudy morning and the fog seemed to be coming and going over the top of the mountain, it wasn't raining and we kept our fingers crossed!
With this trek, you start climbing almost immediately upon leaving Kuummiut, the steady ascent offering wonderful views back down over the village and the fjord and up to our final destination.
As with almost every hike in East Greenland, there is no trail to follow. Andrea led us across mostly rocky ground and slushy snow drifts, choosing her route based on previous experience in leading this trip.
There were plenty of rest stops on the way up, to catch our breath and admire the views
with many mostly-frozen lakes
and the ever-present but magnificent Greenlandic rock. Yes, I'm a geology nut!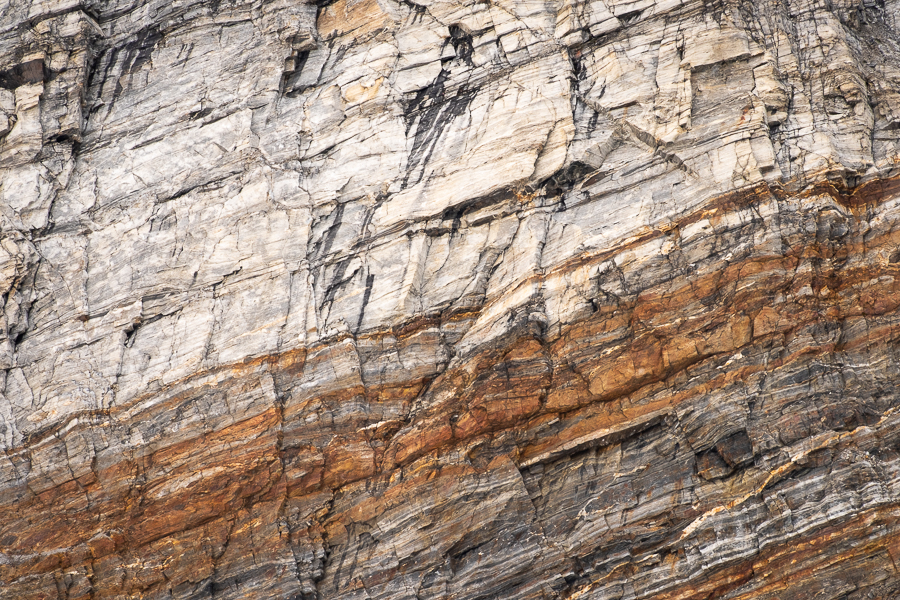 The normal route to the summit is to hike up a valley just before reaching the final steep uphill. However, given the amount of snow we'd already walked through, and the fact that the valley was very firmly held in a snowy grip, Andrea decided to explore a different route up via a ridge line to our left.
It was a total winner of an idea! The ridge was quite wide and offered magnificent views that would not have been visible if we'd hiked up the valley. And the going was infinitely easier (and drier) than making our way through deep slushy snow.
The final uphill push to the summit was a good workout under bright sunshine (finally), but with plenty of excuses to stop along the way and take photographs. I could even see the Tasiilaq Fjord that we had walked along on Day 8 of Unplugged Wilderness last year.
And the view from the summit – a magnificent 360 degree panorama, where photos (even mine 😉 ) cannot do it justice!
[move mouse over image to see the full panorama]
East Greenland really is a spectacularly beautiful place!
We had lunch (and a nap) tucked into the rocks on the summit ridge
and took several quiet moments to marvel at the beauty before us and how incredibly fortunate we were to be here at this time.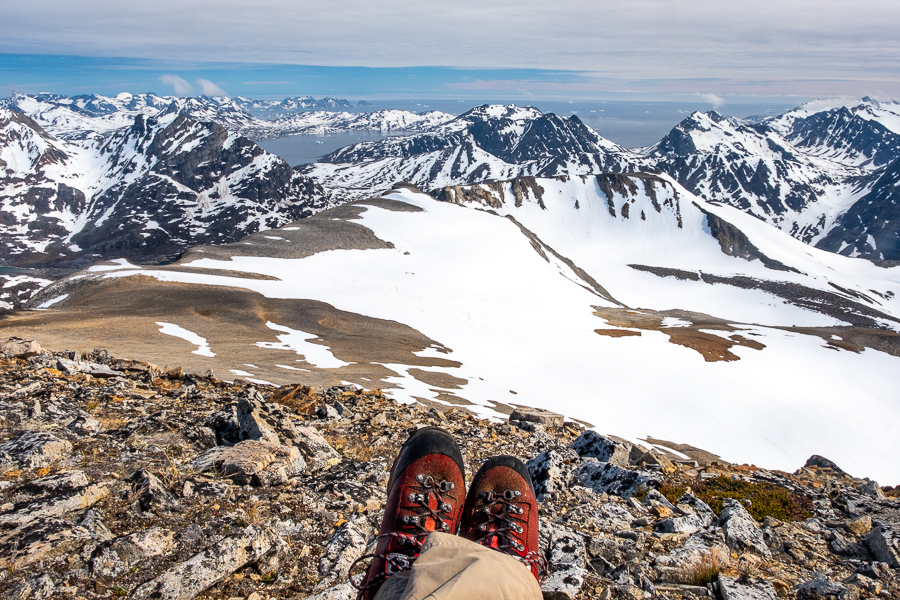 However, all perfect moments must come to an end and, about an hour later when the clouds started to close in, we began to retrace our steps down the mountain.
It was good timing in fact, as only an hour later the fog had started to obscure the top of the mountain once more.
As you've probably guessed by now if you've read my other posts about this trip, it was time for tea, coffee, hot chocolate and bikkies when we reached the hut. Followed by salad, lamb roast, mashed potato, and chocolate mousse for dinner. Sooooo much food!
Read more about the Icefjords and Remote Villages Tour
If this post has piqued your curiosity about hiking and trekking in East Greenland, read about the rest of my adventure on the 10-day Icefjords and Remote Villages tour with Greenland Adventures:
If it has sparked an interest in Greenland more generally, learn more about this amazing country at Visit Greenland, and check out the wide range of tours of all kinds (not just hiking and trekking) at Guide to Greenland.
Hiking Information
Distance = 11.4km
Time taken = 7 hours 50 minutes
Strava Link = https://www.strava.com/activities/1704297961
Map
Altitude Profile

This post contains some affiliate links. If you make a purchase through one of these links, I will earn a small commission at no extra cost to you. Your support is appreciated!