After yesterday's exertions climbing Mt Kuummiut, today was essentially a "rest day" where we transferred from Kuummiut to Tiniteqilaaq (Tinit).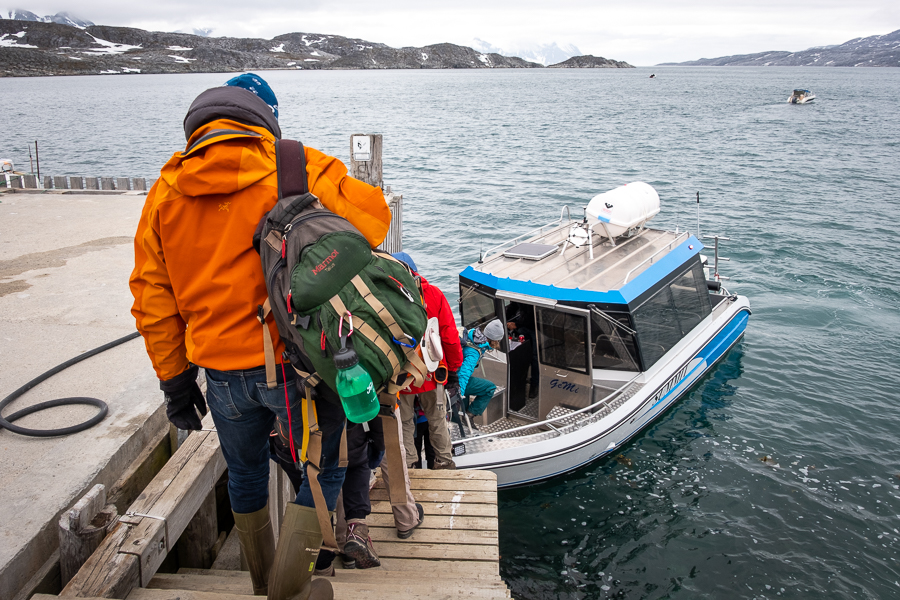 There was a low blanket of heavy cloud obscuring the peaks as we traveled up the Ammassalik and Ikasartivaq Fjords, and although I would have loved to have seen the grandeur of the mountains, I also find the mystery of partially-hidden landscapes beautiful and compelling.
Given that renovations on the accommodation at Camp Qatoo were not yet complete, we had alternate accommodation just outside of Tinit itself. Apparently it was a bit of a walk up a hill to get there, so the plan was to store most of our gear in town and only carry up what was required for the next 2 nights.
This turned out to be an excellent plan, as our new home was indeed more than a kilometre away and up a rocky hill with no path leading to it.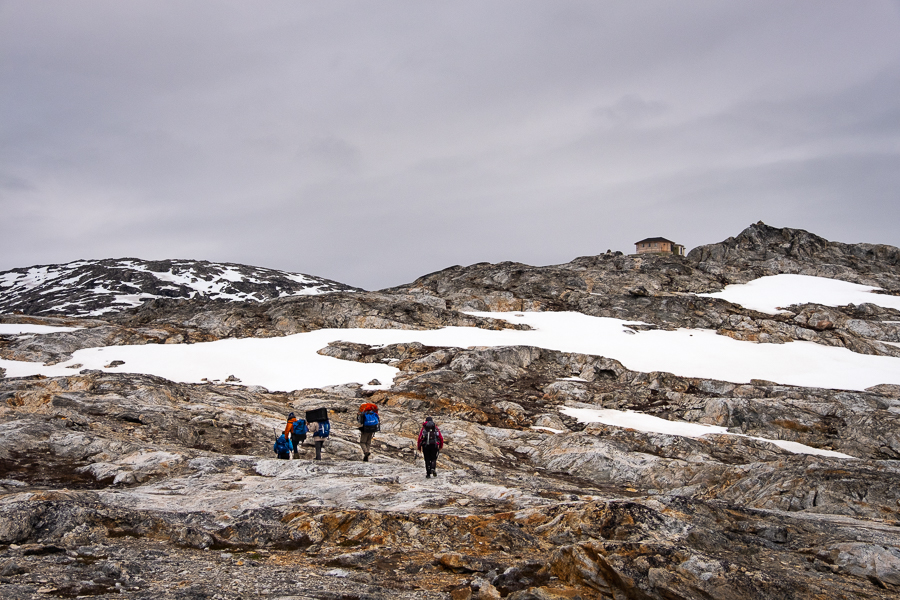 But oh my goodness – it was soooooooo worth the effort! The hut had a 270-degree panoramic view of incredible Sermilik Fjord, which held us spellbound as we ate our lunch on the front porch.
[move mouse over image to see the full panorama]
I have seen a lot of icebergs during my travels here in Greenland as well as in Antarctica and Patagonia, but this ice-choked fjord with its thousands of small and large bergs moving slowly along on hidden currents really was something special.
It was almost impossible to drag ourselves away from this stunningly beautiful view but, if we wanted to eat, we had to get to the Pilersuisoq (supermarket) before it closed. Logistics (and stomachs) prevailed in the end, and we all headed back into town charged with various tasks.
As there was no running water at the hut (nor a good source of drinking water nearby), Allan and Eric manhandled the water-storage barrel down to one of Tinit's water pumphouses to fill (we didn't want to make this trip too many times!). And while Andrea and several of the others headed to the supermarket, I went to raid our own supplies for food for the next 2 days.
I ended up arriving back at the hut before everyone else and had an hour on my own sitting in the sunshine listening to water trickle off the icebergs and the occasional sudden crack as one of them disintegrated a little more in the warmth.
When the others returned, I headed back into town to have a wander about
before returning for more iceberg watching and views over Tiniteqilaaq while drinking endless cups of tea and eating far too many biscuits.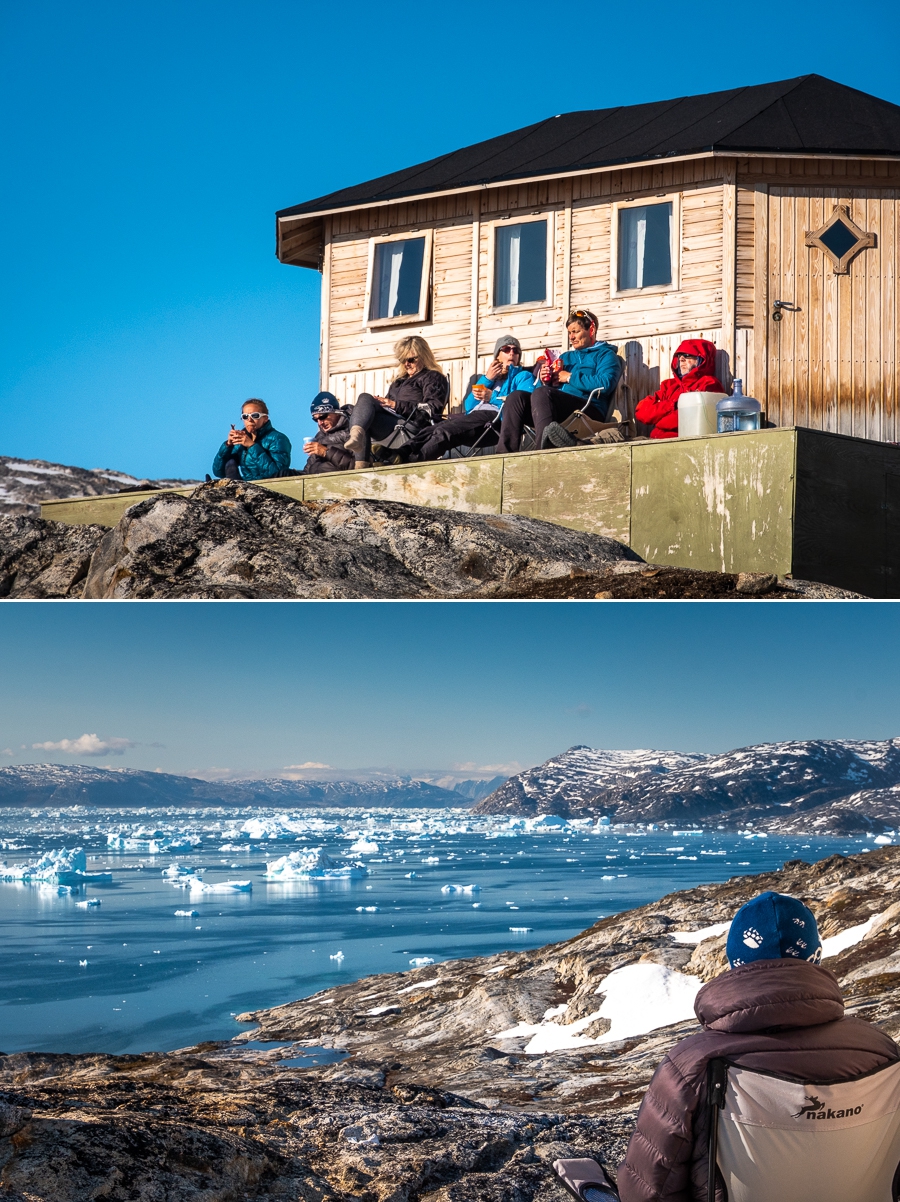 Eventually, the cool evening air forced us inside where Andrea had prepared a very tasty stroganoff for dinner.
This was followed by chocolate cake for dessert and an after-dinner show by Allan and Eric as they carried out their evening washing-up duties 😊
At around 10:30pm, a few of us headed out to watch the Sun set behind the Greenland Icesheet.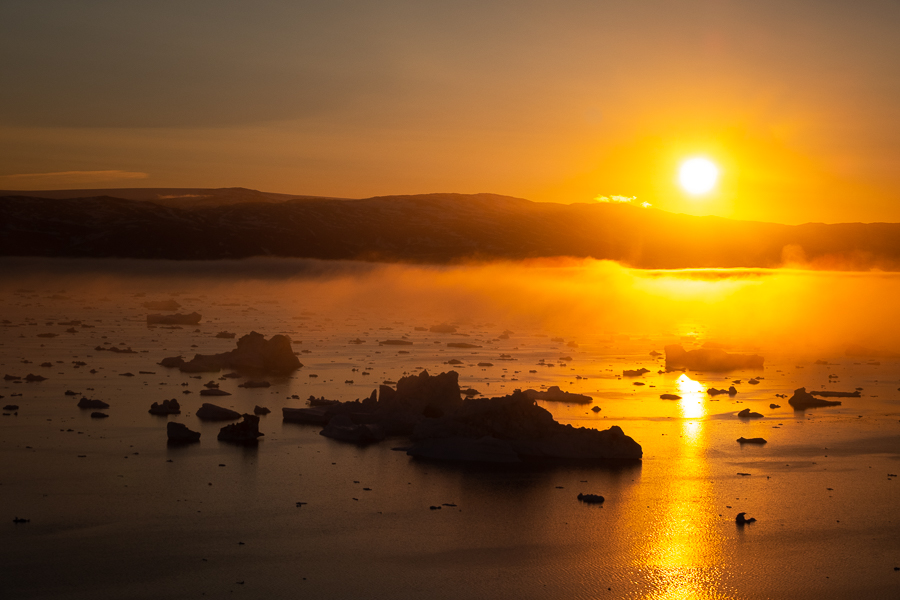 Unfortunately, our romantic notion was scuppered when the fog rose to obscure practically everything, but it was still a really beautiful post-dinner outing in the silence of East Greenland.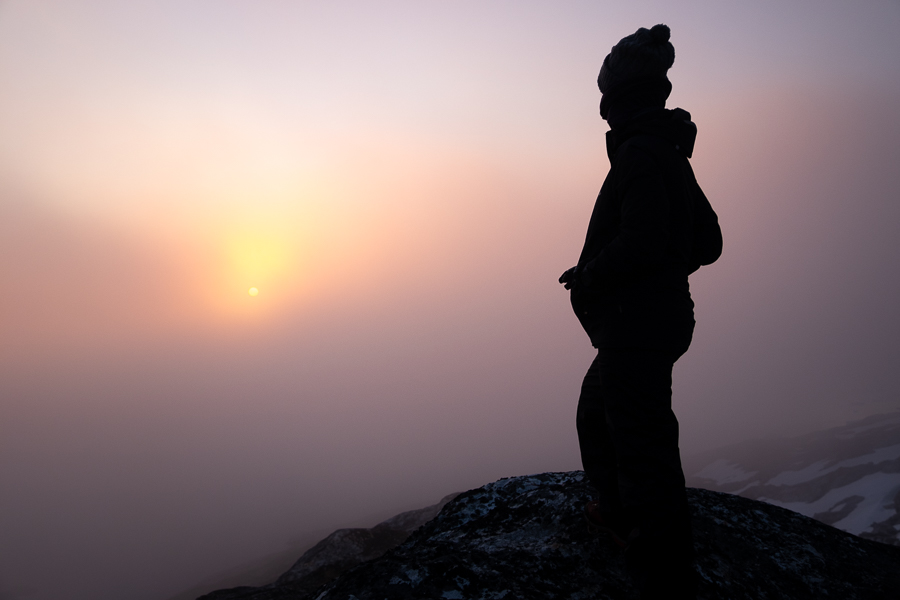 Read more about the Icefjords and Remote Villages Tour
If this post has piqued your curiosity about hiking and trekking in East Greenland, read about the rest of my adventure on the 10-day Icefjords and Remote Villages tour with Greenland Adventures:
If it has sparked an interest in Greenland more generally, learn more about this amazing country at Visit Greenland, and check out the wide range of tours of all kinds (not just hiking and trekking) at Guide to Greenland.
This post contains some affiliate links. If you make a purchase through one of these links, I will earn a small commission at no extra cost to you. Your support is appreciated!