Although I was trying to not overdo it, I did have several days in El Chaltén before starting the Southern Patagonian Icefield Expedition with Serac Expeditions and Swoop Patagonia. So, in addition to my "active rest" afternoon at the Mirador de los Cóndores and the Mirador de las Águilas, I decided to join fellow-Aussie, Brock, on the hike out to Laguna Cerro Torre.
Having done this trail before (and waaaaaay too busy talking with Brock), I didn't actually take many pictures along the way… But it is a nice, relatively easy hike with some glimpses of the top of Cerro Fitz Roy (if you are lucky), and the Torres ("towers") – our final destination.
One of the few times I did break out the camera was when we had the amazingly great fortune of sighting a Huemul – a critically endangered South Patagonian deer! In fact, such sightings are so rare, that the National Parks office asks that you let them know where and when you saw the Huemul so that they can record it. We kept our distance, but followed this guy (who was completely unconcerned by us) for about 20 minutes, before rejoining the trail to the Laguna.
Although it was very overcast, there was barely a breeze when we arrived at Laguna Cerro Torre a couple of hours after starting out. This was in complete contrast to the last time I visited, where the wind would have blown a dog off a chain!
Given the calm conditions, we decided that we'd hike out to Mirador Maestri for a closer look at Glacier Grande, one of the many glaciers in the park that flow down off the Southern Patagonian Icefield. The park rangers are quite adamant that you shouldn't attempt this trail if it is windy (the path is very exposed and rocky) so we took advantage of our continued good fortune!
The view is amazing, of course
and the details are fascinating. I love mountains and glaciers!
We hung out up here for about 1/2 hour – eating lunch, taking pictures, and wondering whether the patch of blue sky we could see would actually arrive over the mountains. But when the wind started to pick up, we decided to head back.
Rather than re-tracing the last part of the route we took to get to the Laguna, we detoured via an alternate path and a beautiful wooded trail. Although De Agostini is the main campsite for Laguna Cerro Torre, there is a"wilder" alternative (much less known) and this trail leads right to it.
Checking over our shoulders periodically revealed that we took the right decision to head back. The patch of blue sky was moving veeeeeeeery slowly, and seemed to be passing behind the mountains, rather than over the top of them. Maybe it will be third-time-lucky for me to have a clear day to hike this trail 🙂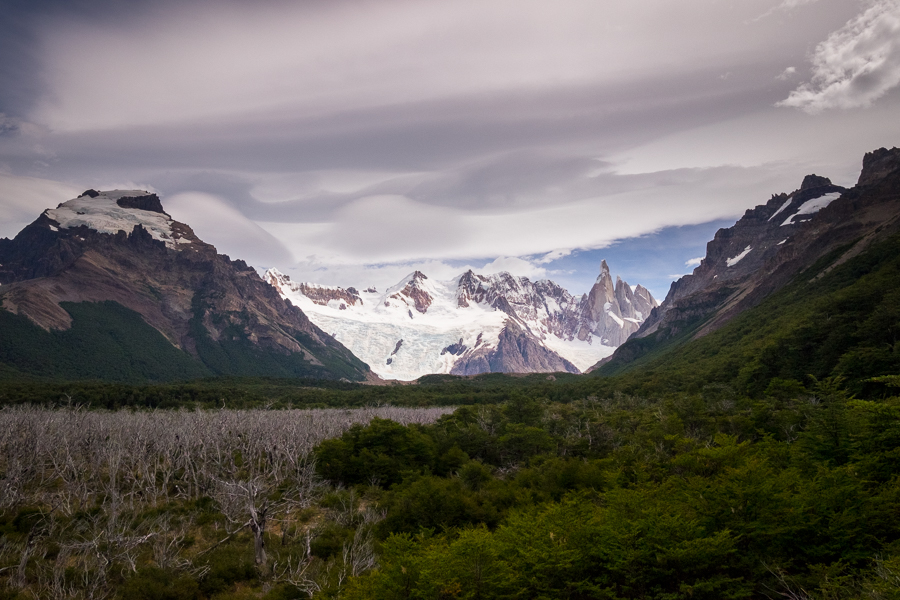 Thanks Brock for a fantastic hike!
Recommendation
The Laguna Cerro Torre hike is one of the most popular out of El Chaltén, and for good reason. The views are amazing and it is not as difficult as the Laguna de los Tres hike. Also – if you can see from El Chaltén that Fitz Roy is clouded over, you may still have luck in seeing Cerro Torre.
Hiking Time: about 5 hours
Hiking Distance: 20km