The reason I ended up in Patagonia this year was because I was helping my friend, Mathilde (who I met on the Unplugged Wilderness Trek in East Greenland), plan her trip in the area. I didn't really have any concrete plans for Feb-Mar and had no intention of returning to Patagonia so soon. But when I remembered my bucket-list item of the South Patagonia Icefield Expedition, I decided "what the heck" and worked with Mathilde to make sure our schedules aligned at least for a few days somewhere. That "somewhere" was El Chaltén – my favourite place in Argentinean Patagonia.
I had mostly recovered from the Icefield Expedition by the time Mathilde arrived in town, and the next day we headed out to do one of the most popular hikes in the area – the Laguna de los Tres.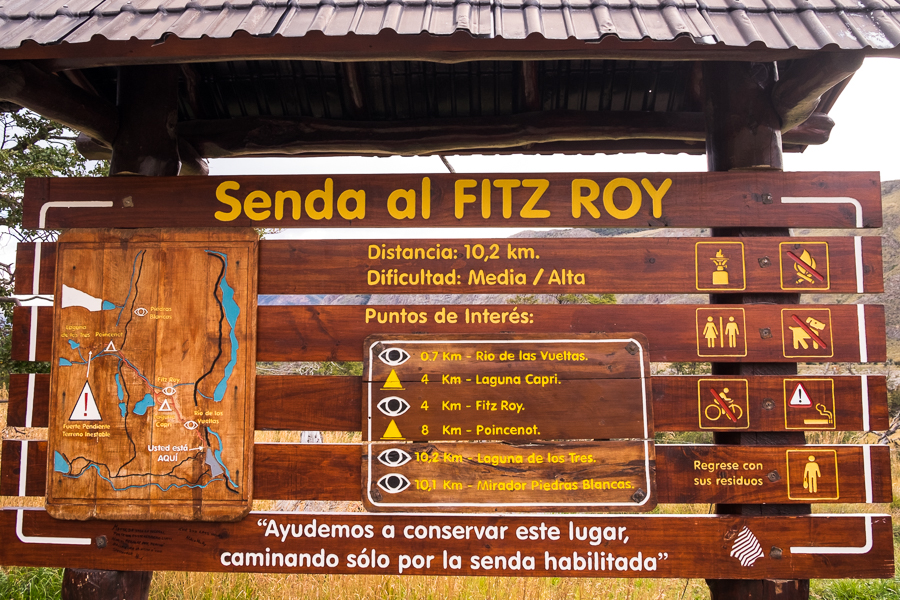 The day looked like it might be OK and we kept our fingers crossed as we raced up the initial hill and stopped at the first viewpoint overlooking the Río de las Vueltas (River of Curves).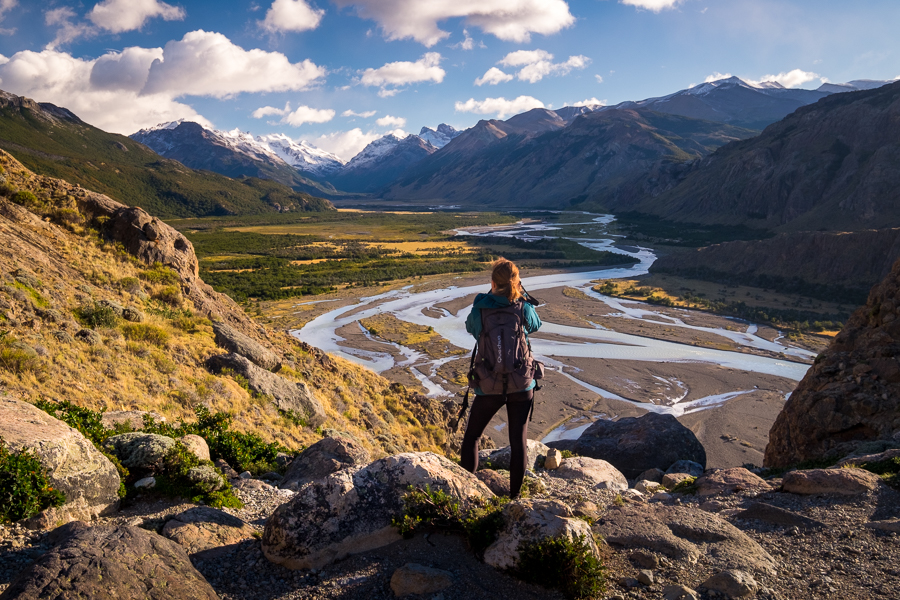 It still looked quite promising as we caught our first glimpse of Cerro Fitz Roy peaking out above the trail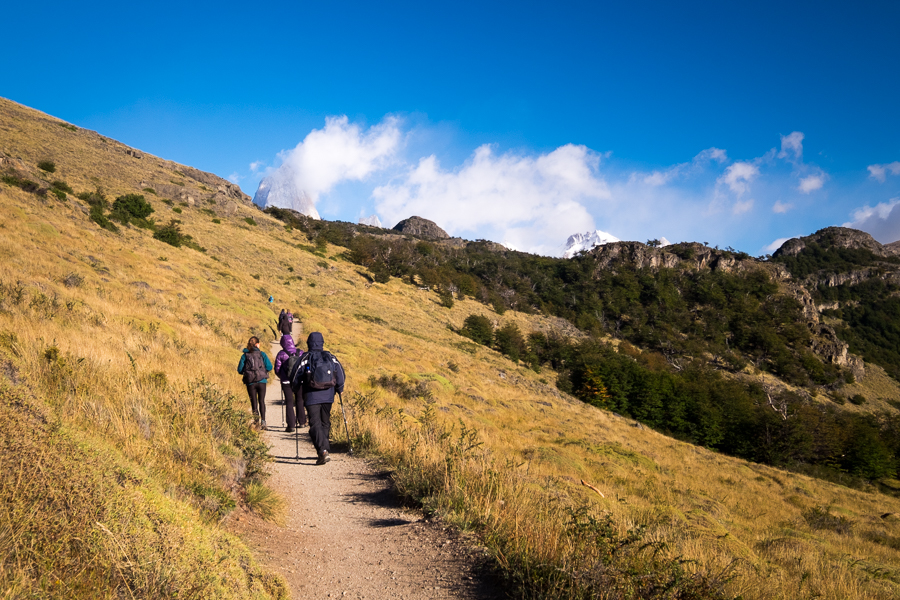 and were ecstatic at the almost perfect view that greeted us at the Mirador Fitz Roy.
The last time I was in El Chaltén, I never managed to see this view during the 8 days of my stay. So I was as excited as Mathilde, even though I had been here before.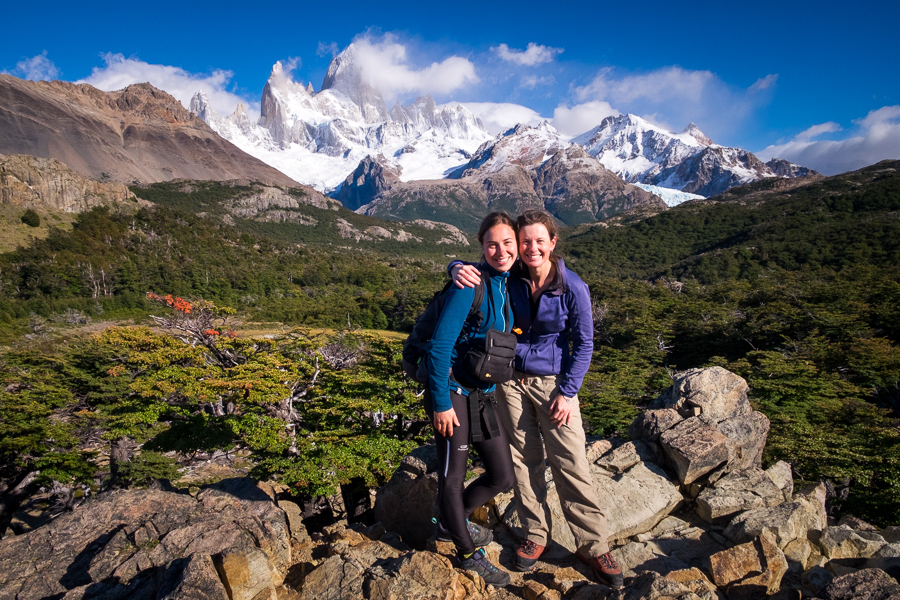 I loved the details in the snow and rock of the mountains, and we stayed here for probably half an hour taking pictures and enjoying the beautiful day.
From there, we passed through more Lenga forest before the mountains were once again laid out in front of us as we approached the Poincenot campsite. I love this view, though unfortunately we didn't have time to do a detour out to the viewpoint of the Piedras Blancas Glacier (to the right) this time.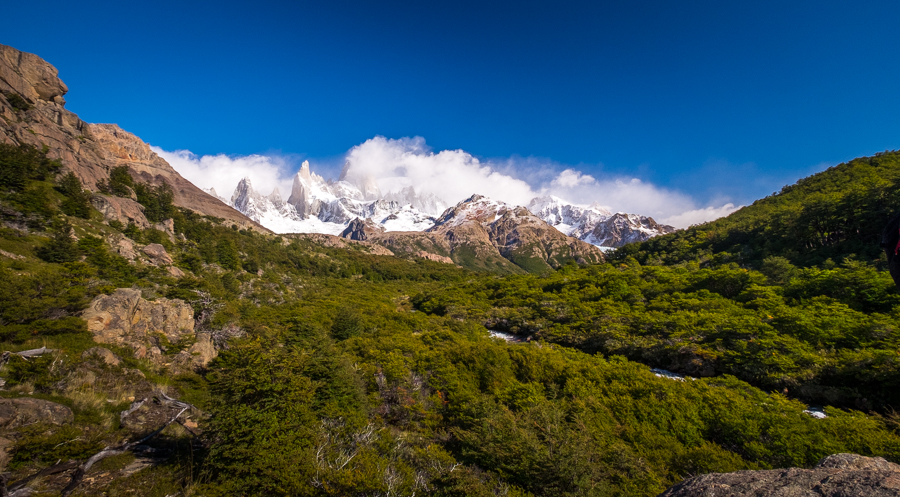 Once through the Poincenot campsite, we reached the part of the hike that I'd been dreading. The final 1km is extremely steep, rising 400m over that distance. Last time I hiked this trail, I remember it being very, very tough, and there are certainly lots of warning messages before you start the ascent.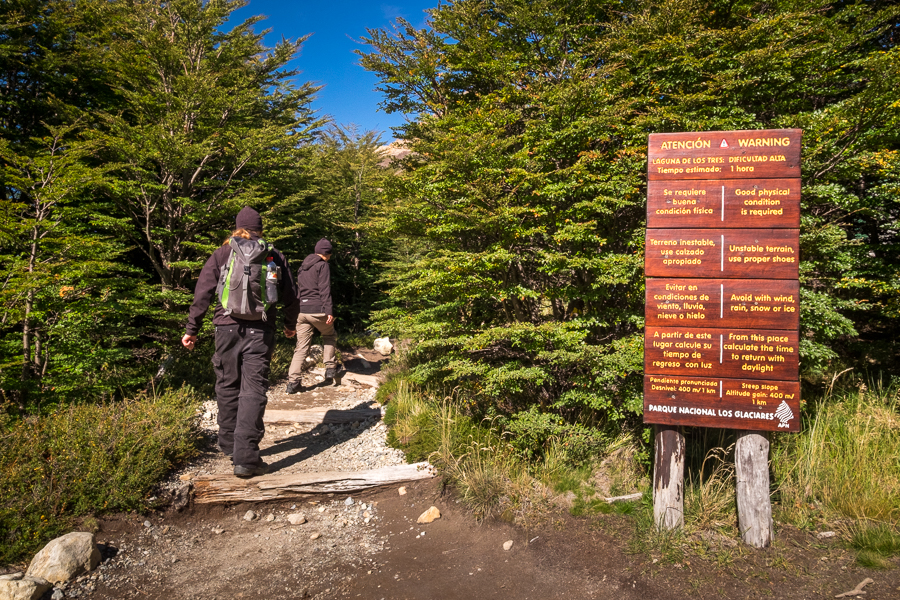 Apparently, lugging a 21kg backpack around for 8 days does wonders for one's fitness! No, it wasn't a walk in the park, but it was nowhere near as tough as I remember it being last time
and the views on the way up provide a perfect excuse to stop and take photographs 😊
We reached the top sooner than I expected and were once again rewarded with almost perfect views. There was barely any wind (it was a raging gale the last time I was here) and the clouds made for an interesting backdrop to the mountains (the mountains were covered completely last time). Absolutely stunning!
As if that view was not perfect enough, I suggested to Mathilde that we hike over to an alternate viewpoint that also reveals Laguna Sucia. I love this place!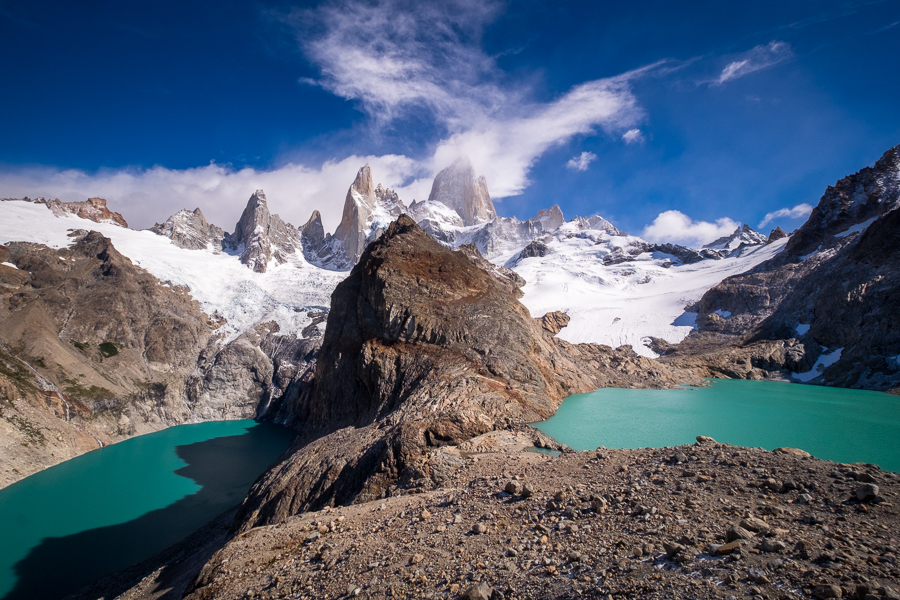 As we stood there taking pictures, the wind started to pick up and the temperature plummeted. We sheltered behind a large rock to have lunch and looked on as storm clouds spilled over from behind the mountains and started to obscure the view. By the time we'd finished lunch 15 minutes later, there were flakes of snow falling! The weather changes that quickly in Patagonia!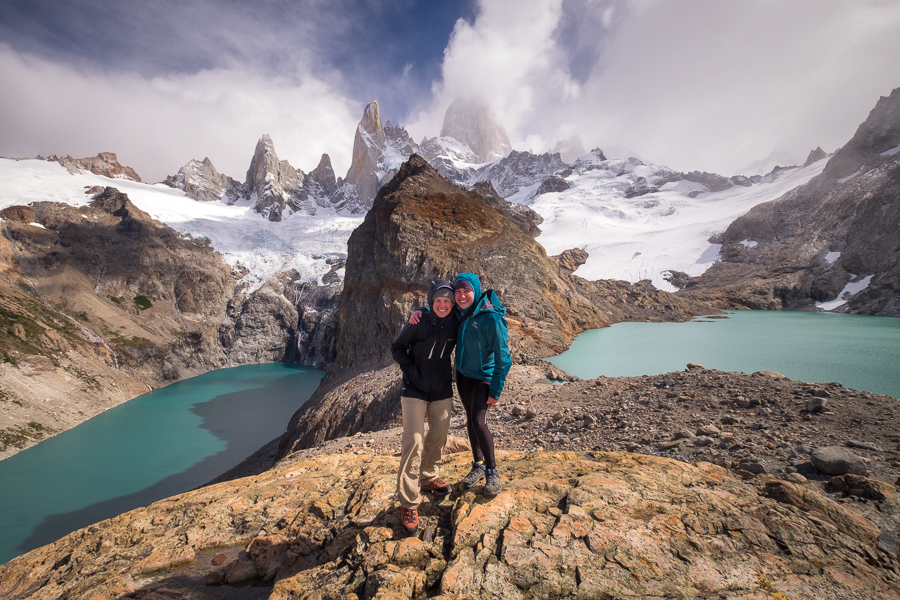 We took that as our cue to abandon the mountain and start heading back to El Chaltén.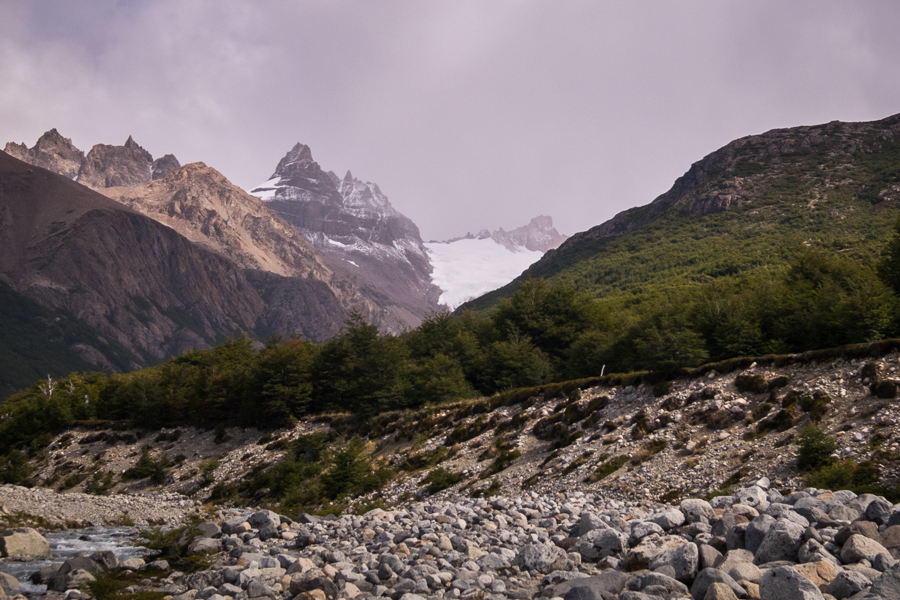 We detoured past Laguna Capri on our way back to town, loving the opportunity to see parrots up close
and finished off in La Wafflería sharing an enormous plate of Calafate waffles as a celebration of our amazing hike.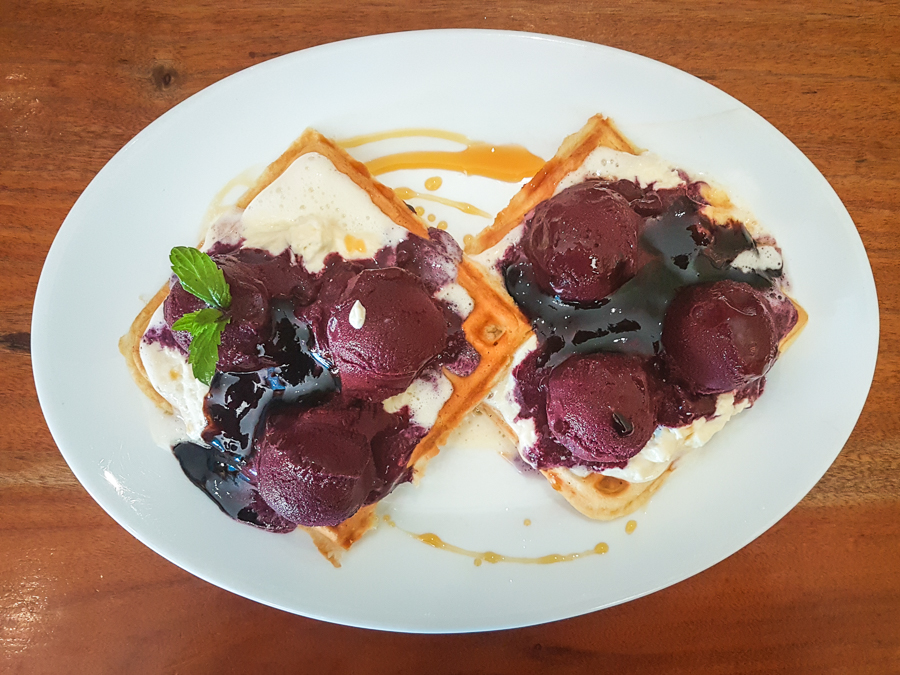 Recommendations
There is a reason why the Laguna de los Tres is the most popular hike from El Chaltén. On a day like today – it is absolutely stunning! Of course, there are not a huge number of days like this so you have to have a bit of luck, but when it works out, it is incredible.
Distance: 20.2km return
Time: 7 hours