Those of you who have been following for a while know that I'm a massive fan of Greenlandic music. I had an awesome time at the Akisuanerit Festival in Nuuk in 2019, and one of the things I was looking forward to in moving to Sisimiut was that it is home to another of Greenland's music festivals – the Arctic Sounds Music Festival.
The highlight of the 2021 Festival was always going to be seeing Ole Kristiansen and F play again. I've seen them play together in Nuuk, and also separately several times (one of Ole's concerts in Nuuk). They are absolutely incredible but I had to wait until the second week to see them perform.
I suspect I was the first one to buy my ticket for that night 😛
27 March Performances – Arctic Sounds
Although I didn't know any of the performers, I decided to go to the evening of the 27th March which featured Gustav LP, Ivaana, Iva, and Andachan. Although much of the music was not to my taste, I thought Ivaana was great!
2 April Performances – Arctic Sounds
But the evening I was super-excited about was 2 April, which featured Ole Kristiansen and F. I was also keen to see if I could add other performers to my Greenlandic playlists.
Zika
First performer for the evening was Zika – a young singer/songwriter from Nuuk. I had never heard her before but I was totally blown away. Her voice is absolutely incredible!
She was accompanied on the piano by Jensia (another performer from the Faroe Islands) and sang several songs in Greenlandic and English. I also loved the collaboration with several of my other favourite young female performers: Ivaana, Laura (from Atsinnermiut), Naja (who I'd heard perform in Nuuk last year), and Jensia (who I would hear for the first time solo the next day). Magic!
Nana Jacobi
After that incredible introduction to the night, the next performer joined us on a Livestream from Copenhagen. Nana Jacobi is based in Denmark and, due to the global pandemic and Greenland's borders being closed, couldn't make it in person.
Her music is electronic, which is definitely not my preferred style, so I was surprised to discover that I really, really loved her songs! Seriously – they were awesome! And it's a tough gig to perform to a computer at 2am your time! Amazing job!
Ole Kristiansen and F
The final act of the night was the one I'd specifically come to see – Ole Kristiansen and F. I cannot express how much I love these two!
They sang a mixture of Ole's songs
and Frederik's (F) songs, including two of my favourites from his newest album – Sikiinnarpugut
I really could listen to these guys forever. If you ever get the chance to see them perform – you have to take the opportunity!
Pop-up Concerts – Arctic Sounds
Arctic Sounds in 2021 also included a few concerts specially put on for kids, and a couple of pop-up concerts as well. I managed to get tickets to the last of these (and the last session of the whole Festival) which was held in Sisimiut's gorgeous Zion church.
Jensia
Jensia is the singer/songwriter from the Faroe Islands that I'd seen accompanying Zika 2 days earlier. Her music is quite melancholy and often tells stories from her life, but the main reason I wanted to attend was for the next performer.
TIU
I'd discovered TIU on a flight from Kangerlussuaq to Copenhagen when I went home for Christmas in 2019. Air Greenland's only airbus – Norsaq – features many Greenlandic artists on their music channel and the flight allows 4 uninterrupted hours to enjoy some of the best music you've yet to experience.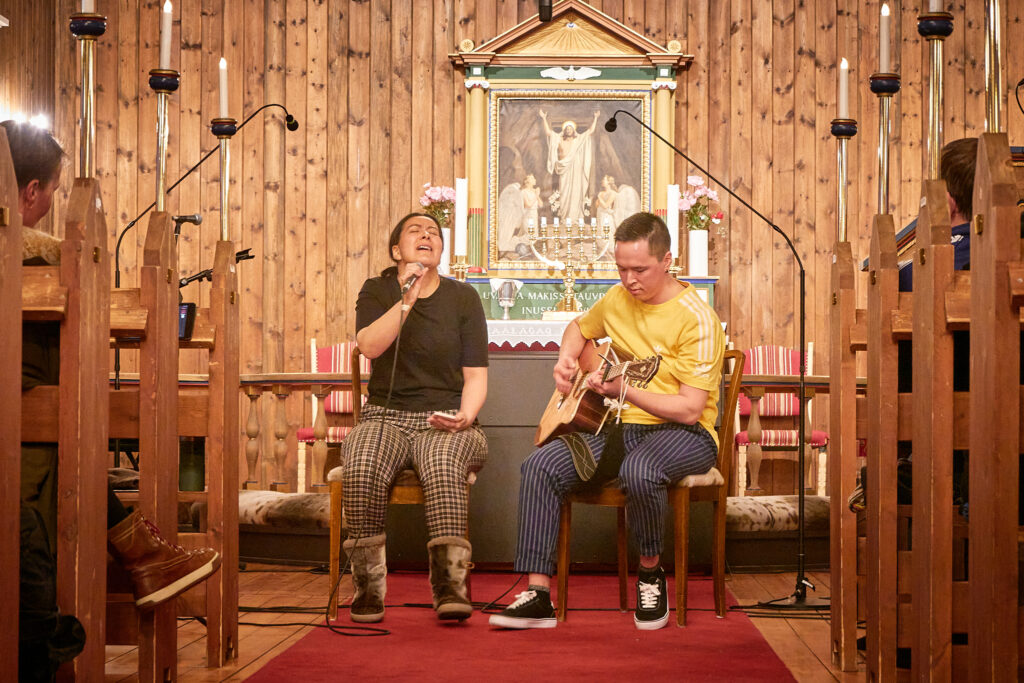 Although they didn't play my favourite songs of theirs in this mini-concert, I'm really looking forward to hearing them play live at some point in the near future.
Until next year Arctic Sounds!
Discover more about Greenland
For more information about Greenland, the best websites are Guide to Greenland (which is also a one-stop-shop for many of the tours available), and Visit Greenland, the Government tourism site.