Up at 7:30am for yet another bacon and egg breakfast (loving it – though there is a vast array to choose from on the breakfast buffet) before heading out to an Argentine Antarctic Base – Esperanza Station.
Another amazing overcast day with no wind, and the approach to the base before breakfast was awesome – lots of icefloes with Adelie penguins – and gorgeous, gorgeous scenery!
We were welcomed to the base by Lt Coronel Miguel Ángel Vázquez, the base commander, who then gave us a complete tour of the base, translated by Joao from the One Ocean crew.
This base is unusual in that it allowed women to give birth there from the 1950s to the 1980s (there were 8 children born there until they discontinued the practice), and to this day they have a "family" approach (ie the people who work at the base can bring their families as well), as they are stationed there for 12 months. For this reason, the base has a school (kindergarten and primary school are taught directly, secondary school is done online), which was one of the stops on our visit.
We also visited the church/chapel

And had tea and coffee and bikkies laid on for us in the refectory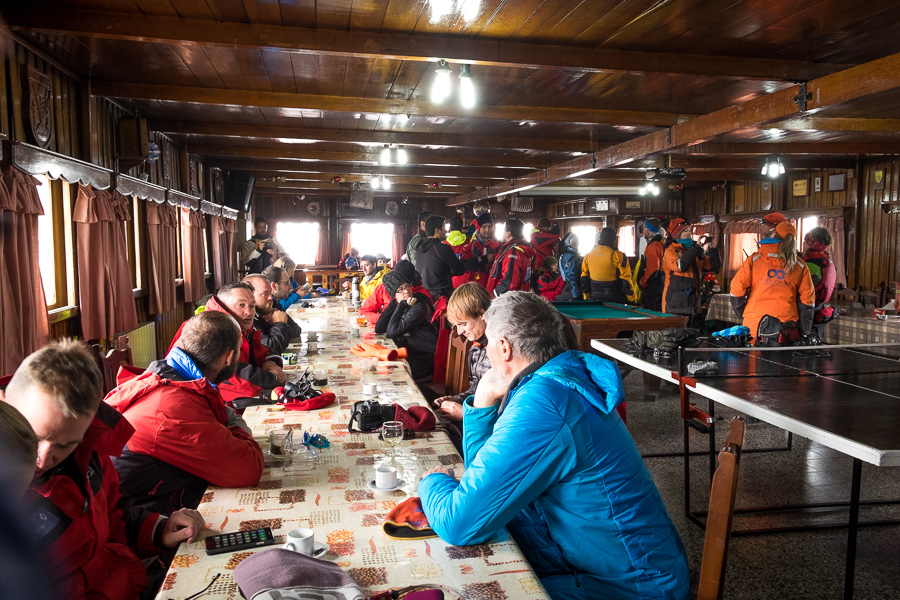 The base also respects its history and location with a recreation of the stone hut in which 3 shipwrecked men survived back in 1903 until rescued, old machinery and sleds from the establishment of the base back in the 1950s, and an extensive museum.
While we were in the museum I got chatting with the Base Commander about Antarctica and Latin America and how much I loved these places. Had a great chat for about 15 minutes before we had to continue the tour, but he specifically came up to me later and invited me come along with the film crew to his house where they were going to do an interview with him and his family. Of course!
So got to peek into what one of the base houses looks like (reminds me of the houses in the recinto of Cerro Tololo Interamerican Observatory in La Serena), meet his wife and daughter and hear what they had to say about family life at the base during their year in residence there.
He seemed super-keen to keep in touch with me, so gave me his email address and I'll send him some of the pictures I took of him and his family today. I think he was just really happy to have someone different to talk to who could speak Spanish and who loved Latin America. Making friends, even in Antarctica 🙂