After leaving Esperanza Station and yet another amazing lunch, we continued to be lucky with the swell and the ice, and could actually land at Brown Bluff – a site with another Gentoo Penguin colony and an Adelie Penguin colony – something like 90,000 nests in total!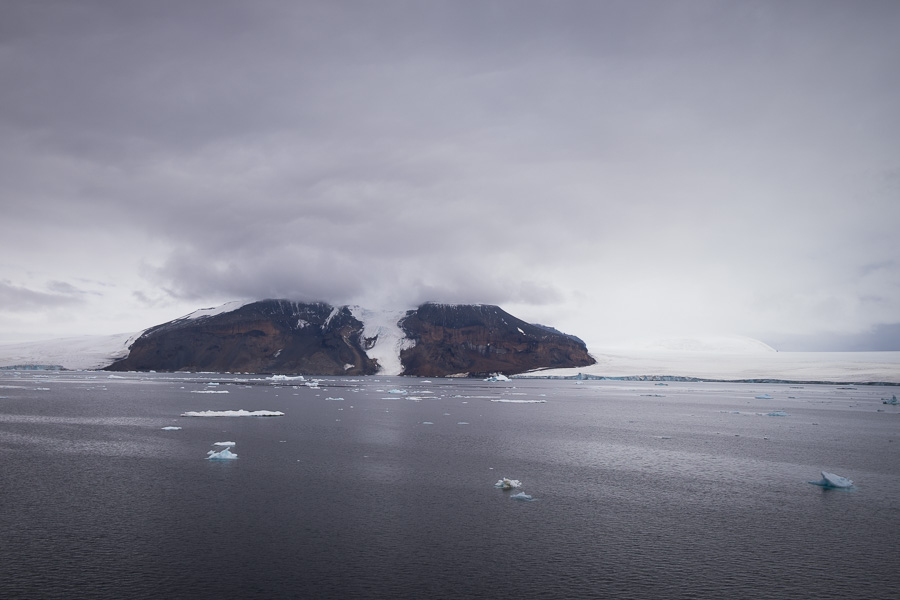 Here I saw lots of Gentoo chicks – the One Ocean staff are really surprised to see them this early, usually they don't hatch for another week or two apparently.
Simon (the One Ocean bird expert) also found a Snow Petrel in a cave and set up a scope so we could all have a close look.
And we got to go for another hike – this time up the glacier for a great view down over the bay.
It was nice to do a bit of exercise again, but the problem with the hiking is that because we have on so much wet/cold weather gear – you are positively boiling if you end up hiking uphill, like we did in this case.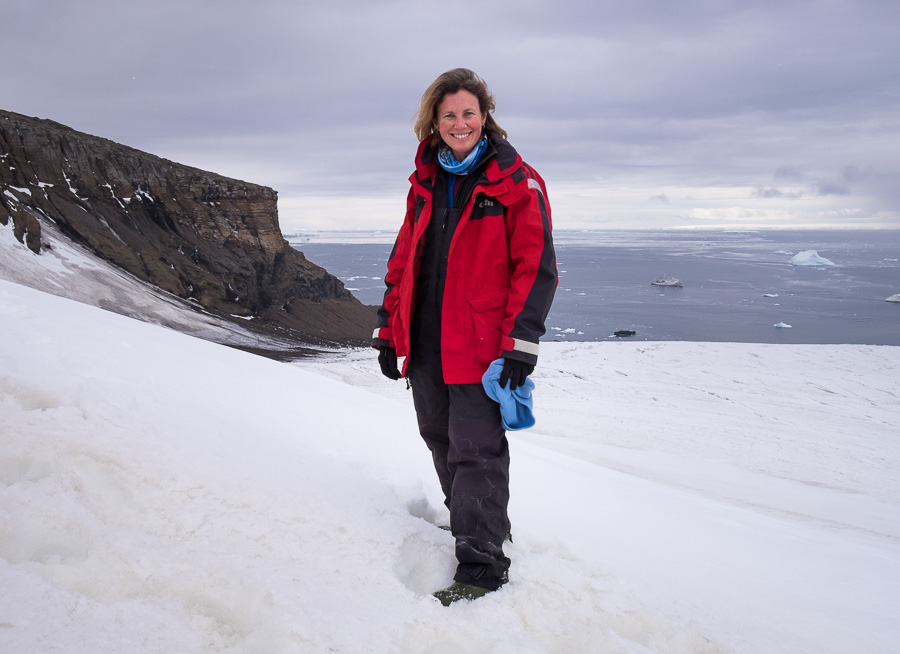 Admired the view and the incoming snowstorm for a bit and then slid down the first part of the hill rather than walking – much faster!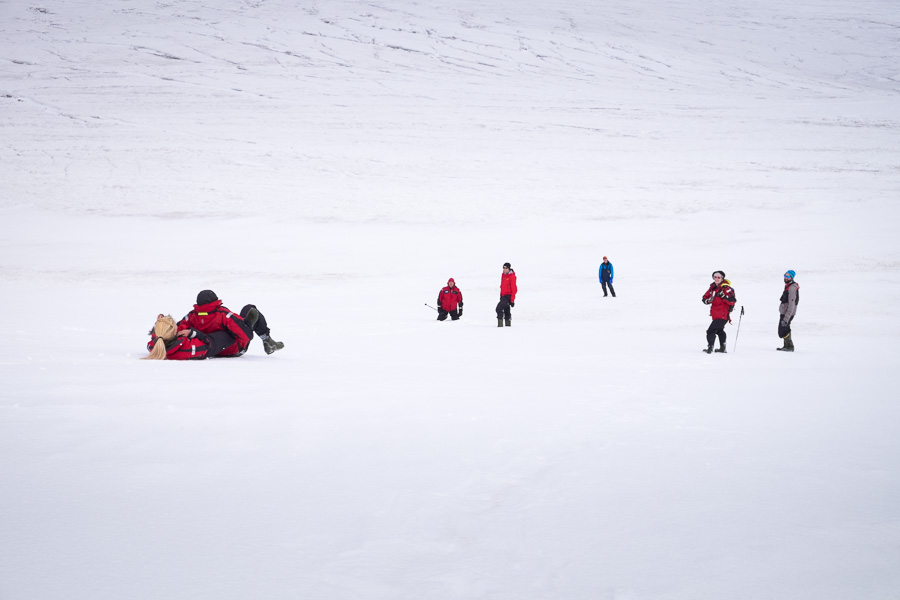 Back on the Vavilov, it started to snow lightly, but without wind so it was actually quite beautiful. And it turned out that dinner was an Argentinian BBQ out on the back deck … yes, in the snow.
They turned up the 70s and 80s tunes, had mulled wine to hand, and we had a great (if cold) time eating out in the snow as we headed towards our next destination.
Unfortunately, the snow meant that we couldn't go camping 🙁 but we ended up with something even better. A most amazing Orca and Minke whale show! There must have been at least 30 whales around us for over an hour, and the capitan of the Vavilov was awesome, driving the ship in circles so we got to enjoy the show for longer.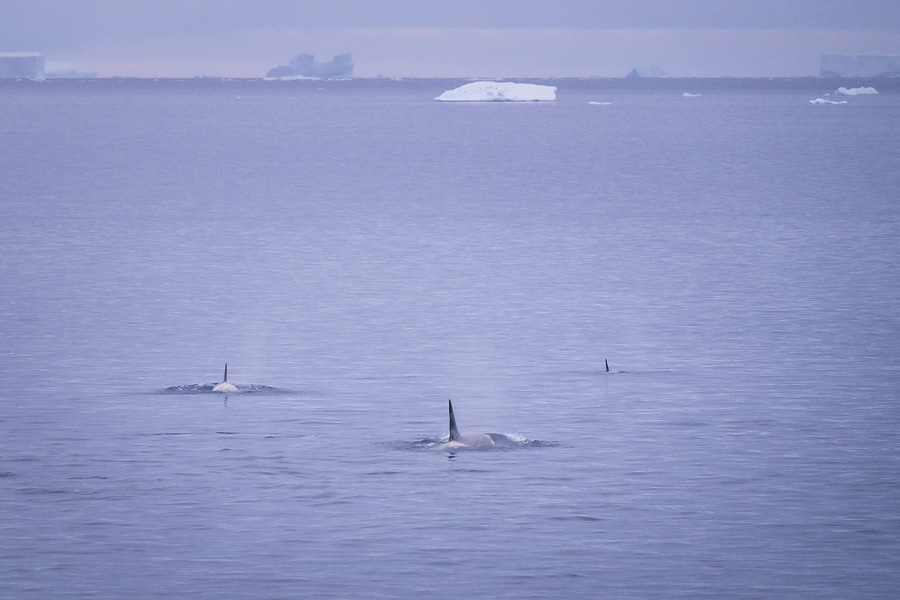 Most of us were out on the bow of the ship, and it would have been funny to create a timelapse of the movement of people out there as there were gasps and exclamations from one side of the ship and then the other.
There were so many whales, you really didn't know where to look!
Saw a few Minke breaches
Lots of Orca fins and saddles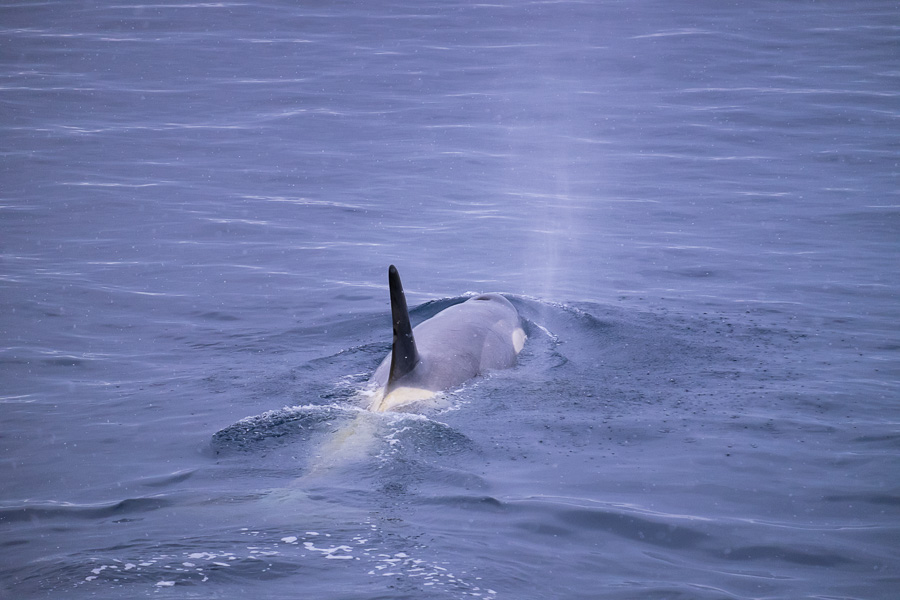 And several of the whales swam right beside and/or under the boat – and we could see them in the crystal-clear water of the Antarctic.
No blood or carnage though (usually Minkes are food for Orcas), so the naturalists on board were not sure as to why the Minkes and Orcas were hanging together, though one suggestion is that the Orcas had already attacked and eaten.
Words can't describe how amazing this was (the photos don't do it justice)! A really, really special sighting for us, the One Ocean crew (they were all out there with their cameras too) and even the crew of the Vavilov said that they'd very rarely seen anything like it. We didn't feel so bad about the camping after that 🙂