Although ziplining has become really popular over the past years, I'd never actually tried it. It never looked like something that would get the adrenaline going (I'm not afraid of heights), though it did look fun, so I thought I'd give it a go in Baños.
Chose to do the 6-zipline trip at Puntzan – because, well, why not 🙂 They have 2000m of zipline to explore and you get to do a little bit of walking in between as well.
Basically ziplining is like a very large flying fox that you are harnessed into – here's a video made by Puntzan that gives you an idea.
And it was lots and lots of fun! First line (150m in length) we did upright to get the idea of what to expect. For example, it's not entirely obvious how you actually stop at the other end – but all became clear when the pulley smacked into a wooden block that one of the guides could control to slow you down.
The next line (300m) we could choose to do upright up upside-down. Of course you know what I chose!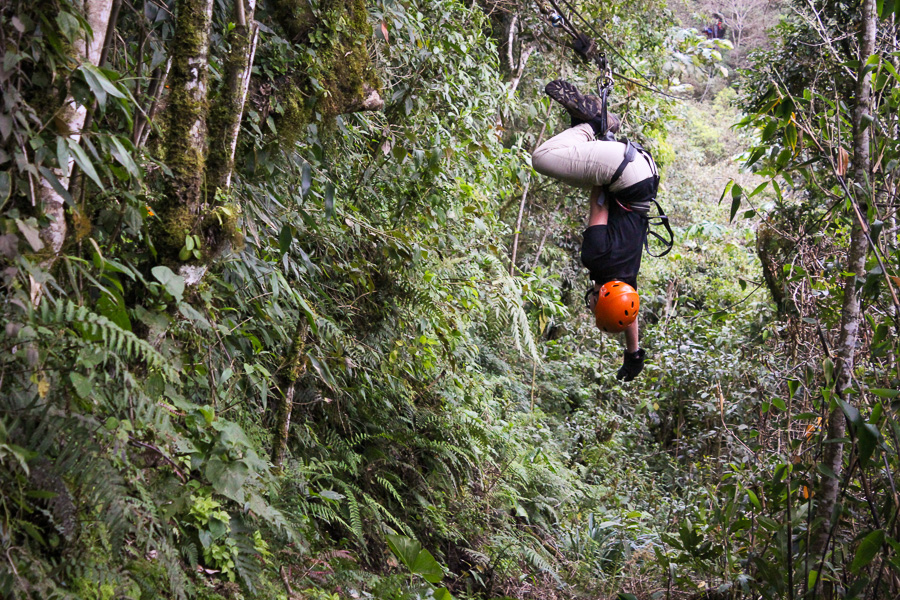 Third line (250m) was our first go at "superman" ziplining – which really is the closest thing you can get to flying (unless you are willing to die in a squirrel suit). Supermaning is definitely the favourite – and it is incredible to look down at the ground far below you as you glide over. I'm not sure what the drops were, but some were at over 100m at least!
Rain shower on the 4th line (350m) which I again did upside down. Perhaps not the best option in the rain as it tended to go up the nose…
5th line (450m) was a dual-superman that I shared with Eric. This one took you seriously high off the ground and along the river – spectacular!
And finally, the 6th line (550m) was upright again.
Brilliant fun! And although they don't necessarily have the longest ziplines around Baños, being able to do 6 of them is really awesome!
Recommendation: Do the 6 ziplines at Puntzan. That way you get to figure out what it's all about on the first line and then really enjoy the others 🙂 Most agencies in Baños offer it – we went with Geotours simply because that is where we had to return the bikes to after cycling the Ruta de las Cascadas in the morning. You can arrange with about an hour of advance notice.
Cost: $20. Includes transport, equipment, guides. $5 extra for photos, though it is possible to take your own. All the photos that appear here were taken by the Puntzan guys.
Time: Depends on the number of people, but about 2-3 hours.