We finally had the most glorious weather on Day 7 of the Unplugged Wilderness trek! The jackets and jumpers were off and the shirtsleeves (and eventually arms) were out. Oh how I love blue skies and sunny days!
Maxime gave detailed instructions to the boat drivers on where to drop our camping gear, and off we set up the Tunup Kua Valley.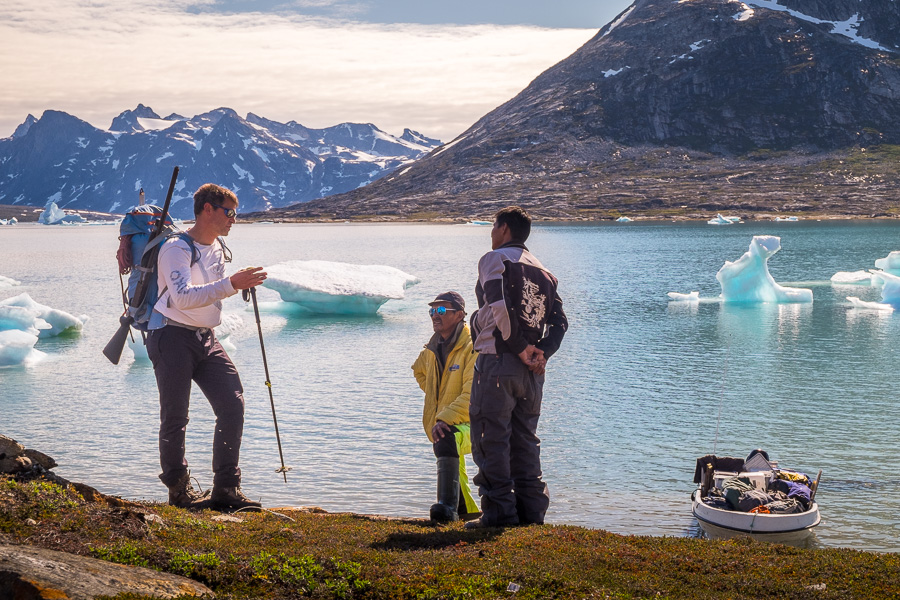 This was a really lovely part of the trek, and not just because the sun was out. We followed a river the whole way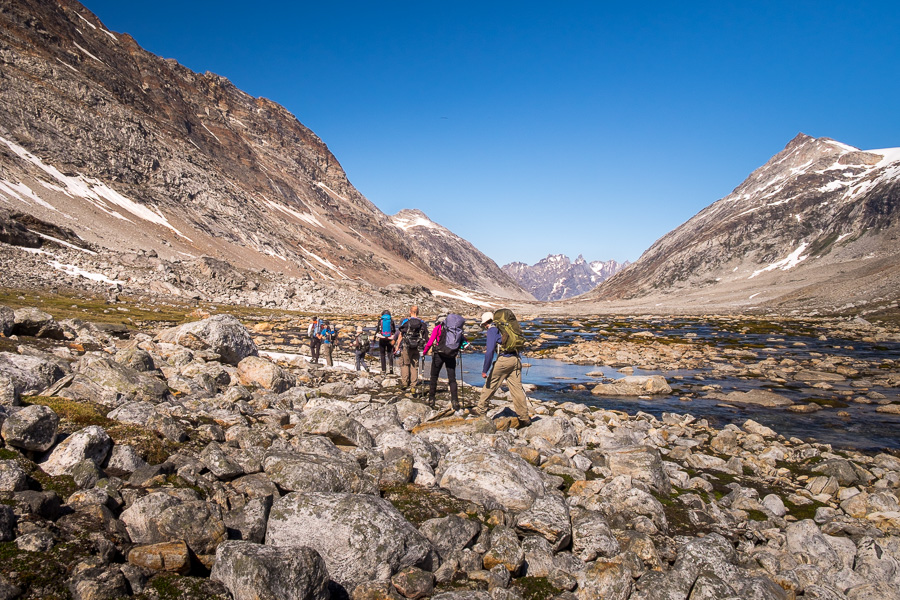 which meant gorgeous little waterfalls
And spectacular granite cliffs that towered above us
We had lunch in front of a small lake with a beautiful view of the jagged peaks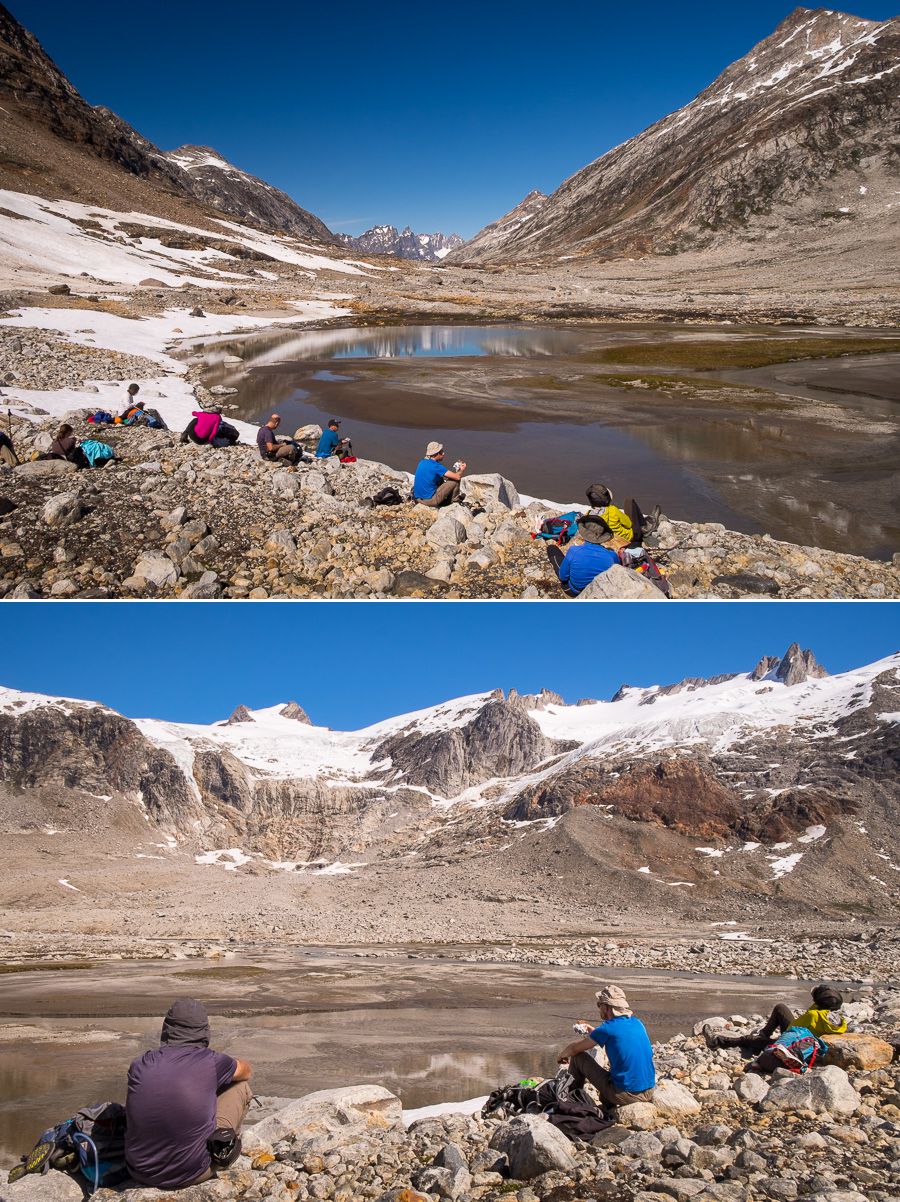 and it was just such a great feeling to be warm and enjoying the sun under bright blue skies! Although clouds can be spectacular and moody, and make the lighting much easier to deal with for taking photos – there's something about the joy that sunshine brings. Maybe it's all the Vitamin D?!
We finished hiking to the top of the pass and dropped over into the Tasiilap Nua valley, which would take us down to the Tasiilaq Fjord.
There we were confronted by another glacier tongue crossing.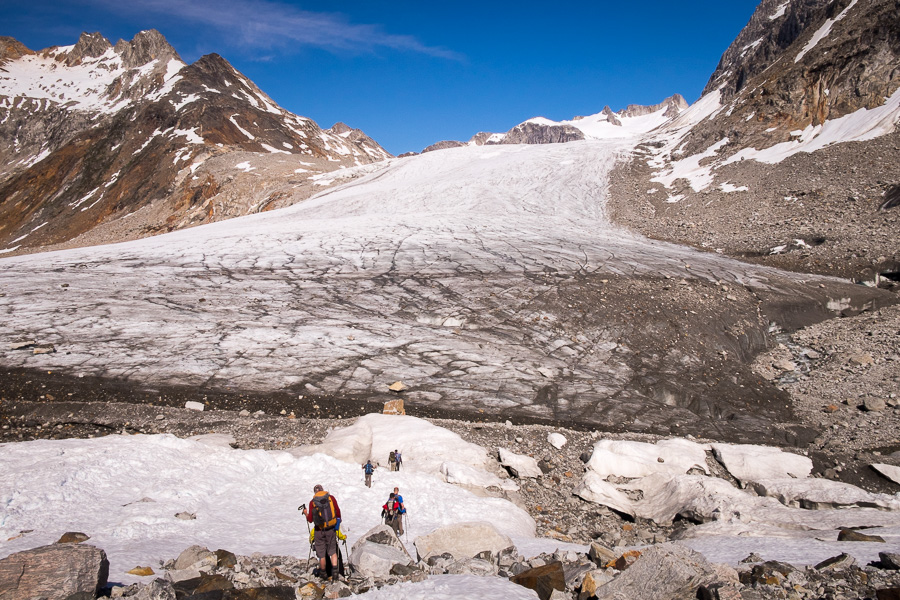 which Maxime assured us we could do without the crampons (even though we were still carrying them).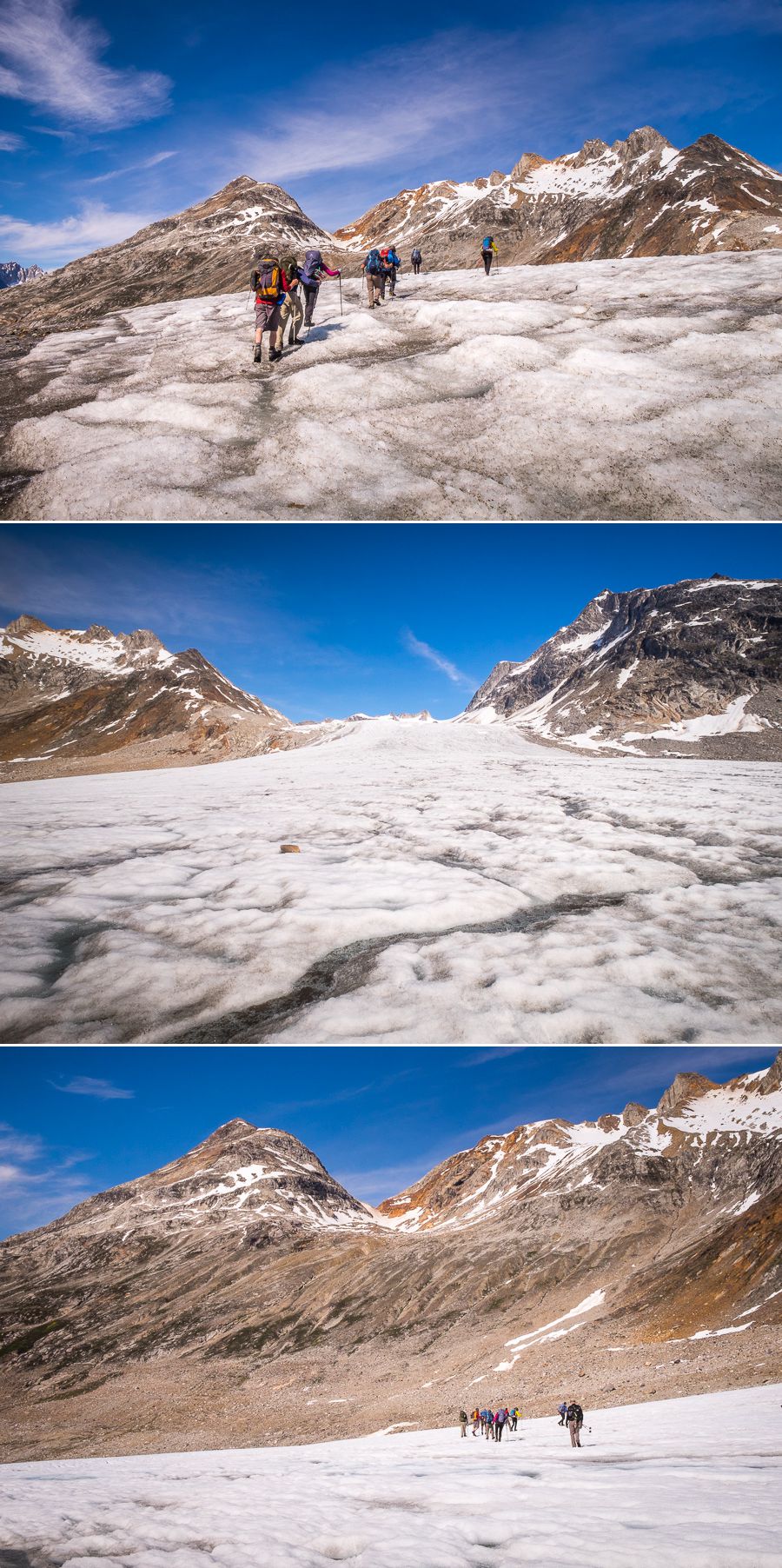 After this, it was a fairly straightforward descent to the absolutely gorgeous Tasiilaq Fjord and our next campsite.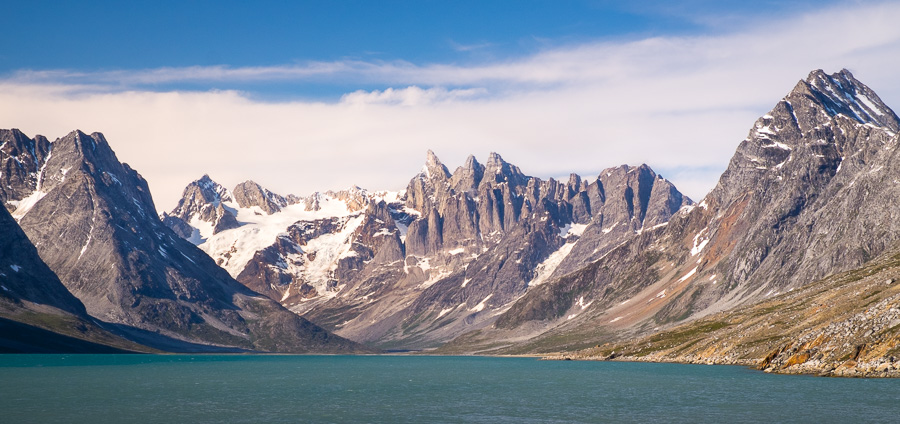 This was the first time on the trek where I felt a real similarity with being in Patagonia. The view above could have been lifted directly out of Torres del Paine National Park in Chile or Los Glaciares National Park in Argentina, and I felt right at home 🙂 The three main peaks in the centre rise to about 1500m and form Trillingerne – better known as "The Triplets" – the characteristic marker of the end of the Tasiilaq Fjord.
Trekking Time: approximately 7 hours
Read more about the Unplugged Wilderness Trek
If this post has piqued your curiosity about hiking and trekking in East Greenland, read about the rest of my adventure on the the 12-day Unplugged Wilderness Tour with Greenland Adventures:
Day 1 – Tasiilaq to Kulusuk and along the Sermiligaaq Fjord
Day 2 – Hike to the Karale Glacier
Day 3 – Hike to the lookout over Sermiligaaq Fjord and Karale Fjord
Day 4 – Karale Fjord camp to Beach camp
Day 5 – Beach camp to Bluie East Two
Day 6 – Bluie East Two along the Ikateq strait to the Tunu Fjord
Day 7 – Tunup Kua Valley to Tasiilaq Fjord
Day 8 – Along the Tasiilaq Fjord
Day 9 – Tasiilaq Fjord to Tasiilaq Mountain Hut
Day 10 – Tasiilaq Mountain Hut
Day 11 – Tasiilaq Mountain Hut to Tasiilaq Fjord to Kulusuk
Day 12 – Kulusuk to Reykjavik
Video Slideshow – of some of my favourite images
If it has sparked an interest in Greenland more generally, learn more about this amazing country at Visit Greenland, and check out the wide range of tours of all kinds (not just hiking and trekking) at Guide to Greenland.
This post contains some affiliate links. If you make a purchase through one of these links, I will earn a small commission at no extra cost to you. Your support is appreciated!