We awoke on Day 5 of the Unplugged Wilderness Trek to lots of cloud, but at least no rain or drizzle … already an improvement over Day 4! After breakfast and while we packed up camp, Maxime crossed back over the river to assist the boat drivers in re-loading the gear that we'd left over there the day before.
Meanwhile, we carried everything else over to a different pickup point that did not require a river crossing, and helped them load the rest of the gear once they came around.
The day started with us hiking along the Sermiligaaq Fjord, with lots of very moody half-vistas across the water.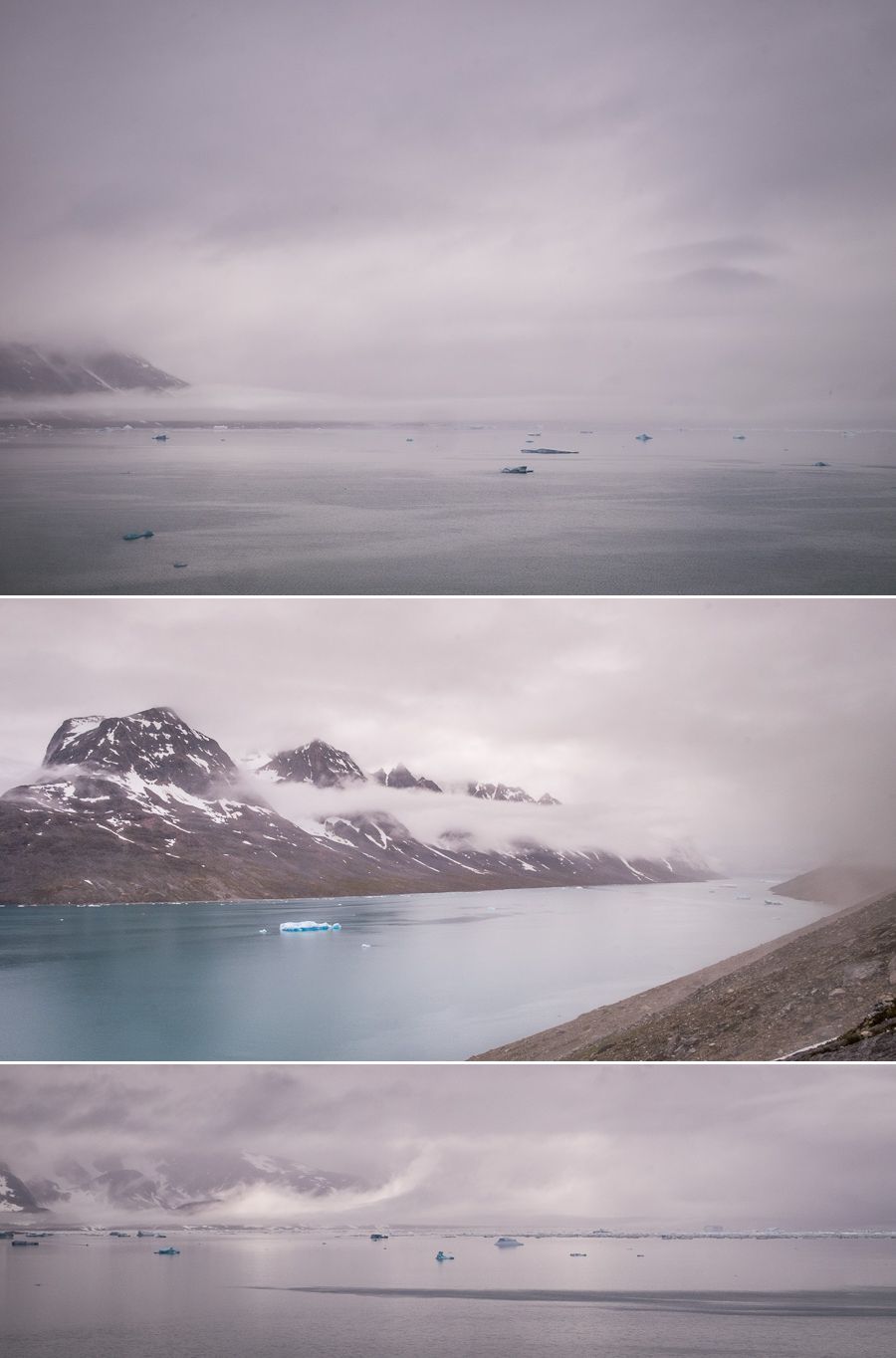 But the most challenging part of today's hike was the fact that for the first few hours we were trekking along a 45 degree angled slope, which eventually started playing havoc on the ankles (if you didn't have full hiking boots at least).
We also enjoyed more freezing river crossings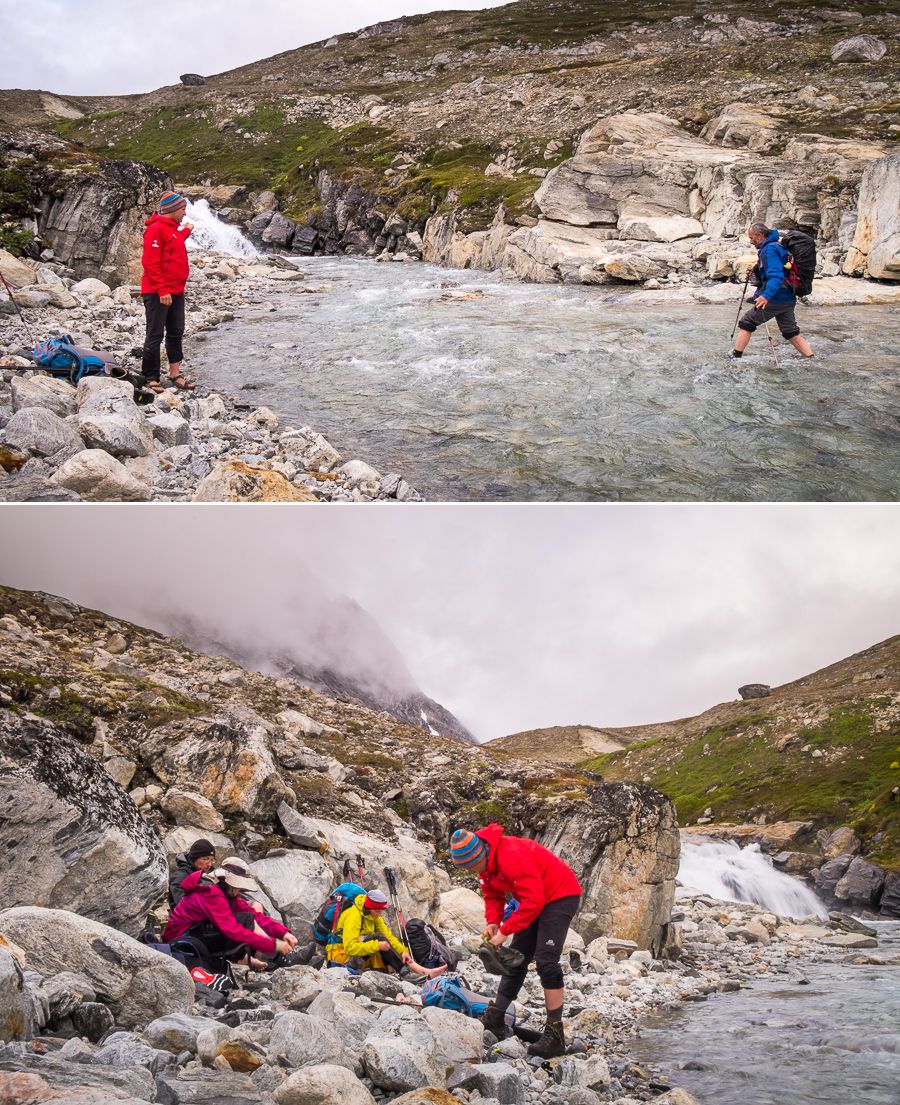 and were all very happy when it finally flattened out.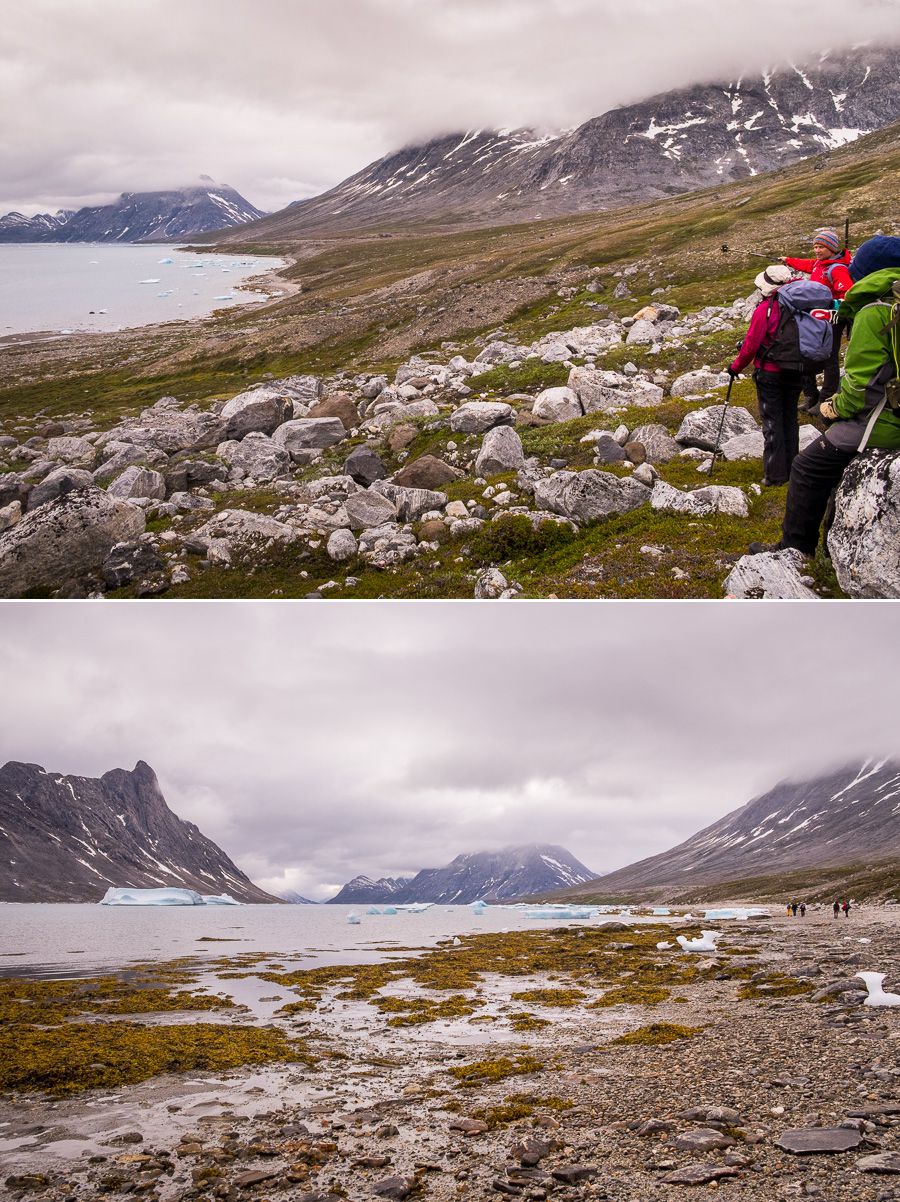 We hiked along a river which we just knew we'd have to cross
and were all very relieved when Maxime's "90%-certain" promise of a bridge turned out to be accurate.
This deposited us at Bluie East Two, an old American WWII air base that was destroyed and abandoned in 1947 at the conclusion of the war. It still stands as it was left 70 years ago, with little (nothing?) having been done to clean it up.
There are dozens of rusted vehicles half-buried in the earth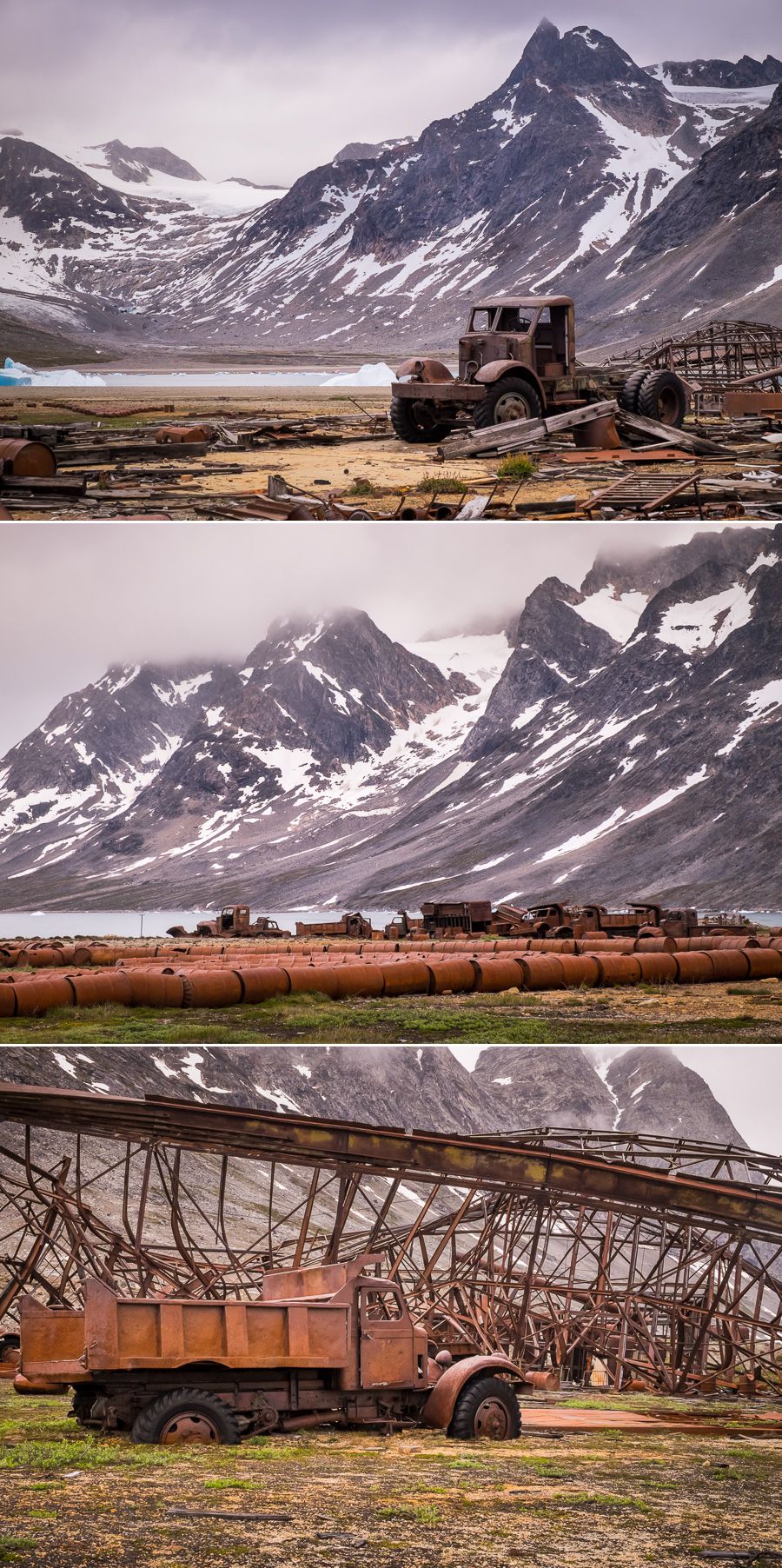 the skeleton of a large hanger
and an unfathomable number of rusted fuel barrels that stretch as far as the eye can see.
It is, perhaps, the very last thing you would expect to encounter in such an otherwise pristine environment – which makes it quite a surreal experience. Especially since we were the only ones there!
Our camping equipment was dropped at the correct spot today (it would have been hard to miss!) and we set up camp on what was the dock for the site.
Trekking Time: approximately 7 hours
Read more about the Unplugged Wilderness Trek
If this post has piqued your curiosity about hiking and trekking in East Greenland, read about the rest of my adventure on the the 12-day Unplugged Wilderness Tour with Greenland Adventures:
Day 1 – Tasiilaq to Kulusuk and along the Sermiligaaq Fjord
Day 2 – Hike to the Karale Glacier
Day 3 – Hike to the lookout over Sermiligaaq Fjord and Karale Fjord
Day 4 – Karale Fjord camp to Beach camp
Day 5 – Beach camp to Bluie East Two
Day 6 – Bluie East Two along the Ikateq strait to the Tunu Fjord
Day 7 – Tunup Kua Valley to Tasiilaq Fjord
Day 8 – Along the Tasiilaq Fjord
Day 9 – Tasiilaq Fjord to Tasiilaq Mountain Hut
Day 10 – Tasiilaq Mountain Hut
Day 11 – Tasiilaq Mountain Hut to Tasiilaq Fjord to Kulusuk
Day 12 – Kulusuk to Reykjavik
Video Slideshow – of some of my favourite images
If it has sparked an interest in Greenland more generally, learn more about this amazing country at Visit Greenland, and check out the wide range of tours of all kinds (not just hiking and trekking) at Guide to Greenland.
This post contains some affiliate links. If you make a purchase through one of these links, I will earn a small commission at no extra cost to you. Your support is appreciated!