There is no shortage of places to eat in Quito, including a multitude of restaurants that cater primarily for tourists.
And although there is a growing culture around Container Food Parks (ie small cafe/restaurants made from shipping containers) and Food Truck Parks in Quito and other major centres, I have found that in many cases they are quite up-market and don't necessarily sell typical Ecuadorian Food.
For this reason, my preference is actually to eat in local hole-in-the-wall joints, in the markets, or on the street – and one of my favourite spots for street food is Parque La Floresta, where food carts are set up and start cooking every evening from about 5:30pm.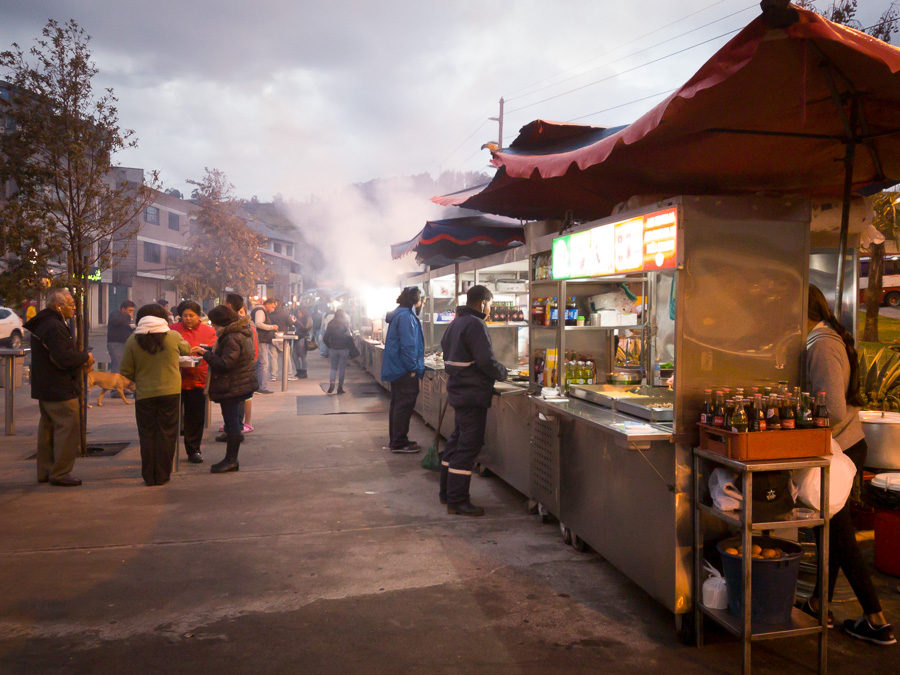 The only food on sale is very typically Ecuadorian, and the specialty is Tripa Mishqui – or BBQ tripe.
Those who have read my Ecuadorian Street Food post from last year know the story of how I was inadvertently tricked into trying tripe for the first time by chefs of Cerro Tololo Interamerican Observatory about 19 years ago (it really wasn't their fault – it looked like sweet and sour chicken so I took a huge plate. It most definitely was NOT sweet and sour chicken 🙁). And how, when I tried a very small sample of the Tripa Mishqui last year on a Street Food tour – I was extremely surprised to discover that I really, really liked it!
During my several months here in Quito this year I've tried the Tripa Mishqui in a few different places, but by far the best is at Parque La Floresta. The spices pack a ton of flavour and the tripe is well cooked so that it loses that horrible texture it has when cooked in other ways.
Get chatting with the very friendly vendors – who will always try to entice you to their cart with a free sample
and then grab your bowl of various types of corn, salad, tripe and Ecuadorian aji (chilli) and prop yourself up at one of the permanent standing-height tables that the local council has thoughtfully provided.
You can pre-empt (or post-empt) your tripe with (in my opinion) Quito's best Empanada de Viento – a deep-fried "wind" empanada that has a tiny amount of cheese inside and which you dust with sugar – from a couple of carts up.
This somehow slightly mournful calling of the street cart vendors (to my ears at least) is very typical of what you hear all around Quito – but guaranteed it is inviting you to some awesome tasting food!
And the other amazing thing – the cost! My plate of Tripa Mishqui cost US$2.50 and my Empanada, just USD$0.75.
Even if you think you don't like tripe, I'd encourage you to have a go at the Tripa Mishqui in Parque La Floresta. You may be just as surprised as I was!
Update on 9 November, 2018 – It turns out that the Parque La Floresta food carts also have the best Fritada in Quito! An enormous plate of the most incredible pork + mote + habas etc for USD$4. Now I'm not sure what to have when I go there!