Trawling the Quito Cultura website last week (as I do every Sunday) I came across the following advertisement for Leyendas Nocturnas (Night Legends) at the El Tejar Convent in downtown Quito.
From the description, it seemed as if it might follow the same formula as the awesome night tour I did at the Santiago General Cemetery last year – a truly spectacular experience! So I was in 🙂
It turns out El Tejar is not the easiest place to get to as it lies just on the other side of a bunch of tunnels, overpasses and underpasses for one of the main "ringroads" of Quito. However, I did eventually make it only to be seriously confused as to how to get in. Turned out that I had to enter through the cemetery (not the main entrance), which was also the carpark for the night. O-kaaaaay!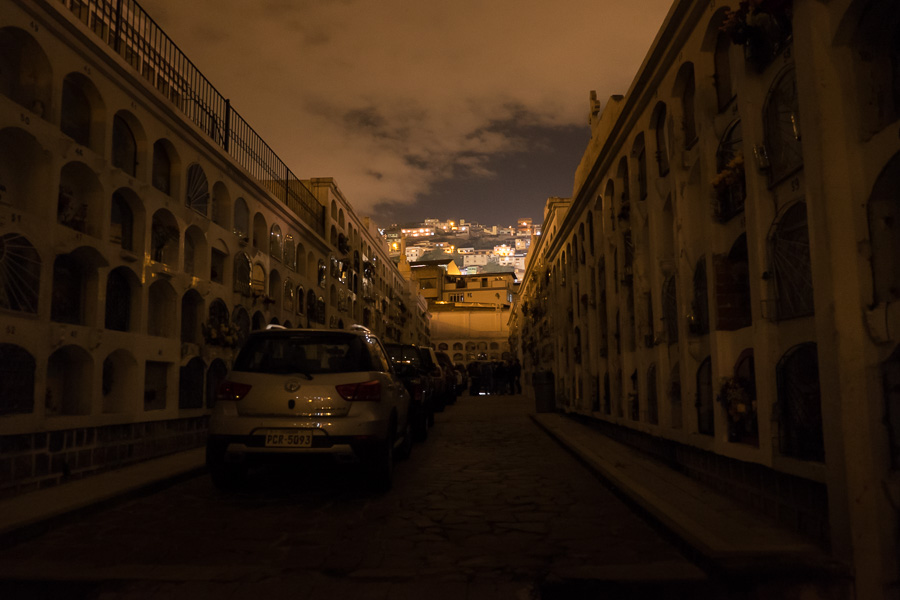 I walked to the end of the row of tombs with nobody in sight, and was trying to figure out where I was supposed to go next (there were no signs and it really was not at all obvious), when fortunately a group of people appeared out of the darkness. They seemed to know where they were going so I fell into line behind them. Good thing too – I would NEVER have found it otherwise!
Once I'd gotten my name crossed off the list, I was given my entrance ticket, a candle and a very welcome Canelazo (hot, spiced naranjilla drink) to which I could add my own preferred quantity of aguardiente (alcohol). I really do love Canelazo 🙂
Hung around in the courtyard of the Convent taking pictures and drinking Canelazo and until the tour finally started on Ecuadorian Time (ie half-hour late).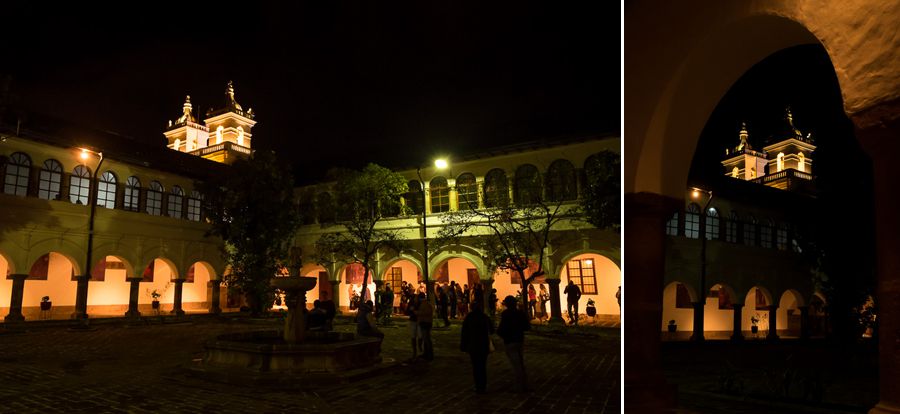 There were actually a large number of people register, so they split us into groups and we started our tour in the XVI century library of the Convent. Here, our guide told us a bit about the history of the convent – it dates from 1730 and was established by Father Francisco de Jesus Bolaños in a place where roofing tiles used to be made – and we could see a large number of original religious and art books bound in sheep-hide and dating from the 1500s to the 1700s.
From there, we lit our candles and headed down a dark passage until we ran into 3 characters who acted out one of the legends associated with El Tejar Convent – that of a young man who died in the underground crypt.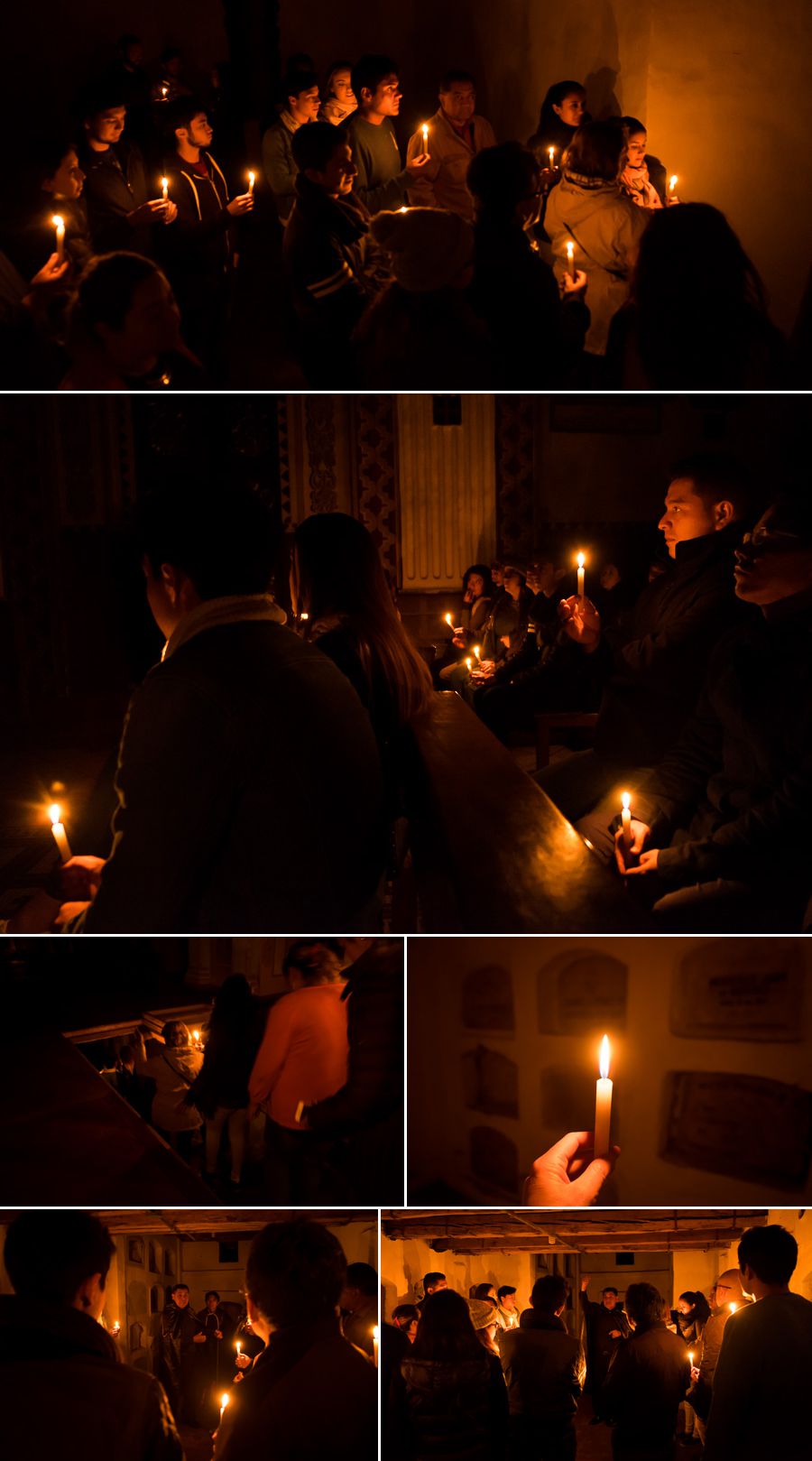 This story had us following these characters from the church, downstairs to the crypt, and back again. It was fun, but the actors didn't have lights – so very, very dark.
From there we headed upstairs to the religious art gallery where our guide pointed out some of the more important pieces of art that the Convent houses.
I have to admit I find most religious art kind of tedious, and the statues downright creepy!
From there, it was up to our last stop – the roof of the convent and its twin towers. Here we were met by another actor who portrayed the legend of "Julia: The widow of El Tejar". In this legend, Julia is a beautiful woman who is betrayed by her husband, Joaquín, who has an affair with her cousin. When Joaquín dies a short time later, Julia is converted into a cursed soul with a face that is half-beautiful and half-death, and who wanders around looking for men to bring into the afterlife.
Once we'd finished on the roof, we headed back down and …. well, that was it. There was no farewell from our guide, nor was there any real indication that that was the end of proceedings. I actually had to ask!
Everyone else had already disappeared somewhere so I walked back through the maze that we entered through and found myself back in Quito's oldest public cemetery … and unable to actually find the exit. Yeah – not the greatest feeling to be wandering around a cemetery by yourself in the middle of the night!
Decided to head back to the Convent to ask how to get out, and ended up running into a really lovely family who said they'd show me the way out and give me a lift to somewhere I could get a taxi (El Tejar is a little out of the way).
In the end, they actually brought me all the way back to my apartment, which was really wonderful of them. I think they got distracted asking me about all the Australian wildlife – a favourite topic amongst everyone not born in Australia 🙂
Recommendation: It was interesting, and it had real potential. But unfortunately nowhere near as good as the Santiago Cemetery night tour.
Cost: USD$12
Time: about 2 hours