Leaving Igaliku turned out to be quite difficult, thanks to the bad weather that had kicked up the day before on my return from the Waterfall hike. There were 6 of us scheduled to leave, and although we hiked over the King's Road to be at the dock at Itilleq at the appointed time, they ended up taking us back to the Igaliku Country Hotel, as the boat had been delayed due to the wind and they weren't sure how long it would be.
We eventually left 3 hours later, but the wind was too strong to drop me at Sillisit – the sheep farm I was meant to be staying at for 2 nights, which is located just across the Tunulliarfik Fjord.
So I ended up back in Narsarsuaq, where I was greeted very enthusiastically by David and the 2 German couples who happened to be having beers in the Blue Ice Café.
It was determined that I would stay the night in the Narsarsuaq Hostel (another awesome, awesome hostel and another dorm room to myself) and, hopefully, the wind would die down overnight so I could be dropped at Sillisit the next morning. In the end, I had a great night with the gang having dinner at the Hotel Narsarsuaq, so I wasn't too bummed about missing a night across the fjord 😊
Next day dawned clear-ish and not too windy, so was dropped at Sillisit at 10am and shown to the Sillisit Hostel. Yet another room to myself – I'm scoring well with these rooms! Sat out on the front deck – which has the most amazing view over the fjord across to Itilleq – and just couldn't bring myself to move from that spot.
Grabbed a chick-lit book I'd just started reading, and stayed put for the whole day. Heaven!
Also talked for ages with a girl from Spain who was working at the farm. We switched to Spanish pretty quickly and it was awesome to be able to have a long conversation and realize that I haven't lost too much of my ability to speak that language, even though it's been 5 months!
We both also had dinner with the owner of the sheep farm, Elna, and her family – amaaaaazing roast lamb with couscous salad and pasta, finished off by banana cake! I think I ate more in that one meal than I've eaten in the past 3 days! It was absolutely delicious though.
And sunset (at around 11pm) wasn't too bad either!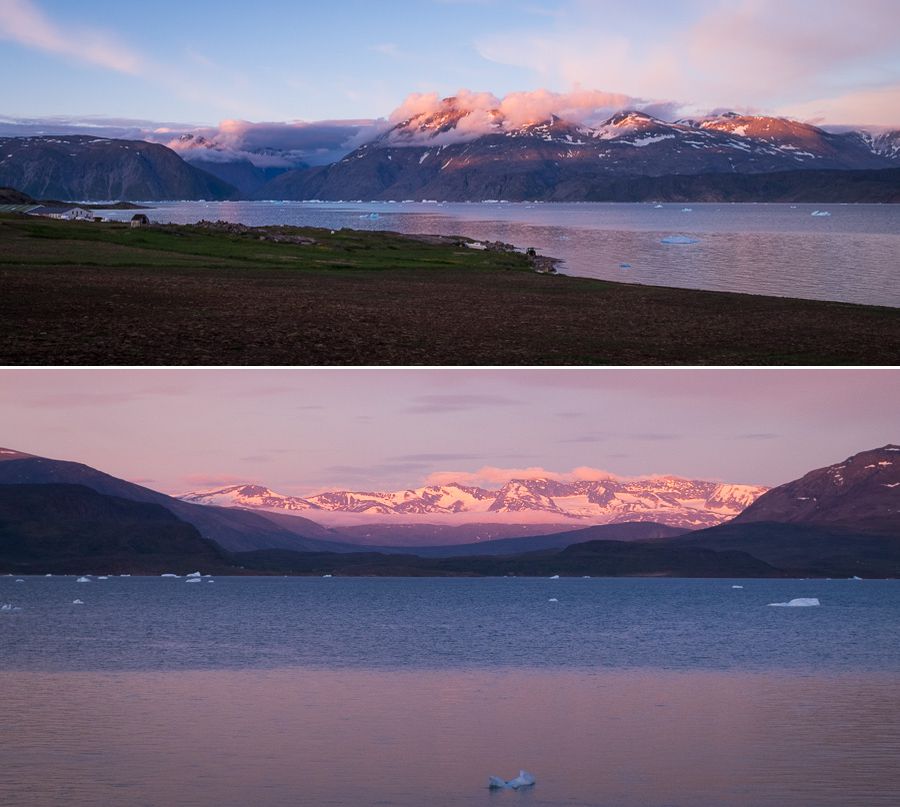 Sometimes you need a rest day 🙂
Discover more about Greenland
If this post has piqued your curiosity about Greenland, learn more about this amazing country at Visit Greenland, and check out the wide range of tours and accommodation available at Guide to Greenland.
This post contains some affiliate links. If you make a purchase through one of these links, I will earn a small commission at no extra cost to you. Your support is appreciated!