On the final day on board Sarfaq Ittuk, I awoke to the ship pulling into Aasiaat (population = 3164). Greenland's 5th largest town is located on an archipelago of low islands and is the only place I've been in Greenland that doesn't have a mountain standing over it!
Given I would be returning to Aasiaat later in my trip, I decided to stay on board and take photos of the very photogenic abandoned fish factory in the harbour during our 30 minute stopover.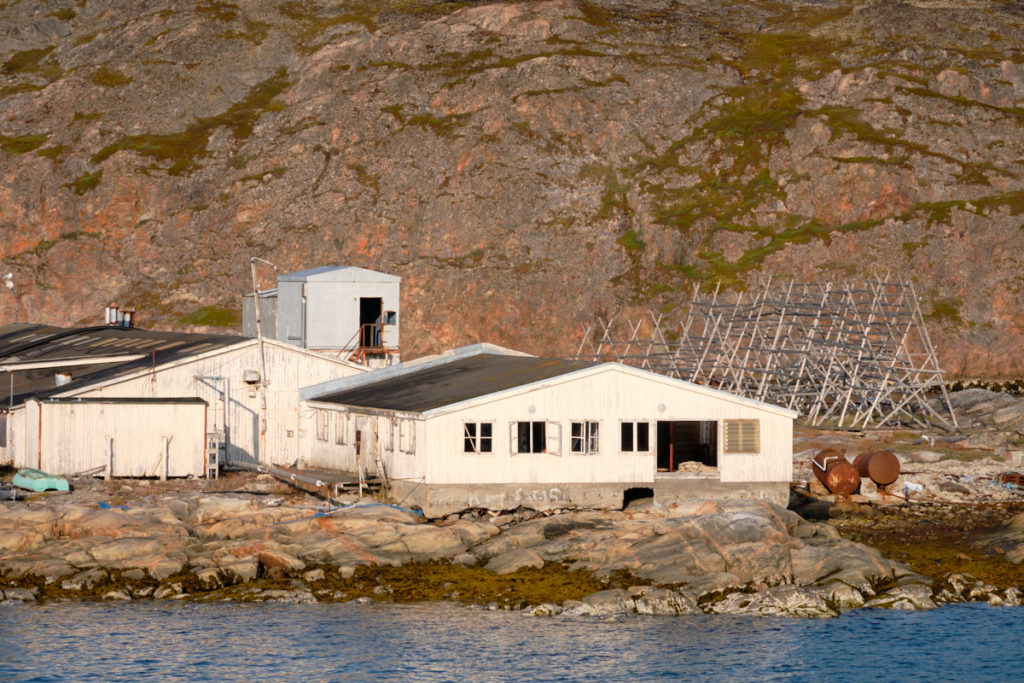 We departed Aasiaat under gorgeous blue skies for our crossing of Disko Bay to Ilulissat. Everybody was out on deck soaking in the Sun – though it was still a bit chilly so we were all rugged up. Some even wrapped themselves in sleeping bags 😀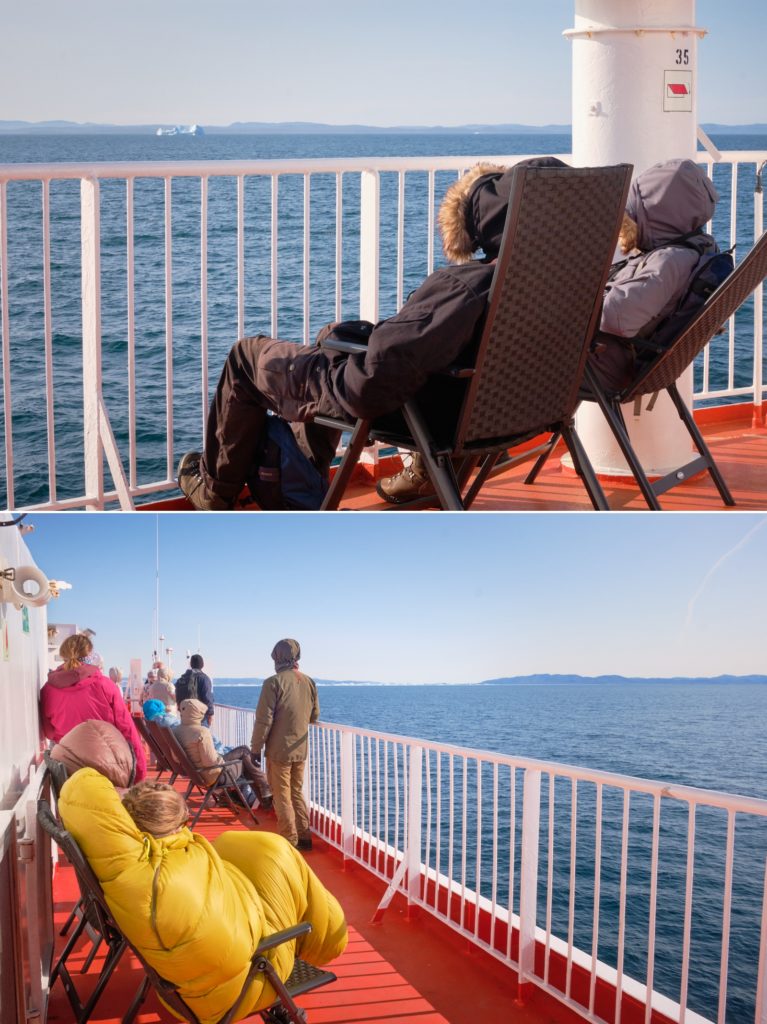 We sailed past many giant icebergs that would have originated quite close to our destination – in the Ilulissat Icefjord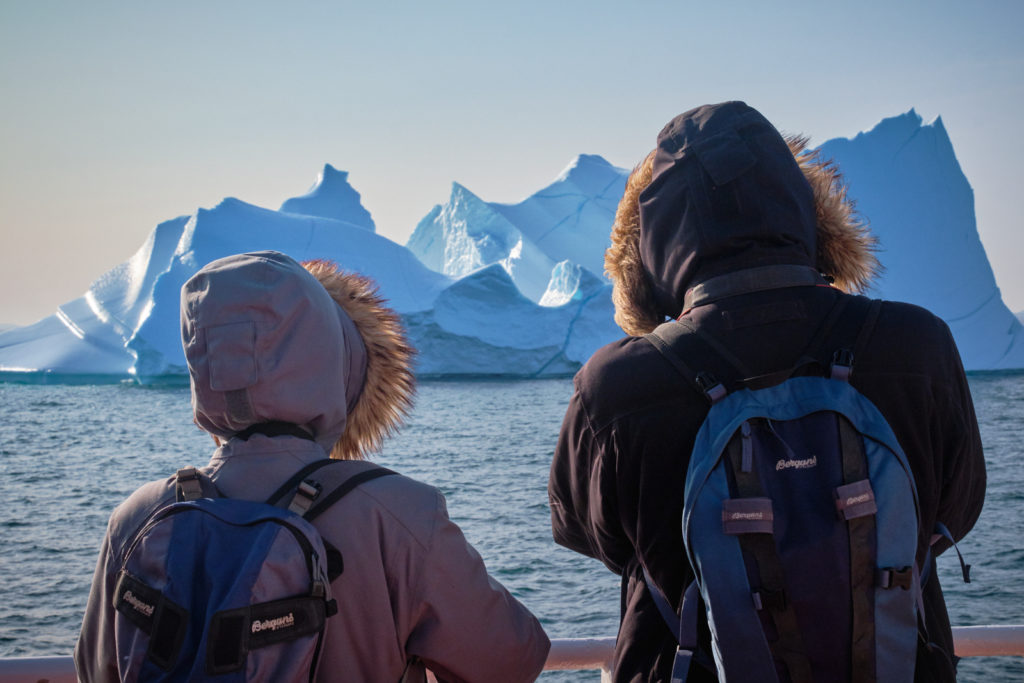 and were eventually rewarded in our lookout for whales.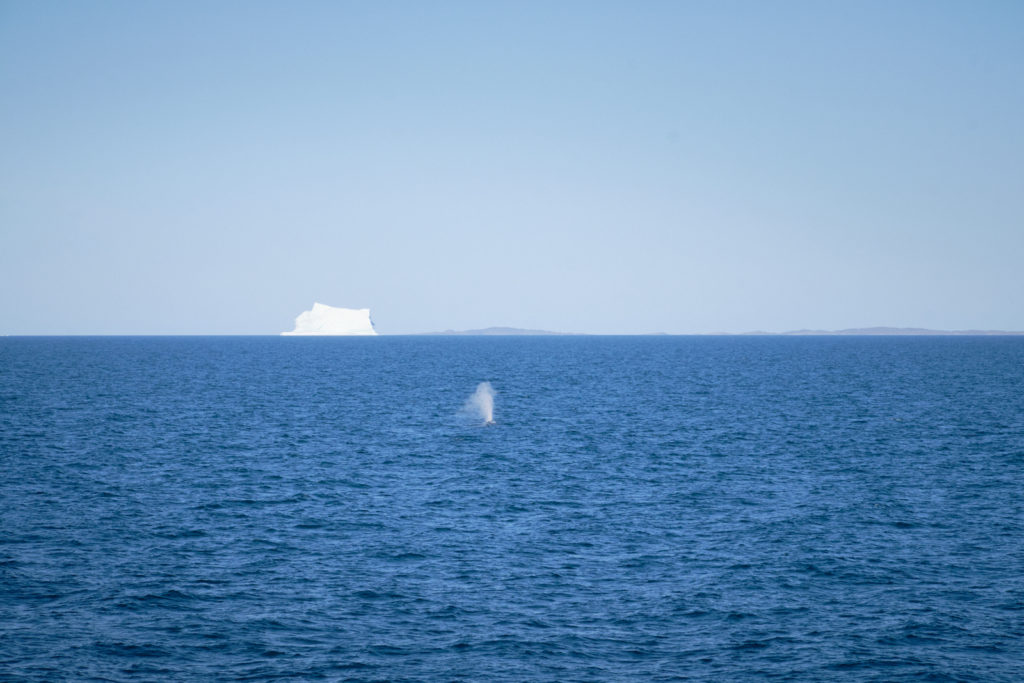 Final destination of Sarfaq Ittuk – Ilulissat
The approach to Ilulissat (population = 4632) was spectacular as we sailed across the mouth of the Icefjord.
Unfortunately there was not a huge amount of ice outside of the Icefjord itself on this trip. Clearly the large icebergs were keeping all the smaller ice trapped behind them.
Ilulissat is the northernmost town on the epic journey of the Sarfaq Ittuk along the West coast of Greenland. Here I had to bid adieu to my home for the past several days and all the wonderful people I met aboard her, but I very much look forward to my next voyage with Arctic Umiaq Line.
Summary
The Sarfaq Ittuk passenger ferry from Qaqortoq (South Greenland) to Ilulissat (North Greenland) is one of the best ways to experience the world's largest island. Travelling by sea (as the Inuit did) offers a true perspective of the enormous size of Greenland, and encourages you to slow down, relax, enjoy nature, and really appreciate where you are.
For a more practical look at the journey, I encourage you to read the Go-to Guide to the Sarfaq Ittuk journey that I wrote for Visit Greenland (soon to be published).
And if you have the time – I highly recommend that you include at least a part of this journey in your itinerary for Greenland.
Read more about the Sarfaq Ituuk journey
If this post has piqued your curiosity about travelling with Sarfaq Ittuk in Greenland, read about the rest of my adventure:
I also wrote the Sarfaq Ittuk Ferry – All you need to know page for Visit Greenland. Check it out for more of the logistical details.
Discover more about Greenland
I have a large number of blog posts about Greenland, so feel free to read more about my experiences here on my blog or on my Greenland-specific blog at Guide to Greenland.
For more information about Greenland, the best websites are Guide to Greenland (which is also a one-stop-shop for many of the tours available), and Visit Greenland, the Government tourism site.
This post contains some affiliate links. If you make a purchase through one of these links, I will earn a small commission at no extra cost to you. Your support is appreciated!