On the day I desperately hoped would be clear, I was greeted once more with grey skies, low clouds and drizzle. This was definitely not what I wanted as we approached Maniitsoq and what is supposed to be an incredible hiking area just beyond it.
Even our welcoming committee was not quite enough to lift the disappointment I felt, as I had been hoping to get a good look at the terrain.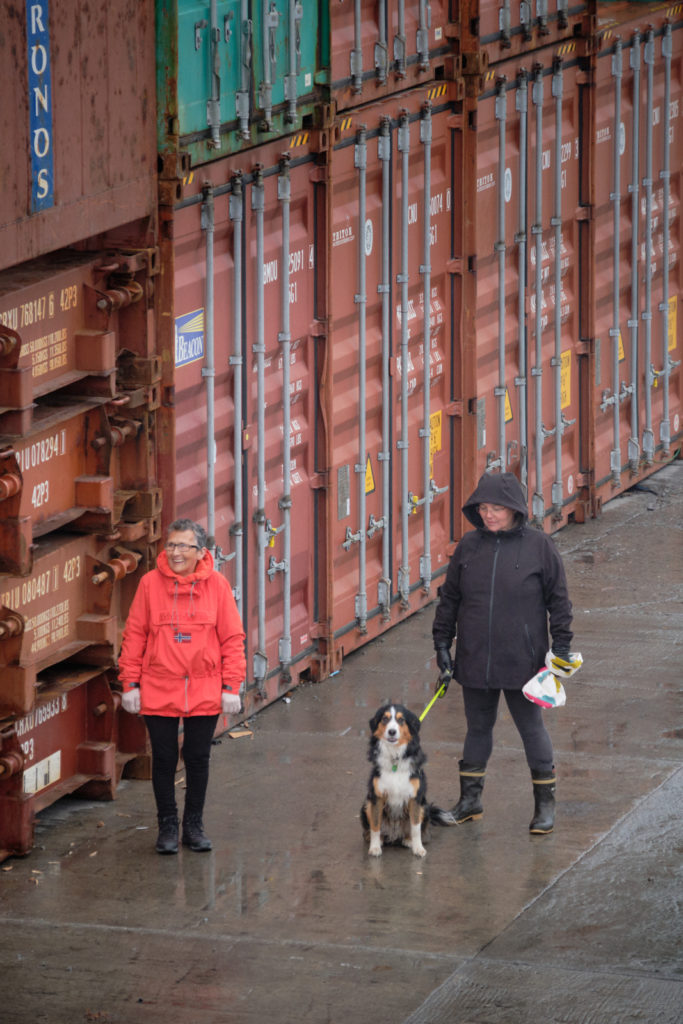 The access from the port to the town of Maniitsoq is quite long, but an estimate by Maps.Me indicated that an hour should be enough to do a quick loop through downtown and past the church, and still make it back to the ship before it set sail. So off I set with Eric – a young Kiwi I had been talking to quite a bit.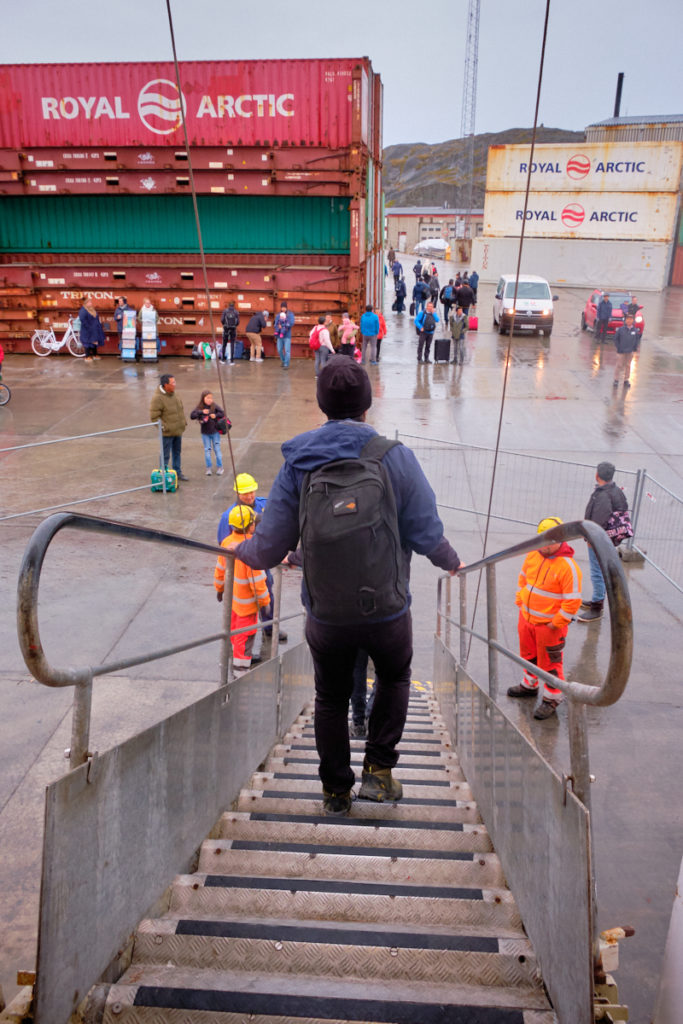 It is VERY quiet at 7am on a Saturday morning in Maniitsoq!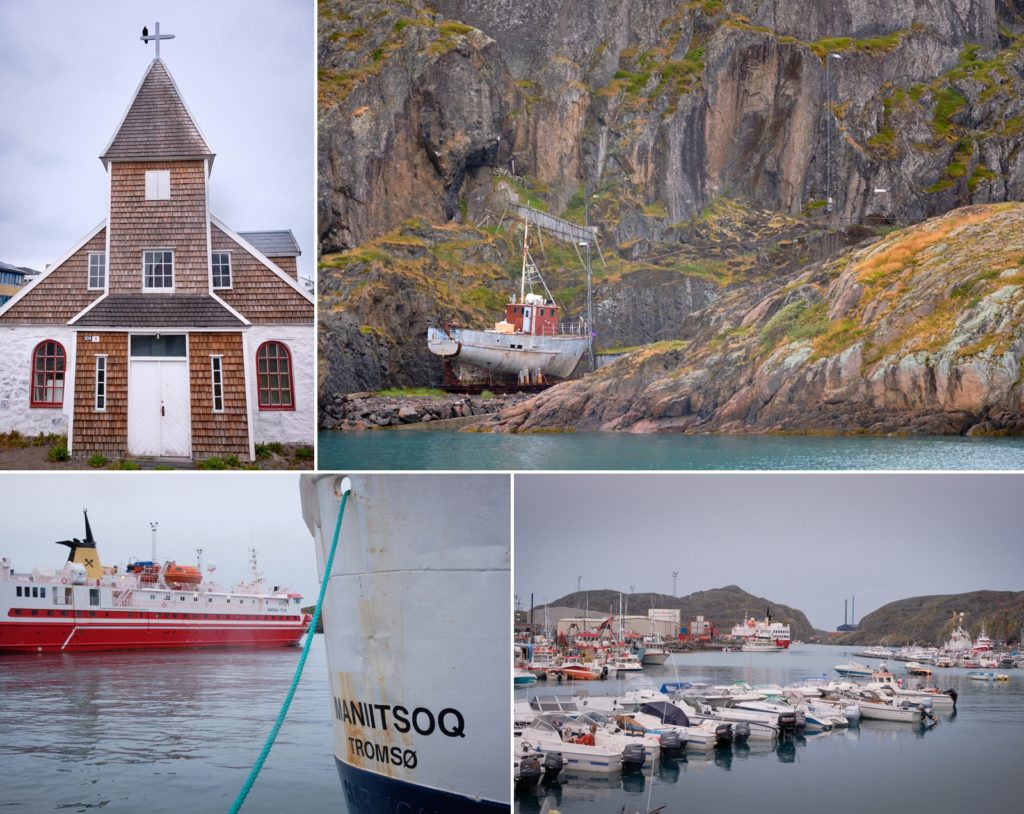 Around Hamborgerland on Sarfaq Ittuk
The next couple of hours were spent sailing through the inner fjord North of Maniitsoq and around Hamborgerland (no, it doesn't mean what you think). There were glaciers everywhere and impressive-looking, half-hidden mountains. Oh, what I would have given to see this in amazing light!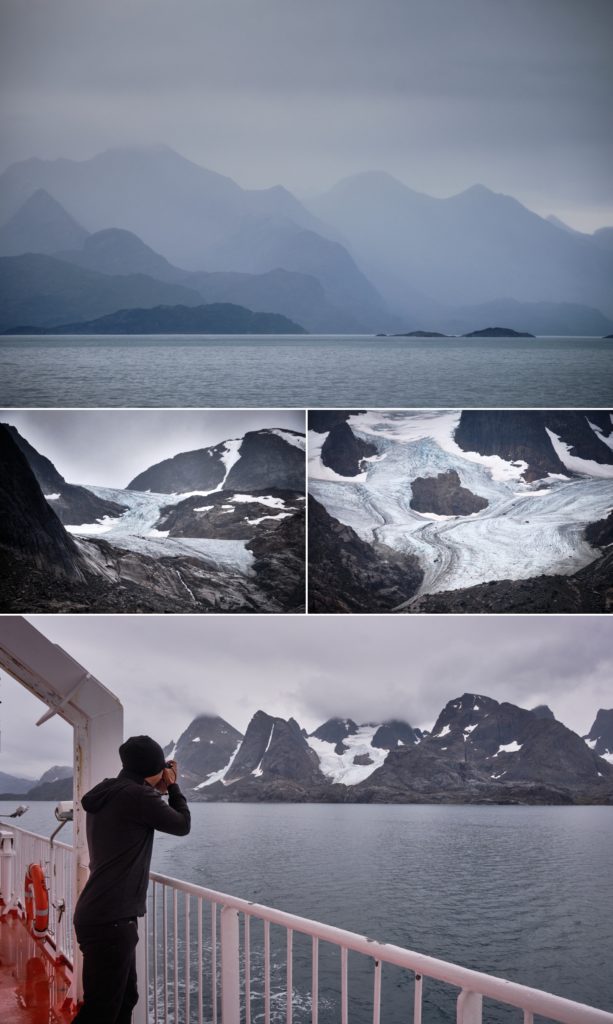 Actually – I did end up "seeing" it in amazing light when my good friend and fellow photographer Miki did the trip about 6 weeks later. OMG!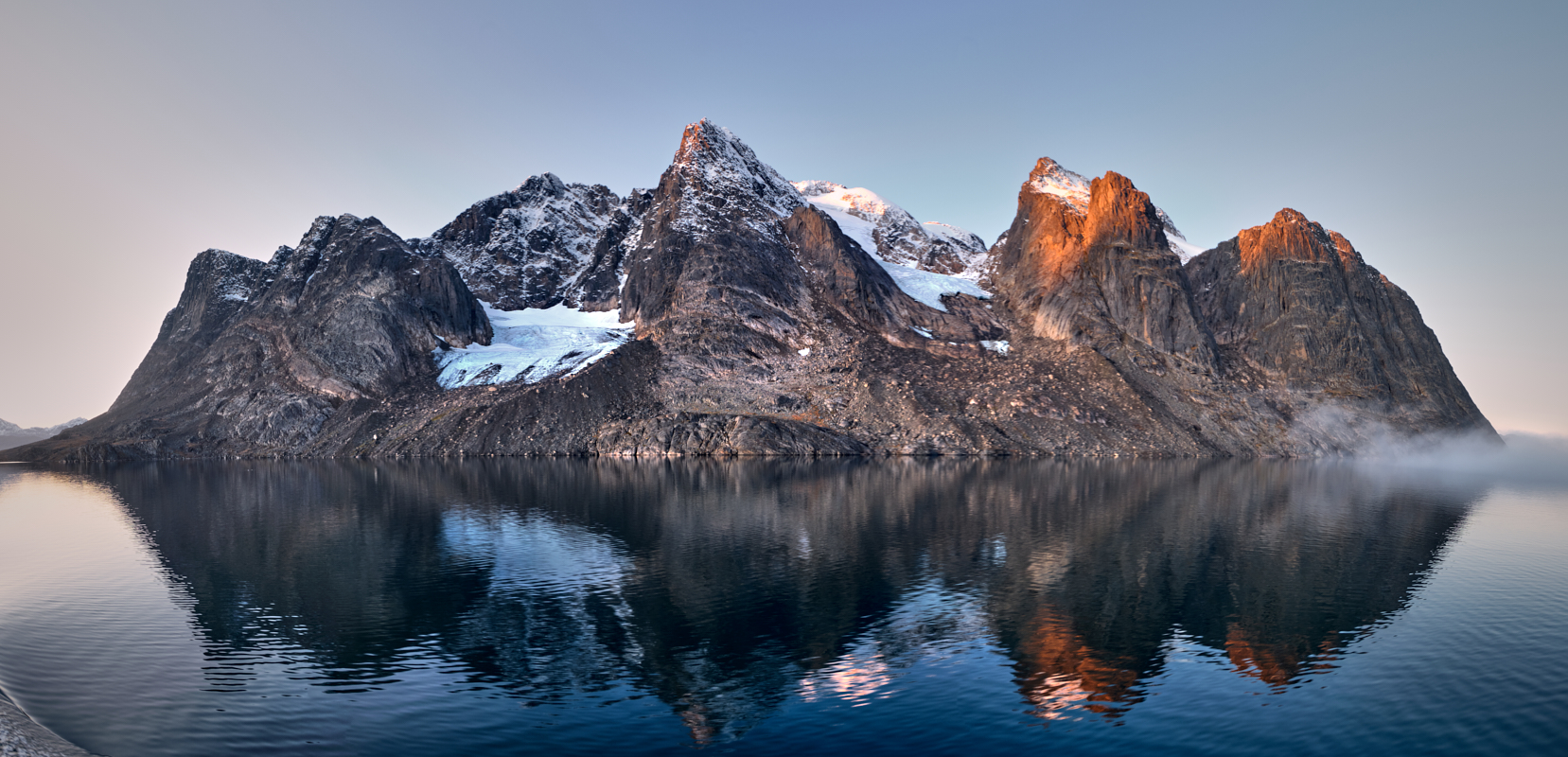 Photo: Miklós Varga (@0miklos_varga0). Move cursor over image to see full panorama
2020 hiking/kayaking expedition anyone?
Kangaamiut via Sarfaq Ittuk
Our next port was Kangaamiut – population 287. This small settlement is the gateway to the Eternity Fjord – apparently one of the most picturesque fjords in Greenland (that's really saying something!) and part of my plan for my hiking/kayaking expedition sometime soon.
Kangaamiut itself was actually a really picturesque place – with its brightly coloured houses and racks for drying fish greeting us as we approached.
As with Arsuk, the harbour in Kangaamiut is too small for Sarfaq Ittuk to dock – so the whole procedure with offloading the zodiac etc was repeated.
After lunch I went to see if I could have a peek in the bridge. 2nd officer Tuperna was on duty and did a wonderful job of explaining how the radar and all the other instrumentation worked.
When I asked her what were the spots of colour I could see on the radar – she explained they were waves. And here I was worried if they would be able to see the icebergs on my first night on board!
We spent about 2 hours chatting about sailing, navigation, working on ships, travel, music and life in general. At one point, I tried to guess how long it would take for an approaching ship to reach us (failing dismally), and asked her what was the most amazing thing she'd ever seen from the bridge. Her answer: rainbows and whales playing. And the most boring? Fog. If it is foggy you can't see anything and you have to watch the radar very closely.
Community atmosphere on board Sarfaq Ittuk
When Tuperna went off on her break, I wandered back down to the Café Sarfaq to discover that a local musician from Paamiut – Pevia Geisler – had set up a keyboard and was cranking out tunes.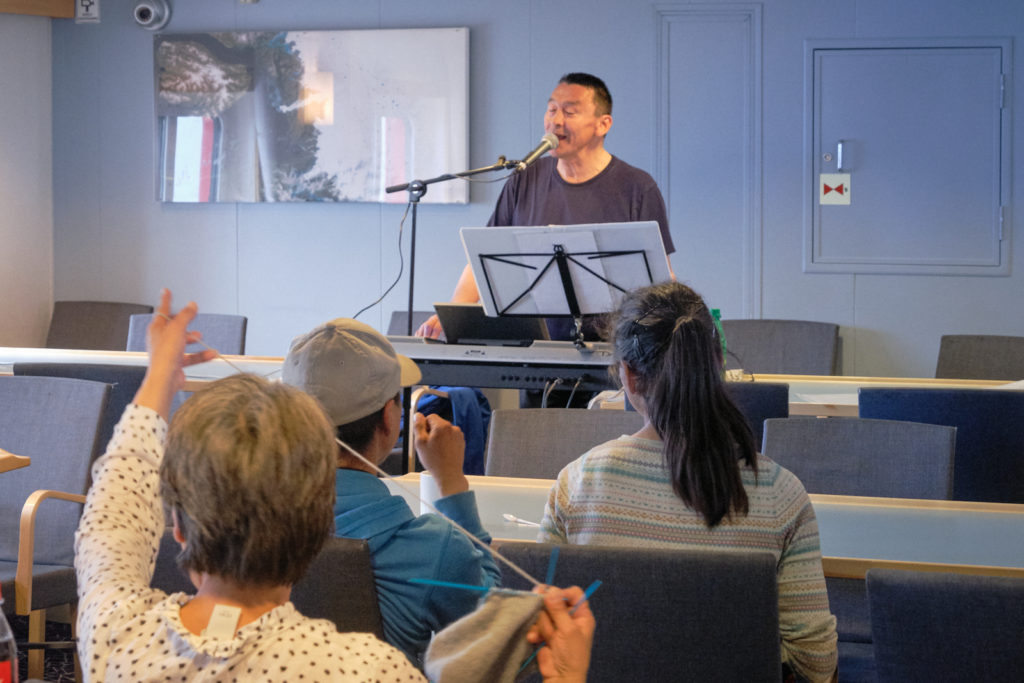 He sang a mix of popular Greenlandic and international (have you ever heard "Julie, if you love me truly" sung in Greenlandic?) classics, and the Café was full of local Greenlanders knitting, chatting and encouraging him with every song to keep going.
This wasn't scheduled as part of the trip. It was just an impromptu performance. But it is these random experiences and the community feeling on board that make the trip so special.
Sisimiut in 2 hours – Sarfaq Ittuk
The skies were almost clear when we arrived in the second-largest town in Greenland (and one of my favourites) – Sisimiut.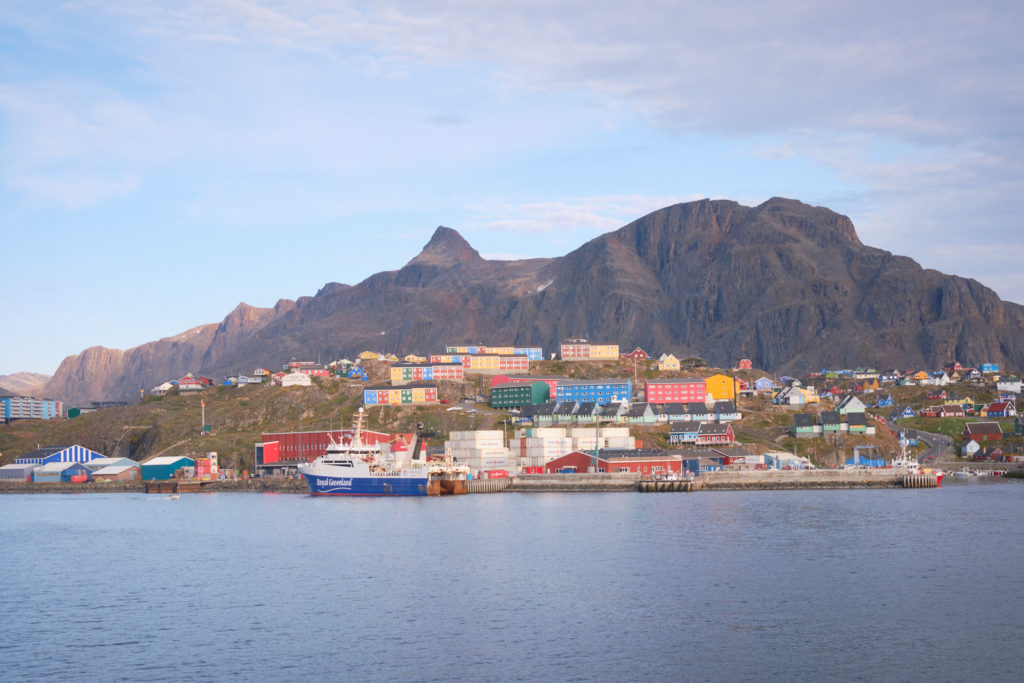 5477 people call this home, and a good crowd turned out to greet us when we docked at the harbour.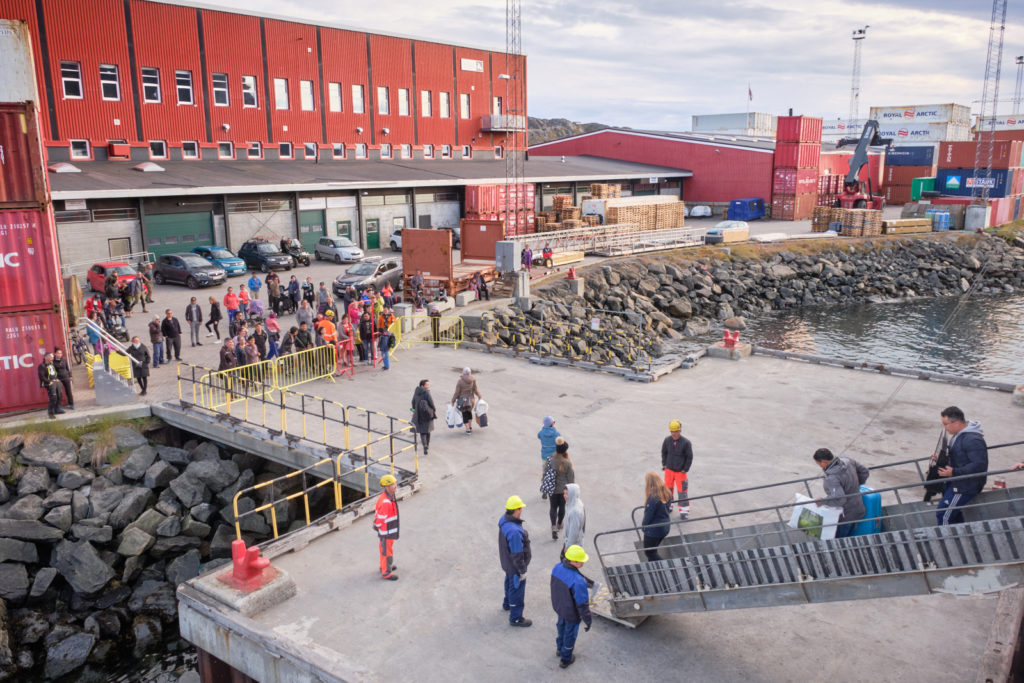 We had 2 hours in Sisimiut so I went to take a photograph I had forgotten last year when I was here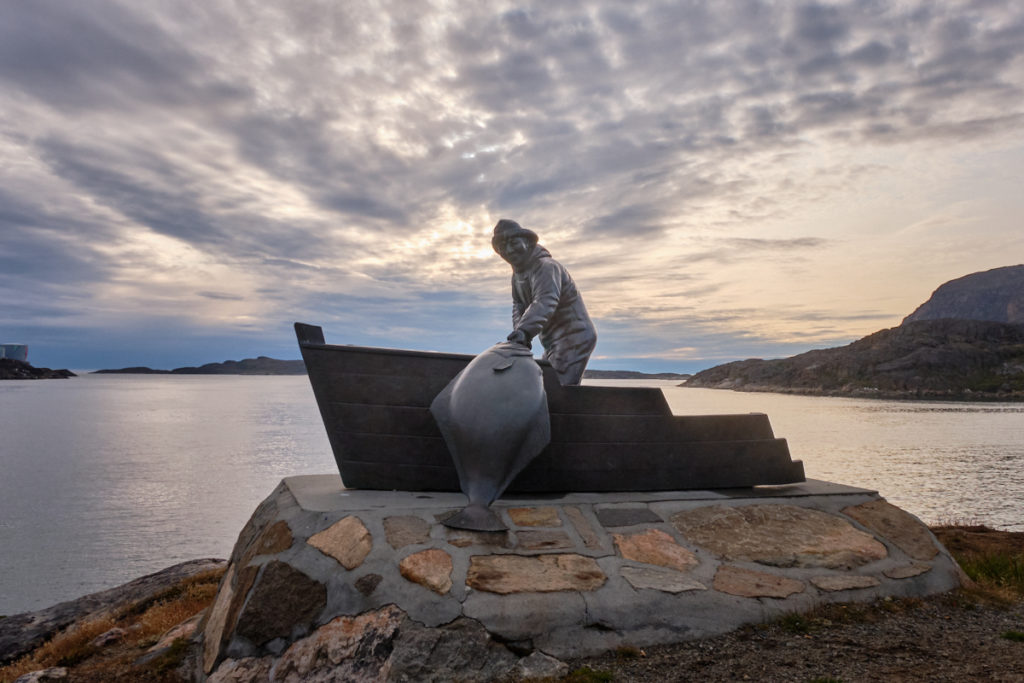 and then wandered over to the large church, which was actually open! I had not seen it open in the 9 days I spent here last year after hiking the Arctic Circle Trail.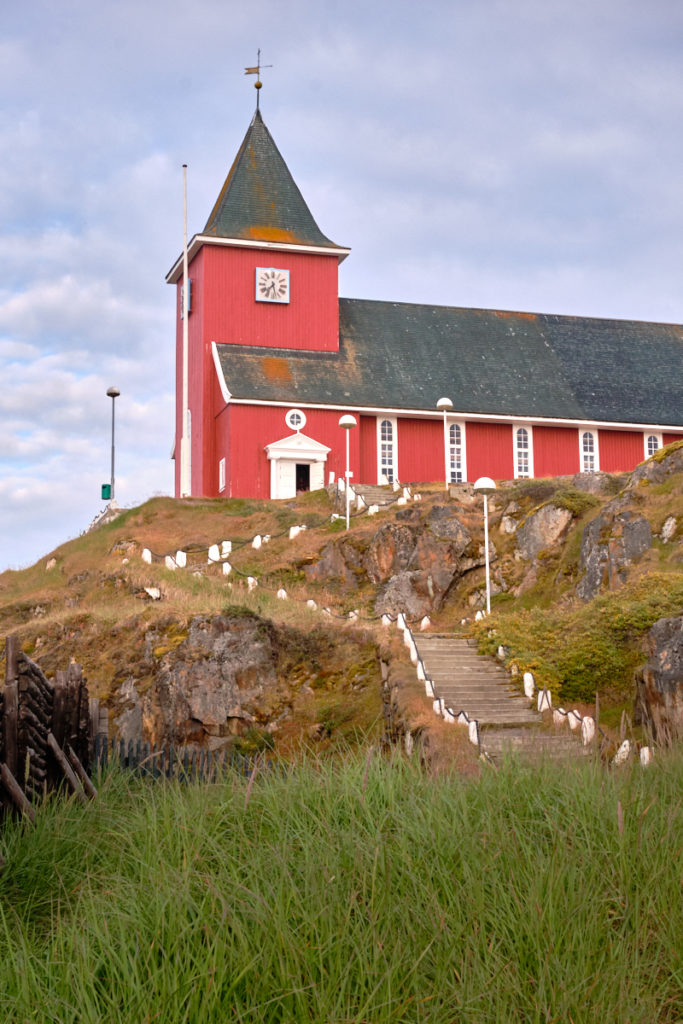 OMG! This is the most beautiful interior of a church I have ever seen! The wooden panelling. The chandeliers. The artwork made of sealskin. I stayed there for about 20 minutes just marvelling at its beauty.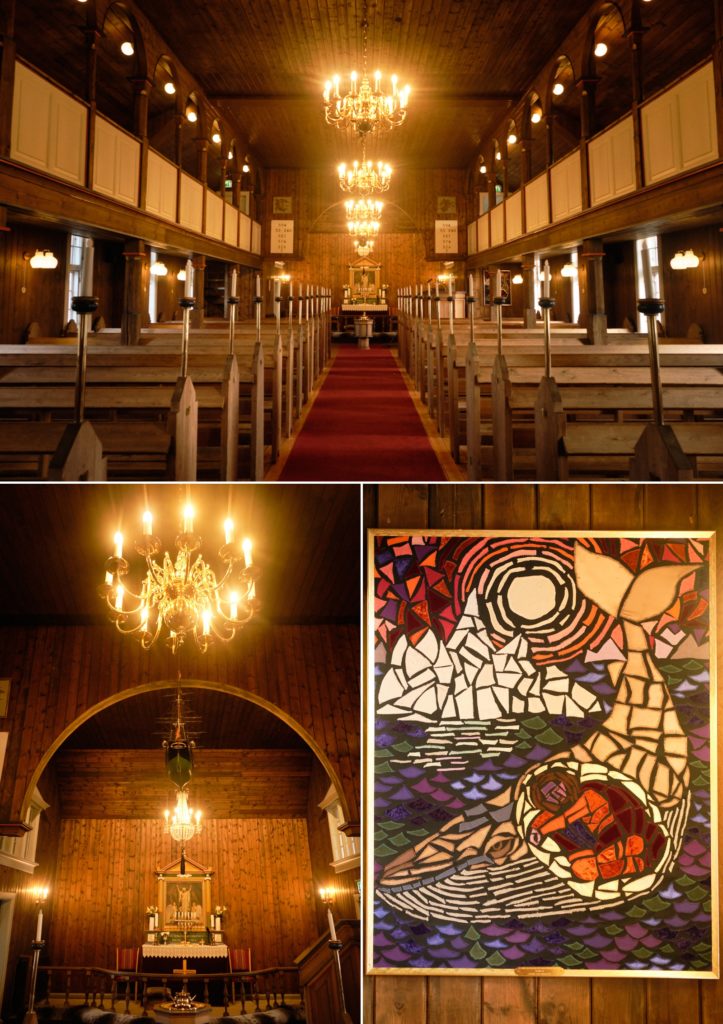 Two hours later, everyone was out on deck in the beautiful light to farewell Sisimiut and the impressive Nasaasaaq Mountain that dominates over it,
and to watch yet another impressive Greenlandic sunset.
Read more about the Sarfaq Ituuk journey
If this post has piqued your curiosity about travelling with Sarfaq Ittuk in Greenland, read about the rest of my adventure:
I also wrote the Sarfaq Ittuk Ferry – All you need to know page for Visit Greenland. Check it out for more of the logistical details.
Discover more about Greenland
I have a large number of blog posts about Greenland, so feel free to read more about my experiences here on my blog or on my Greenland-specific blog at Guide to Greenland.
For more information about Greenland, the best websites are Guide to Greenland (which is also a one-stop-shop for many of the tours available), and Visit Greenland, the Government tourism site.
This post contains some affiliate links. If you make a purchase through one of these links, I will earn a small commission at no extra cost to you. Your support is appreciated!