The Sarfaq Ittuk passenger ferry operates between April and January each year on a weekly schedule that takes it along the west coast of Greenland. I love ferry journeys. And I'd been looking forward to making my way from Qaqortoq in the South to Ilulissat in the North by sea ever since I found out it was an option. Read on to discover more about this alternate and relaxing way to travel in Greenland that allows you to interact with local people and the time to truly appreciate where you are.
I had already spent a week in Qaqortoq, South Greenland, before sighting the Sarfaq Ittuk passenger ferry for the first time. I managed to spy it just as it was coming into dock, where it would spend 3 hours being cleaned and turned over before heading back the way it came on its north-bound journey to Ilulissat.
I had a ticket for the entire length of its voyage – a journey of ~4 days.
Although my ticket said that check-in was 30 minutes prior to departure, ever the early bird, I was down at the harbour with all my luggage an hour ahead of time. A portable cabin had been lowered from the top deck of the ferry and placed on the dock as a check-in booth, and with minimal fuss, boarding passes were handed out to the small queue of people as we boarded our home for the next few days.
Although I usually stay in dormitory accommodation and the ferry has plenty of that available (Sarfaq Ittuk calls them "Couchettes"), I was going up-market on this trip with a private cabin. On top of having my own space, this meant I had my own private bathroom, and tea and coffee making facilities available to me. Luxury when you enjoy several cups of tea every day.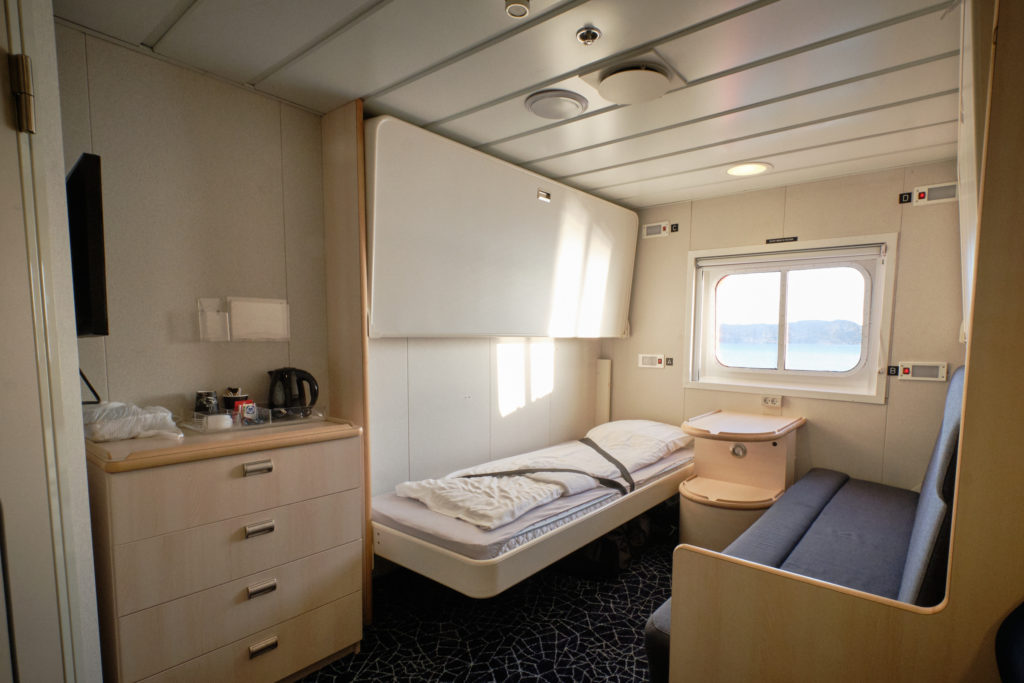 Heading North from Qaqortoq on Sarfaq Ittuk
It was a gloriously sunny evening as as we pulled away from the dock in Qaqortoq, locals waving to their loved ones until we were well beyond their ability to see.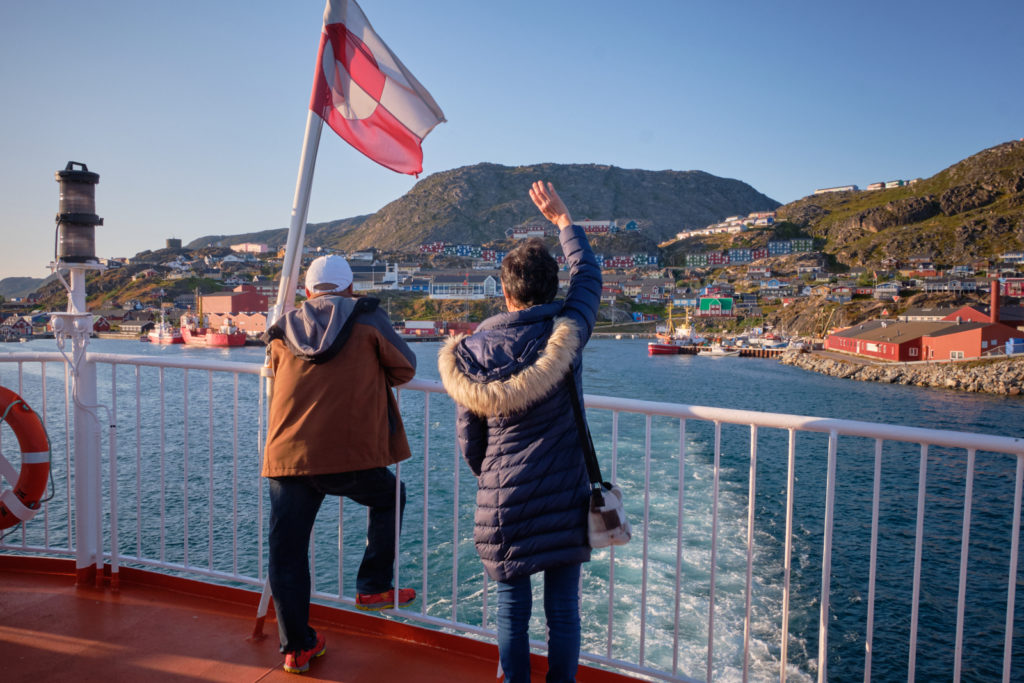 Once we were well underway, I set about exploring the ship. It is not a large ferry (especially in comparison to some of the cruise ships we saw), so this didn't take all that long. I then headed up on deck to enjoy the setting sun as we made our way towards the first port call on the northbound journey – Narsaq.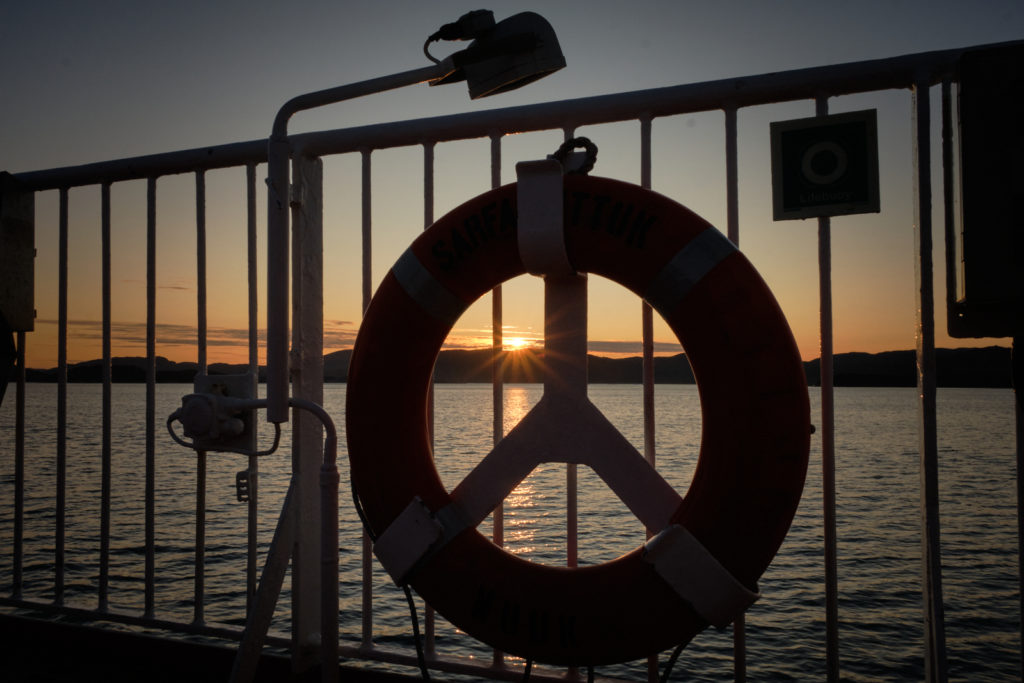 Narsaq from Sarfaq Ittuk
I had visited Narsaq on my first trip to Greenland in 2017. In fact, it was the very first place I spent time on my exploration of this remarkable island. This time around – it was quite dark by the time we arrived at 9pm. In addition, our stop there was only 30 minutes, so I contented myself with simply watching from the decks as we docked and transferred passengers.
The thing about Sarfaq Ittuk is that it is a passenger ferry, not a cruise. Time spent in most ports is usually between 15 and 30 minutes – just enough time to offload/onload passengers and mail. That's it. It is not about giving passengers the chance to explore each port. It is about transporting them from one place to another as an alternative to flying. Therefore I often found myself up on deck simply watching the greetings take place as families welcomed their loved ones off the ship.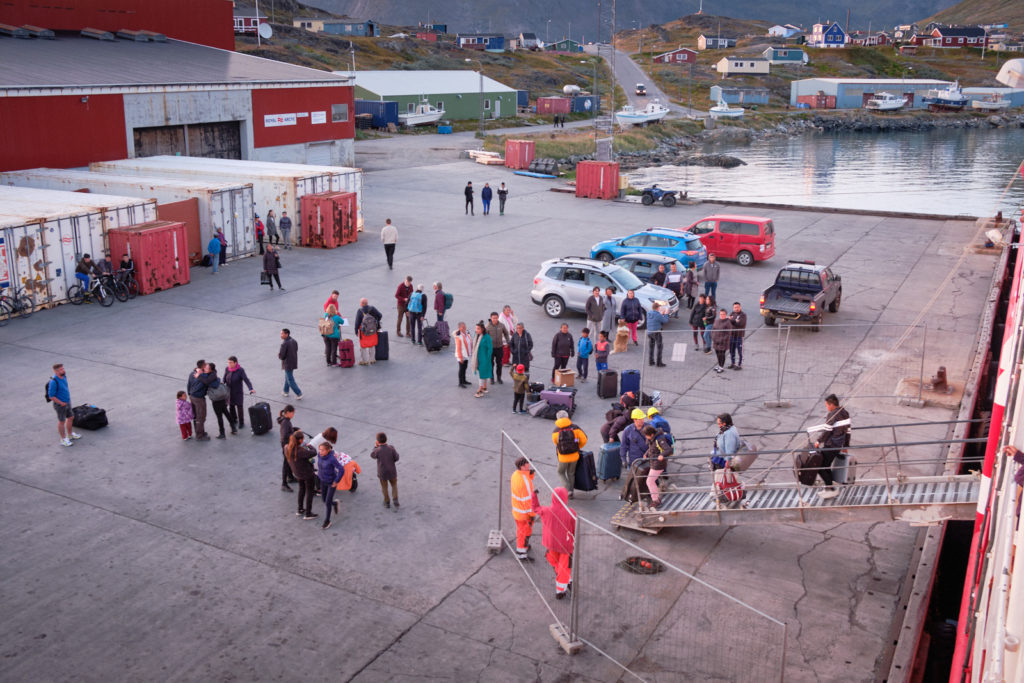 I was really hoping to have the opportunity to see the Aurora Borealis (the Northern Lights) from the ship. I figured it would be wonderful to experience this magical spectacle far from all sources of light pollution. But unfortunately I'd timed my journey to coincide with the full moon – one of the biggest sources of light "pollution" there is! No matter. Moon-rise was absolutely spectacular on our first night as we made our way north.
The (albeit small) icebergs that were barely visible in the water gave me a moment of pause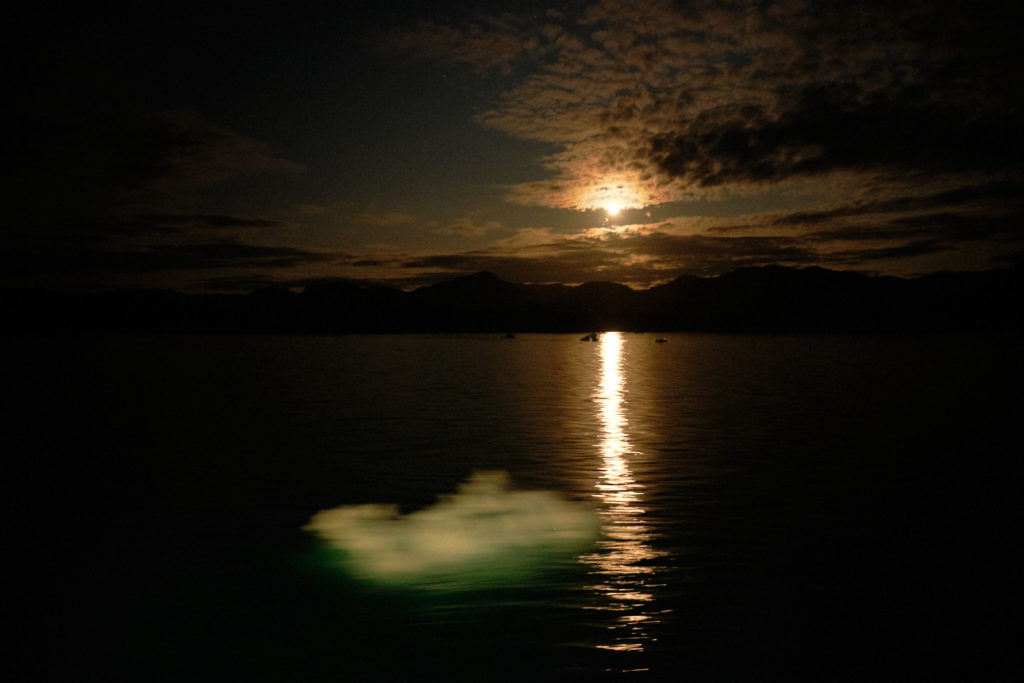 but I decided to just enjoy and hope that they had good radar and other instrumentation up on the bridge to keep us safe!
Read more about the Sarfaq Ituuk journey
If this post has piqued your curiosity about travelling with Sarfaq Ittuk in Greenland, read about the rest of my adventure:
I also wrote the Sarfaq Ittuk Ferry – All you need to know page for Visit Greenland. Check it out for more of the logistical details.
Discover more about Greenland
I have a large number of blog posts about Greenland, so feel free to read more about my experiences here on my blog or on my Greenland-specific blog at Guide to Greenland.
For more information about Greenland, the best websites are Guide to Greenland (which is also a one-stop-shop for many of the tours available), and Visit Greenland, the Government tourism site.
This post contains some affiliate links. If you make a purchase through one of these links, I will earn a small commission at no extra cost to you. Your support is appreciated!