Having explored the Santiago General Cemetery with Tours4Tips on the Santiago Offbeat tour and returned to wander around by myself about a week later, I decided to visit a third time to join the Night Tours that run several nights per week.
When the time finally rolled around, I have to admit I didn't feel like getting off the couch to go (reading an awesome book!) but I'm so very glad I did 🙂
There were about 60 of us for the tour (maximum number=100; I was the only gringo), meeting at the main entrance to the cemetary on Av. La Paz. After 45 minutes of stuffing around doing who knows what (I bought my book with me to read 🙂 ) and, I suspect, waiting for it to get darker, we met our guide for the evening – the ancient Franciscan monk.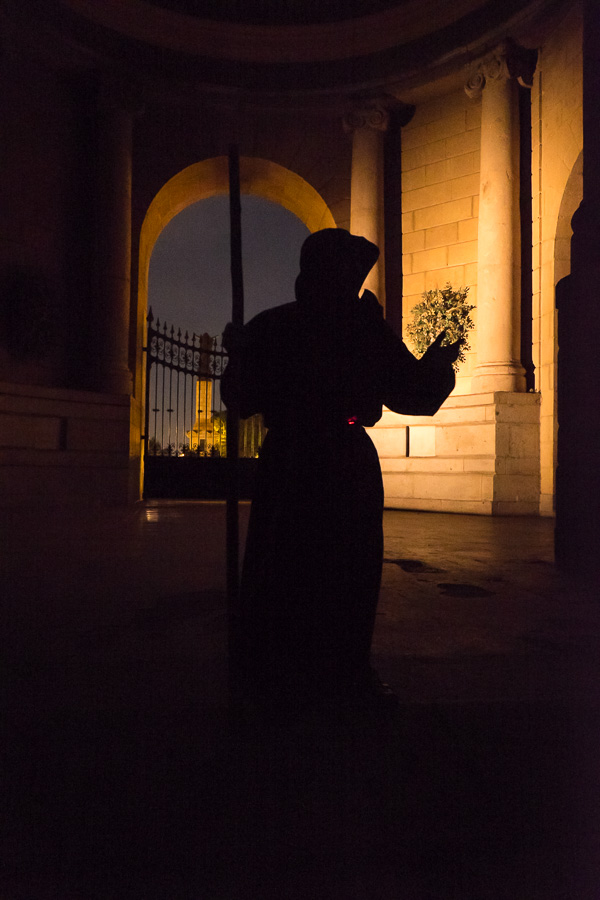 He was a very cool guide with an appropriately somber/nightmarish tone and an evil cackle 🙂 He was also surprisingly spritely and set a cracking pace as we journeyed through the mausoleums to the different points of interest.
I had actually booked the premium tour – "Cuentos Urbanos" – which was a mixture of Chilean history, architecture, sculpture, and ghost stories that were played out amongst the tombstones and mausoleums by actors from the local theatre company: Compañía de Teatro "La Recoleta".
One was "La Catalepsia" – the story of a woman with Catalepsy who, because her family thought she was dead, was buried alive. But when they opened the grave some time later, she was gone…
Another was "El Vampiro" – a love story … of sorts.
Then we chased "La Llorona" through the exceptionally dark Capilla Verde (Green Chapel), which housed several other actors that jumped out of dark corners and made sudden noises to scare the bejeezus out of us 🙂
It was a lot of fun stumbling around the cemetery in the dark after our Franciscan monk, who was further aided by other cloaked figures standing in the shadows. And I'm sure that part of the reason it was so fun was because our monk had a truly awesome sense of humour and really got into his creepy role.
The only issue with the tour was that 60 people is a lot, and we were constantly jostling with each other to be near our monk so we could hear well and see what was going on. I was actually a bit surprised that people didn't trip over regularly given the uneven surfaces and obstacles that are prevalent in an old cemetery. It would be much better if they limited the numbers (on the premium tour at least) to a maximum of 25. They could even double the price and it would still be totally worth it.
Recommendation: I had a lot of fun on this tour, though your spanish needs to be good to do it. Fortunately the Monk didn't speak like a Chilean so he was quite easy to understand and he had a microphone pack so you could hear him.
You have to be over 18 years old and it is a good idea to book in advance as it seems to be a very popular outing – especially as a "date night" for Chilean couples!
Cost: 5000CLP (~AUD$10)
Time: The tour itself went for 1.5 hours, but there was 45 minutes of waiting around at the beginning… I suspect that was because they were waiting for it to get darker