One of the things I had been ummming and ahhhing about doing since arriving in Quito was going up the teleférico and climbing Volcán Pichincha.    What finally decided me was a) signing up to do the 3-day Ecuadorian Inca Trail hike (I figured some hiking preparation wouldn't hurt) and b) an invitation from Charlotte.
So off we headed at 9:30am to join the queue at the teleférico.  This is an enclosed cable-car that whisks you from ~2,950 meters above sea level to 4,050 meters above sea level in about 10 minutes.  Fortunately, we didn't have to wait very long (only about 1/2 hour), though waits of up to 2 hours are not unusual – best to get there early!
The teleférico delivers you to Cruz Loma – a wonderful viewpoint over Quito with a couple of cafes to keep you snacking.  If you are lucky – you can also see several of the large Volcanos near Quito – again, try to get there as early as possible to have the best chance of seeing them before the clouds roll in.  We were only semi-lucky.
Getting to this point satisfies the majority of visitors.  However, on the day we visited (Ecuadorian Independence holiday), there were not an insignificant number (most of them locals) who decided do the 3 hour climb to Rucu Pichincha.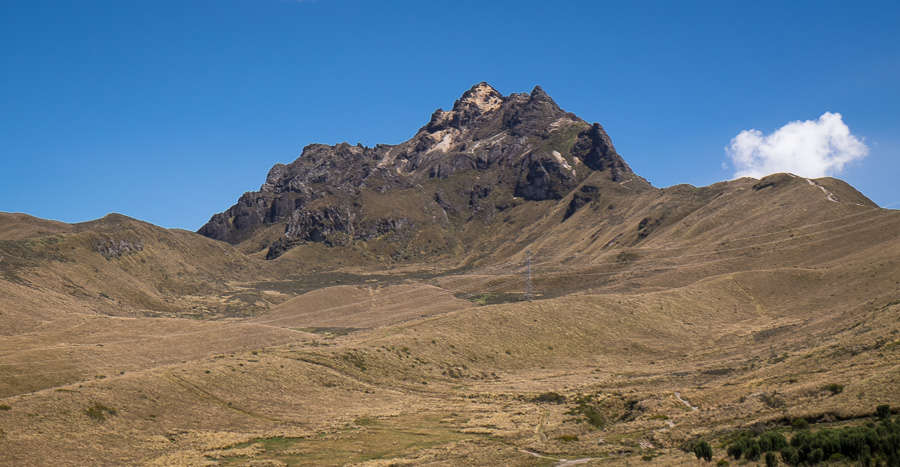 Now, normally when a hike is advertised as 3 hours, I can usually expect to make it in a faster time.   Not this one!  It took every minute of 3 hours to do it (even though I was semi-acclimatised) and, in the immortal words of Egg Chen in "Big Trouble in Little China" it "wasn't easy".
(yes, those that know me very well know this is one of my favourite movies and one of my favourite quotes from it 🙂 )
It is a seriously, seriously steep climb starting at 4,050m above sea level.   For the first couple of hours you struggle up a very obvious track, stopping every so often because you just have to take another photo of the gorgeous view (not because your heart is pounding out of your chest and you can't breathe).

But then the fun really starts!   The path suddenly stops at a rock, which you have to climb (with a very steep drop off to the other side) in order to continue.
This is where Charlotte had to turn back – her vertigo finally got the better of her – and I have to admit it was extremely tempting to forgo the rest of the pain and return with her.
But I decided I would regret it if I didn't make the top (especially given that I had to be much fitter than many of the people I saw descending the mountain – ok admittedly some of them were in tears – really!), so onward and upward….
If anything, it just got worse.   The path degraded into a track and then into nothing but a sandy 45-50 degree slope that you somehow had to get to the top of.   I could see where people were clambering on the rocks above me near the summit, and aimed for that general direction.
Finally made the top of the sand, and then climbed my way up through the rocks  (some signs would have been really helpful), and ultimately stood on top of Rucu Pichincha at 4,696 metres above sea level.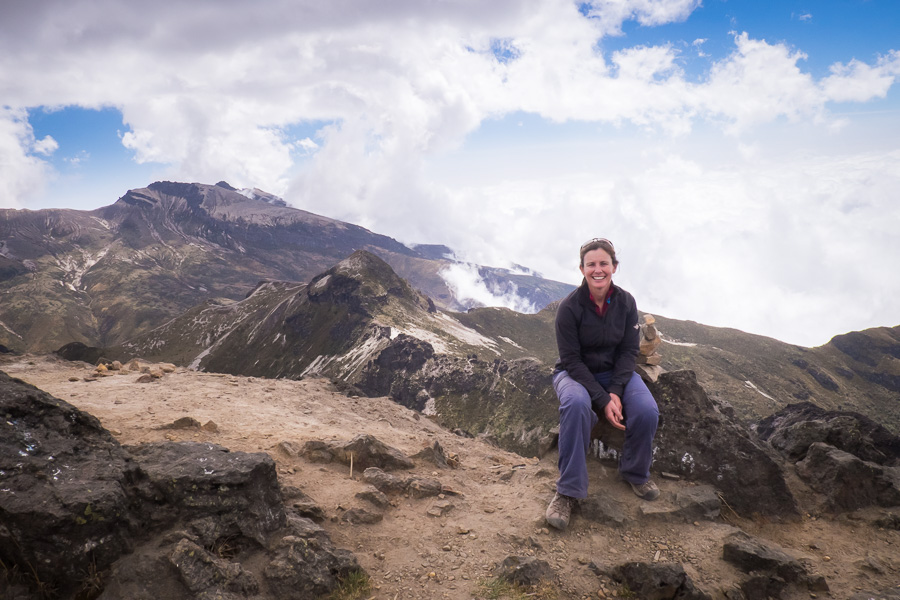 I have to admit, the views were absolutely spectacular!   And I was fortunate enough that the clouds stayed away until after I'd started descending so I could see clear across to Guagua Pichincha – the active part of the Volcano.
It's quite cold and windy at almost 5,000m so stayed at the top for only about 20 minutes and then the fun began again – trying to get off the mountain without actually falling off!    Initially at least, this involved lots of bum-sliding to descend the rocks to arrive at the top of the sandy descent.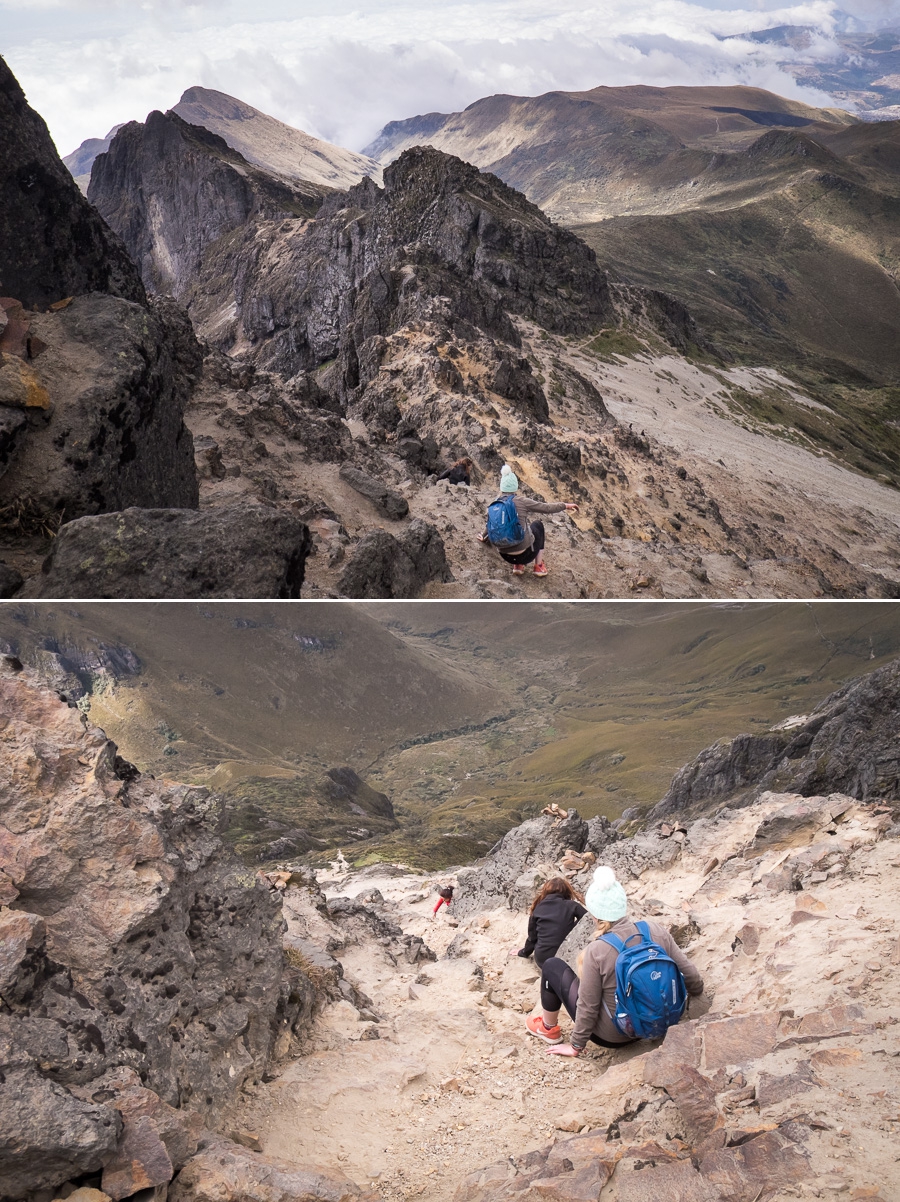 Fortunately, the sandy descent was much more fun than the sandy ascent – you could essentially run down the sand freely without much fear of falling because the sand was quite deep 🙂  Then it was back along the narrow path, around the rock and then back down the wide path that cost so much energy going up.
Met up with Charlotte at the cafe and celebrated with this fabulous reward 🙂  No, I didn't eat all of it – turns out Charlotte loves fairy floss too!
Then it was an hour in the teleférico queue before coming back down to Earth in Quito.  Thank you to the silver fox who gave us a lift back to the Ecovía!
For those of you who have been following my volcano climbing exploits, I still can't figure out whether this hike was tougher than the hike up Volcán Maderas on the island of Ometepe in Nicaragua.  They were both really tough – but for different reasons 🙂
Recommendations if you want to hike to Rucu Pichincha:
try to take the teleférico as soon as it opens to have the best chance for great views
make sure you are reasonably fit and relatively well acclimatised if you want to enjoy any part of it.
think twice if you suffer from vertigo, as you will most likely only get 2/3 the way to the top
Cost:
Taxi= ~$5 from old Quito
Teleférico ticket = $8.50 (more if you want to bring a pet, bike, etc)
Trek to Rucu Pichincha = free (though costs a lot of effort!)
Time:
Teleférico = 10 minutes ascent, 10 minutes descent.   Depends on number of people how long you have to wait in line, but up to 2 hours is not uncommon
Trek to Rucu Pichincha = 3 hrs ascent, 2 hrs descent.