Another of the awesome initiatives in Quito is the Ciclopaseo.   Basically, the city shuts down 30km of one of its main North-South arteries (Avenida Amazonas) to traffic each Sunday between 8am and 2pm (Quito is a long, narrow city oriented North-South), to encourage everyone to get out on their bikes.
And its incredible how many people take advantage of the opportunity!  By some counts – an average of 30,000 people each weekend, most of them families and "normal" people (as opposed to lycra-clad speed demons, though there are a few of them as well).  This is even more incredible when you consider that Quito is at 2,800 metres above sea level and the city is surrounded by massive volcanos and mountains.
On my second Sunday in Quito I decided to join Charlotte and at least do a couple of hours of cycling.   First task – rent a bike at one of the stations around the route.  Definitely not the most comfortable seat, and I was missing a gear or two, but a great way to enable everyone with this activity – including travellers 🙂
To rent a bike, you have to leave your actual passport with them (daunting prospect), but this is to ensure that you don't make off with the bike!   Of course this means that you have to return the bike to the same stand, so if you are going to cycle the whole route, it is a 60km round trip.  Get an early start!
But to help you on your journey, there are large numbers of ciclopaseo and other stands set up where you can get help with your bike, refill your water, buy some food or fresh orange juice, or buy some cycling gear 🙂
We started at the corner of Parque Carolina and cycled south (Charlotte had gone north last weekend).  Unfortunately I had to turn around after about 45 minutes (I had to get my laundry done before I headed off trekking), and was surprised to find that those daunting-feeling hills that we cruised down weren't actually that bad to cycle back up!   I ended up continuing on past where we'd hired the bikes to take a quick look at part of the northern sector as well, but definitely preferred the south to the north.
Also – you don't have to cycle!  I saw joggers, walkers, roller bladers and skate boarders out and about taking advantage of there not being any traffic.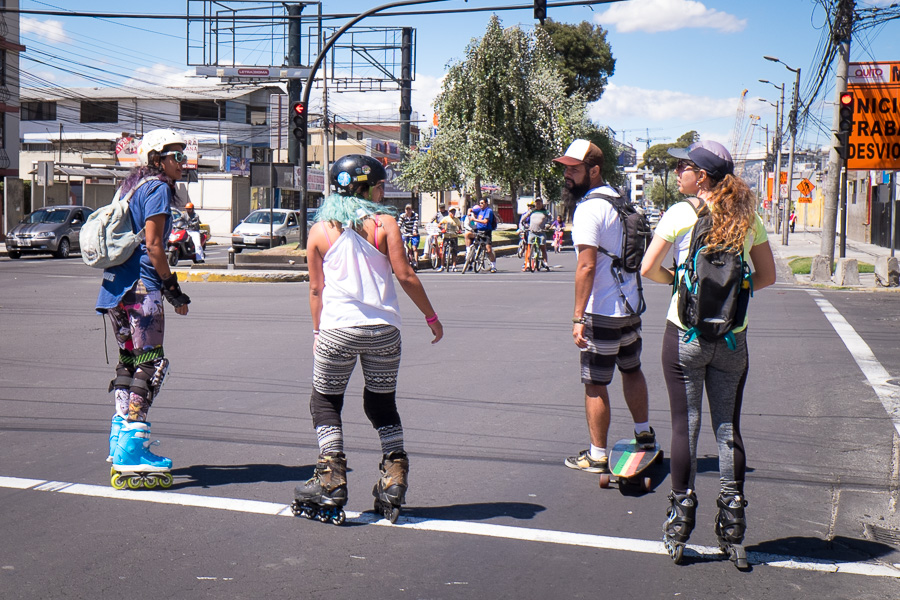 In the end, according to one set of maps I found, I cycled about 1/2 the route. I couldn't believe how flat it was given that there are very steep and very tall hills everywhere you look in Quito.  It's a very well planned route – so if you are in Quito on a Sunday, and regardless of how fit you are – jump on a bike and explore parts of Quito you would not otherwise see!
Cost:  If you need to hire a bike, it costs $3/hour or $12 for the whole day.  That's the only cost though.
Time: Depends on how keen you are.  I did 2 hours.  You have from 8am to 2pm without traffic.