Greenland's capital, Nuuk, has many festivals that are spaced throughout the year. One of the key events during Winter is Nuuk Multi Kulti – a 4 day celebration of cultural diversity in this small and remote city.
During my 2 months in Nuuk, I'd met people from Greenland and Denmark (OK, no surprises there), Mexico, Spain, Argentina (yes, I've had a lot of opportunity to practice my Spanish), Lithuania, Japan, Hungary, Norway, Sweden, Russia, Philippines, Canada, USA, Scotland, Australia … and that's just off the top of my head. There is a huge diversity of nationalities who have made Nuuk their home, at least for a few years.
The aim of Nuuk Multi Kulti is to celebrate this diversity and showcase both Greenlandic and other cultures. I was keen to head out and attend as much of it as possible – especially with the promise of food at many events 😀
Representing multiculturalism through an artist-designed flag
It kicked off with an event by the Nuuk Art Museum – the raising of a flag at the flagpole outside Holms Hus near the centre of Nuuk.  Artist Gudrun Hasle had invited other artists from different countries to design a flag to represent the idea of Nuuk Multi Kulti, and the first to be hoisted was that of Greenlandic artist: Miki Jacobsen.
When I arrived, there was a small cluster of people at the end a narrow path that had been shoveled through the 1-metre deep snow to the flagpole. Miki (yes, the artist himself) was putting the finishing touches on it, carving a wider circle to accommodate more people.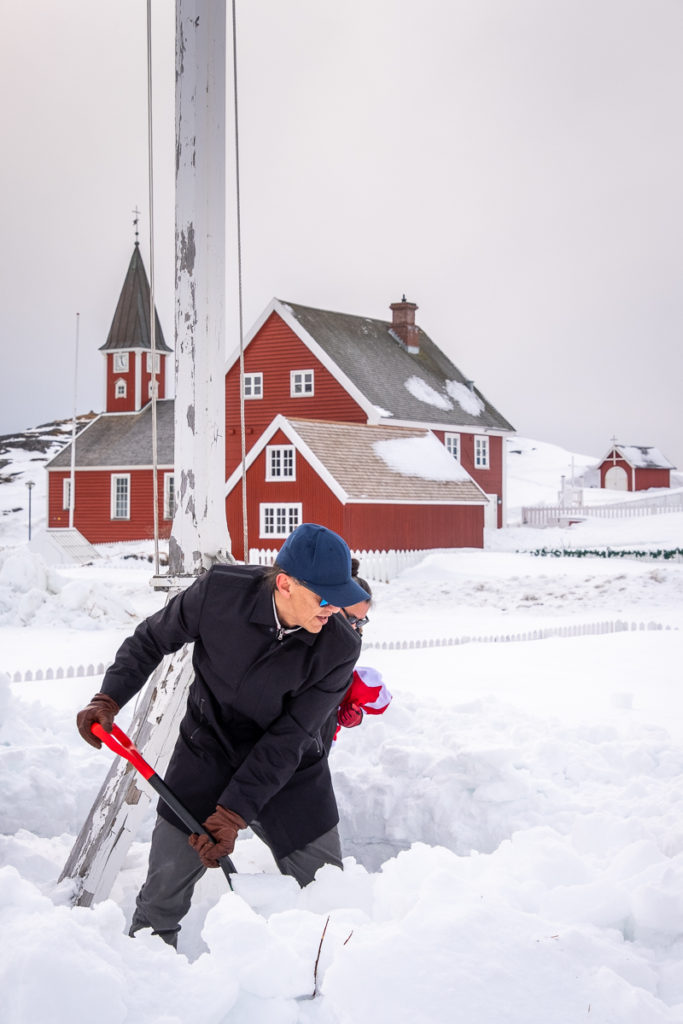 As with all events in Nuuk, tea, coffee and cake was in plentiful supply
before Miki unfurled his flag and raised it high over the snowy landscape.
It was a mixture of the Greenlandic and Canadian flags, with a ½-red, ½-write maple leaf replacing the equivalent circle in the Greenlandic Flag. He explained that the flag represented the fact that he was born in and currently lives in Greenland, but was educated as an artist in Canada. He also has a son who lives in Canada, and to whom the flag was dedicated. The design was to symbolize this mix between the two cultures.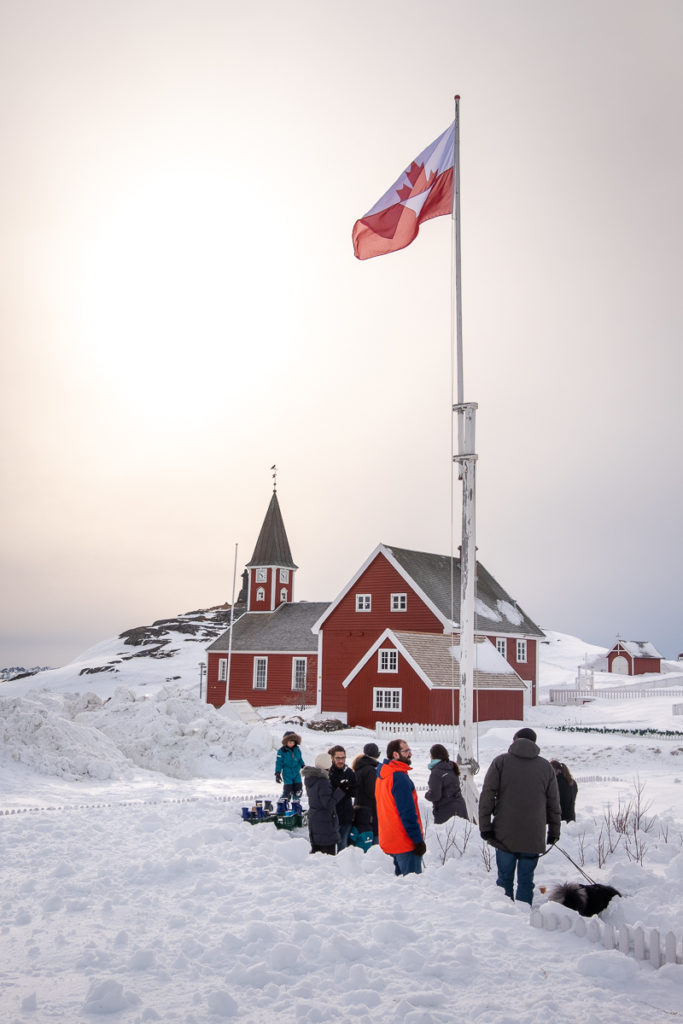 Cultural Showcase
The next event I made it to was held the following afternoon at the public library in downtown Nuuk. Weeks in advance, a call was put out (I saw it through the Internationals in Nuuk Facebook Group) looking for people from other parts of the world to showcase their country of origin in whatever way they deemed appropriate.
On the day, there were several "booths" set up amidst the books on the second floor of the library. Norway, Finland, Spain, Hungary, France, Philippines, Russia, Dominican Republic, USA, amongst many others were represented,
and most chose to focus on the food of their country – an easy sell to be sure!
Some went even further and dressed up in national costume, this lady from Russia even had other outfits from her homeland that you could try on!
A special mention to my friends Fruzsina and Miki who put together a quiz about their homeland of Hungary. I daren't post my results here … clearly I need to visit and learn about the country from a local!
Where do we come from?
The next day I headed to Illorput – a local Community Centre that was hosting several different events. An ongoing activity there throughout the whole of Nuuk Multi Kulti involved a map of the world made from sealskin. The idea was to draw a connection with a piece of string from your place of origin to Nuuk.
I was attending the first event they were hosting so it was early days, and you can probably pick the string that I placed 😊
Greenlandic Food Tasting
The main reason I was at Illorput, however, was to experience the Greenlandic Food Tasting. I ran into a friend and his daughter the instant I walked in the door, and the three of us loaded up on local cuisine and sat down to chat.
The spread was amazing! And all of it really delicious.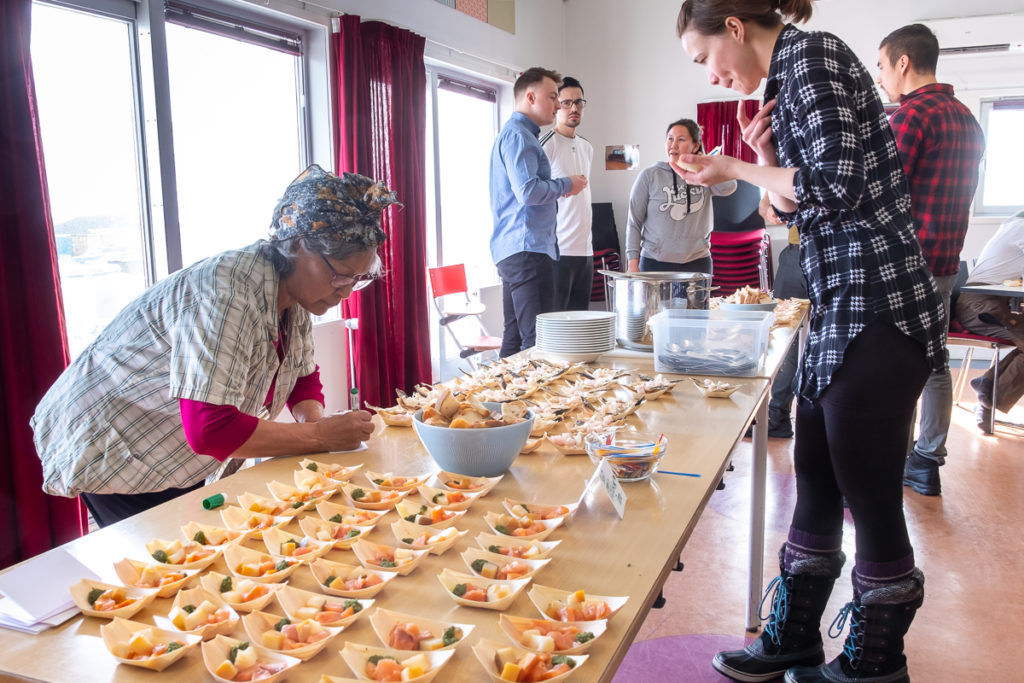 I took one of the biodegradable bamboo boats of halibut and smoked salmon with pesto (actually, I might have gone back for a second); one of the boats of dried cod, dried capelin, and salted whale blubber; and a boat that contained a halibut "meatball" with remoulade. But there were also boats containing Greenlandic Prawns and mayonnaise, and a large pot of Greenlandic lamb soup.
Oh, how I love Greenlandic food!
Parallels between Greenlandic and Icelandic visual art
Once I'd finished my lunch, I walked the rest of the way into town to the Nuuk Art Museum. One of my friends, Lorenzo, was studying in Iceland but doing an internship in Nuuk for several months. He was giving a tour talking about the similarities and differences in Greenlandic and Icelandic visual art from the late 1800s through to more modern times.
We started in the Emmanuel A. Pederson (1894 – 1948) room where Lorenzo explained a little about how this famous Danish artist depicted a romanticized Greenland in his paintings.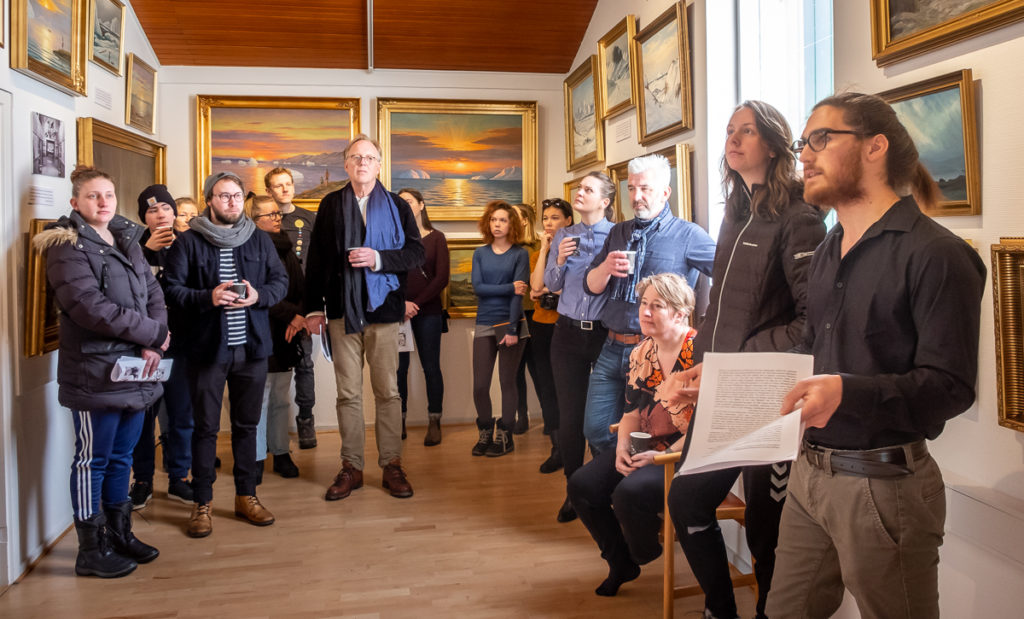 Blue skies or dramatically colourful sunsets (there is obviously no bad weather in Greenland), kayaks, sled dogs, and generic figures who are more avatars within the image rather than individual people, characterize his paintings. As does the feeling of distance from the scene. Of looking in from the outside. Something that perhaps reflects his own feelings of coming from outside (Denmark) to observe Greenland.
Surprisingly, this view of their own country, though far from reality, was adopted by Greenlanders – perhaps due to the emergence of nationalist feelings around this time and the desire to develop their own national identity.
This painting style was compared and contrasted with that of the Icelandic artist, Þórarinn Þorláksson (1867 – 1924), who also painted in the romantic style. Those of you who have visited Iceland know how unpredictable its weather is, but Þórarinn mostly painted good weather in his artworks, which are more representations of Icelandic landscapes than actual depictions. Also similar to Pederson, there is a feeling of distance from nature when viewing the work. That you are outside looking in. But in this case, there are no people depicted at all, not even avatars.
Later in the tour, Lorenzo contrasted the more contemporary art of Frederik Kristensen, otherwise known as Kunngi (1952 – present), to that of Icelandic Finnur Jónsson (1892 – 1993).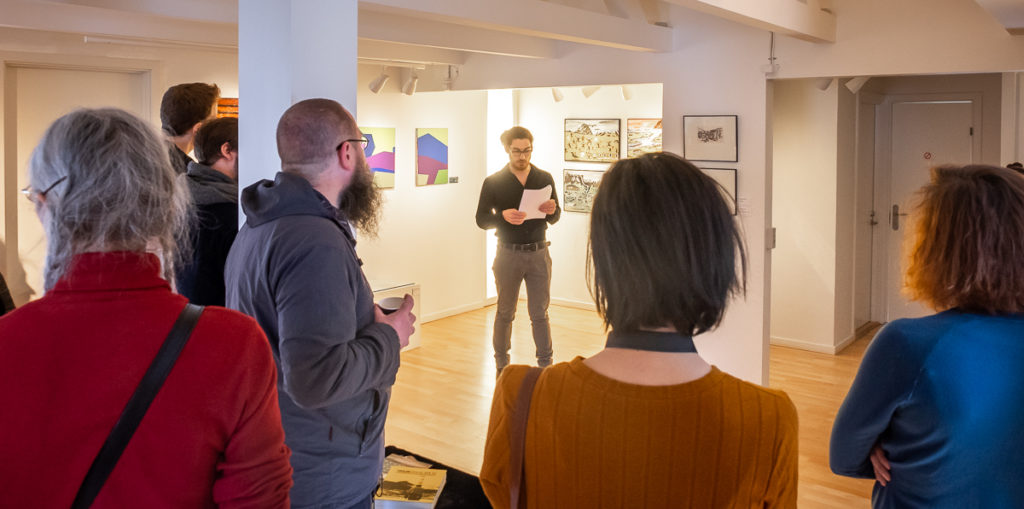 Kunngi was the first Greenlandic artist to create non-figurative images. The absence of typical Greenlandic iconography caused some to question whether his works could really be called "Greenlandic", despite the fact that was born, lives, and creates his art in Greenland.
A few decades earlier over in Iceland, Finnur was having his own issues in having his expressionist/cubist artworks accepted. While these art styles were well established in mainland Europe, and particularly in Germany where he studied for a while, they were new to Iceland. In contrast to Kunngi, the criticism was not directed at the "Icelandicness" or otherwise of the pieces, but stemmed more from general theories of art in Iceland and what the definition of good Icelandic art should be. There was also a concern that the works would have a negative influence of Icelandic culture as they thought that such artistic expressions were manifestations of a sick and unbalanced mind, isolated from reality and nature. Not surprisingly, these were not characteristics they wanted to promote.
Lorenzo also examined two other sets of artists in this short tour of the similarities and differences in the development of Greenlandic and Icelandic art, and I was so glad this talk was in English 😀 It was fascinating!
Cultural Masks
After Lorenzo had finished his talk, I raced from the Nuuk Art Museum down to the Katuaq Cultural Centre, where they had already starting packing up the exhibition of cultural masks made by school children aged 12-14 years.
The idea was for them to create their own mask using inspiration from Sri Lanka, Alaska and Nigeria/Congo. I was a little surprised that Greenlandic masks were not part of this activity (at least the people packing up the exhibition didn't think so), but none-the-less there were some very impressive efforts! I loved this one in particular whose caption reads "This mask is for those who are feeling under pressure".
I ran out of time at Nuuk Multi Kulti!
Unfortunately, that's where my experiences of Nuuk Multi Kulti 2019 finished. There were many more activities on the schedule that I didn't manage to make it to – some simply because of timing, some because they were only held in Greenlandic or Danish (I'm learning, but very slowly).
It was an awesome festival though and I had great fun exploring the events I did attend. I'm looking forward to next year's event already!
Discover more about Greenland
If you are planning a trip to Nuuk and are interested in catching one of the Festivals that happen throughout the year, check out the Ultimate Travel Guide to Nuuk which provides a complete list. It also has loads of practical information on how to get to Nuuk, how to get around, where to stay, where to eat, and what are the things to do once you arrive.
I have a large number of blog posts about Greenland, so feel free to read more about my experiences here on my blog or on my Greenland-specific blog at Guide to Greenland.
For more information about Greenland, the best websites are Guide to Greenland (which is also a one-stop-shop for many of the tours available), and Visit Greenland, the Government tourism site.
This post contains some affiliate links. If you make a purchase through one of these links, I will earn a small commission at no extra cost to you. Your support is appreciated!