When I was in Kyrgyzstan 2 years ago, I really wanted to participate in the walking tours offered by Bishkek Walks. Dennis from Walking Almaty (the Green Bazaar and Golden Quarter tours are two of the best walking tours I've ever done) recommended them to me, but unfortunately I did not have enough time, given our small delay in mud of the Tamgaly Petroglyphs in Kazakhstan.
I was therefore very excited to see that the day after I arrived for my second trip to Bishkek, the Interhelpo and the making of industrial Bishkek walking tour was scheduled. Yes – it is a bit of a random theme for a walking tour. But this is what I love about about tours offered by Bishkek Walks and Walking Almaty! They go beyond the standard history spiel and tour of obvious buildings to showcase something different and unusual about these cities.
The story of Interhelpo
Rahat began by explaining the origin of Interhelpo – a cooperative of industrial workers and farmers who came to Bishkek in the 1920s from Žilina, Czechoslovakia (now Slovakia). Their goal: to build a socialist economy within Soviet Kyrgyzstan and introduce modern industrial and agricultural practices to the country. As Rahat explains in her blurb about the tour:
More than one thousand workers including their family members arrived in Kyrgyzstan – a pure land that was free from capitalism, and where they could build a new, equal socialist society.
As we walked down a seemingly non-descript street lined by the houses built by Interhelpo members, Rahat painted a detailed picture of the hardships and challenges faced by these intrepid souls when they first arrived in Bishkek.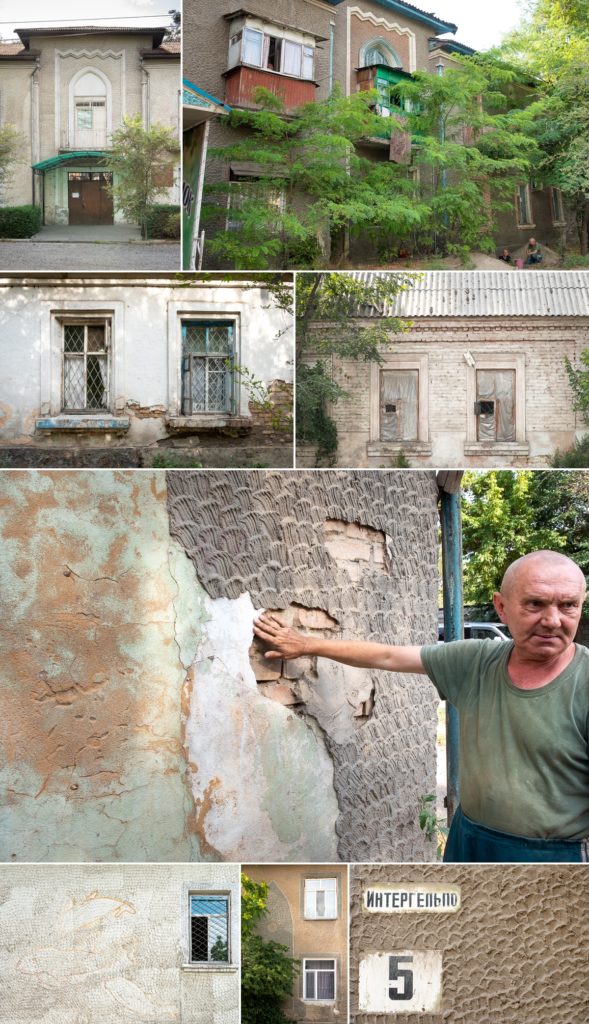 Even now, families living in the apartments that were built during that time do not have a lot of luxuries. We were lucky enough to meet a man who invited us into his small and crowded home for a short visit. There was very limited light and the walls were so thick (at least 30cm!) the lady of the house complained that there was no way you could make modifications even if you wanted to.
I guess buildings were constructed in this "brute force" manner as the Interhelpo cooperative did not include any architects or engineers in their midst!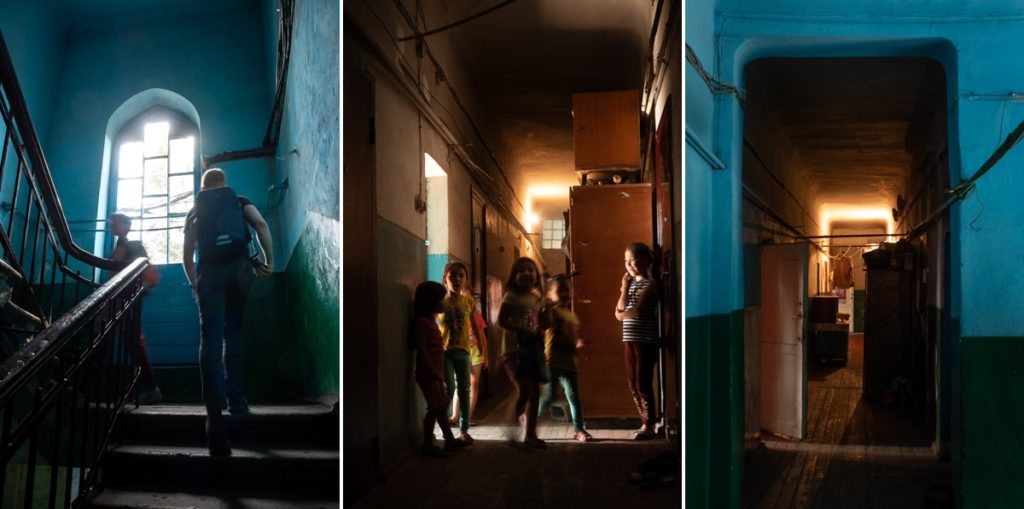 The achievements of Interhelpo
Despite this difficult start, the members of Interhelpo went on to achieve a great deal in a very short time through sheer determination and hard work.
At the centre of their endeavours were the all-important factories they originally envisaged. Unfortunately, we were not able to enter (it is now a modern industrial complex) but you can clearly see it is the same gate in the image below.
They also built a vibrant community that operated under Socialist ideals. This included a Community House – complete with theatre and meeting rooms.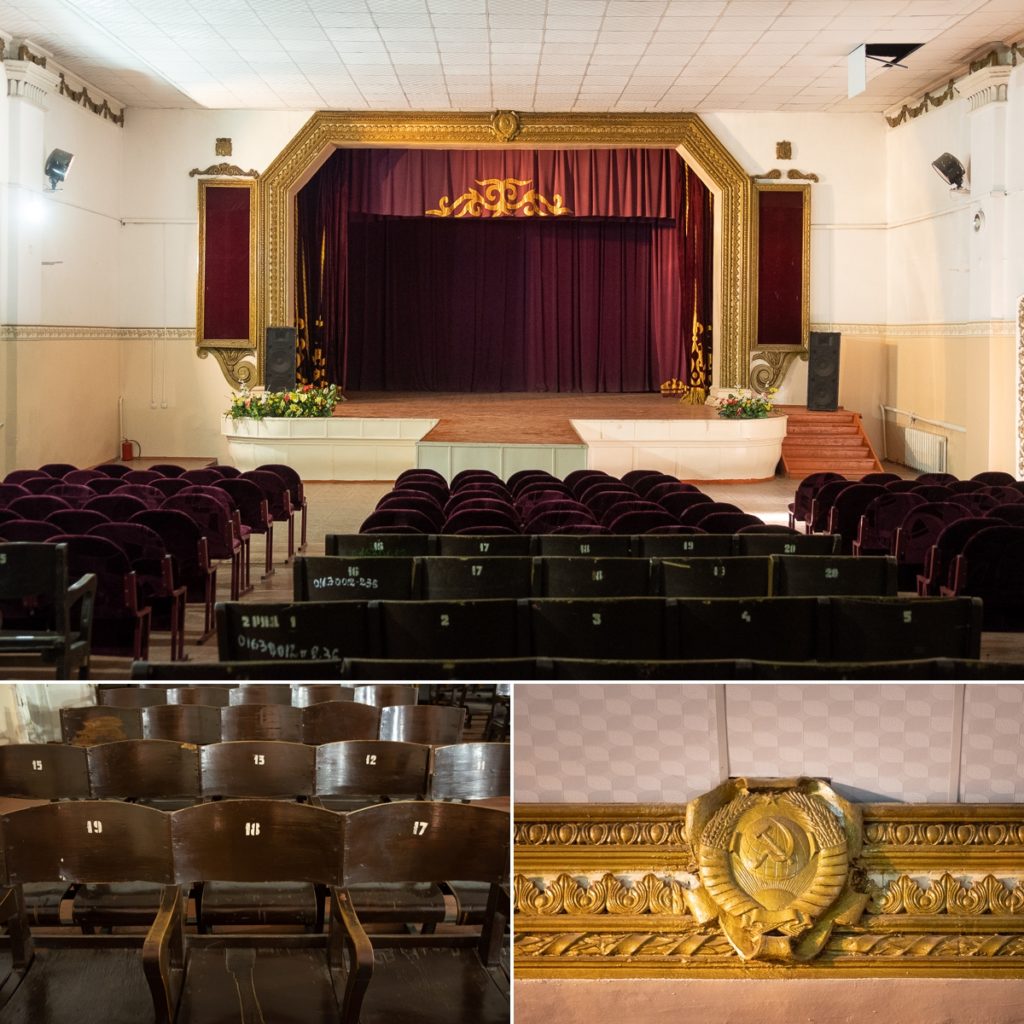 An impressive stadium that you are still able to rent out for 900 Kyrgyzstani Som (about USD$13) per hour. I love the old board showing matches between the different factories (vertical) for the different sporting events (horizontal).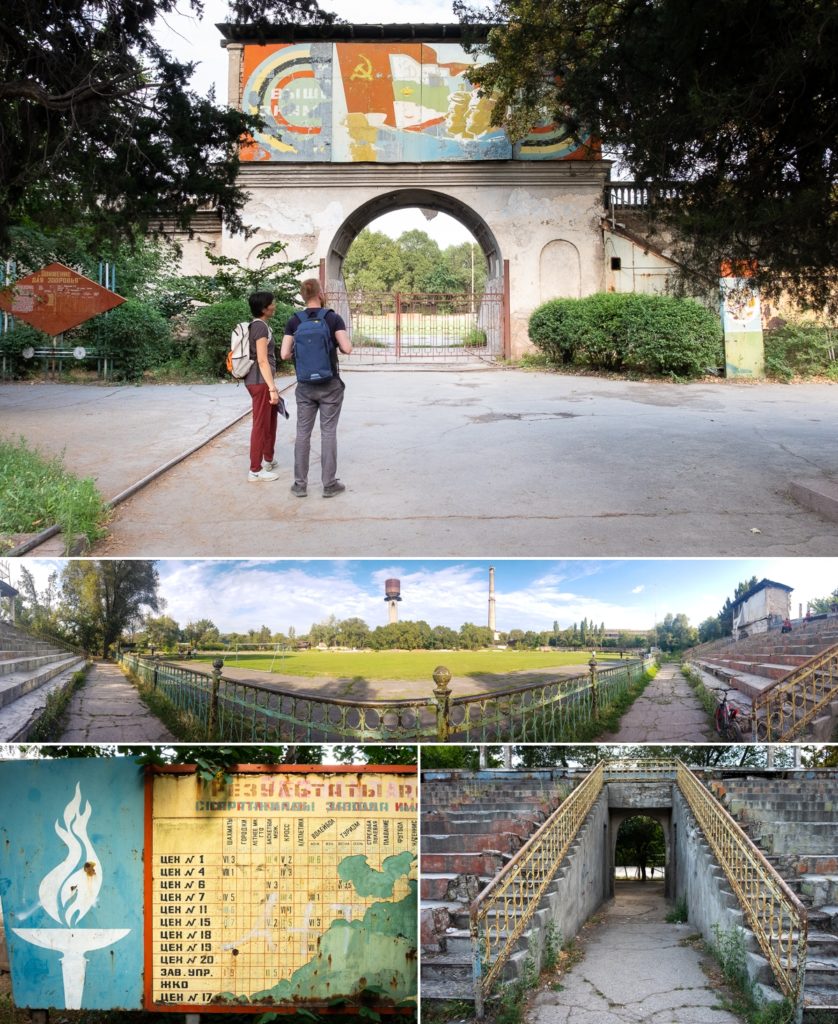 A swimming complex. I'm not sure I would want to swim there myself, but the kids were having fun and I thought the diving platforms (now into an empty diving pool) were awesome.
And amazingly large parks that have been revived in recent years by the descendants of Interhelpo members and funding from the Czech government.
Interhelpo also built many more buildings and a lot of the basic infrastructure of Bishkek before dissolving in 1943 and having its assets transferred into the hands of the State. An ironic end to this interesting experiment in socialism.
Recommendation
If you are interested in history and want to learn about a different aspect of the development of Bishkek and Kyrgyzstan, the Interhelpo and the making of industrial Bishkek walking tour is a great option.
It was a fascinating 2hr stroll through an area of Bishkek that tourists don't generally visit, learning about a history that few people are even aware of. Rahat has loads of stories and details that I haven't gone into here – you actually have to do the tour to learn more 😉
Time: 2hrs
Cost: About USD$10 – $22 depending on number of people.