As I leave Nicaragua for El Salvador, some final Nicaraguan public transport observations.
Micros
I actually promised a blog post about this ages ago and am now finally getting around to it.
On certain routes in Nicaragua (most notably around the Pueblos Blancos where La Mariposa Spanish School and Eco-Hotel is located) there are not so many chicken buses, but rather "micros" or microbuses. These are essentially minivans that ply the routes between the towns, and in my opinion, they are actually much worse than chicken buses!
The main reason being that although they are designed to seat ~14 people, they more often than not have upward of 20, my record being 35 people jammed into one of these things.  Yes – there are actually 3 people hanging out of the door as the micro takes off in the image below!
This next image is what it looks like with about 20 people inside – so you can imagine with 35! Add in that there are a lot of obese people here in Nicaragua and you will start to get some idea of how incredibly packed these things are.
The person with the worst of it though (I have to admit) is the guy who is in charge of calling out the route to passengers waiting on the side of the road (usually 3 times in quick succession e.g. La UCA, La UCA, La UCA), opening and closing the sliding door, and collecting the money from passengers.   This is his standard position.
But he's also one of the ones hanging on the outside if he manages to entice 35 people into the micro.  It's hot and very uncomfortable work!
Chicken Buses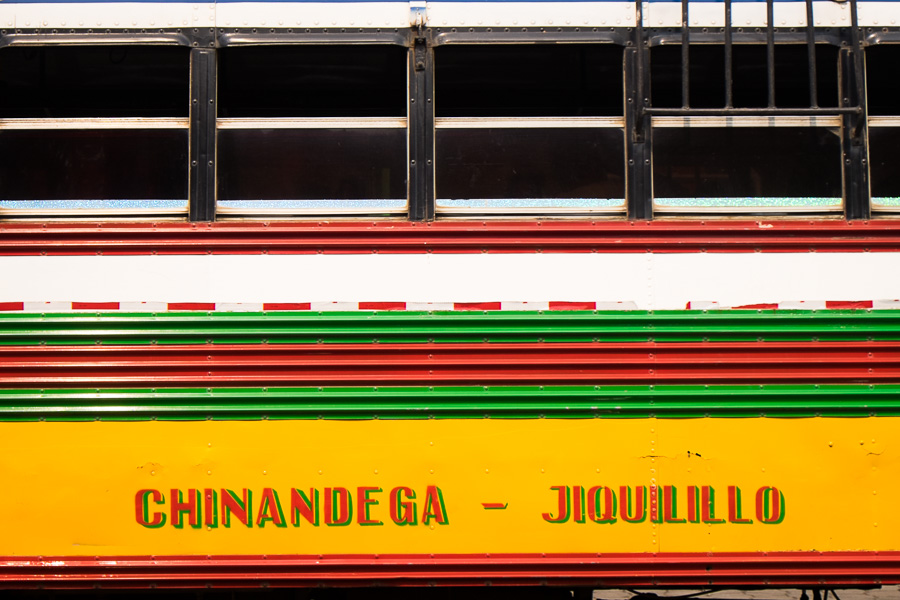 Thoughts from my last chicken bus trip in Nicaragua from Chinandega to Potosí:
It really pains me to see people throw rubbish out the windows of the buses – especially since most of the bus companies have provided rubbish bins just above their heads. I know this was common in Australia 30 years ago as well, and hope it doesn't take that long to change in Nicaragua.
Many women travel with a cloth about the size of a face washer. Discovered that this is a very smart idea if the bus traverses dirt roads, because every time the bus stops to pick someone up or drop someone off (and this is quite often!) the bus fills with dust.
You'll never go hungry on a Nicaraguan bus – provided you are happy to eat fried or processed food. At every major stop, the bus is swarmed by food sellers who enter the front of the bus and move down the aisle shouting (quite literally, some of them have VERY loud and piercing voices) their wares.  Sometimes they depart by the back door.  Sometimes they have to push past each other to return to the front of the bus to depart.    In addition, the bus will pick up other food sellers along the way.  There may be only one, but they follow the same pattern.  It's incredible to see how many of the passengers actually buy something to eat each time!
The majority of these sellers are women, and almost without fail they are very, very large women who often take up the entire aisle with their bulk as they move down it.
In fact, a great percentage of Nicaraguan women are very large – I don't know how they can stand the heat, nor the discomfort of squeezing into bus seats that are designed to fit 2 children (remember, all the buses are ex-US-school-buses) rather than 2 large adults.  Or squeezing into the micros for that matter (see above).  I wonder whether this phenomenon of obesity is relatively recent?  It's very easy to buy processed food, food with lots of sugar, and food with lots of carbohydrates in Nicaragua.  Much less easy to find something healthy to eat.