On my first day in Suchitoto, El Salvador, as I was wandering around asking about tours, I kept coming across posters for a concert by "Los Panchos" that would be held that afternoon. Although I was a bit dubious about "Mexican guitar music" (how one person described it to me), I had nothing better to do so I figured I might as well go check it out.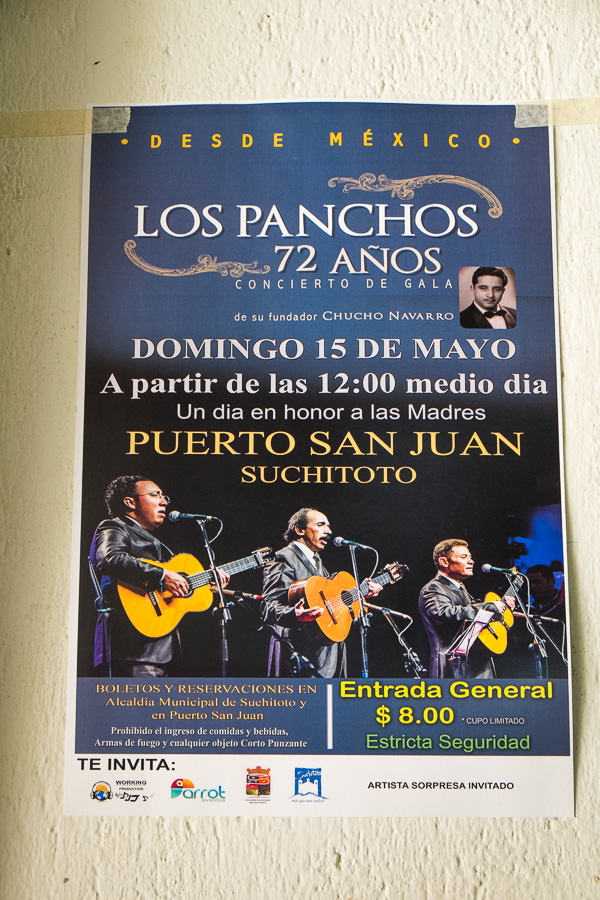 Caught the local bus down to the San Juan Port on Lago Suchitlán where the concert would be held and was really questioning whether I would actually survive the 2km trip. Suchitoto is a colonial town that only has cobblestone streets, but the bus-driver was absolutely flying down these very narrow (and bumpy) roads like a madman, leaning on the horn the whole way to advertise we were coming (and most definitely not stopping), to anyone unfortunate enough to be coming the other way.
Fortunately, we did make it safely and I fell into step with another woman who was also headed for the concert, which was in honor of all mothers (they celebrate Mothers Day all month here it seems). Estela and I got chatting as we walked the final little bit of the way and she invited me to sit at the table she'd reserved (the Port is a large building with several restaurants servicing it side-by-side – kind of like a very up-market food court). There I met one of her friends, Beatrice, and together we chatted and sweated (it's no cooler in Suchitoto than it was in Nicaragua) while we waited for the music to start. Estela seemed to know everyone in the place and she even introduced me to Suchitoto's (female) mayor! She was really surprised at how few people were there, but when I asked her whether the entrance price of USD$8 was expensive for El Salvadoreños, she admitted it was – the average earning is USD$5/day.
Although the concert was slated to start at 12pm, the support band came on at 12:30pm. Let me just say, the Grupo Guanday were AWESOME! Seriously, seriously awesome! They played for 1.5 hours focusing on the greatest hits from El Salvador over the past 30 or so years, and even took requests. There was salsa, merengue, cumbia, etc and most of us – from the oldest to the youngest – ended up dancing. Given that I was the only gringo in the place and I was up dancing as well – I got a special shout-out from the band 🙂 It was fabulous! Here are two snippets.
Then the main event, Los Panchos, came on at 2pm. This is a very famous Mexican band and the crowd were super-excited! How they could stand performing in a full suit and tie is entirely beyond me – I was sitting still doing absolutely nothing and the sweat was pouring off me!
While there was no doubt that the guy on the left had an amazing voice and the guy on the right was a master guitar player, their music wasn't really my thing. Very croon-y and easy-listening. Have a quick listen to see what I mean. The crowd were singing along though and absolutely loving it.
Once they had finished playing their set (a little over an hour), they did a signing – still in their full suits! They had CDs for sale which sold like hotcakes (even though they were USD$15 each) and this is what most people asked them to sign. But to their credit, they signed other stuff as well – even down to the disposable paper napkins that the restaurants provide.
Once they were done, Grupo Guanday came back on for another hour and we spent that whole time up dancing.
So hot. So sweaty. So much fun! Loved meeting Estela and Beatrice and feel like I've been adopted by them both.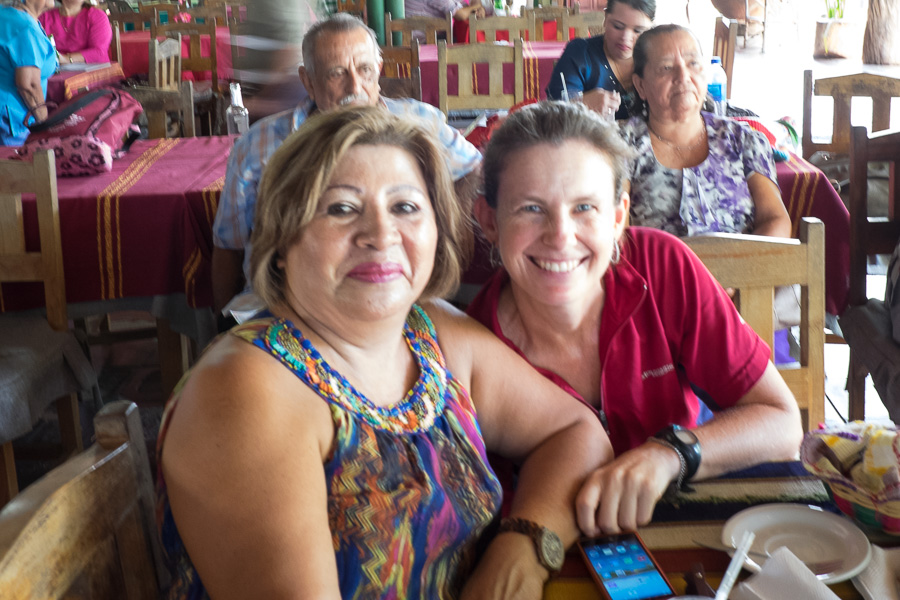 Awesome start to my adventures in El Salvador! It really is worthwhile doing things on a whim 🙂