As you might expect, I didn't stop sampling Bolivian food even though I'd overstuffed myself on the Foodie Tour in La Paz 🙂 Here are some of the other Bolivian delicacies I tried in my 3 weeks in the country:
Salteñas
It doesn't get much better or more Bolivian than this! Essentially a baked empanada with what seems to be a slightly sweet dough and different fillings inside. My favourite by far was the spicy chicken salteña from the salteña shop just up from the Alexander's Coffee shop, right near the Plaza Avora in Sopocachi neighbourhood. One of my all-time favourite street foods for only 7 Bolivianos each (~AUD$1)!
Tucumanas
I found these to be quite similar to not-very-flavourful Samosas – deep fried pastry filled with meat, egg, onion and potato. Turns out that instead of putting the flavouring in the filling, they allow you to choose your own by serving the Tucumanas with a variety of different sauces (olive, peanut, chimichuri, llagua, another that is a mixture of mayonnaise, tomato sauce and mustard) as well as onion salad. 6 Bolivianos each (<AUD$1).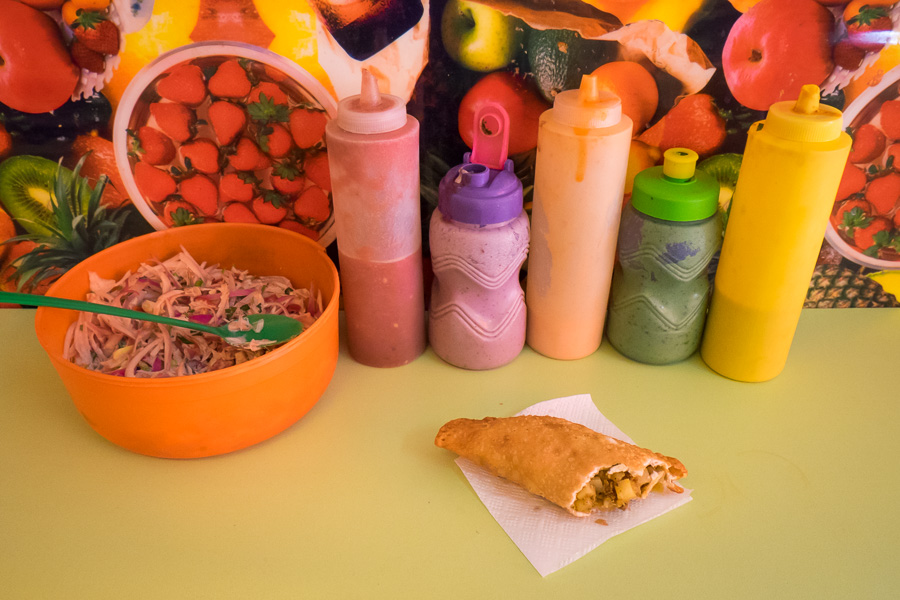 Buñuelos
Turns out that Bolivian buñuelos are very different to Nicaraguan and El Salvadorean buñuelos, and I'm afraid to say – nowhere near as good 🙁 Instead of nice fluffy balls of deep fried dough, the Bolivians make a flat pancake of deep fried dough to serve with syrup.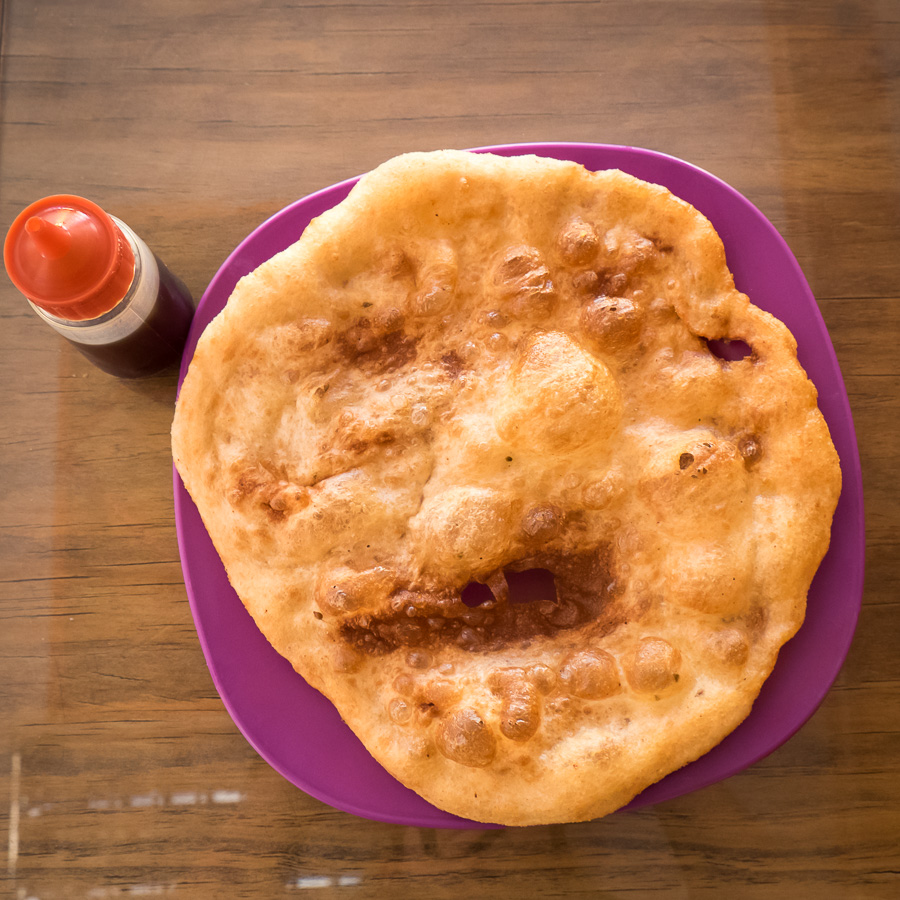 Cuñapés
A cuñapé is kind of like a cross between a biscuit and a cake that is made out of either corn (the more yellow one on the right) or yuca and has a very strong cheese flavour. They are more traditionally found in the jungle or the Santa Cruz region of Bolivia, but I came across these awesome ones in Sucre. Very moreish!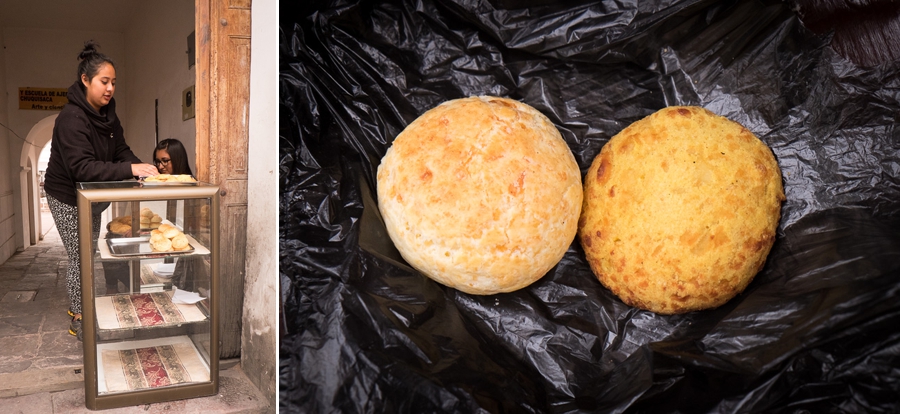 BTW – selling food out of little sidewalk displays like this is very common throughout Latin America.
Humintas
Wandering around the Mercado 25 Mayo in Cochabamba one night I came across a lady selling corn-based products with about a million clients surrounding her all hustling to be served. I eventually pushed through to the front and asked what was on offer and what were the differences between the different products, as they were all called humintas.
Bought a baked huminta and headed for the central park to eat it. Oh my – it was heaven! Promptly went back and bought 2 more of these and one of the boiled humintas to try (still really yummy but not as good in my opinion). Was kicking myself for not finding this lady earlier in my stay in Cochabamba (it was my last night). There was no question why she had such a crowd around her! I reckon she would have sold everything she had within an hour.
Fruit Salad and Icecream
The upper levels of the Mercado Lanza (Central Market) of La Paz are a fruit-salad-and-icecream lover's heaven! Tons of fresh fruit that is sliced up in front of you (mine had banana, watermelon, orange, grapes, pineapple, strawberries, mango, papaya and apple), jelly, cereal, yoghurt, cream and icecream served all together in a massive parfait glass. What more could you want?! Given the number of locals that are up there and indulging at all hours of the day – apparently not much! So I had to join them and do it 🙂 And all for only 10 Bolivianos! That's about AUD$1.50.
Cinnamon Icecream
Speaking of icecream, the most typical flavour of icecream in La Paz is cinnamon. I have to admit it really smacks you up the side of the head to begin with, and I wasn't sure if I liked it or not initially, but after a few spoonfuls and once your mouth goes a bit numb from the cold, it's really quite nice 🙂
Jelly and Cream
I don't know what this is actually called, and I have to admit that I didn't try it, but one of the most popular street foods in Bolivia is cup of brightly coloured (and flavoured, I imagine) jelly with masses of whipped cream on top. Loads of people buy it and it is sold everywhere.
Fresh Orange Juice
Fresh orange juice is a staple street seller throughout a lot of Latin America – and nothing we have in Australia comes even close to being as good as this. In Bolivia, they make a great show of the peeling of the oranges – displaying the long peelings on the cart and scenting the air with a wonderful citrus smell! About 7 Bolivianos (AUD$1) for a large cup.
Sopa de Maní
One of the most typical dishes in Bolivia – peanut soup. I tried it in Cochabamba (where it originated) and it was OK, but nothing to write home about I have to say. It was thick and creamy, but it really didn't taste anything like peanuts…
Fricasé
On the recommendation of Carlos at Hostel 3600 (great hostel!), I headed up to J&L restaurant (in a very small street off Boquerón in Sopocachi area – full of locals) where he goes every week for lunch. I had intended to try the Chairo (which is what he has) but there was only Fricasé on offer – good thing was that was another food on my list to try.
Fricasé turns out to be very tender pork (again) with black rehydrated potatos and white corn in a soupy sauce. It was absolutely delicious but they gave me about 4 times as much as I could eat! This plate cost me 35 Bolivianos (~AUD$5).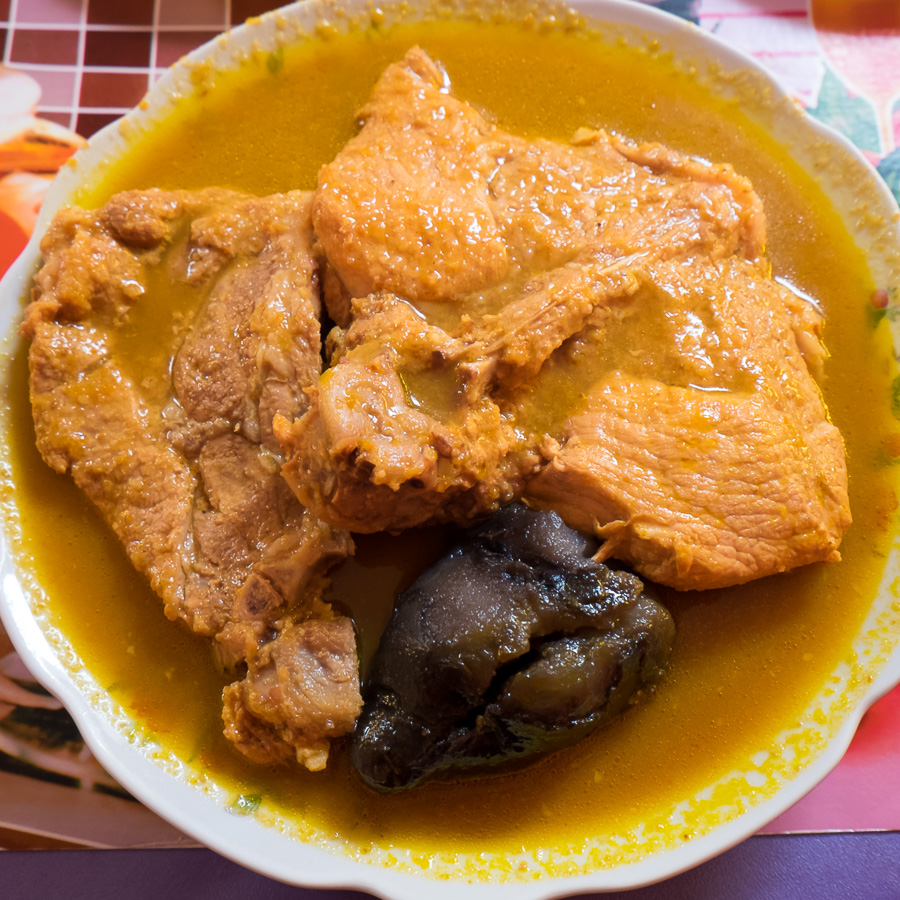 Chairo
I ran out of days in La Paz to go back to J&B Restaurant to try their Chairo, so had it instead in the market in Cochabamba. Hmmm… will need to give it another go at J&L Restaurant the next time I'm in La Paz I think, as this one didn't live up to the expectations set by Carlos. Basically a soup with meat, vegetables and lots of different grains in it.