When I was putting together my year-long trip last year, I had very few concrete plans. In fact, the only plan I made for Peru was that I knew I wanted to do some hiking in the Cordillera Blanca near Huaraz. And it was for this reason that I've been lugging around a relatively large bag of cold weather gear in my relatively small (60L) pack for the past 7 months. Finally I would get to use it!
After the epic 38 hour bus trip to get to Huaraz from Cuenca in Ecuador, I spent a couple of days arranging logistics for the 10-day Huayhuash Circuit Trek that had caught my eye back in Ecuador, and then figured I'd better get cracking and do an acclimatization hike before trying to walk for 10 days at altitude!
And that is how I found myself hiking to Laguna 69 in Huascaran National Park, one of the most popular and beautiful hikes in the Cordillera Blanca. It is an early start – I had to be waiting outside my hostel at 5:40am for the 3 hour drive (including a 1/2 hour breakfast stop at the village of Huashao) to the trailhead. But it was absolutely worth it!
Before reaching the trail we had to drive up a series of switchbacks set against a vertical wall of rock that must have been a couple of hundred metres high (very impressive)! We also had a quick stop to look at a couple of other gorgeous lakes along the way – the Llanganuco lakes: Chinancocha (Woman's Lake) and Orconcocha (Man's Lake).
The ~12km (there and back) trail to Laguna 69 starts at Cebollapampa (3900m), a wide, flat grassy area cut through by the river you follow for the first part of the walk.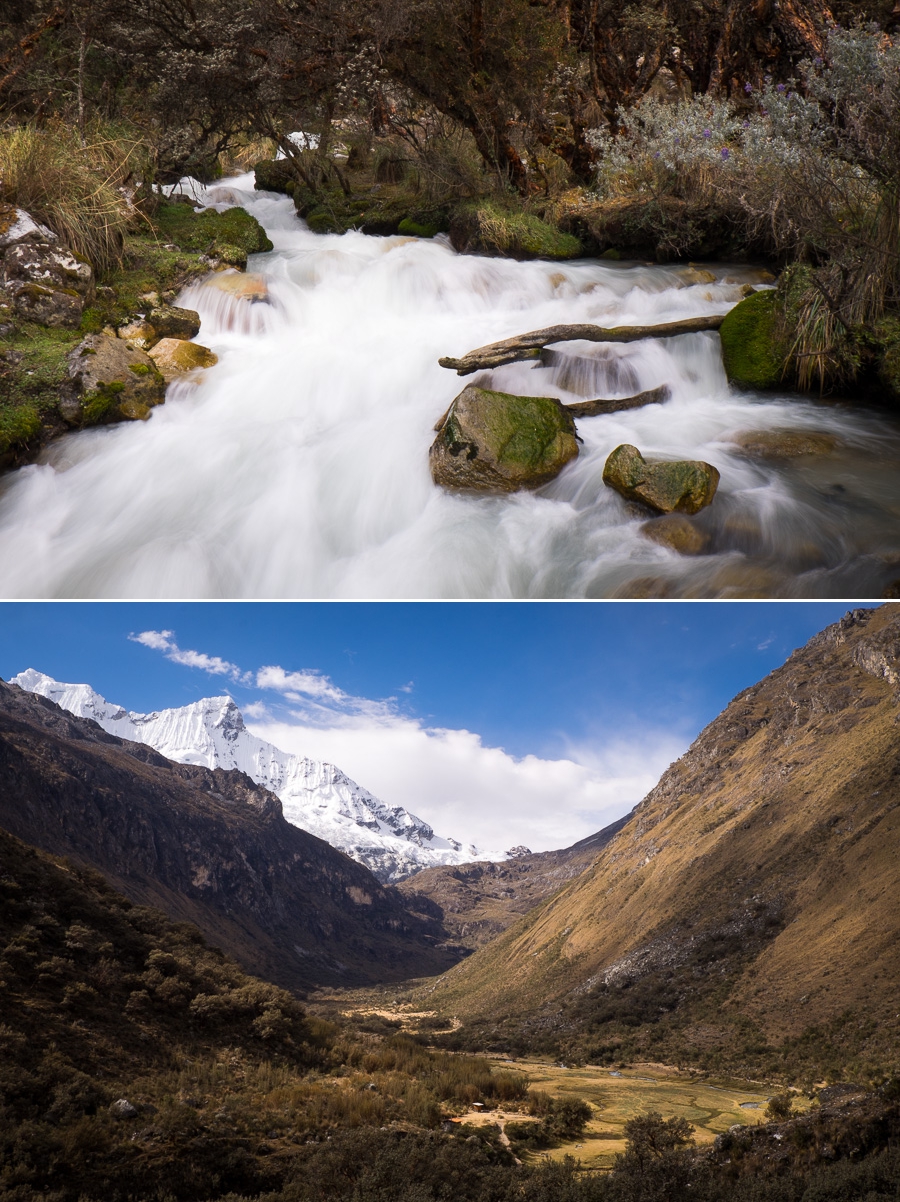 The first 45 minutes-1 hour (depending on how fast you walk) is nice and easy with some spectacular views of mountains and waterfalls. From there, you enter a series of switchbacks, which are not too bad, but you definitely notice them getting steeper until you arrive at a small lake – not Laguna 69.
From there, it flattens out again for about 15 minutes before the final steep zig-zag ascent to the Laguna. This is the tough part! But there are really wonderful vistas and ample excuses for stopping and taking photos – so definitely take advantage of the opportunity!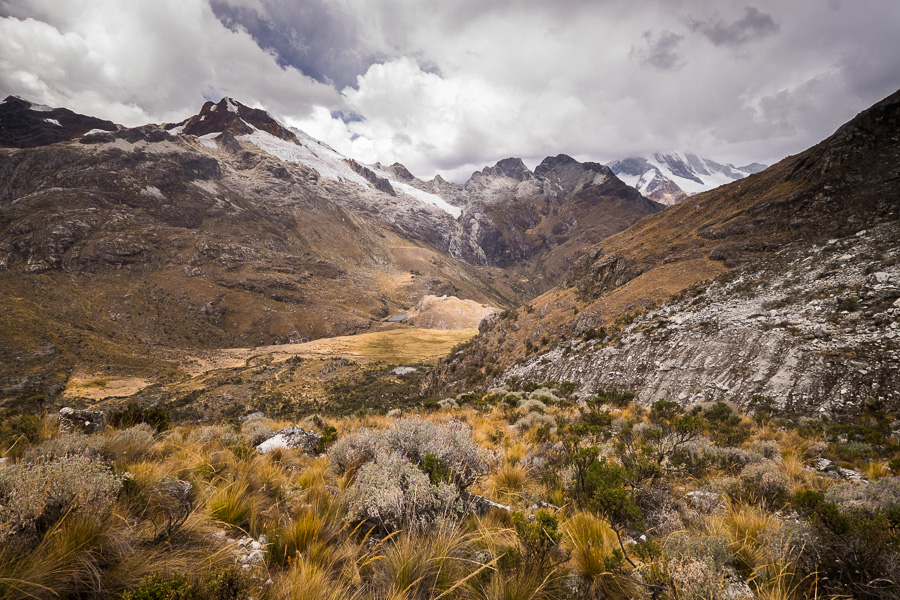 And of course, the reward at the top is spectacular! Laguna 69 is a turquoise glacial lake at 4600m with Cerro Chacraraju towering over it – you really need a proper wide-angle lens to get it all in the one shot (luckily I took mine)!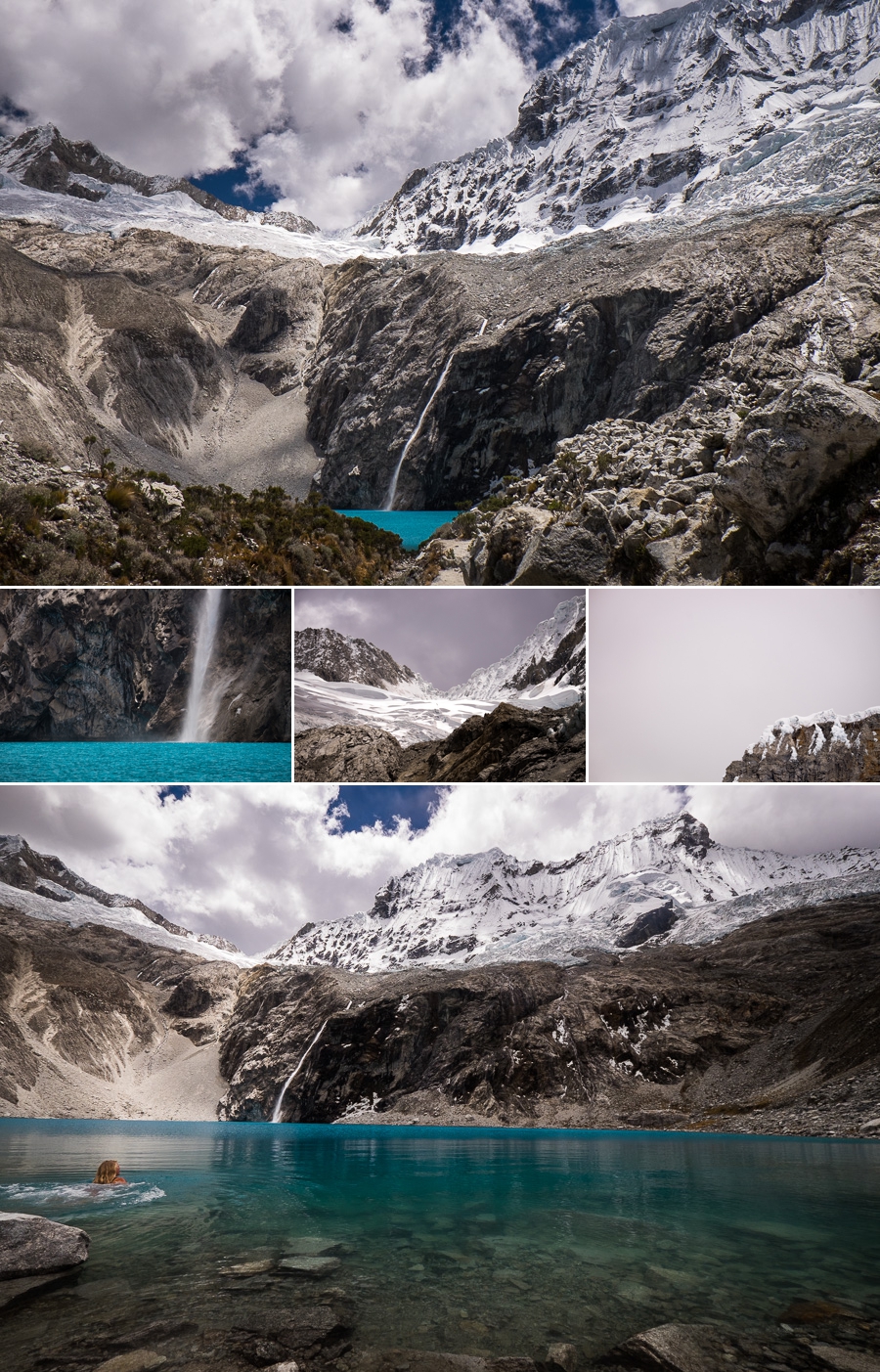 Out of the ~70 day-trippers, only 3 took the plunge and went for a dip (not me, I'd done my run and jump into a freezing cold lake in Mongolia – Lake Khovsgol – up near the Russian border).
Stayed up at the lake for about an hour eating lunch and soaking it all in. Would have been nicer without the ~69 other people of course, but oh well. It would have actually been nice to do as a 2-day hike – but I just didn't have the time.
From there it was back down the same way to the start of the trailhead (much easier going down) and the 3 hour drive back to Huaraz.
Recommendation: This is classed as an acclimatization hike, but it is still quite high and demanding. I'd try to spend a couple of days around Huaraz before attempting if you aren't great with altitude.
You don't need a guide for the hike. The path is obvious – particularly when you have all the other day trekkers there with you!
You don't have to have breakfast at the restaurant you stop at. I bought my own and munched on it while I was sitting there with the others – they didn't mind.
Cost: I booked the transport through Active Peru in Huaraz. 40 Nuevo Soles for the transport there and back.
Time:
3hrs each way in the transport
I did the hike up in 2.5 hours, though they generally say it is 3-3.5 hours up. Hike back is about 2 hours.